This fabulous green bean potato salad is bright and fresh and giving us life this summer!
It's made with yukon golds, green beans, hard-boiled eggs and herbs and a light mayo, olive oil and Dijon dressing.
You're going to want to serve it next to your favorite grilled meats or on a table with a big summer potluck spread, I promise.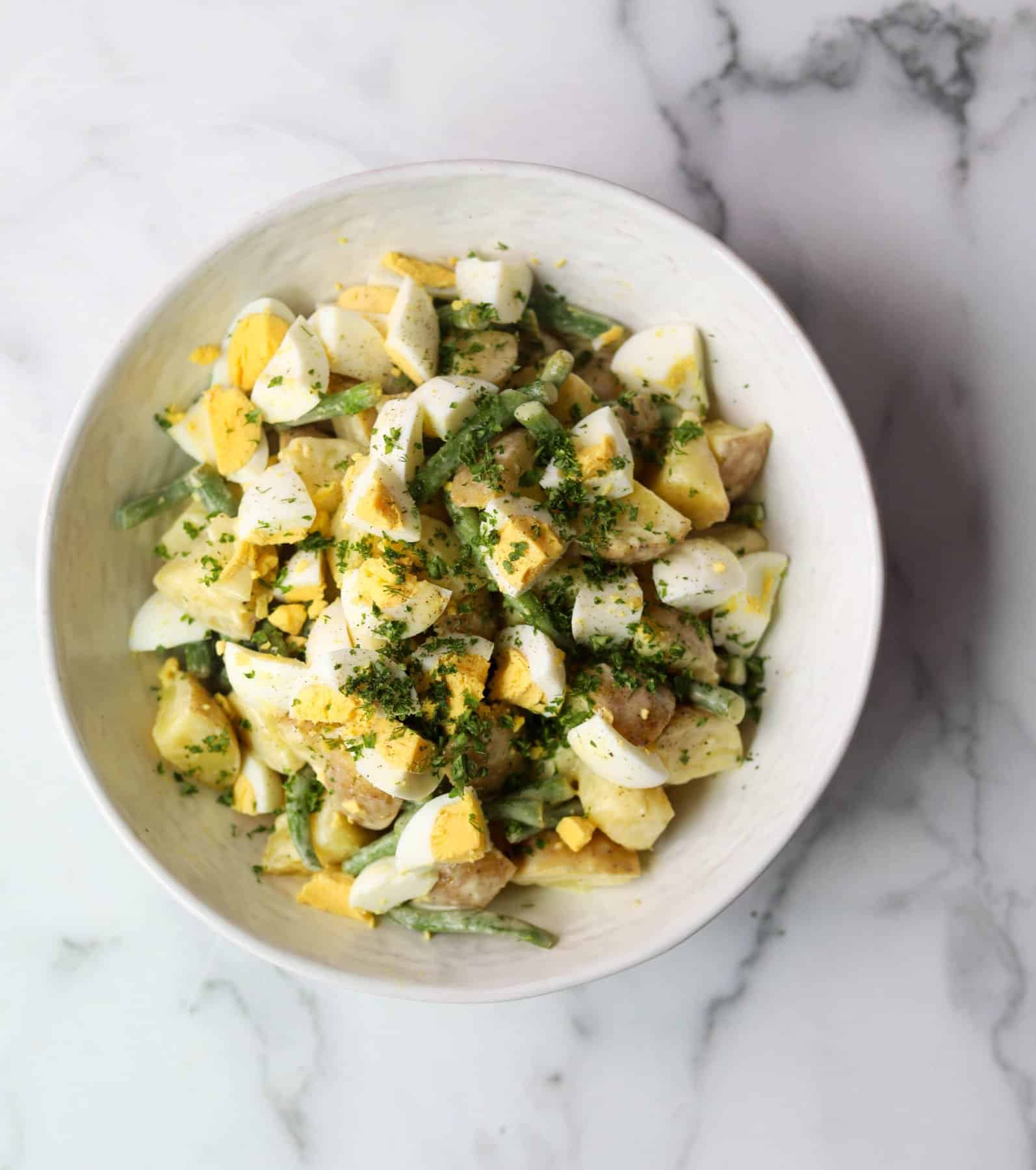 How to make green bean potato salad
Ingredients
For the dressing:
Mayonnaise. Just a few tablespoons will offer the creaminess we all know and love when it comes to potato salad, but we aren't going overboard.
White wine vinegar or pickle juice. I highly encourage you to use pickle juice because it just adds another element that will blow your mind, but vinegar is fine, too!
Sugar. To balance out the acidity of the vinegar/pickle juice, Dijon and lemon.
Dijon mustard. Will give the dressing body and a ton of flavor.
Lemon. It pairs so nicely with the green beans and herbs.
Garlic. Why not?
Olive oil. This is the base of the dressing, really, and the olive oil goes so well with all of the other ingredients.
For the salad:
Yukon golds. You can use any potato, but Yukons are my favorite. They're rich and bold and beautiful, and I always leave the skins on.
Green beans. They're going to be blanched and shocked so they stay nice and bright and crisp. You'll love it.
Hard-boiled eggs. I'm honestly not interested in a potato salad that doesn't have hard-boiled eggs in it.
Parsley and chives. The herbs bring a bright freshness to the salad.
Equipment
A bowl and whisk to make the dressing.
Measuring cups and spoons, unless you want to eyeball it.
A large pot to boil the potatoes and blanch the green beans.
A colander for draining.
A cutting board and knife to chop everything.
A spatula to mix it all together.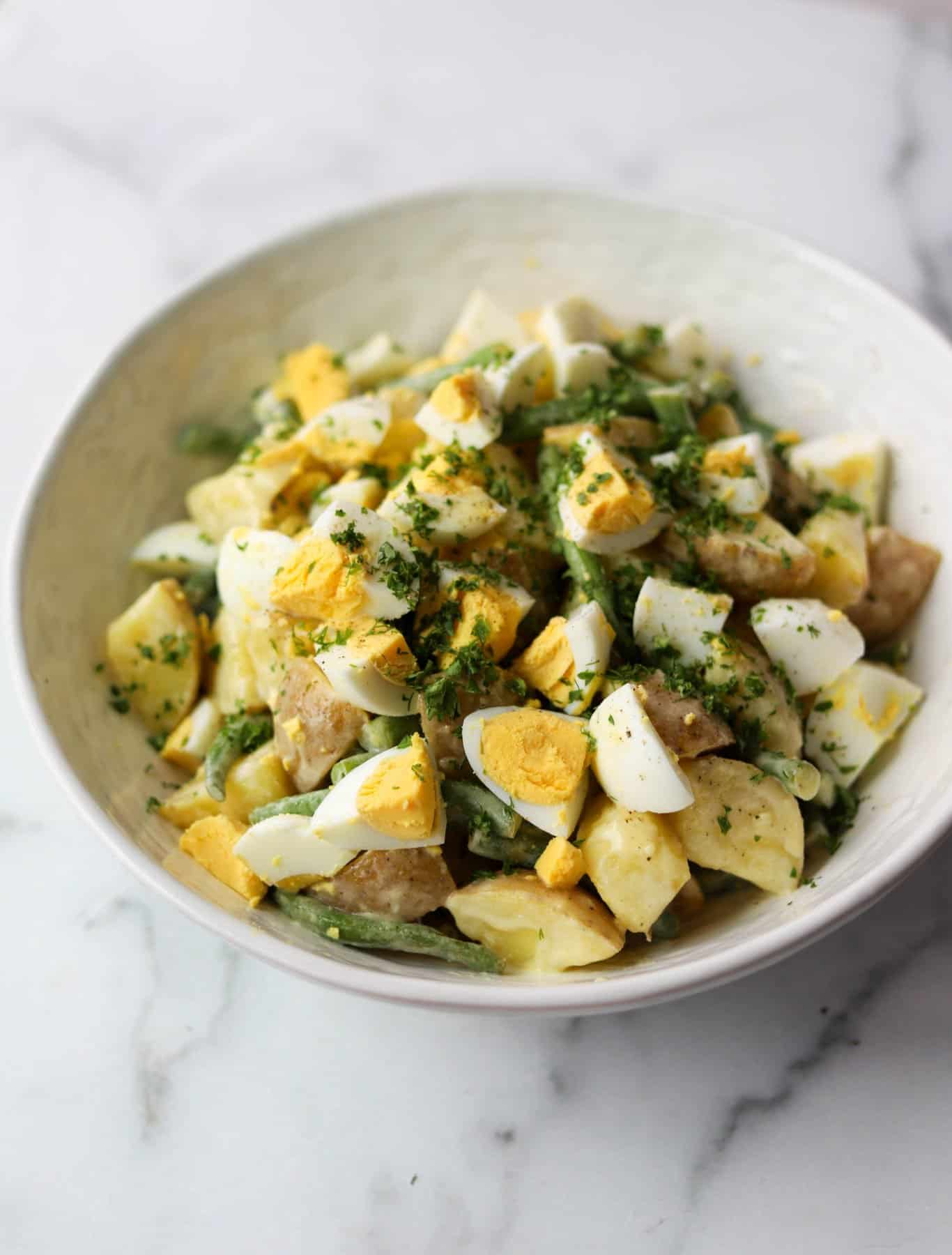 Step-by-Step Instructions
The first step is to make the dressing. Now, trust me when I say I LOVE mayonnaise.

So I don't want you thinking I am dogging mayo-based potato salad because I strongly feel there is a time and a place for it.
But sometimes I just want something a bit lighter and more flavorful, which is where this dressing comes in.
It's a mix of mayonnaise, vinegar, Dijon mustard, lemon juice and olive oil and is balanced with a pinch of sugar and flavored with lemon zest, fresh garlic, salt and pepper.
It's SO good you'll probably find other places to drizzle it, and that's totally okay.

The next step is to fold in the potato salad ingredients. We have Yukon gold potatoes (reds would also be nice), fresh green beans, hard-boiled eggs, parsley, chives and dill.

The potatoes are in big chunks and they nicely soak up the dressing.
The green beans are cooked just a few minutes, then rinsed in cold water to keep them bright and crisp.
The green beans add crunch and body to the salad and I truly think you're going to love it. (For any gardeners out there - this is also a fabulous recipe to use up some of those green beans!)
The hard-boiled eggs provide some richness, texture and that classic potato salad feel, and are honestly one of the ingredients I consider a MUST HAVE in potato salad. I just love them.
And the fresh herbs, which can be totally customized (try tarragon!), give it an upscale, fresh taste that most potato salads lack.

There are just so many positives about this salad, and I see myself making it over and over again this summer (I hope you do, too).
What to pair with this potato salad
Honestly, any grilled, roasted or oven-fried meat goes super well with this potato salad. I'm talking grilled chicken thighs, legs or breasts smothered in BBQ sauce.
Grilled flank steak or salmon with chimichurri sauce, some grilled scallops or white fish with fruit salsa, burgers with fresh slices of heirloom tomatoes, grilled pork tenderloin with peach glaze, or my famous Cornflake-Crusted Buttermilk Chicken.
I also have a stellar chili-infused grilled tofu recipe with fruit salsa in my MIND diet cookbook!
So many delicious ways to serve this up, but I highly recommend bringing it to a potluck, summer BBQ or just make a batch at home and enjoy it with dinner all week.
You won't regret it.
Other amazing spring/summer recipes:
Print
Green Bean Potato Salad
Homemade potato salad with yukon golds, green beans, hard-boiled eggs and herbs and a light mayo olive oil and Dijon dressing.
Author:
Prep Time:

10-15 mins

Cook Time:

10-15 mins

Total Time:

20-30 mins

Yield:

Serves 8

Category:

Sides, Salad

Method:

No-Cook

Cuisine:

American
Dressing:
3 tablespoons

mayonnaise

2 tablespoons

white vinegar or pickle juice

1 tablespoon

honey or granulated sugar

½ tablespoon

Dijon mustard
Zest and juice of 1 medium lemon

2

cloves garlic, peeled and minced

½ cup

olive oil

1 ¼ teaspoons

coarse salt

½ teaspoon

freshly ground black pepper
Salad:
2

pounds Yukon gold potatoes, cubed

½

-pound fresh green beans, trimmed and cut into

2

-inch pieces

4

hard-boiled eggs, peeled and chopped

½ cup

flat-leaf Italian parsley, chopped

2 tablespoons

fresh chives and/or dill, chopped
Instructions
In a large glass bowl, whisk together the mayonnaise, vinegar, honey, Dijon and lemon zest and juice until incorporated. Slowly drizzle in the olive oil until emulsified. Season with salt and black pepper; taste and adjust seasoning, if necessary. Set aside.
Bring a large pot of water to a boil. Add the potatoes and cook 4-5 minutes, then add the green beans and cook another 2-3 minutes or until potatoes and green beans are just barely fork tender. Drain and rinse with cold water.
Add the potatoes, green beans and hard-boiled eggs to the bowl with the dressing and toss to coat. Refrigerate at least an hour. Toss with parsley and fresh chives and/or dill and serve.
Notes
Cooking Tip: Cook and cool the potatoes and green beans ahead of time. Make the dressing ahead of time. Combine all of the salad ingredients and refrigerate a few hours before serving for best flavor.
Nutrition
Serving Size:

⅛ of recipe

Calories:

304

Sugar:

5g

Sodium:

139mg

Fat:

20g

Saturated Fat:

3g

Unsaturated Fat:

17g

Trans Fat:

0g

Carbohydrates:

34g

Fiber:

3g

Protein:

6g

Cholesterol:

108mg
Keywords: potato salad, salad, side, side dish, sides, summer, quick and easy, no cook