Get ready for a refreshing treat that'll make your taste buds spark joy.
It's a simple banana peach smoothie made with Greek yogurt, milk and honey, and it's delicious.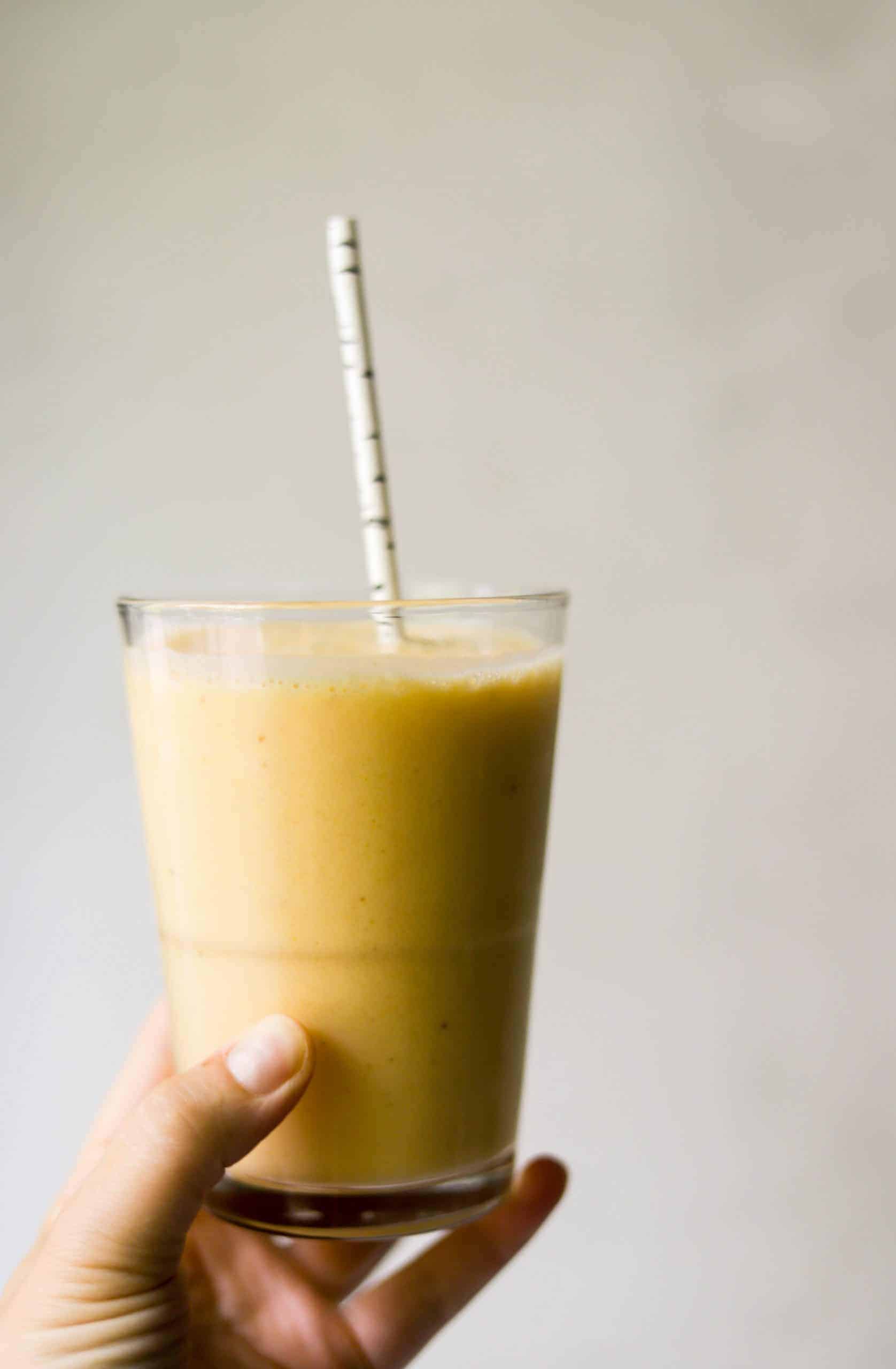 Why we love smoothies
They're nutritious. When you make your own smoothies, you are in control of what goes in them.

Generally, the bulk of a smoothie is made of fruit and sometimes vegetables, which we know are packed with fiber, vitamins, minerals and antioxidants.
You can also add other nutrition powerhouse ingredients like chia, flax and hemp seeds, avocado, yogurt, nuts and dark leafy greens like spinach and kale.
They can also be quite balanced from a macronutrient perspective (macros are protein, fat and carbs) if you have a combination of, say, fruit and veggies (carbs), Greek yogurt (protein, carbs) and fats (avocado, seeds, nuts).
You can also control how much and what kind of sweetener you use (if you use any).
Basically what I'm saying is you can pack a ton of nutrition into one glass.

They're quick and easy to make. Smoothies don't require a ton of prep. You can grab frozen fruit and/or vegetables and pop them in a blender with yogurt, milk and whatever else you have on hand that you want to add in.

Give the ingredients a whirl in the blender and voila! You have a quick, easy and wholesome snack or meal.

They don't require cooking. Most smoothie ingredients go in raw, so you don't have to do any cooking.

This is especially nice when you're in a hurry in the morning or when it's hot outside and you don't want to turn the oven or stove on.

They're highly customizable. You can add (or subtract) basically whatever you want to a smoothie! Alternate the types of fruits and vegetables you use, mix up your mix-ins, use spices and herbs, try it with or without yogurt, add some greens.

Anything goes (well, almost anything)!

You can sneak ingredients in. Not that I'm a big fan of sneaking around, but smoothies are a vehicle for introducing or including ingredients into your diet (or someone you love) that maybe you wouldn't otherwise consume.

Greens, like spinach and kale, for example, are often rejected (I'm looking at you, husband), but when mixed in a smoothie with fruit, you hardly even know you're there.

They're delicious and refreshing. I don't know about you, but I find an ice cold smoothie to be delicious, lightly sweet and totally refreshing.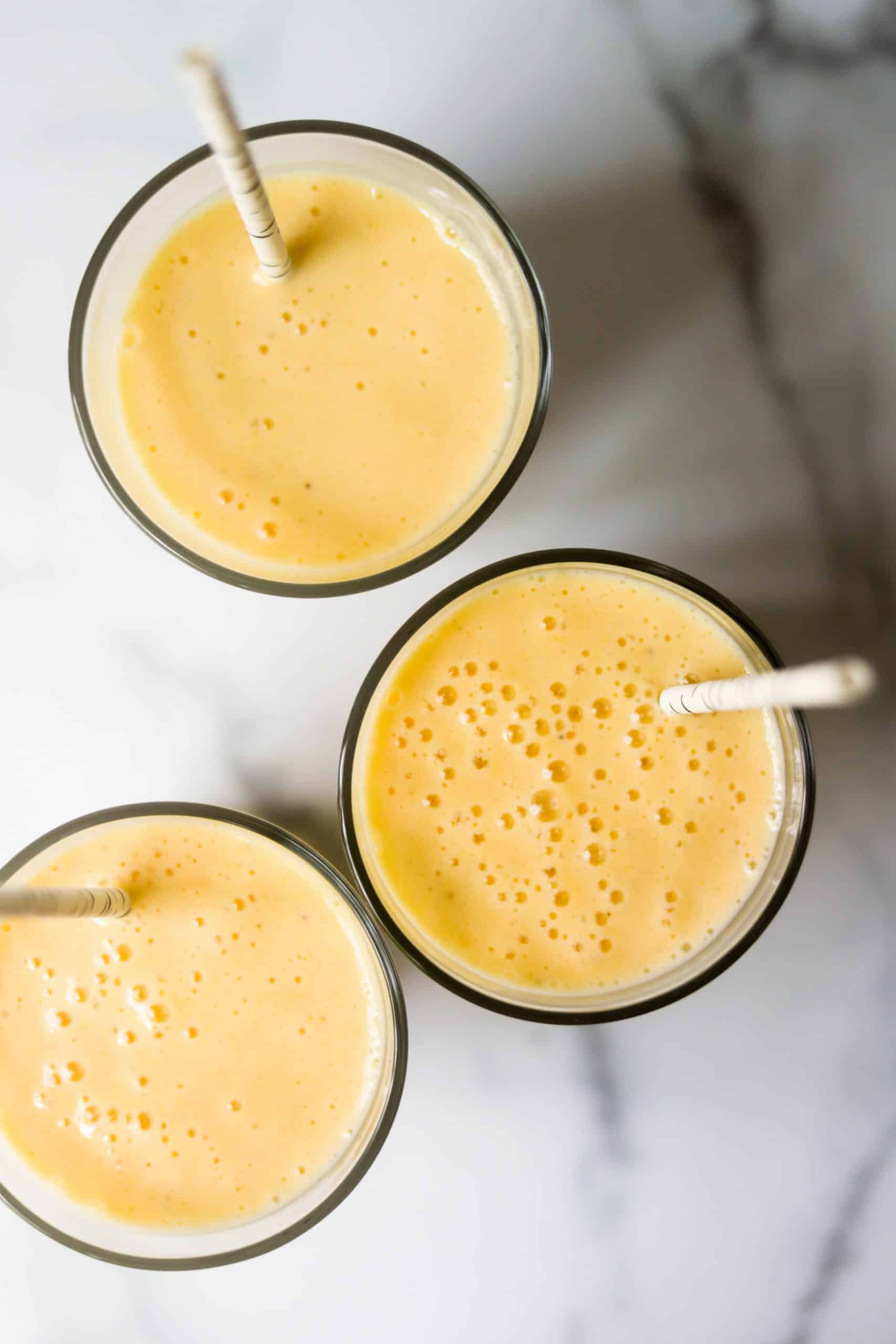 How to make banana peach smoothies
Start with the base ingredients: The first step to making a delish smoothie is to nail the "base" ingredients.

My smoothie formula is about 1 ½-2 cups of frozen fruit + ¼-1/2 cup Greek yogurt + ½-1/3 cup milk.

In this case we're using bananas and peaches as our fruit.

Then, you can add some mix-ins.

Try a tablespoon or two of chia, flax or hemp seeds or nuts, a handful of leafy greens, ½ an avocado, extracts and/or your sweetener of choice.

Add it all to a blender, then puree until smooth.

You can certainly adjust how much liquid you add based on how thick or thin you like the smoothie.

Give it a taste and adjust, if needed.

If it tastes a little bland or the flavors just don't "pop", I'll add a bit of honey or a sprinkle of stevia - or even a pinch of salt.
Ingredients
Bananas. Grab a few bananas, peel them and place them in a Ziploc in the freezer. When you're ready to make a smoothie, so are the bananas.
Peaches. I keep a bag of frozen peaches (or mango or pineapple) in the freezer almost always. Adding them to a smoothie brightens my day.
Greek yogurt. You can use whole milk, 2%, non-fat - whatever suits you. You can also use plain or vanilla or another flavor if it goes well with the other smoothie ingredients.
Milk. Any milk will work, it's up to you.
Vanilla extract. If you use plain Greek yogurt, you can add a splash of vanilla extract to give the smoothie more flavor.
Honey. This is optional, but it brings the smoothie to life.
Salt. For the same reason I use salt in all of my cooking, I use it in my smoothies. Just a small pinch will make it taste that much better. Of course this is optional.
Equipment
A high-powdered blender.
Measuring cups and spoons, unless you want to wing it (no judgment).
Maybe a spatula for scraping the sides, depending on your blender.
A glass and straw for serving.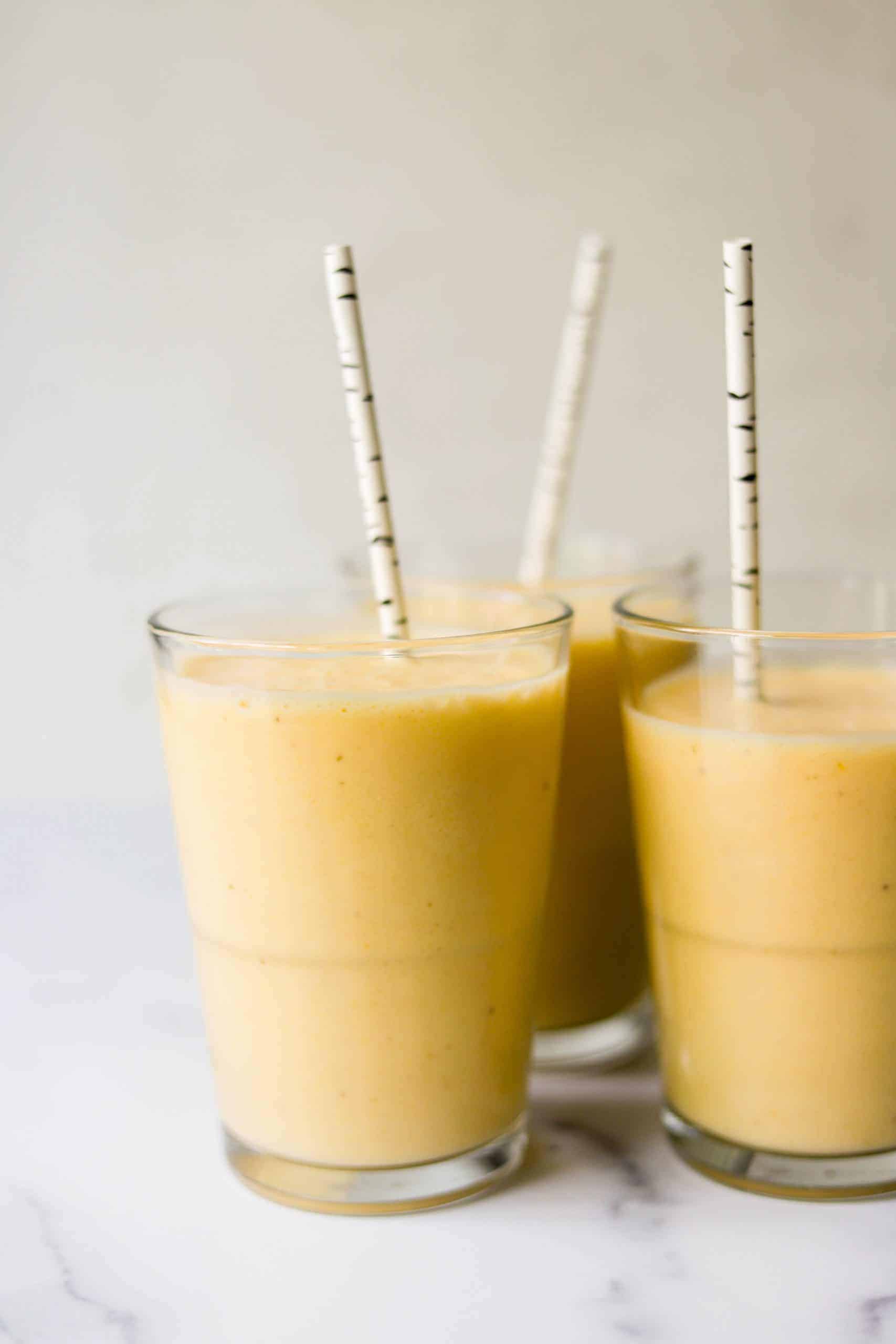 Recipe Substitutions & Alterations
To make it gluten free: This recipe is naturally gluten free!
To make it dairy free: Use a dairy free yogurt and milk alternative such as oat, soy, almond, cashew, coconut or rice milk.
To make it vegan: Use a plant-based yogurt and milk alternative such as oat, soy, almond, cashew, coconut or rice milk.
Fruit: Try it with mango, pineapple, dark sweet cherries or berries instead of or in replacement of some of the peaches.
Yogurt: Use any type of Greek yogurt or regular yogurt. If you're looking for dairy free or vegan options, try oat, soy, almond, cashew or coconut yogurt.
Milk: Use any type of milk. If you're looking for dairy free or vegan options, try oat, soy, almond, cashew or coconut milk.
Sweetener: If you want to add a little sweetness to your smoothie, try adding honey, maple syrup, stevia, monkfruit extract or agave. You can even add a few dates to the smoothie for natural sweetness.
Smoothie Mix-Ins
Seeds: Such as chia, flax or hemp.
Nuts: Such as walnuts, pecans, almonds or cashews.
Extracts: Such as vanilla or almond.
Greens: Such as spinach or kale.
Avocado: If you want a higher fat, creamier smoothie.
Dates: For added sweetness.
Vegetables: Such as carrots (they're mild yet nutritious).
Protein powder: Unflavored or a flavored one that goes well with the other ingredients.
Spices and herbs: Maybe that's fresh ginger, turmeric, cinnamon or nutmeg or fresh basil or mint.
This may be controversial, but I do not add ice to my smoothies. I use frozen fruit, instead, because I feel adding ice waters it down, yielding a less flavorful smoothie.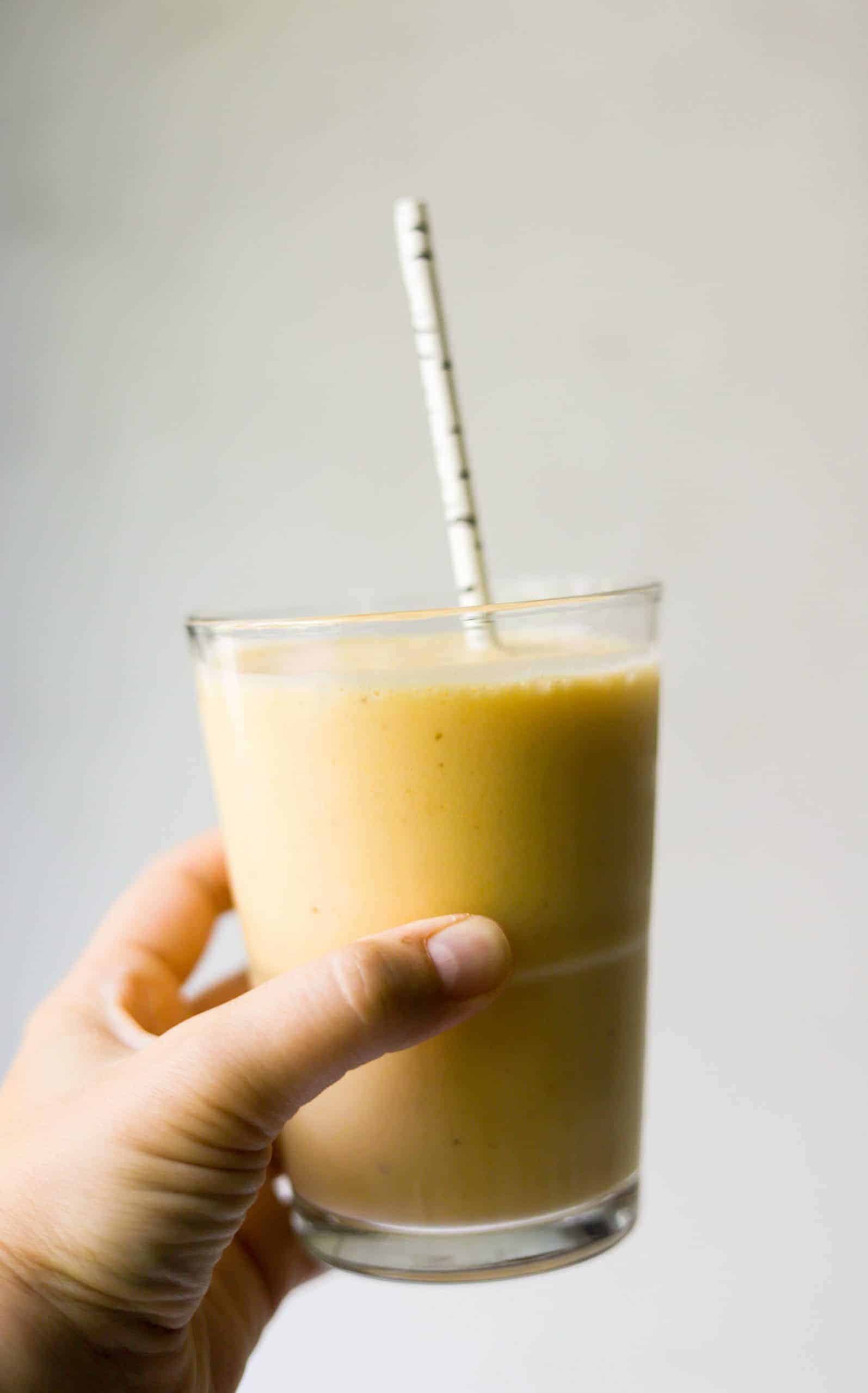 Other delicious smoothie recipes:
Print
Banana Peach Smoothie
A simple banana peach smoothie made with Greek yogurt, milk and honey.
Author:
Prep Time:

5 mins

Cook Time:

0 mins

Total Time:

5 mins

Yield:

Serves 1

Category:

Drinks

Method:

No-Cook

Cuisine:

American
1

medium ripe banana, peeled and frozen

1 cup

frozen peach slices

¼ cup

plain Greek yogurt +

½ teaspoon

vanilla extract or

¼ cup

vanilla Greek yogurt

½ cup

milk (of choice)

2 tablespoons

honey (optional)
Pinch salt
Instructions
Place the banana, peaches, Greek yogurt, milk, honey (if using) and salt in the pitcher of a blender.
Puree until smooth.
Serve immediately.
Notes
Substitution Tip: Try this recipe with mango or pineapple instead of peaches.
Nutrition
Serving Size:

1 smoothie

Calories:

258

Sugar:

26g

Sodium:

101mg

Fat:

4g

Saturated Fat:

1g

Unsaturated Fat:

1g

Trans Fat:

0g

Carbohydrates:

49g

Fiber:

6g

Protein:

10g

Cholesterol:

8mg
Keywords: smoothie, smoothies, breakfast, brunch, gluten free, vegetarian