In the food space, I have heard many people refer to 'rustic' food as lazy food. But I beg to differ that this rustic heirloom tomato pizza is anything but a treasure.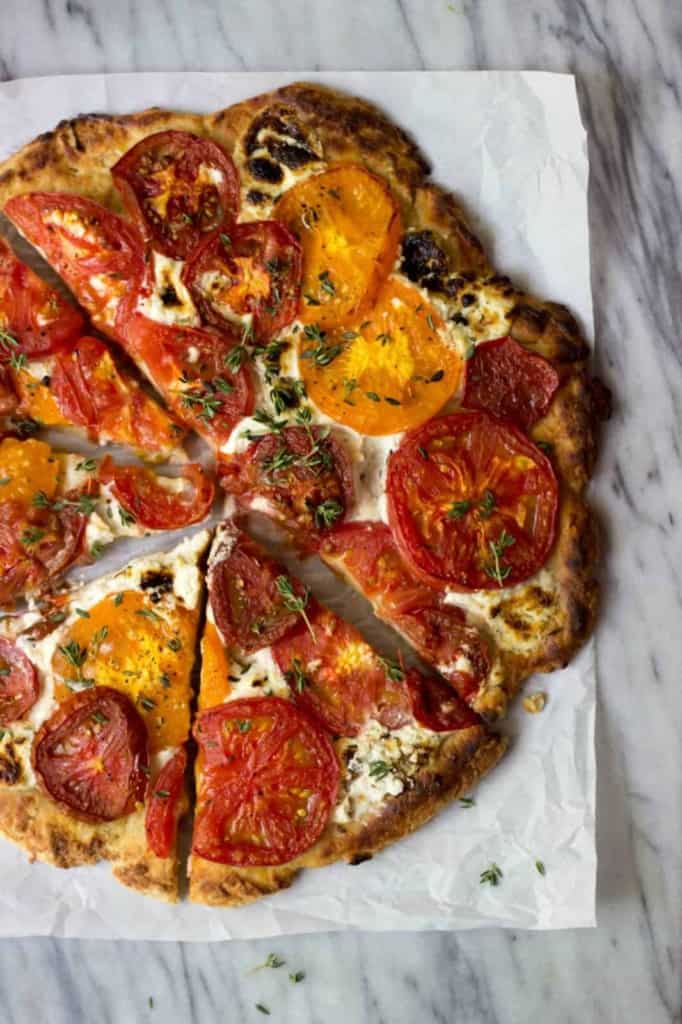 What makes rustic heirloom tomato pizza so darn good?
And if that's the case, I'm proud to be labeled as lazy. Because this pizza... this pizza right here... is the epitome of rustic. The edges of the pizza crust are rough, the tomatoes are all different sizes and curl up around the edges when roasted, the cheese is dolloped on with pure randomness and the fresh thyme is scattered about in no pattern whatsoever.
And I love everything about it. I could've photographed this pizza for hours upon hours because it is so beautiful.
So I am proudly calling this prize Rustic Heirloom Tomato Pizza.
And although I've already pretty much told you what goes into this pizza, please allow me to elaborate...
See these tomatoes right here?  They are 1000% what I love most about summer. 
Right now, at the end of July, tomatoes are popping up in gardens everywhere, and although I don't have a garden yet at the new house, I am always on the hunt to find the best tomatoes. 
Now that we're living in the Fox Cities area again, I was incredibly excited to visit the farmer's market last Saturday, and more importantly, the Water's Edge tomato farm stand. 
I used to buy tomatoes from this stand every weekend when we lived in Appleton a few years ago, and I sincerely missed them when we moved away. 
This was my first Saturday back visiting their stand, and I remembered alllll the reasons why I loved them so much. JUST LOOK AT THESE TOMATOES.
Why I love this pizza crust...
You can see the multiple bright colors and can tell how plump and juicy they are.  These are heirloom varieties at their finest, and I wanted to take every last tomato home with me. 
But alas, I chose a handful of the cutest ones and brought them home to make this fabulous pizza. 
And to eat the scraps and leftovers straight from the cutting board.
Now, the other couple of neat things about this pizza, besides the tomatoes and rustic touch, is the crust, the cheese and the fresh herbs.
For starters, the crust is one of my favorite recipes because it 1) doesn't need to rise and doesn't require much kneading (gasp!), 2) has a boost of protein to make this pizza a complete meal (yes, we need protein in all of our meals), 3) your mind will be blown away that this crust has Greek yogurt in it to provide that protein and you won't taste it AT ALL, and 4) it's crispy and crunchy on the edges but is soft and pillowy on the inside.
I recommend baking it a few minutes before adding the toppings for extra crispiness. *again, mind blown.*
I honestly don't make pizza crust any other way. Just try it, and trust me.
Let's talk about the pizza toppings
Next, I'd like to discuss the cheese. I am typically an equal-opportunist when it comes to cheese, but boursin is quickly pulling ahead of the rest. If you haven't tried it, now is the time. It's creamy, gooey, salty and literally melts in your mouth.
I chose the herb kind, and was absolutely blown away by it's deliciousness paired with the heirlooms.  I don't think I can do pizza any other way at this point. 
It's incredible on crackers or just with a spoon, but when it bakes on the pizza crust, we're welcomed to a new world of cheese pizza. The kind of world we never want to leave.
And with a smattering of fresh thyme and a light dusting of coarse salt and freshly cracked black pepper, this pizza will quickly disappear if you set it out in front of any number of friends, family members or even if it's just you eating pizza, alone (I do it all the time).
Just trust me on this one. Rustic wins.
Print
Rustic Heirloom Tomato Pizza
Homemade Greek yogurt (no rise) pizza crust, boursin cheese, heirloom tomatoes and fresh herbs, baked until golden and bubbly.
Author:
Prep Time:

15 min

Cook Time:

25 min

Total Time:

40 min

Yield:

1

pizza / Serves 4

1

x
Category:

Pizza

Method:

Baking

Cuisine:

Italian, American

Diet:

Vegetarian
Pizza Crust:
1 ¾ cups

whole wheat pastry flour

1 teaspoon

baking powder

½ teaspoon

coarse salt

1 ½ cups

plain Greek yogurt

1

-

2

tablespoons olive oil
Pizza:
4

-ounces boursin cheese (with herbs)

3

-

4

medium heirloom tomatoes, sliced
Coarse salt and freshly cracked black pepper

4

-

5

sprigs fresh thyme, stems removed
Instructions
Preheat oven to 425 degrees.
In a large bowl, mix together flour, baking powder, salt and Greek yogurt until a dough ball forms. Transfer to a baking sheet or pizza stone and press into a ¼-inch thick round and brush olive oil over the top.  Bake 5-7 minutes.  Remove from the oven.
Drop clumps of boursin cheese on the crust, then top with slices of tomato and sprinkle with salt and freshly ground black pepper. Bake an additional 10-12 minutes, then turn the oven to a low broil.  Broil 3-4 minutes or until cheese is browned and bubbly.
Let slightly cool, then slice into wedges and top with fresh thyme leaves.
Notes
Cooking Tip: If using a pizza stone, heat the stone in the oven before pressing the dough onto it.  This will create a crispier crust.  Be careful with the hot pizza stone.
Nutrition
Serving Size:

¼ of the recipe

Calories:

343

Sugar:

5

Sodium:

502

Fat:

17

Saturated Fat:

9

Unsaturated Fat:

8

Trans Fat:

0

Carbohydrates:

35

Fiber:

6

Protein:

13

Cholesterol:

34
Keywords: high protein pizza crust, healthy, summer, seasonal, homemade, from scratch, easy, ideas, whole wheat