This recipe for blackened cod tacos with pico de gallo is in partnership with Sitka Salmon Shares. All views and opinions are my own.
Are you looking for the BEST fish taco recipe? You've come to the right place!
These blackened fish tacos with pico de gallo have grilled or pan-fried blackened cod with homemade pico de gallo and avocado stuffed in toasted corn tortillas with lime crema.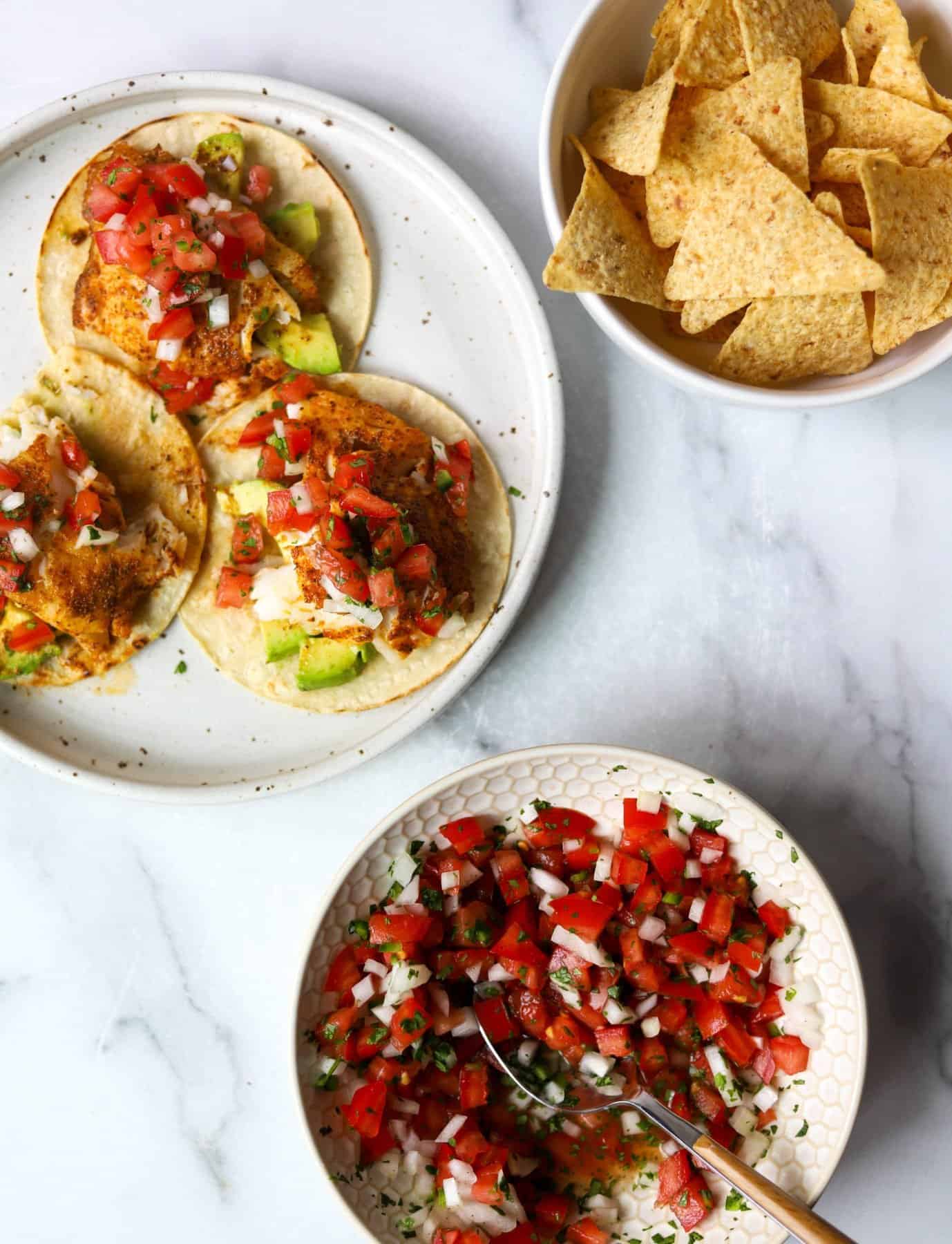 About this recipe
How do you feel about a super easy, summer-friendly recipe that'll knock your socks off?
I'm talking about these fish tacos that take literally minutes to cook and throw together.
They're perfect for a quick weeknight meal out on the patio or your can whip them up inside where the air conditioning is going full-force.
It's your meal, folks, but either way I know you'll love these tacos!
What makes these fish tacos a healthy option?
I'm all about a flavorful meal that is completely balanced, and these blackened cod tacos with pico de gallo fit the bill.
Fish is a great source of lean protein, and we know protein is a building block for so many functions in the human body, and it provides long-lasting energy, keeping us full for hours.

White fish is also low in fat, hence why it's considered lean.
Fat certainly isn't a bad thing, so we've incorporated some heart-healthy fats into these tacos using a few other ingredients.

As far as the seasoning goes for the fish, I used a blackened seasoning for this recipe which is packed full of flavorful herbs and spices, and if you're watching your sodium intake, you can make your own (many premade versions contain A LOT of salt - see below for the recipe!).

As far as cooking methods go, I like to grill the fish or pan-fry it in a little olive oil. Either option is a healthy option!

I use corn tortilla for fish tacos because traditionally that is what is used and I think the texture pairs nicely with seafood, but corn tortillas are also considered a whole grain.

Many brands of corn tortillas are made with just a few simple ingredients, like corn, salt and water.
Whole grains like corn tortilla are a good source of fiber and B vitamins!

The giant dollops of pico de gallo on each taco elevates the nutrition of these bad boys significantly.

The tomatoes, onion, jalapeno and lime juice are packed with vitamins, minerals and water and are low in calories, so it's really impossible to overeat pico (although it may be easy to overdo the tortilla chips you might use for scooping the extras ;)).

The avocado slices provide the heart-healthy fats I was talking about. In avocado, those fats are mostly monounsaturated, which may help lower LDL "bad" cholesterol and increase HDL "good" cholesterol.

Plus, it's totally delicious.

Overall, these tacos provide a good balance of protein from the fish, carbs from the whole grain corn tortillas and heart-healthy fats from the avocado, with plenty of vitamins and minerals from the pico.

It's a win-win situation with flavor + nutrition, folks!
How to make pico de gallo
Pico de gallo is a type of salsa commonly used in Mexican cuisine. It's made from tomatoes, onion, jalapeno or serranos, cilantro, lime and salt, and you can add a pinch of cumin if you're into it.
You simply dice the tomatoes (I used roma) and the onion (I used white) and mince the jalapeno (keep the seeds in for the more heat).
Also, chop the fresh cilantro, and mix it all together with freshly squeezed lime juice (I highly recommend NOT using the bottled kind, fresh is best here) and season to taste.
I do throw in some freshly cracked black pepper because I love it.
The cool thing is you can make this as mild or as spicy as you like just by altering how much (if any) of the jalapeno or serrano you add.
And if you're not a huge raw onion fan, chop them up really tiny to get the flavor but not too much of the crunch.
You can also use any type of tomato, I just use roma most of the time because it doesn't have the snotty tomato innerds, but if you use another variety of tomato, you can just scrap that out and dice up the firm portion to use in your pico.
Make it your own, folks! You may want to make a second batch to eat with tortilla chips, just saying.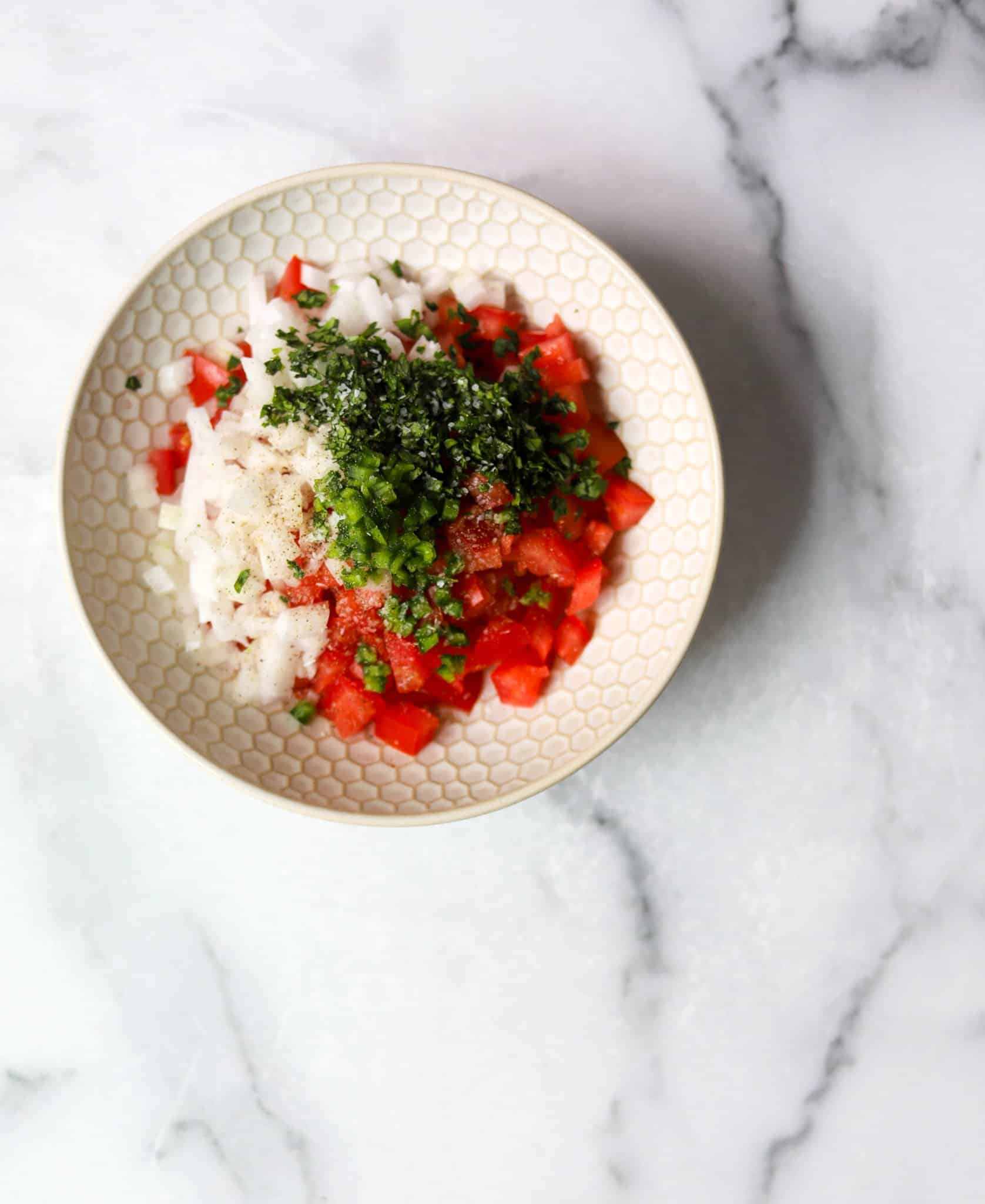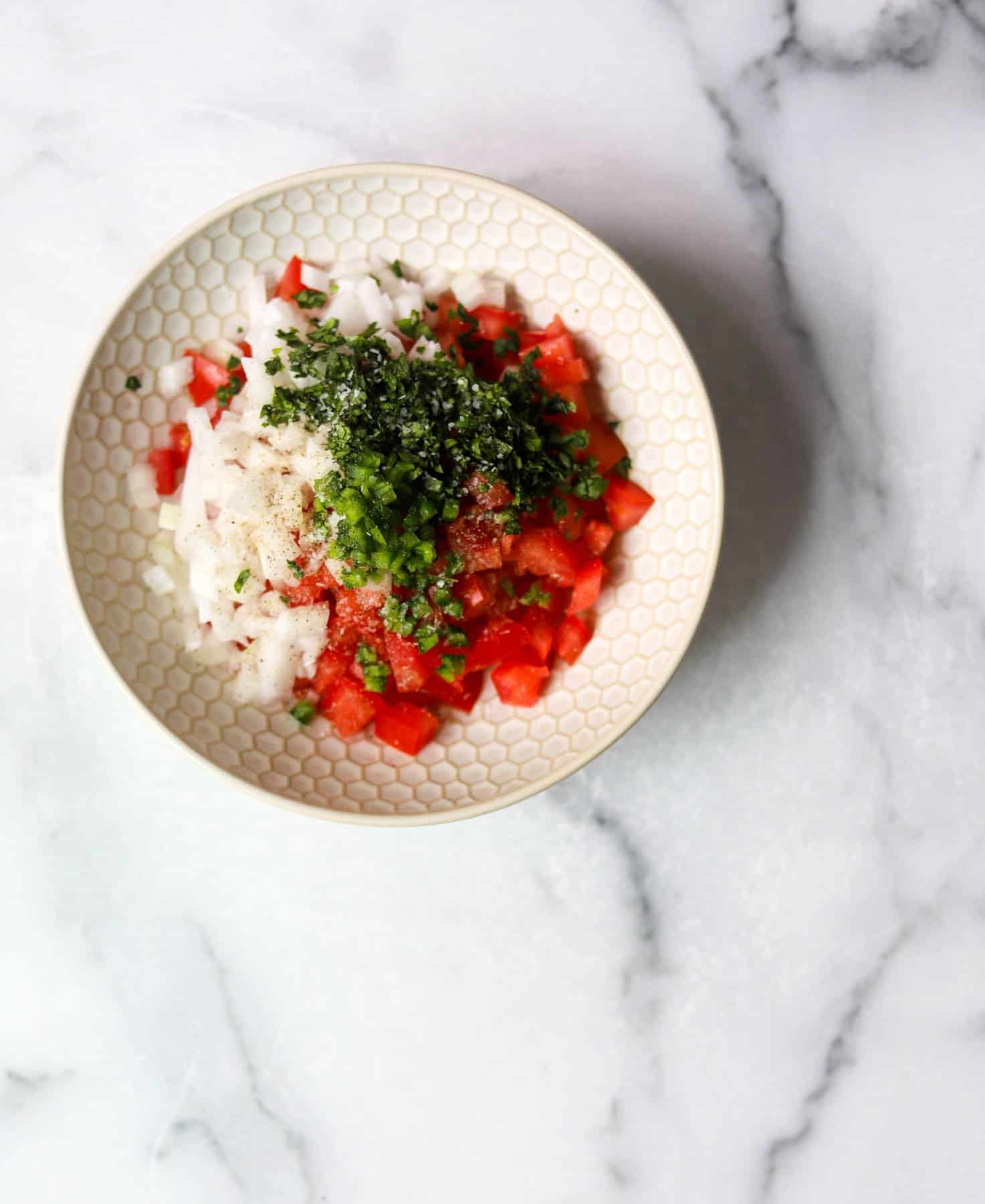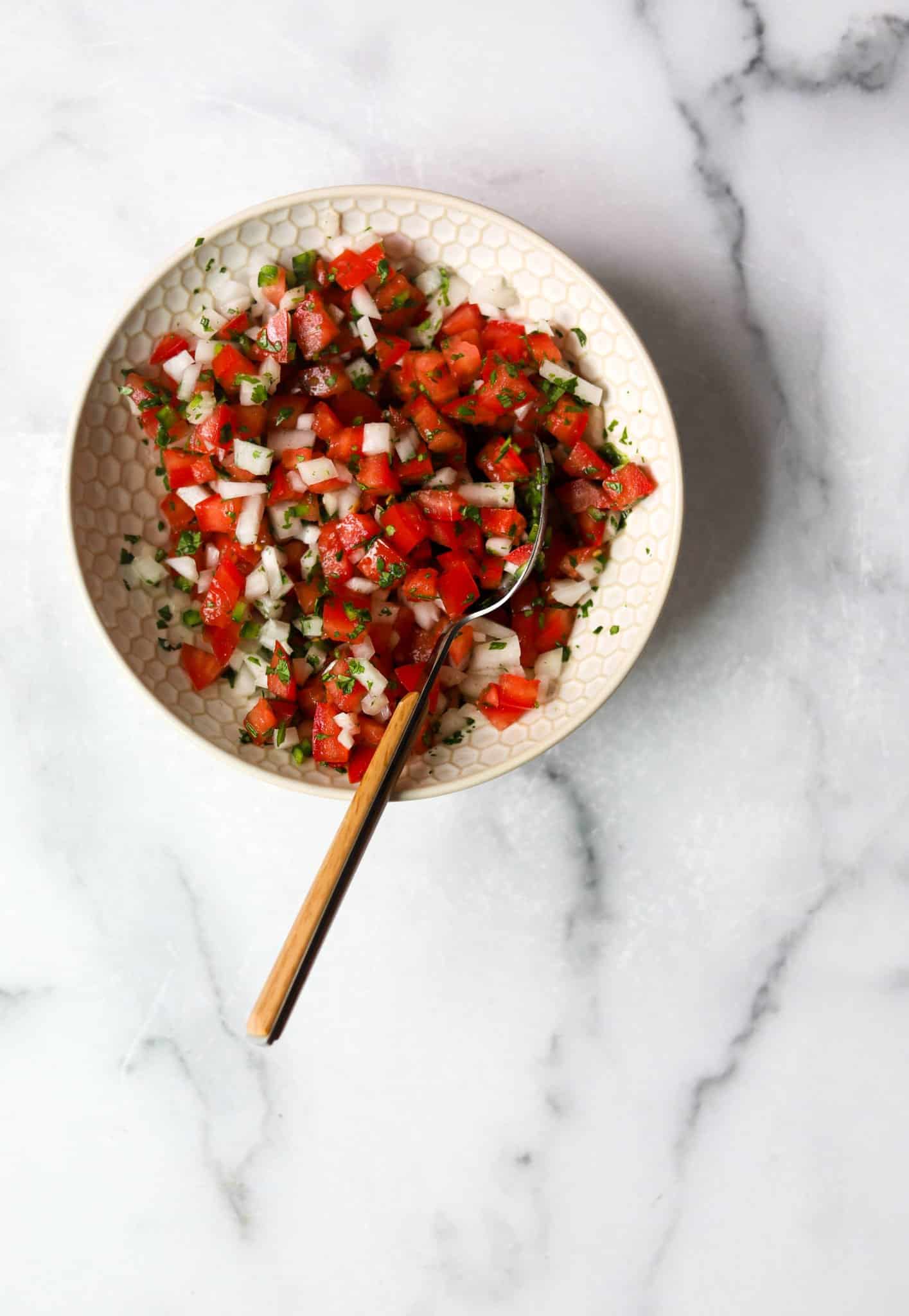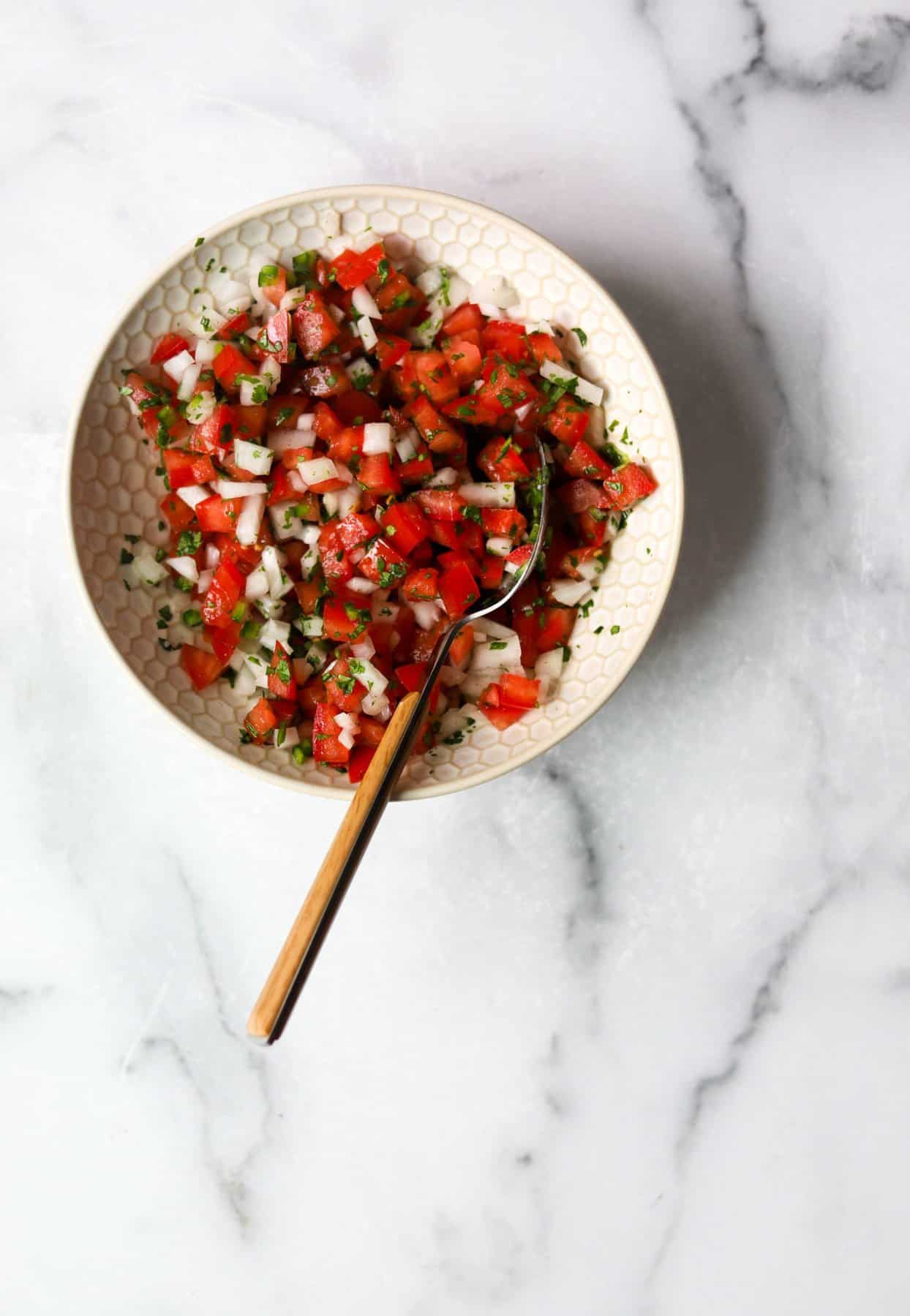 How to make your own blackened seasoning
As I mentioned earlier, making your own blackened seasoning is really simple and easy, and if you're looking to cut back on salt, making your own is the perfect way to be in control of how much salt you consume (I say this ALL the time as it applies to every aspect of cooking!).
Here is my simple blackened seasoning recipe:
1 tablespoon smoked paprika
½ tablespoon onion powder
1 teaspoon garlic powder
1 teaspoon Italian seasoning
½ teaspoon ground black pepper
¼ teaspoon cayenne pepper
Simply mix it all together in a container or bag and use as you please! It'll keep for a few months in a dry pantry.
You can add salt right to the seasoning mix or season your fish with salt before cooking. Add as much or as little as you like.
How to properly cook fish
Many people are intimidated by cooking fish and seafood because it can be pricy and because many people just don't have as much experience cooking it as they do other proteins.
But the great news is fish is actually quite easy to cook and cooks really, really fast!
Here are my best tips for cooking fish:
The first step is to prep the fish. If it's frozen, you can thaw it out in the refrigerator for 1-2 days or you can run it over cold water in its vacuum sealed package until it's thawed (not hot water, as this will start the cooking process).

If it's fresh, it should be ready to go! Always read the label, but most fresh fish should be cooked within a day or two of purchasing.
If it has skin on it, you can remove it yourself or you can ask the seafood department at your grocery store to remove it for you prior to purchasing.
If you like to eat the skin, go for it! Just be sure to get it nice and crispy when cooking (see tips below).

The next step is to dry off the fish. Oftentimes it has a high moisture content, and moisture is not our friend when we're looking for a nice browned sear on the fish and crispy skin.

Use paper towels to dab the fish until there is no visible moisture on it.

Next, we'll oil the fish or oil the cooking surface we're using.

If you're grilling, broiling or baking, you'll want to brush the fish with oil.
If you're cooking it in a pan, you can add the oil to the pan.

Now we'll season the fish. A simple dusting of salt and black pepper is a must no matter what else you plan to put on it.

In this case we're using blackened seasoning, but you can always play around with other dried herbs and spices like chili powder, cumin and smoked paprika or Italian mixes like basil, oregano and thyme.
The sky's the limit with seasoning!

Get the grill, oven or pan nice and hot (I heat them to medium or medium-high), then go ahead and add the fish to the apparatus.

If the fish filets are thin and you're grilling or pan-frying it, the fish will cook in just 1-2 minutes per side.
If you're broiling or baking it, it may take a few minutes longer, but will still cook in under 10 minutes. It's best to check on it regularly so it doesn't overcook.
Don't add fish to a cold pan because it tends to stick to the surface and break apart and it will be difficult to achieve that browned sear on the outside (skin or no skin).

To tell when fish is done, use the back of a fork and press gently on the fish. If it starts to flake apart (or you visibly see it flaking), it's done! If the flesh bounces back and you and doesn't flake, it's not quite ready.

White fish and thin filets will cook really quickly, while fattier fish like salmon and thicker cuts will take a bit longer.
You can also use an instant read thermometer to test for doneness; fish should reach 145 degrees, but I take it out or off of the cooking appartus once it hits 140 degrees, as it will carryover cook about 5 degrees.
Fish that is cooked properly will melt in your mouth, while overcooked fish will be rubbery.
How to source high-quality fish
I like to buy fish and seafood from a reputable market or grocery store, and fresh or frozen are both great options! My new favorite way to buy fish is through Sitka Salmon Shares.
Their shares of wild Alaska seafood come straight from the fisherman to your doorstep, and besides the fantastic taste and quality of the fish, I love that they share about the family fishermen that caught it.
There's nothing better than eating amazing fish, knowing you're supporting a small business and supporting a sustainable business!
My last few boxes have been stocked with salmon, black bass and cod, and let me tell you - you can taste the difference!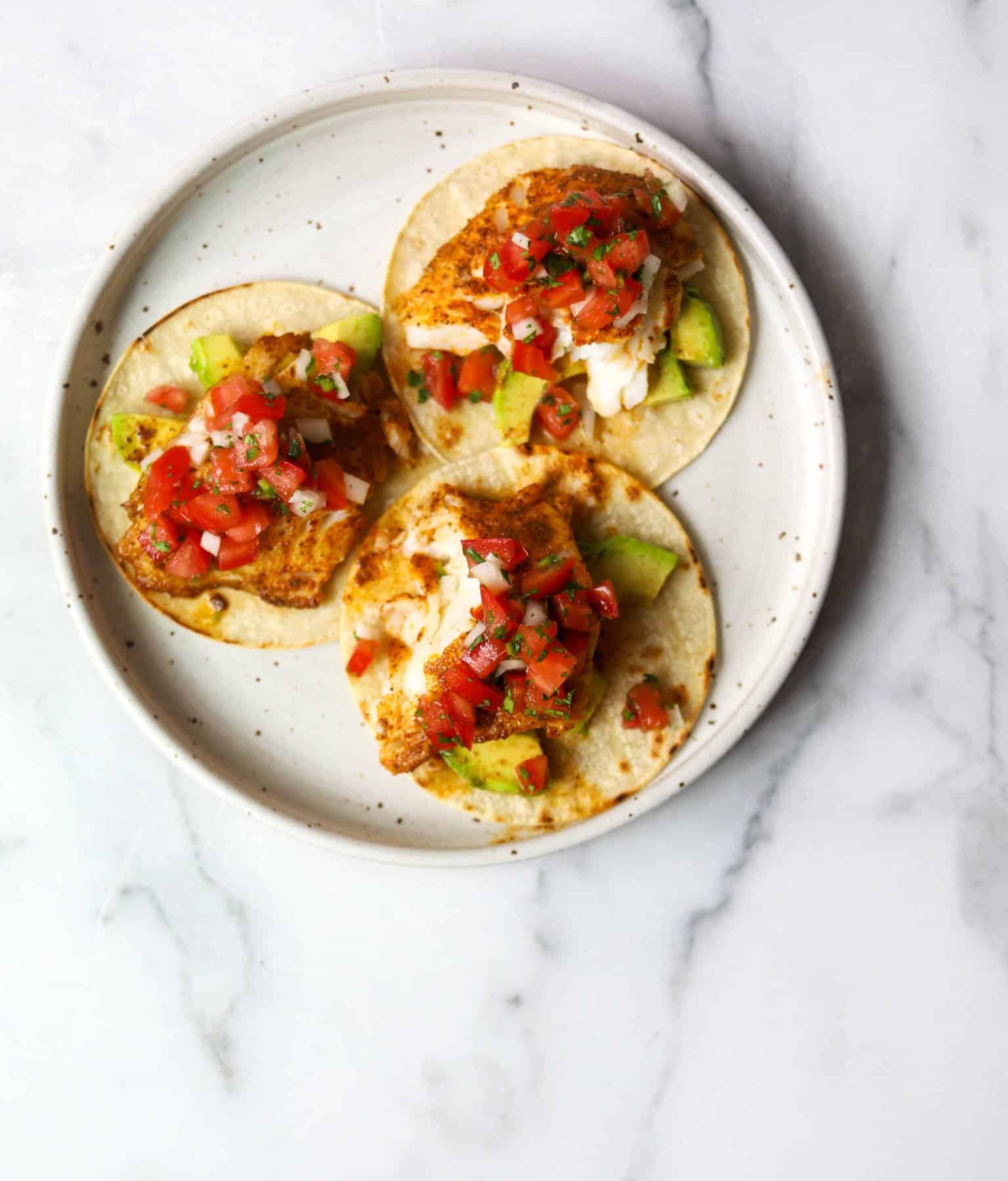 How to assemble the perfect blackened cod tacos with pico de gallo
So we've discussed what makes these tacos a balanced, nutritious meal, how to make each of the main components of the tacos, and how to source high-quality fish, so the last step is assembling these beautiful tacos!
While the fish is cooking, I like to toast the corn tortillas to rid of that "raw" corn flavor, which you can do by heating up a skillet to medium-high and cooking the tortillas a few minutes per side or until they are toasty and browned.
Then, I slice up a slightly ripe avocado, line it on the tortillas, then scoop the fish onto it with heeps of pico de gallo.
If you'd like, you can finish it all with a drizzle of lime crema, which is just fresh lime juice mixed with plain Greek yogurt or sour cream. I highly suggest it.
Print
Blackened Cod Tacos with Pico de Gallo
Grilled or pan-fried blackened cod with homemade pico de gallo and avocado stuffed in toasted corn tortillas with lime crema.
Author:
Prep Time:

10-15 mins

Cook Time:

5-10 mins

Total Time:

15-25 mins

Yield: Makes

8

tacos

1

x
Category:

Seafood

Method:

Stove-Top, Grilling

Cuisine:

American
Pico de Gallo:
2

medium ripe tomatoes, cored and diced

½

small white onion, peeled and minced

½

medium jalapeno, seeded and minced (optional)

¼ cup

fresh cilantro, chopped
Zest and juice of 2 medium limes

½ teaspoon

kosher or sea salt
Fish Tacos:
1

-pound cod filets, skins removed

2 teaspoons

oil

2 teaspoons

blackened seasoning*

¼ cup

plain Greek yogurt or sour cream
Juice of

½

medium lime

8

corn tortillas, toasted

1

medium avocado, peeled, cored and sliced
Instructions
In a medium glass bowl, stir together the pico de gallo ingredients. Cover and refrigerate.
Heat a large non-stick skillet or grill to medium heat. Brush the fish filets with oil, then coat with blackened seasoning. Cook in the skillet or on the grill 2-3 minute per side or until fish flakes easily with a fork.
In a small bowl, stir together the yogurt and lime juice.
Serve fish on toasted corn tortillas with slices of avocado, pico de gallo and a drizzle of lime yogurt.
Notes
To make your own blackened seasoning: Many pre-made blackened seasonings have lots of added salt. To make your own, stir together 1 tablespoon smoked paprika, ½ tablespoon onion powder, 1 teaspoon garlic powder, 1 teaspoon Italian seasoning, ½ teaspoon ground black pepper, and ¼ teaspoon cayenne pepper. Add salt as desired or salt the fish prior to cooking.
Nutrition
Serving Size:

2 tacos

Calories:

326

Sugar:

5g

Sodium:

333mg

Fat:

11g

Saturated Fat:

1g

Unsaturated Fat:

10g

Trans Fat:

0g

Carbohydrates:

30g

Fiber:

7g

Protein:

31g

Cholesterol:

56mg
Keywords: fish tacos, tacos, dinner, quick and easy, grilling, pan-frying