Can I interest you in the juiciest cornflake-crusted buttermilk chicken on earth?!
Chicken thighs are marinated in buttermilk, then coated in a spiced cornflake crust and oven-baked until super crispy.
You can drizzle with honey before serving, if you'd like.
I'm glad I have your attention. Now, let's cook!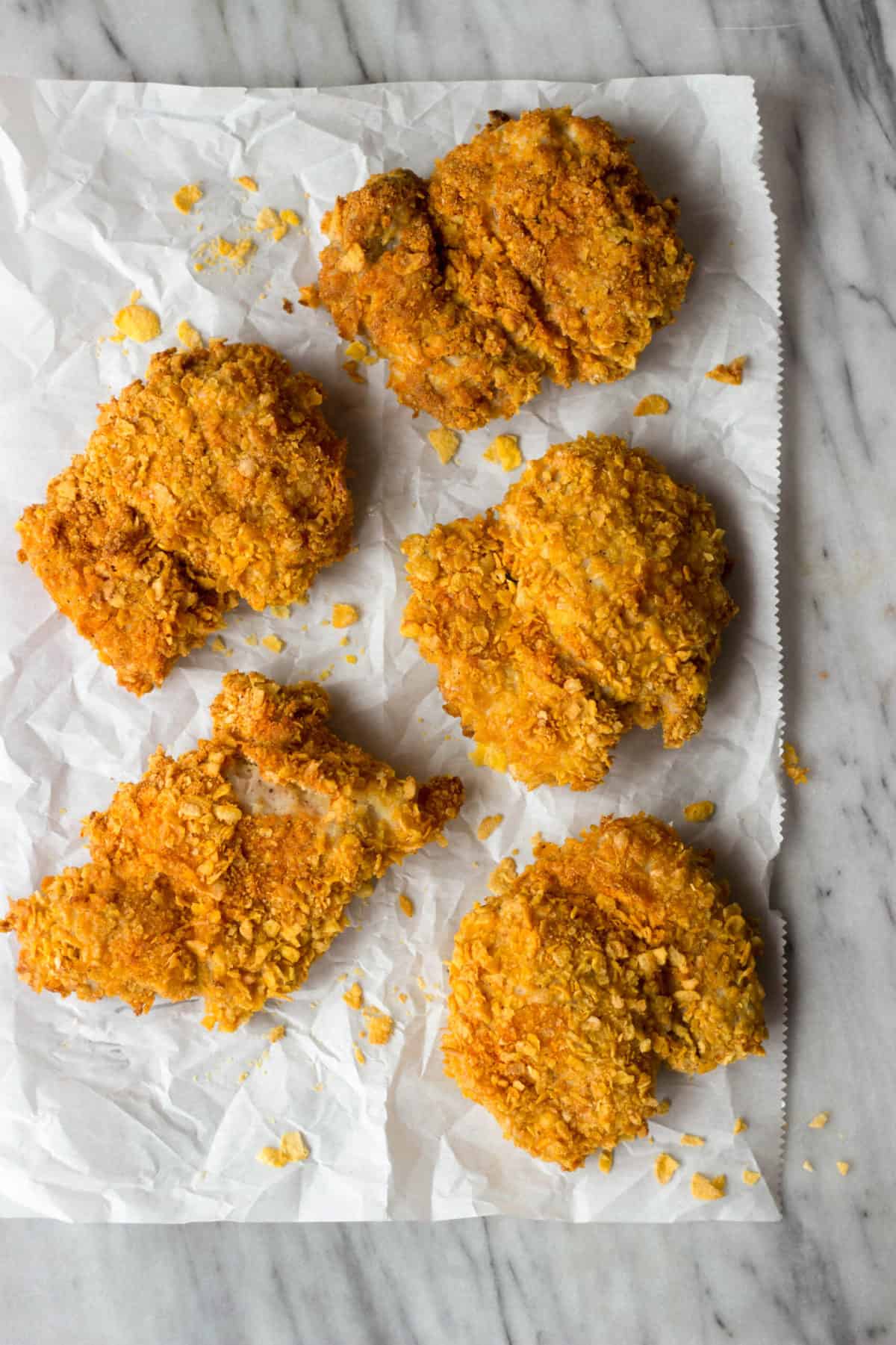 The top 4 reasons why this chicken is so good
Let me reiterate why you need to make this chicken
It's drenched in buttermilk, which is always, always, always a good thing.
It has a spiced cornflake crust that provides so very much crunch.
It's oven-fried and crispy as ever.
It's drizzled with honey right before you eat it.
Enough said, right?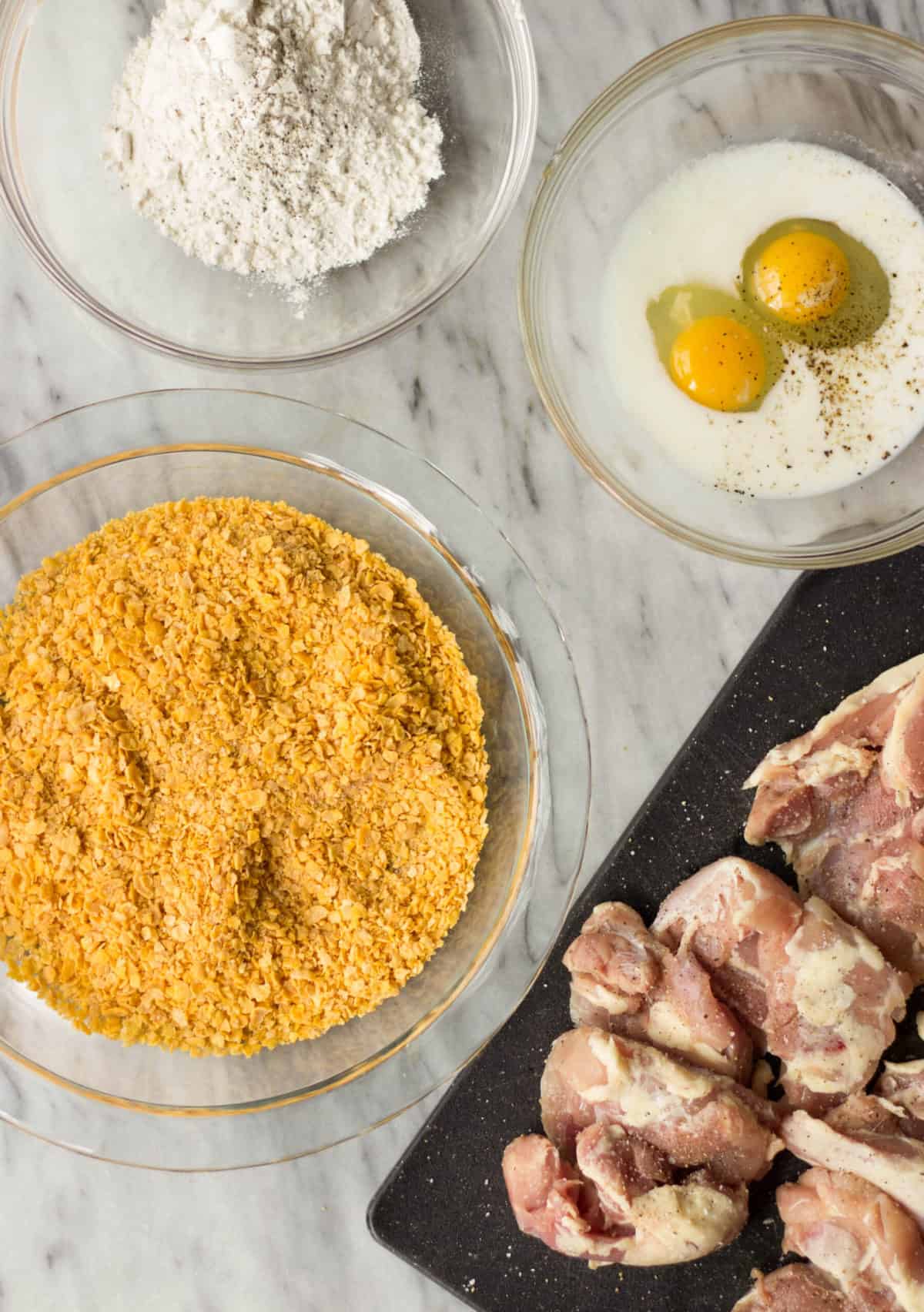 How to make cornflake-crusted buttermilk chicken
Featured Ingredients
For the chicken:
Chicken thighs: Boneless, skinless chicken breasts will be used for this recipe.

They are tender and juicy when drenched in buttermilk, I tell ya'.

Buttermilk: You'll want to use straight up buttermilk for this, not just milk. I promise.
For the breading:
Cornflakes: Crushed up cornflakes make the best coating for this super crispy oven-baked chicken.
Eggs: An egg wash is part of the standard breading procedure because it helps the breading stick to the chicken.
Flour: You'll start with flour when breading the chicken, which will help the egg do its job in adhering the cornflake crust to the exterior.
Seasonings: We're going to use my "secret" blend of onion and garlic powders, smoked paprika, cayenne, salt and black pepper.

You're going to mix up the seasoning blend, then mix some of it with the cornflakes, eggs and flour so all stages of the breading process are adding flavor.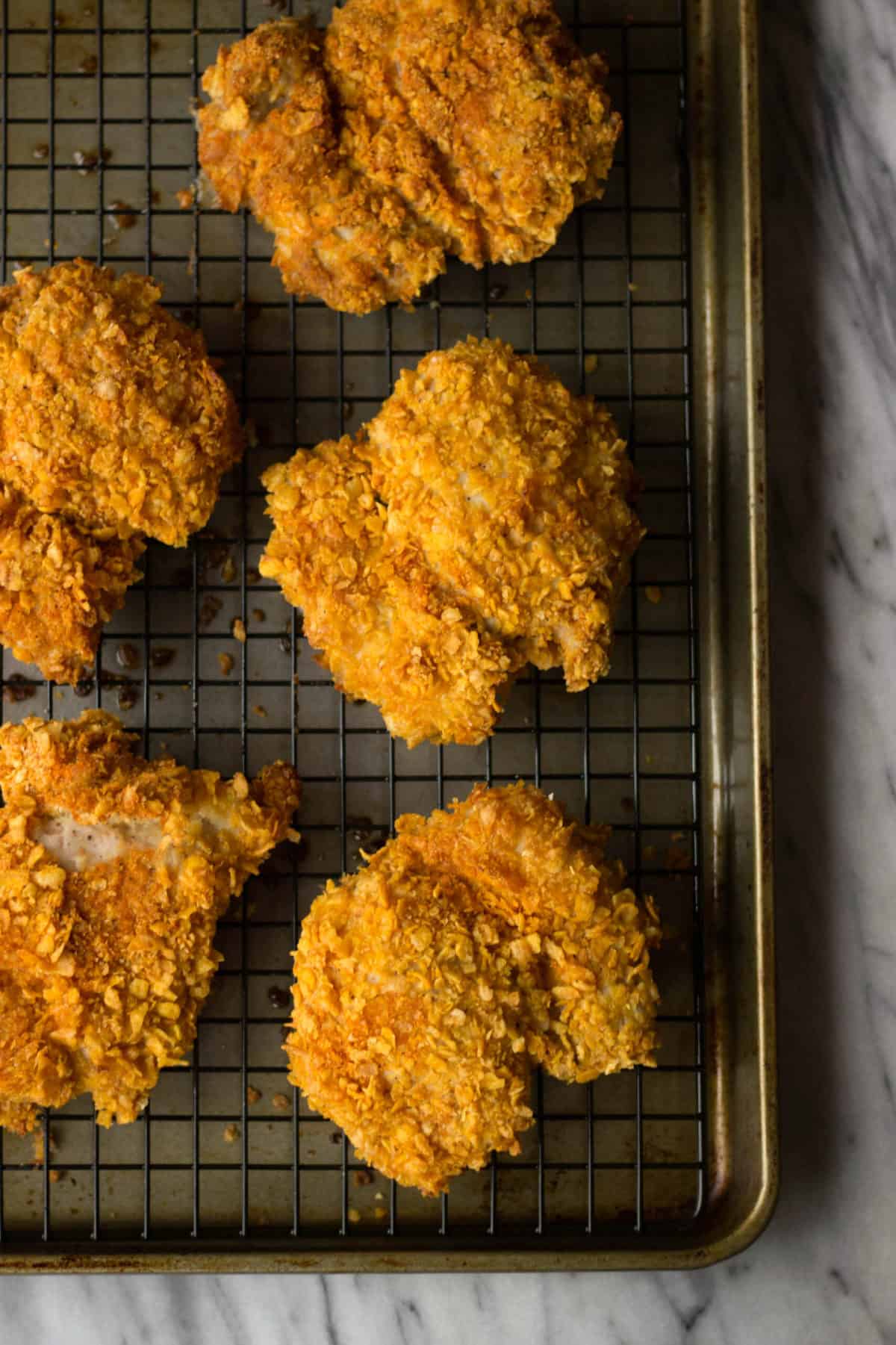 What is the standard breading procedure?
Flour. Start by dredging the chicken in flour. This is the first step of the breading procedure.

And it should be seasoned flour, too, so be sure to mix some salt, black pepper, and in this case, cayenne for a little heat before dredging.

Egg. The second step, after the chicken is covered in flour, is to coat it in egg.

I sometimes like to mix in a few tablespoons of milk and/or Dijon mustard for flavor, and most definitely season it with - at the very least - salt and black pepper.
Each stage needs to add flavor!

Breadcrumbs (or cornflakes). The last step is to dip the floured and egged chicken into the breadcrumbs.

These could be traditional breadcrumbs, Panko or in this case, crushed up cornflakes for that crispy crunch.

Bake! Line each piece, spaced apart, on a greased wire rack that is sitting inside of a baking sheet.

This allows the air to get around the chicken so every last bite is crunchy - not soggy. It's a must!
You can also coat each piece in cooking spray to help the crunch develop.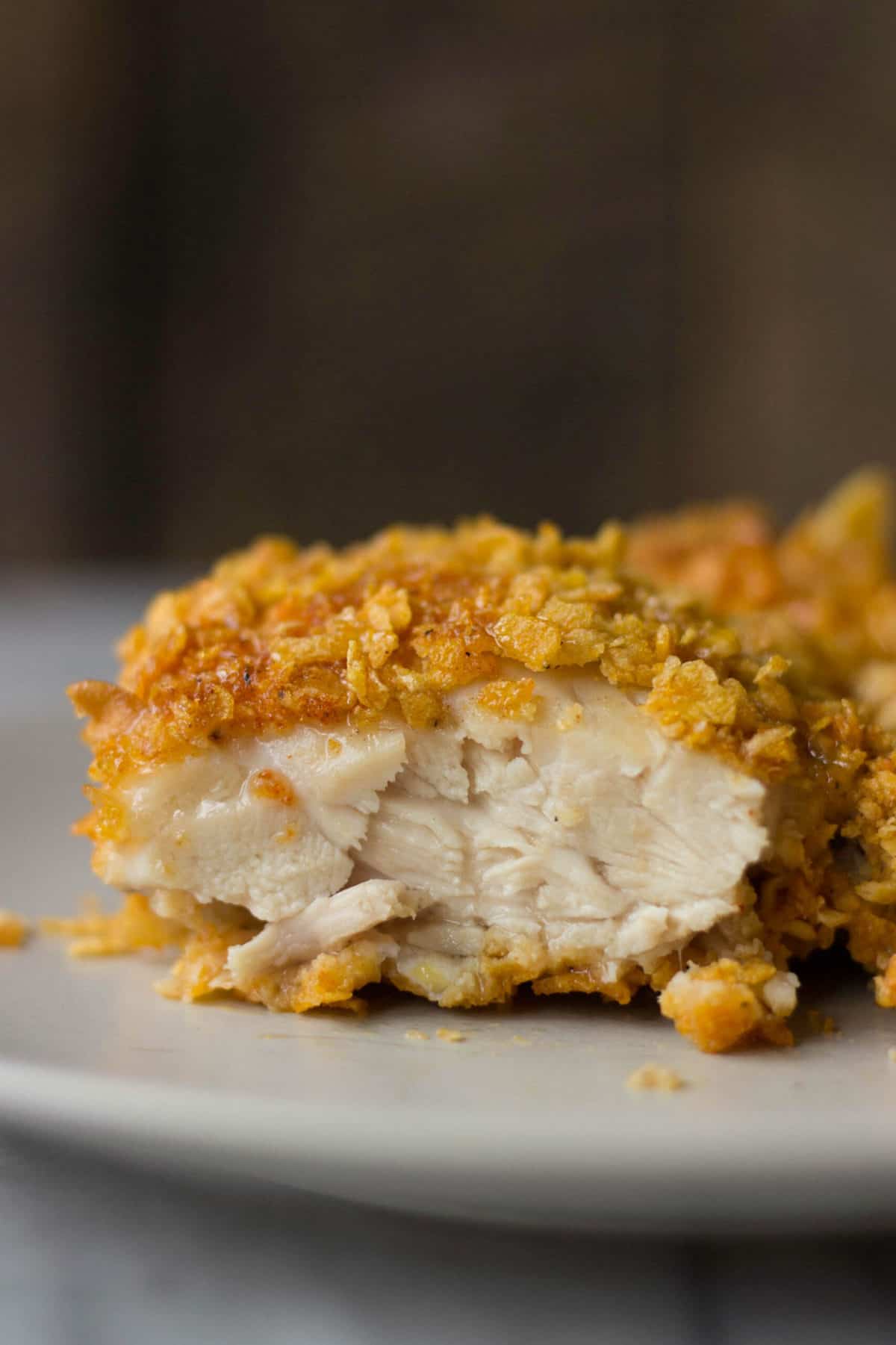 Recipe Substitutions and Alterations
Cornflakes: If you don't have any on hand or are not a fan, you could use other crushed up cereals, like chex or bran flakes.

You could also use Panko or standard breadcrumbs. But the cornflakes are really just super amazing here, so if you can get some, you won't regret it.

Seasonings: If you don't have all of the spices, you could use a seasoning salt or your favorite seasoning mix, just be aware that it will likely change the flavor from my recipe and seasoning mixes have varying levels of salt added.
Buttermilk: I wouldn't suggest making a substitution for buttermilk, but if you have to, you can use milk + a tablespoon or two of vinegar to give it a bit of pizazz.
Chicken thighs: If you don't want to use thighs, you can make this recipe with chicken breasts (or wings or drumsticks).

The cooking times may vary, so your best bet is to temp it regularly with an instant read thermometer.
Cook it until the thickest part reaches 160 degrees F, then remove it from the oven and let it sit (it'll carryover cook about 5 degrees F).
Nutrition Considerations
To make this gluten free: Use gluten free flour and be sure all packaged ingredients (including the corn flakes) are gluten free.
To make this dairy free: Use dairy-free milk + 1-2 tablespoons white vinegar. Be sure all packaged ingredients are dairy free.
To make this nut free: This recipe is nut free. Be sure all packaged ingredients (such as the corn flakes) are nut free.
Make it a meal: Serve this cornflake-crusted chicken with roasted potatoes or this potato salad plus a green veggie, like green beans or Brussels sprouts.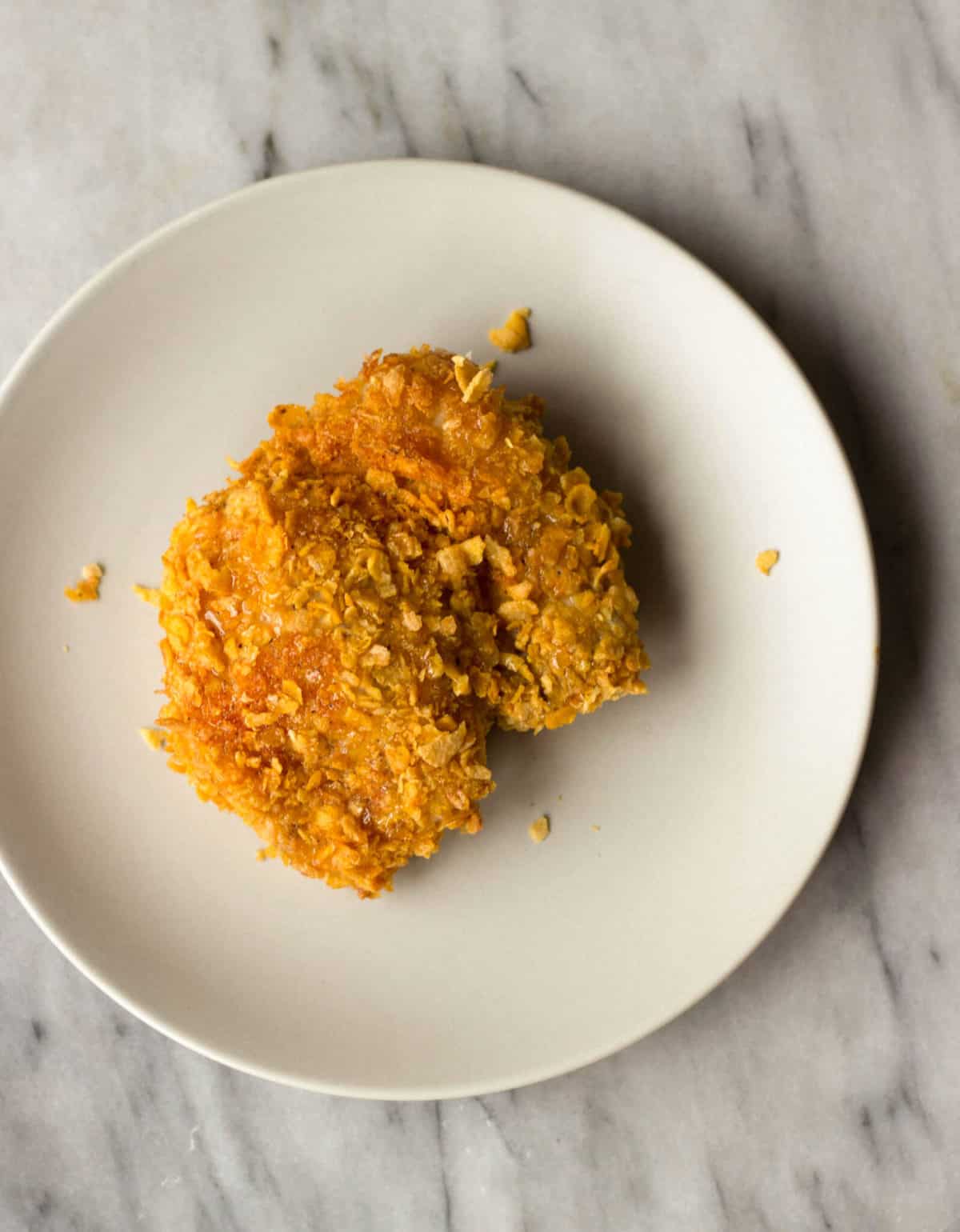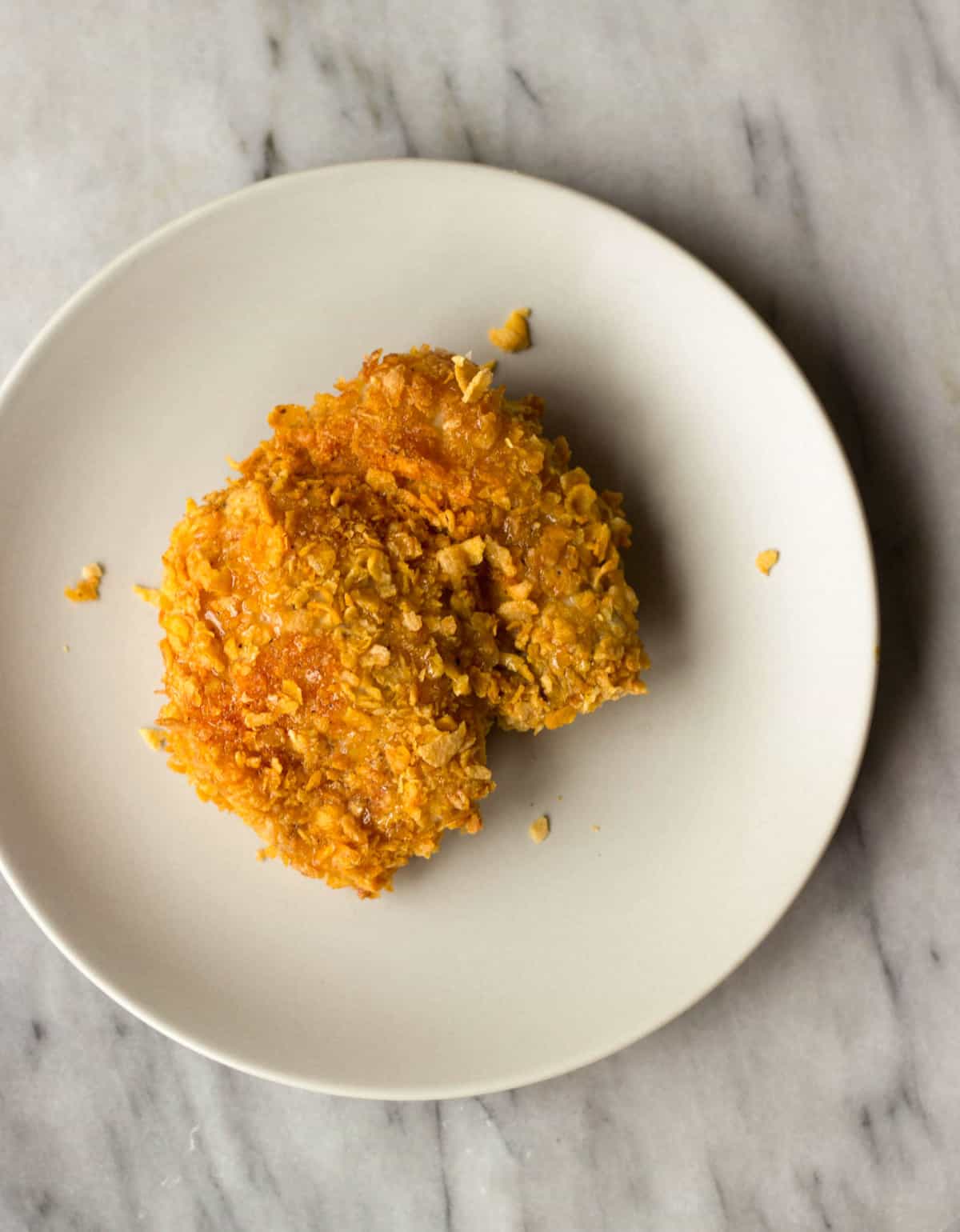 A few other fabulous chicken recipes:
Print
Cornflake-Crusted Buttermilk Chicken
Buttermilk-drenched chicken that's oven-baked with a crispy seasoned cornflake crust and finished with honey.
Author:
Prep Time:

15-20 min

Cook Time:

22-27 min

Total Time:

37-47 min

Yield:

Serves 6

Category:

Dinner

Method:

Baking

Cuisine:

American
4 cups

cornflakes

2 teaspoons

coarse salt, divided

1 teaspoon

ground black pepper, divided

1 teaspoon

onion powder

1 teaspoon

garlic powder

1 teaspoon

smoked paprika

½ teaspoon

cayenne pepper, divided

2

large eggs

¼

 cup buttermilk

½ cup

all-purpose flour

1 ½

pounds boneless skinless chicken thighs or breasts*
Honey, for drizzling
Instructions
Preheat the oven to 375 degrees. Fit a baking sheet with a wire rack and coat with cooking spray.
Place cornflakes, ½ teaspoon salt, ½ teaspoon black pepper, onion powder, garlic powder, smoked paprika and ¼ teaspoon cayenne pepper in a small food processor and pulse until cornflake pieces are just broken up (not in crumbs). Transfer the mixture to a shallow dish.
Place the eggs and buttermilk in a separate dish and whisk to combine.
Place the flour in a separate dish and whisk in ½ teaspoon remaining salt, ¼ teaspoon remaining black pepper and ¼ teaspoon cayenne pepper.
Season the chicken thighs or breasts with the remaining 1 teaspoon salt and ¼ teaspoon black pepper.
Line the dishes up in this order to create an assembly line: chicken, flour, egg/buttermilk mixture, cornflake mixture and the prepared baking sheet with wire rack. Dip the chicken into the flour, then the egg/buttermilk mixture, then cornflake mixture and place it on the wire rack. Repeat with the remaining ingredients. Coat the chicken with cooking spray.
Bake 22-27 minutes or until chicken is firm and reaches 165 degrees in the thickest part (use an instant-read thermometer).
Drizzle desired amount of honey over the chicken and serve immediately.
Notes
*Cooking Tip: The cook time will differ between chicken thighs and breasts, so it's best to use an instant-read thermometer to tell when it's done. 
Nutrition
Serving Size:

⅙ of recipe

Calories:

291

Sugar:

2g

Sodium:

468mg

Fat:

9g

Saturated Fat:

1g

Unsaturated Fat:

8g

Trans Fat:

0g

Carbohydrates:

25g

Fiber:

1g

Protein:

28g

Cholesterol:

16mg
Keywords: oven-fried, tasty, easy, best, crunchy, crispy, delicious, family friendly