This post is in partnership with Michigan Asparagus. All views are my own.
My recipe for asparagus stuffed chicken with roasted fingerling potatoes will be your new favorite one pot meal.
Chicken breasts are seasoned with Italian herbs and garlic and stuffed with gooey cheese, asparagus spears and crispy bacon, then roasted with fingerling potatoes.
You're going to love it!
How to make asparagus stuffed chicken
Cooking the bacon
The first step, as I indicated, is to crisp up the bacon.
I like to use kitchen scissors to snip the bacon into small pieces right into the pan.
Then I cook it on medium to medium-low, giving it the casual stir every once in awhile, until it's crispy and browned.
I use a slotted spoon to transfer it to a paper towel-lined plate to soak up any excess grease and let it get extra crispy on the plate while I continue to work on the recipe.
If you want to use the bacon grease as your cooking fat, leave it right in the pan.
If you'd like to go for a more heart-healthy option, you can drain the grease and use olive oil. Or a little bit of of both (yum!).
Stuffing the chicken
This part may seem a little tricky, but it's actually pretty simple with a little practice!
Use a sharp paring knife and carefully cut a slit/side pocket into the side of the chicken breast.

You'll want enough room to fit a few pieces of asparagus, some cheese and a few crumbles of bacon, but don't want to cut all the way through the chicken breast and have the contents falling out into the pan.

Once each breast has a pocket, it's time to stuff the bird!
I start with 3 trimmed spears of asparagus, then a slice of muenster cheese cut in half so you can get cheese in every single bite, then a few crumbles of bacon.
Fold the chicken back over and use a few oven-safe toothpicks to hold it together.
I like to place the toothpicks on an angle so they don't interfere with searing the chicken breasts.
Give each breast a generous smattering of Italian seasoning, garlic, salt and pep and we're on our way!

(P.S. don't forget to remove the toothpicks before you eat!!)
Searing the chicken breast
The next step is to sear the chicken breast.

We aren't looking to fully cook them during this step, just to get a nice crispy crust on the outside.

Be sure you have enough fat in the pan to coat the bottom and that it reaches medium-high heat before adding anything to the pan.
The fat should be rippling and immediately sizzle when you add anything to the pan.
The chicken breasts can go in, face down, and seared until golden brown (don't fuss with them or they'll struggle to brown); this should take 2-3 minutes.
Then carefully give them a flip.
Roasting the potatoes
Now that the chicken is crispy on top, go ahead and remove the pan from the heat.
Toss the fingerling potatoes in some olive oil and salt and arrange them around the chicken breasts in the pan.
I suggest cutting them in 1-inch pieces or smaller so they cook in the same amount of time as the chicken breasts.

(No one likes raw potatoes and overcooked chicken!)

Stick the whole pan in the oven and cook for about 15-20 minutes

Or until the chicken reaches 160 degrees and the potatoes are fork tender and a bit crispy.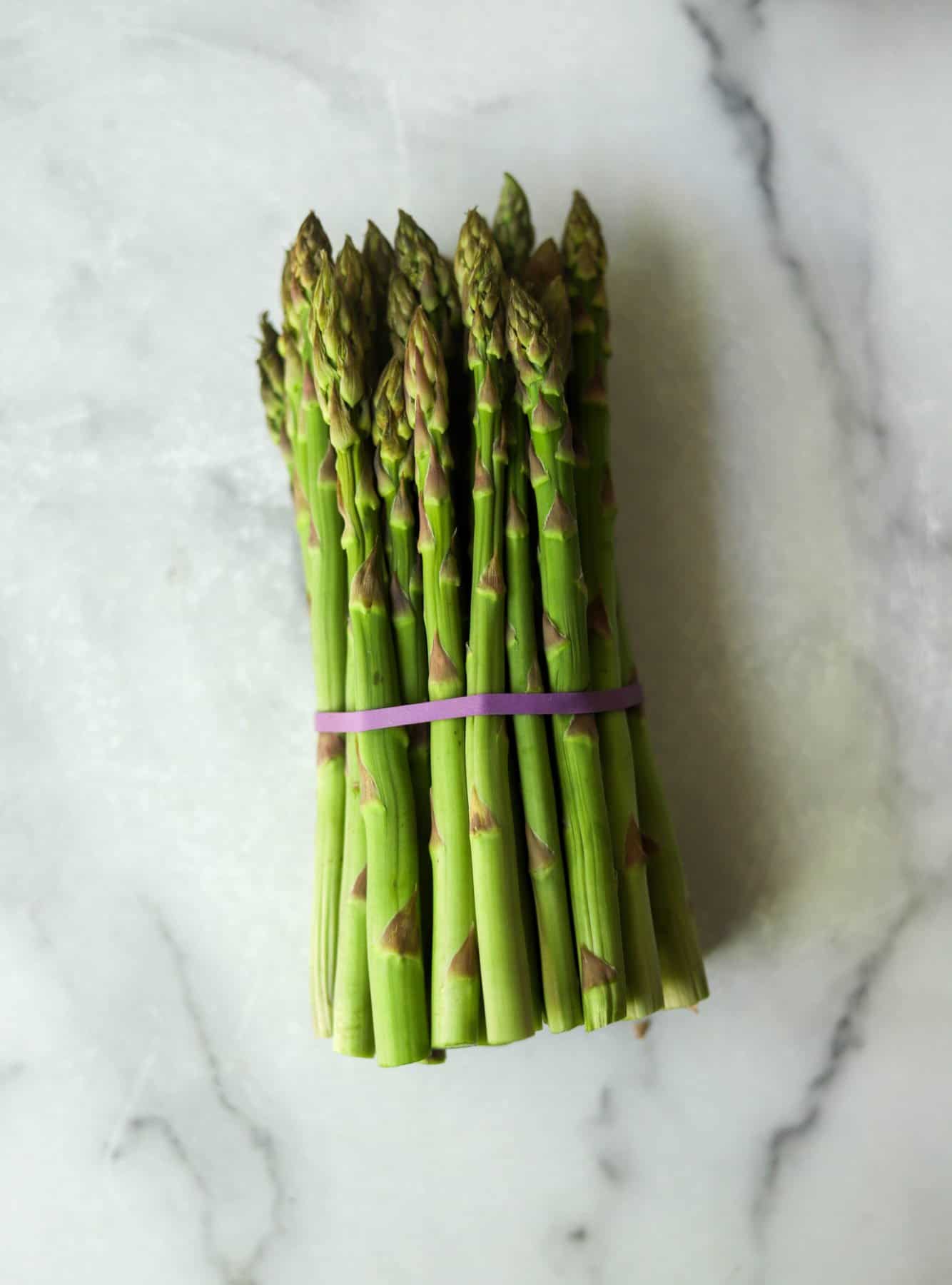 Why is asparagus so darn fabulous?
Where is asparagus grown?
I worked with Michigan Asparagus to create this recipe because I am a Michigan native and Michigan has about 120 family asparagus farms that harvest about 20 million pounds of asparagus on 9,500 acres of land!
About 40% of that is sold fresh in supermarkets, restaurants, farmer's markets and farm stands, and the other 60% is canned, pickled or frozen.
That's A LOT of delicious asparagus!
As you probably know, the asparagus season is short, so enjoying fresh during late April to early May is best!
(Although this year the season is a bit late, so there's still plenty of time to use fresh asparagus in this stuffed chicken recipe!)
Asparagus cooking tips
I will take asparagus any way I can get it, but my favorite cooking and preparation methods include grilling, roasting and pickling.
Toss the spears with some olive oil, salt and pep and toss them on a hot grill or in a hot wok or oven and I simply cannot stop eating!
For more asparagus cooking tips, visit http://www.michiganasparagus.org!
Asparagus nutrition
Asparagus not only has a wonderfully unique flavor, it also contains a stellar nutritional profile!
It contains folic acid, potassium, B vitamins and fiber and like all vegetables, is low in sodium, fat and calories.
Did I mention it's also delicious?!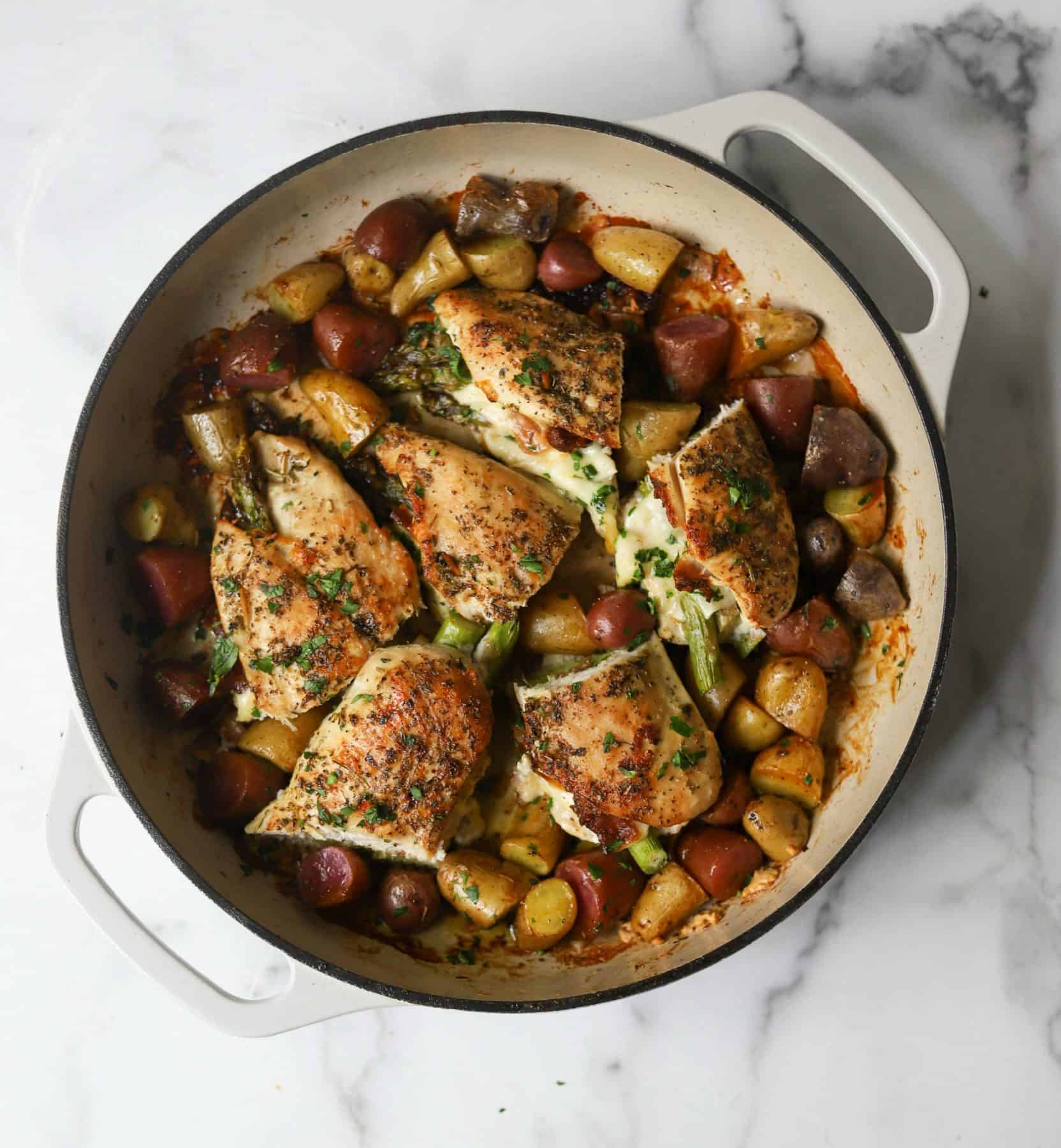 One Pot Dishes You'll Love:
Print
Asparagus-Stuffed Chicken with Roasted Fingerling Potatoes
Italian-seasoned and seared chicken breasts stuffed with asparagus, muenster cheese and crispy bacon with olive oil-roasted fingerling potatoes.
Author:
Prep Time:

10-15 mins

Cook Time:

20-25 mins

Total Time:

30-40 mins

Yield:

Serves 4

Category:

Dinner

Method:

Stove-Top, Baking

Cuisine:

American
4

slices uncured bacon, chopped

2 tablespoons

olive oil, divided

4

4-6 ounce boneless skinless chicken breasts

1 ½ teaspoons

Italian seasoning

1 teaspoon

garlic powder

¾ teaspoon

coarse salt, divided

½ teaspoon

ground black pepper

12

spears asparagus, trimmed

¼ cup

sliced Greek or kalamata olives (optional)

4

slices muenster, provolone or mozzarella cheese

1

-pound fingerling potatoes, halved
Instructions
Preheat the oven to 400 degrees.
Heat a large oven-safe skillet or stove-top casserole dish to medium heat. Add the bacon and cook 8-10 minutes or until crispy, stirring occasionally. Use a slotted spoon to remove from the pan and place on a paper towel-lined plate. Set aside. Drain the bacon grease from the pan.
While the bacon cooks, cut a pocket into the side of each chicken breast, being careful not to cut all the way through. Season all sides of the chicken breast with Italian seasoning, garlic powder, ½ teaspoon salt and black pepper. Open the pocket of each chicken breast and tuck in a slice of cheese, 3 spears of asparagus, crumbled bacon and a spoonful of olives (if using).
Add 1 tablespoon of the olive oil to the same pan and bring to medium-high heat. Once hot, carefully add the stuffed chicken breasts and sear 3-4 minutes on the top side or until browned and crisp. Flip the chicken. Add the potatoes and toss with the remaining olive oil at the bottom of the pan. Season the potatoes with the remaining salt. Place the pan in the oven and cook 15-20 minutes or until the internal temperature of the chicken reaches 165 degrees and the potatoes are just fork tender.
Remove from the oven and let rest 5 minutes. Remove the toothpicks. Serve.
Notes
Cooking Tip: Chop the potatoes in 1-inch pieces so the potatoes and chicken have the same cook time and one does not get done before the other.
Nutrition
Serving Size:

¼ of recipe

Calories:

484

Sugar:

3g

Sodium:

573mg

Fat:

20g

Saturated Fat:

5g

Unsaturated Fat:

15g

Trans Fat:

0g

Carbohydrates:

41g

Fiber:

3g

Protein:

37g

Cholesterol:

80mg
Keywords: chicken, dinner, entree, meal prep, stuffed chicken, asparagus, roasting