This post for "How to Grill the Perfect Burger" is in collaboration with the Wisconsin Beef Council on behalf of the Beef Checkoff. All opinions are my own.
After your read this blog post, you'll know exactly how to grill the perfect burger!
One of my favorite ways to celebrate the warmer weather and late nights is by slapping a few burgers on the grill!
I don't know about you, but grilled burgers are one of the very best ways to really celebrate summer. And today I'm sharing all of my best grilled burger tips!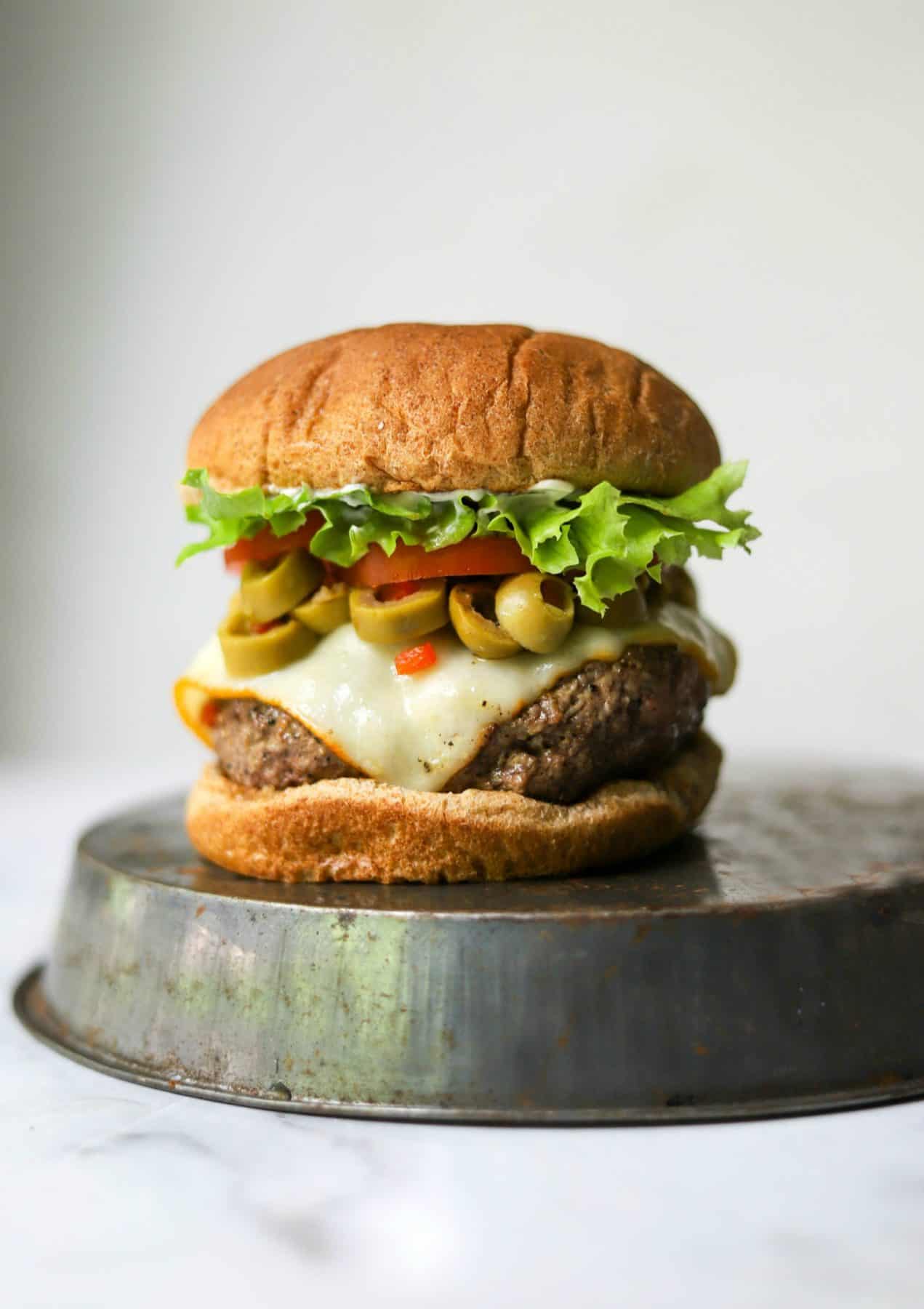 How to make perfectly grilled burgers, every time
Tip #1: Pick your favorite cut of beef: For burgers, I like to go with 85/15 or 80/20.

Most burger chefs and avid connoisseurs will tell you 80/20 but the dietitian in me creeps in and says hey, there's nothing wrong with 85/15!
And there really isn't – as long as you don't overcook it, season it properly and top it with all the goods, you'll still be in burger heaven.

Tip #2 Chill the patties: Keep the patties in the fridge until you're ready to cook.

Putting cold patties straight on the grill will help you achieve that juiciness on the inside of the burger
It also helps the burger patties stay together rather than falling apart.

Tip #3: SEASON! Grab that kosher salt and freshly cracked pepper and season those burgs!

Yes that's right, you don't need anything special, just good ol' s and p.
I recommend forming your patties first, then generously seasoning both sides of the burgers.
Many years ago when I was "studying" how to make the perfect burger, I "dissected" my favorite restaurant burger to figure out why it was so darn good.
And come to find out, I just needed to add a bit more salt and a lot more freshly cracked black pepper.
If you think you've added enough pepper, go ahead and add a bit more.
You simply won't regret it.
Tip #4: Get the grill hot before adding anything to it. It's easy to get impatient when you know a juicy burger is just around the corner.

But, just like with most cooking techniques, you don't want to add the burgers to the grill while it's cold.
Wait for the thermometer on the grill to read between 350 and 375, then it's time to throw the patties on (seasoned, of course – see tip #3).

Tip #5: Give it a little grease. While the grill is heating up, give your burgers a quick slather of oil so they won't stick to the grill grates.

I also like to brush a little oil on the grill just before adding the burgers to assure minimal stickage.
Some people use cooking spray, but this can cause flare-ups, which isn't exactly a good thing when you're holding your hand over the grill.

Tip #6: Flip once. Again, with all the burger excitement happening, it's easy to want to play around with the burgers as they cook.

But if you flip too soon or continue to open the lid of the grill to move things around, the burgers just aren't going to cook properly.
You're looking for a nice browned crust on the bottom (usually takes 3-4 minutes, depending on the thickness), then one flip to cook the other side.
Once you've flipped them (and depending on how long you're cooking them), grab those slices of cheese and slap them on so they are melty and ooey gooey by the time the burgers are done.
They need about a minute or two to melt.

Tip #7: Use a thermometer. If you're not a total burger expert (and even if you are!), an instant-read thermometer is your friend.

Insert the probe into the side of the burger, right into the center, and it'll tell you exactly how done your burgers are.
Ground Beef should be cooked to a safe and savory 160ºF.
Color is not a reliable indicator of Ground Beef doneness.
Due to the natural nitrate content of certain ingredients often used in meatloaf, such as onions, celery and bell peppers, meatloaf may remain pink even when a 160-degree Fahrenheit internal temperature has been reached.

Tip #8: Let the burgers rest after cooking. With any cut of meat, it's important to give it a little rest after you take it off the grill – say, about 5 minutes.

This will allow the juices to redistribute, so rather than biting into it immediately and the juices running all over you, if you let it rest, those juices will mostly remain in the burger for optimal eating.

Tip #9: Toast the bun. I see this as not optional.

You've spent all this energy cooking a juicy, flavorful burger, and if you serve it on a soft, cold bun, it's not going to do you any favors.
So, give those burger buns a quick brush of oil and lay them on the grill until the edges are lightly browned and toasty.
You won't regret this extra step.
Whether your buns are brioche, whole wheat, sesame or Hawaiian-style, just be sure they're ones you really love and that go well with your toppings.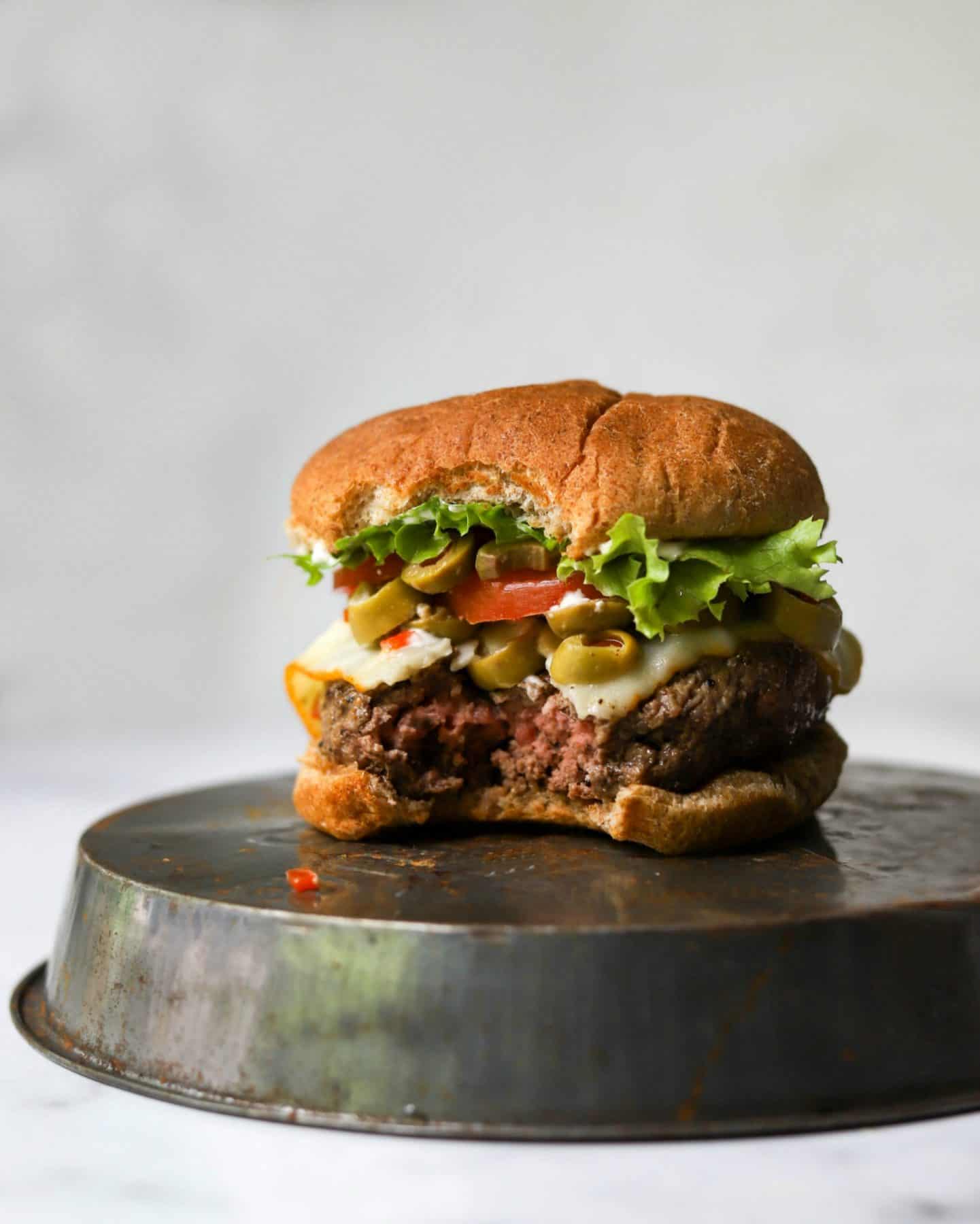 Let's talk burger toppings
Now that you've crafted the most amazing burger, it's time to talk toppings.
We could go on and on here, but I think you probably know what your fave burger toppings are by now.
You could go with the traditional ketchup, mustard, pickle and onion.
You could also add thick slices of garden tomatoes and some crisp lettuce.
You could also add some mayonnaise because… who doesn't love mayonnaise on their burger.
And in this version, I'm also adding heaps of sliced green olives because I have a soft spot for a good olive burger.
If you're feeling up to it, you could also add a bunch of other fun toppings like bacon, a fried egg, avocado or guacamole, caramelized onions, multiple and unique cheeses, fun aiolis like garlic or chipotle, BBQ sauce, and the list goes on.
Whatever you do, just be sure to start with a perfectly grilled burger and a toasted bun. I promise it's life changing.
Beef nutrition facts
Did you know that 93% lean Ground Beef is lower in calories, fat, saturated fat and sodium while also higher in high-quality protein compared to plant-based meat substitutes?
Beef is an authentic source of 10 essential nutrients, including protein, iron, zinc and B vitamins that are important to good health!
Plus, learn more about how beef fits into a sustainable food system.
A few side dishes to serve with your burger:
Print
How to Grill the Perfect Burger
The best grilled beef burgers with green olives and muenster cheese.
Author:
Prep Time:

5-10 mins

Cook Time:

10-15 mins

Total Time:

15-20 mins

Yield: Makes

4

burgers

1

x
Category:

Entree

Method:

Grilling

Cuisine:

American
1

-

pound

85/15 or 80/20 ground beef

½ teaspoon

coarse salt

½ teaspoon

ground black pepper

2 teaspoons

olive oil, divided

¼

cup

sliced green olives

4

slices muenster or Swiss cheese

4

hamburger buns, toasted
Tomato slices, lettuce leaves and mayonnaise, for serving
Instructions
Preheat the grill to medium heat or 350 to 375 degrees Fahrenheit.
Form the ground beef into 4 equal-sized patties, about 1-inch thick; place them into the refrigerator until ready to grill.
Season both sides of the patties with salt and black pepper. Brush the grill grates with about a teaspoon of olive oil. Place the burgers on the grill at least 2 inches apart and cook 3-4 minutes with the lid closed or until the edges become browned. Flip and cook 2-3 more minutes with the lid closed, then carefully scoop a tablespoon of green olives on each burger and top each with a slice of cheese. Cook an additional minute or until cheese is melted and the inside of the internal burger temperature reaches 160 degrees (adjust the cooking times based on desired doneness).
In the meantime, brush the bun halves with the remaining olive oil. Place them on the opposite side of the grill for 1-2 minutes or until lightly toasted.
Serve burgers on the toasted buns with tomato slices, lettuce leaves and mayonnaise.
Notes
Cooking Tip: Use an instant-read thermometer to test burger doneness.
Nutrition
Serving Size:

1 burger

Calories:

481

Sugar:

0g

Sodium:

566mg

Fat:

25g

Saturated Fat:

9g

Unsaturated Fat:

16g

Trans Fat:

0g

Carbohydrates:

24g

Fiber:

1g

Protein:

37g

Cholesterol:

101mg
Keywords: beef, burger, burgers, grill, grilling, summer, quick and easy, cooking tips