This healthy potato salad with dijon vinaigrette is made with Yukon gold potatoes, hard boiled eggs and crisp celery tossed in a light Dijon vinaigrette.
A fresh and healthy take on the classic summer side dish!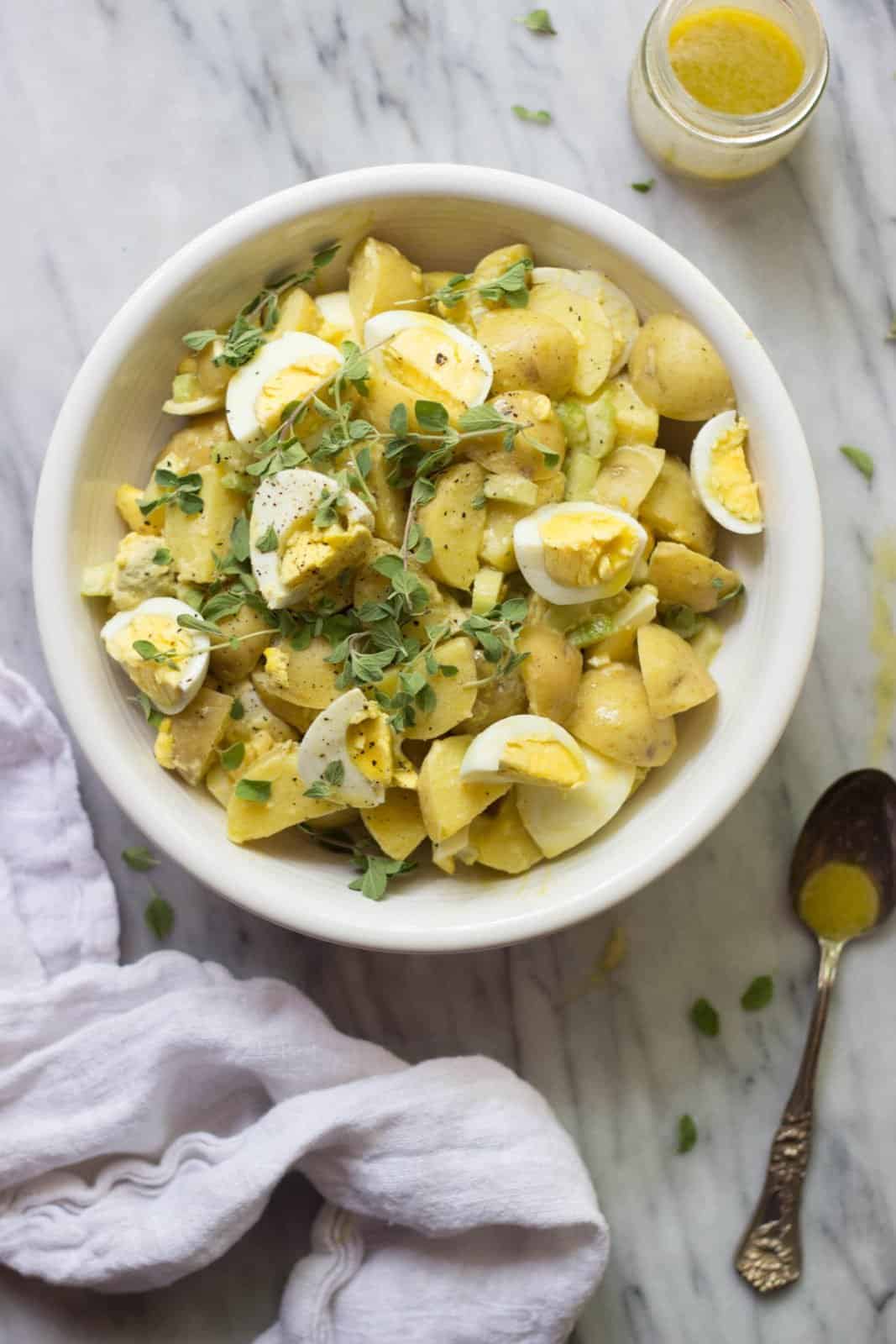 How to make the best healthy potato salad
Ingredients
Eggs. I absolutely have to have hard boiled eggs in my potato salad.

And I always make more than I think I'll want because I really like to load the salad up with eggs.
But you are welcome to add as many or as few as you like!

Potatoes. I like to use Yukon gold or even baby reds, and I leave the skins on.

It adds texture, a rustic ambience and removes a prep step - no peeling!
You could use russets, but I suggest peeling those.

Olive Oil. Good ol' extra virgin.

Because the dressing is one of the stars of the show, I suggest grabbing a higher quality bottle.
It doesn't have to be outrageously expensive - I'm a fan of California Olive Ranch which is moderately priced yet great quality.

Dijon Mustard. This is a staple ingredient in so many of my recipes, so I always have it on hand.

Use whatever brand you love!

Vinegar. I'm a fan of white wine for this recipe, but if you have champagne or distilled, that'll work too.
Honey. You could also use granulated sugar, we just need some sort of sweetness to balance out the acidity of the Dijon and vinegar.
Celery. The celery will add crunch - don't skip it! We love texture.
Herbs. Any kind you like - parsley, chives, chervil, tarragon, dill. Or a mixture.

This will add freshness and so. much. flavor.
Equipment
A medium saucepan to boil eggs.
A bowl filled with ice water.
A cutting board and a knife for the produce and eggs.
A pot to boil potatoes.
A large glass bowl with a lid to make and store the salad dressing and the salad.
A whisk to make the salad dressing.
Measuring cups and spoons unless you want to eyeball it.
A large spoon to mix and serve the salad.
Bowls and spoons for serving.
Step-by-Step Instructions
The first step is to hard boil the eggs. You can do this so many different ways - on the stove, in an egg cooker, in the Instant Pot, some people even make them in the slow cooker and oven!

I included instructions for making hard-boiled eggs on the stove top, just to keep things simple.
I start by bringing a saucepan of water to a boil, then dropping the eggs in, one at a time, using a slotted spoon, being careful not to crack them.
Once they're all in the bath, reduce the heat just a little bit so the water doesn't boil over, then let them cook 11-12 minutes.
Once the timer goes off, drain the pot and transfer the eggs to a bowl of ice water.
Once the ice has melted, they should be cooled off and are ready to peel and chop! You can always do this step ahead of time, if you wish!

Next, you'll cook the potatoes. I do this while the eggs are cooking.

Bring a pot of water to a boil.
Chop the potatoes into bite-sized pieces (skins on!), then drop them into the boiling water.
Add salt to the water if you want your potato salad to have more flavor, just sayin'. Let them cook until just fork tender.
You don't want them to overcook or they'll become mush once cooled and tossed with the dressing.
Drain the water off and rinse them with cold water.

In a large glass mixing bowl, make the salad dressing.

Whisk together the olive oil, Dijon mustard, white wine vinegar, honey or sugar, salt and black pepper. Taste and adjust the seasoning, if necessary.
You may need more salt later when the salad is ready to serve.
No, you do not need mayo to make a fabulous potato salad, but if you insist, you can add a few tablespoons to make this dressing even creamier.

To the bowl with the dressing, add the chopped hard-boiled eggs, potatoes, celery and herbs.

Toss it all together, put the lid on top and let the salad cool in the refrigerator for at least an hour.
Taste the salad and add more salt if it needs it.

Serve with more fresh herbs on top and some freshly cracked black pepper. YUM!
Prep and Storage Tips
Once the salad is ready, store it in the fridge at least 60 minutes before serving for the best flavor.

It tastes so much better chilled.

You can make the salad up to 1 day in advance and store it up to 3 days in an airtight container in the refrigerator.
You can make the hard-boiled eggs and potatoes ahead of time, let them chill, then mix it all together and refrigerate at least 1 hour before you're ready to serve it.
Recipe Tips and Tricks
I use baby Yukon gold potatoes because I absolutely love their texture, and I love their bright yellow hue.

They're absolutely dynamite in a salad like this one.

I like to chop the eggs and baby potatoes into large pieces because it gives the potato salad a more grown-up, sophisticated look (can potato salad be sophisticated?) which makes me happy.
The dressing is so very simple and contains ingredients that almost all of us have on hand.

You can use it for so many other recipes, too, as it's a deliciously balanced vinaigrette that lends itself well to most salads.
You honestly will not be sad about the no-mayo thing. And that's coming from a mayo lover.

And last, but not least, don't be shy with the fresh herbs.

Give them a rough chop and throw them on top of the healthy potato salad with Dijon vinaigrette for that freshy fresh.
And to add some pretty green color to the dish.
Other Summer Salad Recipes
Print
Healthy Potato Salad with Dijon Vinaigrette
Simple Dijon potato salad with Yukon potatoes, hard boiled egg and celery tossed in a light Dijon vinaigrette.
Author:
Prep Time:

20 min

Cook Time:

30 min

Total Time:

50 min

Yield: Serves

1

0

1

x
Category:

Salad

Method:

Stove-Top, No-Cook

Cuisine:

American

Diet:

Vegetarian
6

large eggs

2 ½

-

3

lbs. baby Yukon gold potatoes, halved or quartered

½ cup

olive oil

3 tablespoons

Dijon mustard

2 tablespoons

white wine vinegar

1 tablespoon

honey

¾

-

1

teaspoon coarse salt

½ teaspoon

ground black pepper

3

-

4

stalks celery, diced and/or

3

-

4

scallions, sliced
Handful of freshly chopped herbs, for garnish
Instructions
Place eggs in a medium saucepan and cover with cold water. Place over high heat and bring to a boil.  Once the water boils, shut the heat off and place a lid on the pan.  Set a timer for 16-17 minutes.  When the timer goes off, drain water and either rinse eggs with cold water or place in an ice water bath until chilled.  Peel and discard shells.  Chop eggs into quarters.
Bring a large pot of water to a boil. Add potatoes and simmer until just tender, about 10-12 minutes.  Drain and rinse with cold water.
In a large mixing bowl, whisk together olive oil, Dijon, vinegar, honey, salt and black pepper. Taste and adjust seasoning, if necessary.  Fold in potatoes, eggs and celery/scallions until combined.  Place a lid on the bowl and refrigerate until chilled.
Transfer to a serving bowl and garnish with chopped fresh herbs.
Notes
Storage Tip: Store potato salad in a sealed container in the refrigerator for up to 3 days.  If potato salad becomes dry after a day or two, whip up half a batch of the dressing and toss to coat.
Nutrition
Serving Size:

1/10 of recipe

Calories:

224

Sugar:

3

Sodium:

521

Fat:

14

Saturated Fat:

2

Unsaturated Fat:

12

Trans Fat:

0

Carbohydrates:

23

Fiber:

2

Protein:

6

Cholesterol:

112
Keywords: summer, holiday, family friendly, entertaining, party salad, healthy, easy, simple