This lower sugar strawberry rhubarb crisp has loads of juicy strawberries and tangy rhubarb to make the bubbly filling and is topped with a buttery cinnamon oat topping and baked to perfection.
Serve with vanilla bean ice cream for the ultimate summer dessert!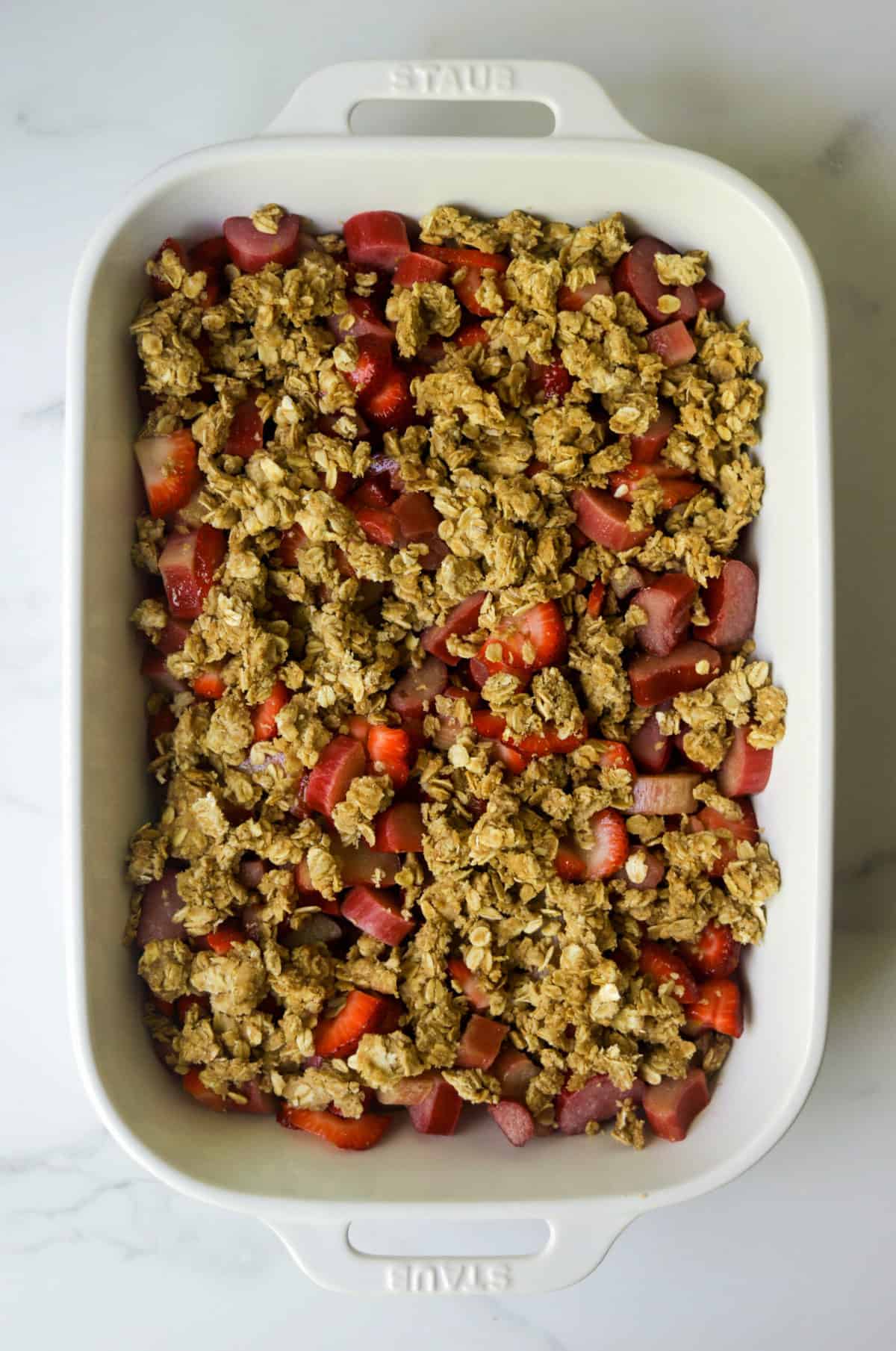 How to make strawberry rhubarb crisp
Ingredients
For the crisp:
Butter. I love the flavor of butter in a delicious crisp topping, but you could also use coconut oil.

Be sure to melt it before mixing it with the rest of the crisp ingredients.

Brown sugar. Just a few tablespoons for light molasses sweetness.
Oats. Customary in crisp topping, and they make it wholesome and hearty and.... healthy! They're full of fiber and goodness.
Almond or oat flour. Both of these flours are technically 'meals', as they're just ground up almonds or oats.

I absolutely love baking with these ingredients because of their flavor, texture and health benefits, but you can absolutely use whole wheat or all-purpose flour if you'd like.

Cinnamon. For the flavor!
For the filling:
Strawberries. Get the freshest and juiciest available!

But honestly, you could use frozen strawberries if ya' had to and it'd still be delish.

Rhubarb. It has a short season so don't waste any time!

Run, don't walk, to the nearest rhubarb plant and pick all of it!

Lemon zest and juice. This gives moisture to the filling (the cornstarch needs something to mix with), but it also provides flavor and brightness.
Sugar. We are using much less sugar than typical strawberry rhubarb desserts call for.

We still need it, otherwise the crisp would be icky, but we're just using less so the other ingredients - like the strawberries, rhubarb, vanilla and cinnamon - shine.

Cornstarch. This is a necessary ingredient because it will thicken the filling.
Vanilla extract. One word... FLAVOR!
Equipment
An oven.
A 9x13 baking dish. You could probably make it in a 9x9 baking dish but I like the filling to crisp ratio in the 9x13.
Cutting board and a Chef's knife (or paring knife) to slice the strawberries and chop the rhubarb.
Measuring cups and spoons.
One medium mixing bowl and one large mixing bowl.
A spatula for mixing both the filling and crisp.
Bowls and spoons for consuming.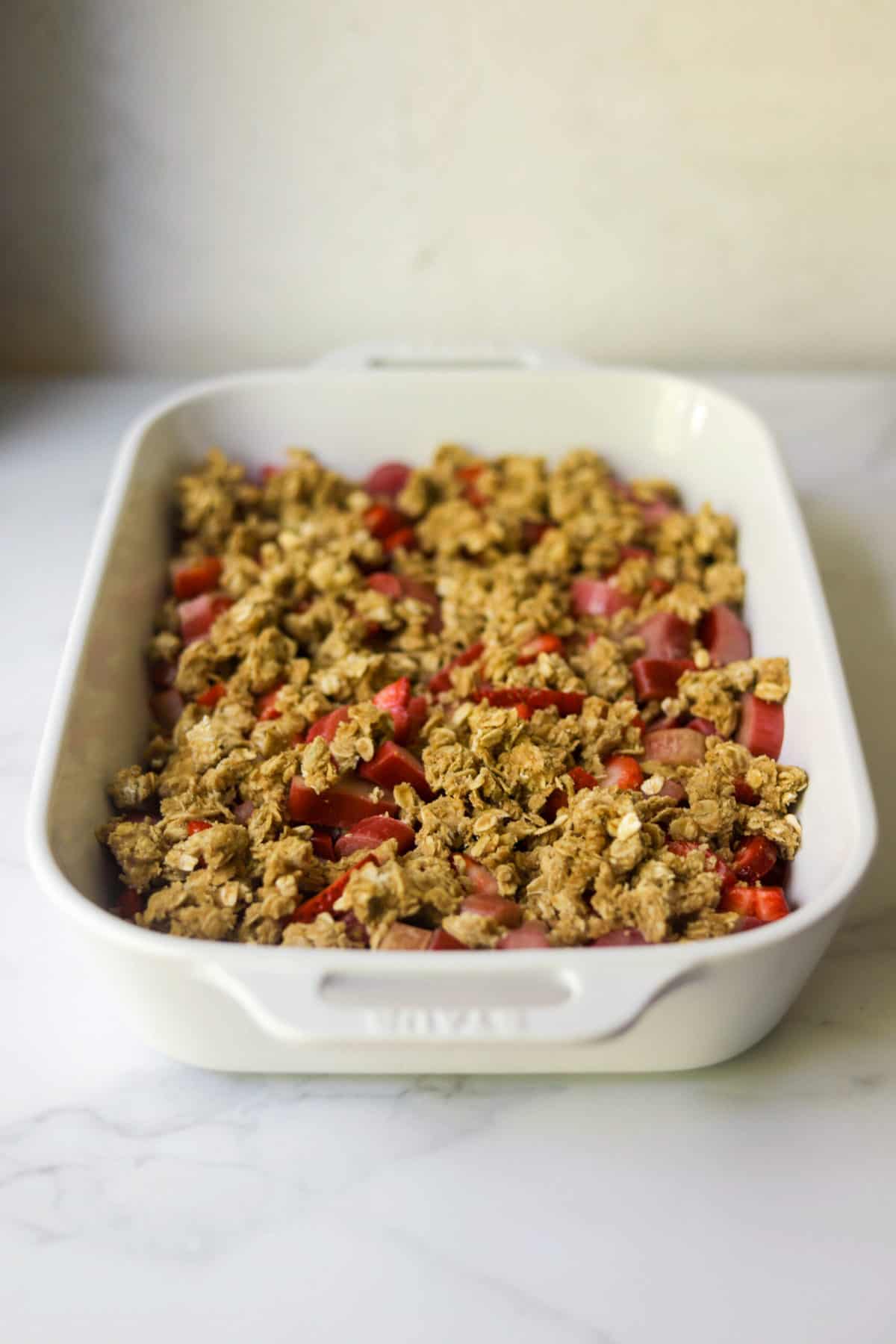 Step-by-Step Instructions
The first step is to preheat the oven. Then, grease the baking dish with cooking spray.
Grab the medium mixing bowl and stir together the melted butter, brown sugar, oats, almond or oat flour and cinnamon until combined.
If it seems a bit dry, add a few tablespoons of ice water until it comes together like a moist crumble. Set this mixture aside.
Chop the strawberries and rhubarb.
Add them to the large mixing bowl and stir them together with lemon zest and juice, sugar, cornstarch, vanilla extract and a pinch of salt until combined (there should be no sign of the white powder from the cornstarch).
Transfer the strawberry rhubarb mixture to the prepared baking dish and spread it into an even layer.
Use your fingers to sprinkle chunks of the crisp on top of the strawberry rhubarb mixture.
Bake until the filling is bubbly and thick and the topping is lightly browned.
This will take about 30 minutes, give or take.
Let the crisp slightly cool, then scoop it over bowls of vanilla ice cream. Serve!
What's the difference between a crisp, crumble and cobbler?
A crisp is fruit that's topped with a strudel topping that includes oats, which gives it a delightful crispy texture.
A crumble has the streusel topping with flour, sugar, and butter but no oats over the fruit. So the topping is a little looser and crumbly.
And a cobbler is fruit topped by biscuit rounds, which makes it look a bit like a cobbled road.
Recipe Substitutions and Alterations
Can I Use Different Fruits? If you're in a mood for a crumble but don't have strawberries and rhubarb on hand, you could try a blueberries, blackberries, peach, or even apricot!

And if you have rhubarb on hand but no strawberries you could try pairing the rhubarb with apples.

Can I Use Frozen Strawberries in Place of Fresh Strawberries? Absolutely!

Just thaw them according to the package directions, and they're ready to go!

Can I Make This Ahead of Time? If you'd love to get this prepped before throwing it into a pan for a party or for a special dinner, you could prep your fruit and toss it with the lemon, honey and salt.

Just store it in the refrigerator before adding the cornstarch and assembling the rest of the dish while preheating the oven.

Can I use Agave, Honey or Maple Syrup in Place of the Sugar? Yes, you can!

Use the same amount no matter which sweetener you choose.

Is It Really Necessary to Wait a Few Minutes Before Diving into the Crisp? Unfortunately, yes.

The fruit mixture will be molten hot, so you want it to cool down a bit.
Also, you want the topping to set and firm up a bit before taking that first glorious spoonful.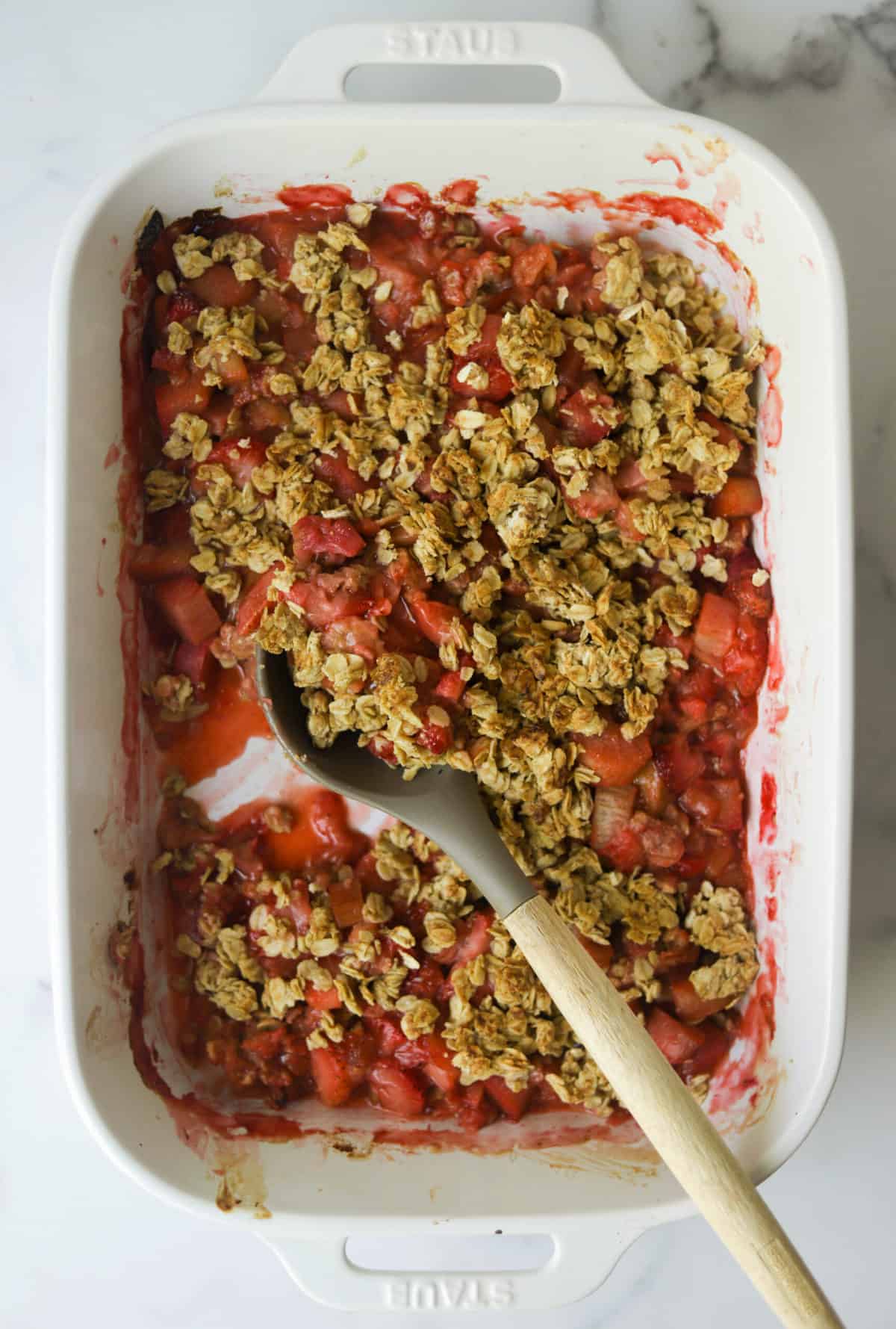 Storage Tips
Strawberry rhubarb crisp is best shortly after it comes out of the oven.
However, if you have leftovers, certainly don't waste them!
They can be stored in an airtight container in the fridge up to 2 days.
Reheat the crisp in the oven at 375 or microwave until hot. Serve over ice cream.
Fun FAQs About Rhubarb
Rhubarb is a vegetable, not a fruit.
The leaves of rhubarb are poisonous. In fact, a lot of people just trim the leaves off in their backyard if they grow it themselves and compost them.
The bright red portions of the stalk are sweeter than the green portion.
1 pound of rhubarb yields about 3 cups chopped.
Rhubarb is a fun substitute for cranberries in recipes because they have the same type of bitter notes and acidity.
Serving Suggestions
Don't just stick to plain vanilla ice cream with this wonderful crumble! You could top it with lemon, raspberry, blackberry, or cherry sorbet.

For ice cream types, raspberry, strawberry, peppermint, or sea salt ice cream would be amazing!
And, of course, you could use vanilla ice cream, or whipped cream.

Rhubarb and strawberries each adore fresh herbs!

Mint would be delightful in this crisp, and if you really wanted to try something different grab a handful of fresh basil!
It adds an amazing depth of flavor to this dessert!

For a beautiful presentation, sprinkle with flaky sea salt and a little bit of coarse sugar when you pull the crisp out of the oven.
Chef's Tip
You can also make this in a skillet! I had originally authored this recipe to be skillet strawberry rhubarb crisp, but found myself making it in a baking dish.
But, if you want to start by making this on the stove top, go ahead and simmer the filling in a cast iron skillet over low heat until it's thickened (it'll take about 1-2 minutes).

Then, sprinkle the crisp topping over the filling and bake about 15 minutes or until the crisp in lightly browned.

Essentially the "skillet" version of this recipe is a bit quicker overall.

Both methods yield a fantasticly delicious crisp and both only require one pan.
It's a win-win situation, no matter what you decide!
Other Fabulous Strawberry Recipes:
Print
Skillet Strawberry Rhubarb Crisp
Easy strawberry rhubarb crisp made with oats and almond meal.
Author:
Prep Time:

10-15 mins

Cook Time:

20-25 mins

Total Time:

30-40 mins

Yield:

Serves 8

Category:

Dessert

Method:

Stove-Top, Baking

Cuisine:

American
Crumble:
3 tablespoons

butter

2 tablespoons

brown sugar

¾ cup

old-fashioned rolled oats

¾ cup

almond meal

½ cup

walnuts, chopped
Filling:
2 cups

strawberries, hulled and sliced

2 cups

rhubarb, washed and diced
Zest and juice of 1 medium lemon

1 tablespoons

cornstarch

¼ cup

honey
Dash coarse salt
Instructions
Preheat the oven to 350 degrees.
Place butter in a microwave-safe dish and microwave for 30 seconds, until melted. Whisk in brown sugar. Stir in oats, almond meal and walnuts until combined. Set aside.
Grease a cast iron skillet and place on medium-high heat. Add strawberries and rhubarb and cook 60-90 seconds. In a small bowl, whisk together the lemon juice and zest and cornstarch, until cornstarch is dissolved. Whisk in honey and a dash of salt. Add to the pan with the fruit, stir, and cook 30-60 seconds, until the mixture starts to bubble.
Evenly crumble topping over the fruit in the skillet. Bake in the preheated oven for 15-20 minutes, until fruit mixture is bubbly and thick, and topping is crispy. Allow crisp to cool a few minutes before serving (with or without vanilla ice cream).
Nutrition
Serving Size:

⅛ of recipe

Calories:

242

Sugar:

15g

Sodium:

107mg

Fat:

15g

Saturated Fat:

4g

Unsaturated Fat:

11g

Trans Fat:

0g

Carbohydrates:

26g

Fiber:

4g

Protein:

5g

Cholesterol:

11mg
Keywords: seasonal, summer, spring, easy, simple, from scratch, homemade, healthy
Okay, if anyone out there really eats rhubarb crisp without strawberries, please share the recipe with me. Because right now I can't comprehend, but I promise to keep an open mind. And I take deliveries.