Homemade instant oatmeal in a cup - just like the store-bought cups but made with wholesome, customizable ingredients!
Use quick oats, brown sugar, cinnamon and your choice of mix-ins like dried fruit and nuts!
They're budget-friendly and lower in sugar than the store-bought version and you can make as many cups as you'd like.
They keep in the pantry up to 2 months in air-tight jars and are ready to go in less than 2 minutes!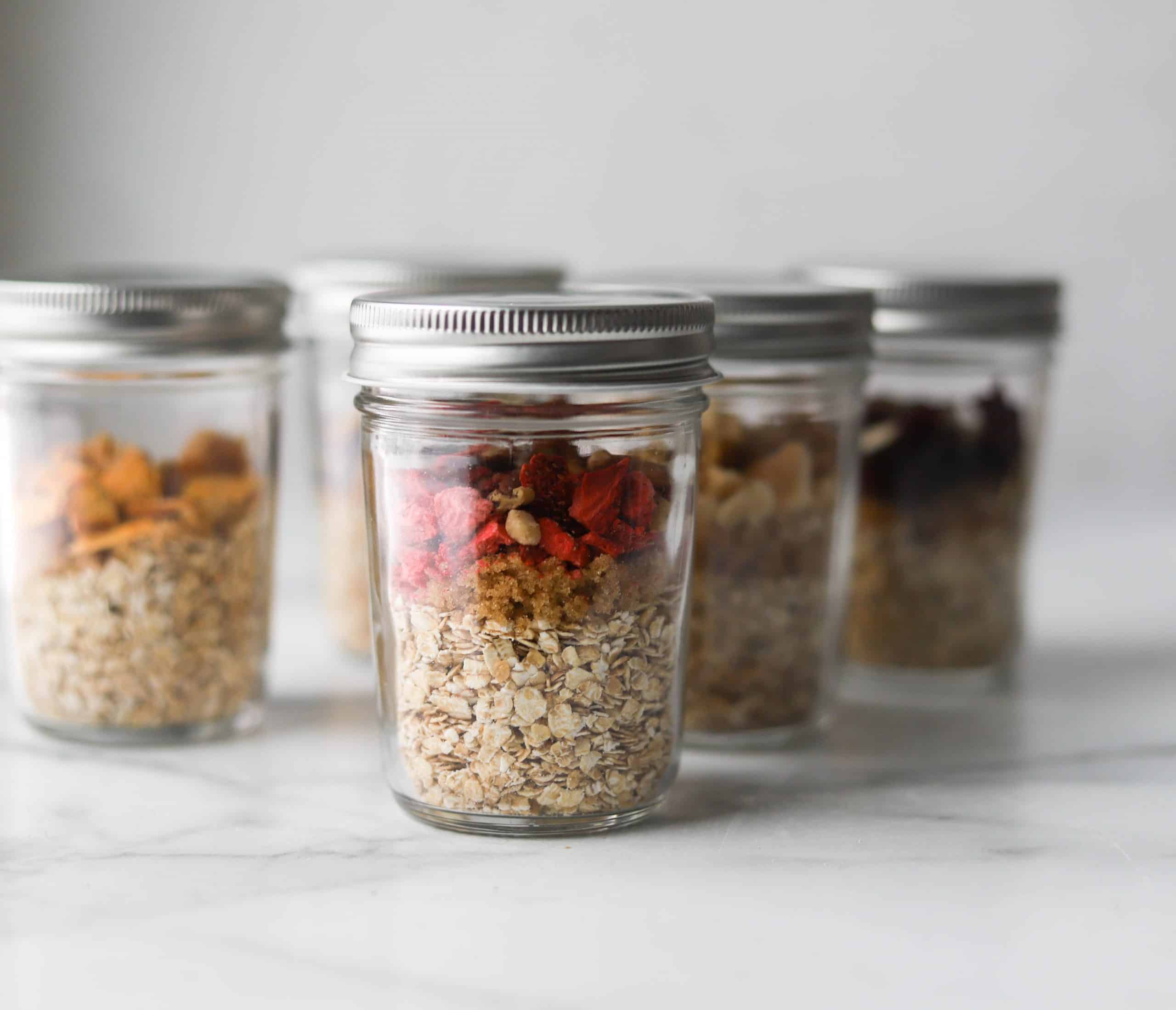 How to make homemade instant oatmeal in a cup
Ingredients
Quick oats. I use quick oats because they cook faster than old-fashioned rolled or steel cuts.

My goal with this recipe was to make it as fast and convenient as possible, and quick oats are just as nutritious as old-fashioned rolled and steel cut!

Brown sugar. I like to use dark brown sugar because it has more molasses and is richer in flavor.

That means you don't need as much to make your oatmeal taste delicious.

Cinnamon. To me, oatmeal requires cinnamon. Use as much or as little as you'd like!
Kosher or sea salt. Just a pinch will do.

As in all other recipes, salt brings out the flavor of all the other ingredients and just makes everything taste better.

Mix-ins. My favorite mix-ins are dried fruit and nuts, and you can go crazy with whatever kind you love!

See below for more mix-in ideas and tips.

Water or milk. Water works well, but milk makes oatmeal a bit creamier.
Fresh fruit. This is optional, but I love adding fresh fruit like berries just before serving!
Equipment
Pint-size jars with lids.
Measuring cups and spoons.
A microwave.
A spoon for digging in.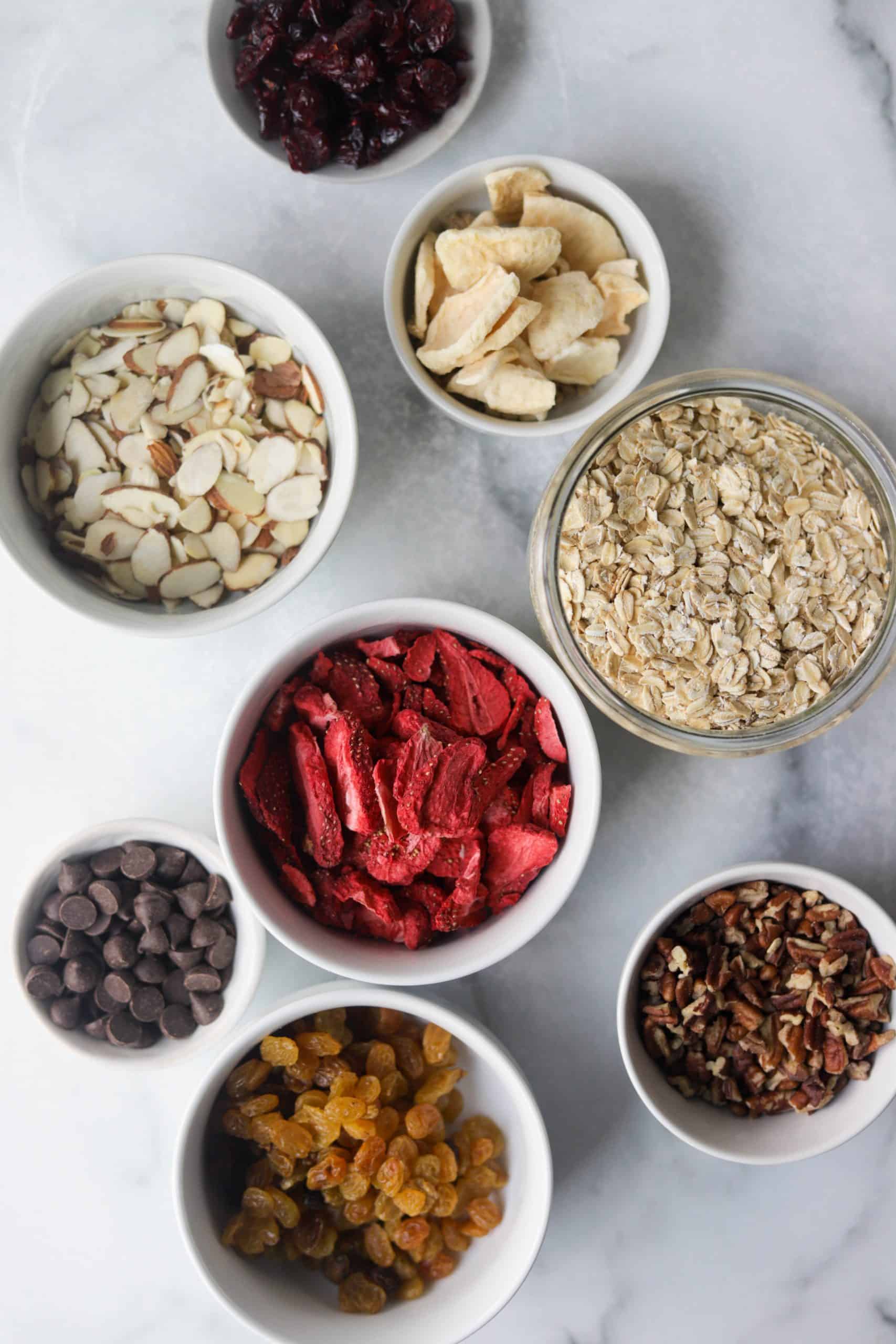 Step-by-Step Instructions
The first step is to measure ½ cup quick oats into a jar.
I like to use a pint-size jar for this serving size because it leaves enough room for you to add liquid and doesn't overflow the jar.

I first made the mistake of using smaller jars and boy was that a mess! Don't be like me, ha.

Next, add ½ tablespoon brown sugar, ¼ teaspoon cinnamon and a pinch of salt.
Give everything a stir so these ingredients will be evenly distributed among the oats.
Stir in 2 tablespoons of your favorite mix-ins, such as dried fruit, nuts and dark chocolate chips.
If you're ready to eat your oatmeal cup now, add ¾ cup water or milk, then stir it all again.
Place the cup in the microwave and cook on high 1 minute 30 seconds.
Place a lid or paper towel on the cup and let it sit about 2 minutes or until it has thickened.
Top it with fresh fruit and more nuts, if you wish.

You could also stir in a tablespoon of nut butter if you're feeling extra.

Enjoy! This delicious breakfast took about 5 minutes to prepare, from start to finish!
Make-Ahead Note
If you're meal prepping, make as many jars of oatmeal as you wish.
They last up to 2 months in the pantry, so you may as well make several!
Mix-In Options
Dried fruit. Try raisins, cherries, blueberries, strawberries, apples, bananas, mango and coconut.

If they're in large chunks like dried apple slices, chop them up first.

Chopped nuts. Almonds, walnuts, pecans, cashews and pistachios are all great options.
Dark chocolate. The regular-sized or mini chips work well here.

Or you could use cacao nibs.

Powders. Dark cocoa powder, ground flax seed or peanut butter powder can be mixed in with the oats before microwaving.

You may need to add a bit more liquid to accomodate.
You can also try adding protein powder if you'd like - I haven't tested this so I can't vouch for it, though!
Serving Options
Chopped nuts. Why not add more nuts?

A few sprinkled on top before serving will add the crunch factor to your oats.

Nut butter. Once you've microwaved your oatmeal cup, go ahead and stir in a dab of your favorite nut butter.
Fresh fruit. I LOVE adding fresh fruit like berries, cherries and peaches to my oatmeal just before it's time to eat.
Substitution Options
Oats. You can try this recipe using old-fashioned rolled or steel cut oats, but you may need to adjust the amount of liquid and cooking time.

All options are equally nutritious!

Brown sugar. Any sweetener will work here. Light brown sugar, dark brown sugar, brown sugar substitutes like Swerve or stevia blend, granulated sugar or another natural sugar substitute like stevia.

Another option is to omit the brown sugar and add honey, molasses or maple syrup to the oats once they're cooked.
Remember you can always alter the amount of sugar/sweetener you use to accomodate your taste and dietary preferences.

Spices. I use cinnamon, but you can swap with or add in other spices as well, such as ground ginger, nutmeg and cloves, if you like.
Milk. If you're using milk instead of water, you can use any kind you like, whether it's cow's, almond, soy, coconut, rice, cashew or oatmilk.
To make it gluten free: Use gluten free oats.

Oats are naturally gluten free, but are often processed in the same facility as wheat products, so it's important to purchase oats that are labeled gluten free if you follow a gluten free diet.

To make it dairy free and vegan: Use a dairy alternative, such as almond, soy or coconut milk.
There are so many options for making homemade instant oatmeal in a cup!
There is truly an delicious option for everyone.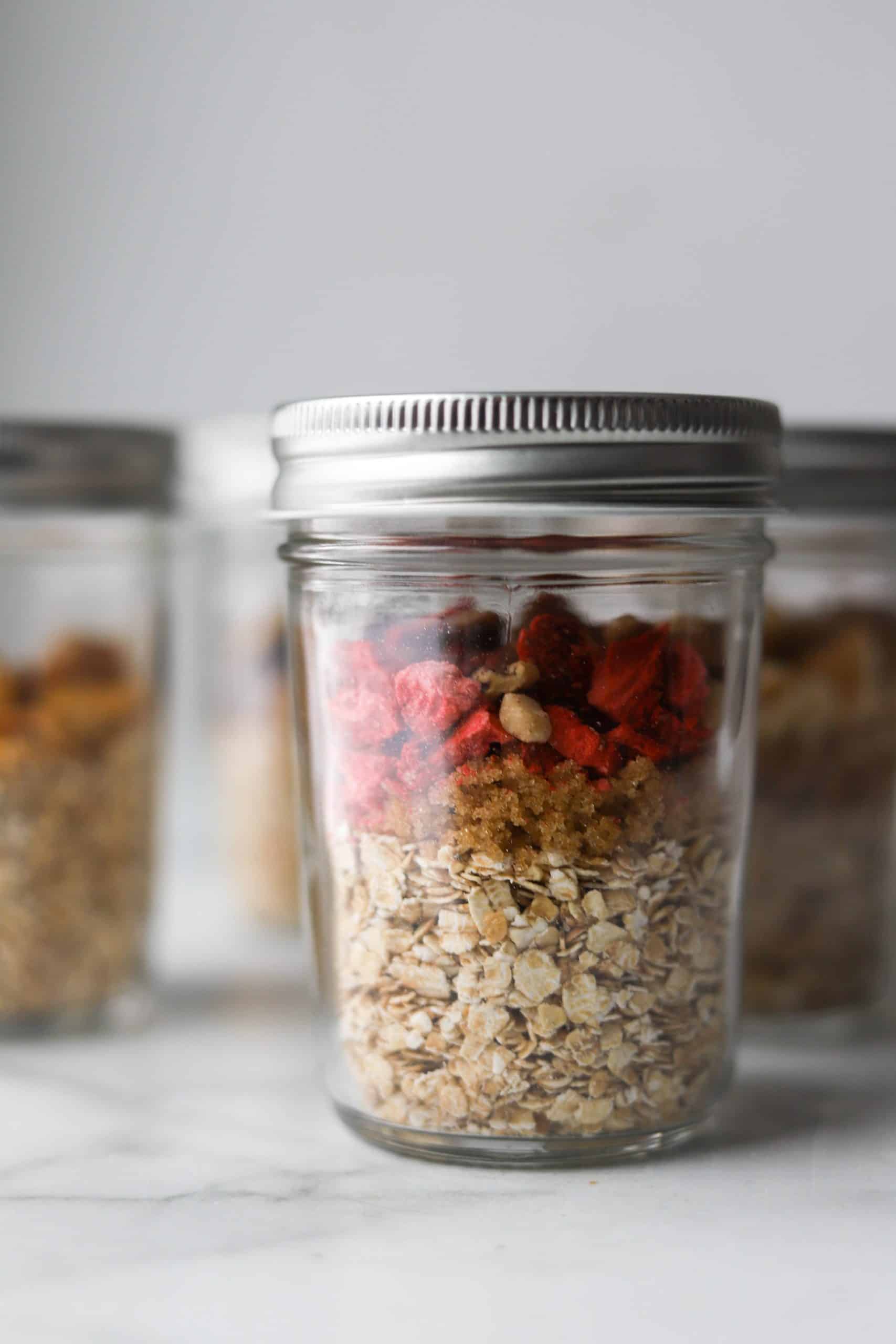 Other Make-Ahead Breakfast Recipes
Print
Instant Oatmeal in a Cup
Easy homemade oatmeal cups - tastier, healthier and more budget-friendly than store-bought!
Author:
Prep Time:

3 mins

Cook Time:

2 mins

Total Time:

5 mins

Yield: Makes

1

oatmeal cup

1

x
Category:

Breakfast

Method:

Microwave

Cuisine:

American
½ cup

quick cooking oats

½ tablespoon

dark brown sugar

¼ teaspoon

ground cinnamon
Pinch coarse salt

2 tablespoons

mix-ins (see below for ideas)

¾ cup

water or milk
Instructions
Pour the oats, brown sugar, cinnamon and salt into a pint-size jar. Stir to combine. Add 2 tablespoons of desired mix-ins to the jar. Seal the jar and store at room temperature up to 2 months.
When ready to cook, add the water or milk to the jar, stir and microwave on high 1 minute 30 seconds. Place the lid on top and let sit 2 minutes. Serve immediately.
Notes
Mix-In Ideas:
Dried fruit (raisins, cherries, blueberries, strawberries, apples, apricots, bananas, mango, coconut, etc) - chop if in larger pieces like apple wedges and strawberry slices
Nuts (almonds, walnuts, pecans, pistachios, etc) - chopped
Dark chocolate chips or cacao nibs
Boost the nutrients in your oatmeal cup by adding ½ tablespoon ground flax seed, dark cocoa powder or peanut butter powder before microwaving. You may need an extra splash of water or milk to accommodate for the added flax, cocoa powder or peanut butter powder.
Serving Tips:
Stir in a tablespoon of nut butter just before serving.
Add fresh fruit and more chopped nuts on top before serving.
Nutrition
Serving Size:

1 oatmeal cup

Calories:

228

Sugar:

13g

Sodium:

130mg

Fat:

6g

Saturated Fat:

1g

Unsaturated Fat:

5g

Trans Fat:

0g

Carbohydrates:

40g

Fiber:

5g

Protein:

6g

Cholesterol:

0mg
Keywords: breakfast, make ahead, make-ahead, copycat