These balsamic green beans with bacon are an easy 4-ingredient side dish made of perfectly seasoned crisp green beans, crispy bacon and tangy balsamic vinegar.
They're fabulous enough to serve as a holiday side dish, yet easy enough to make on a weeknight.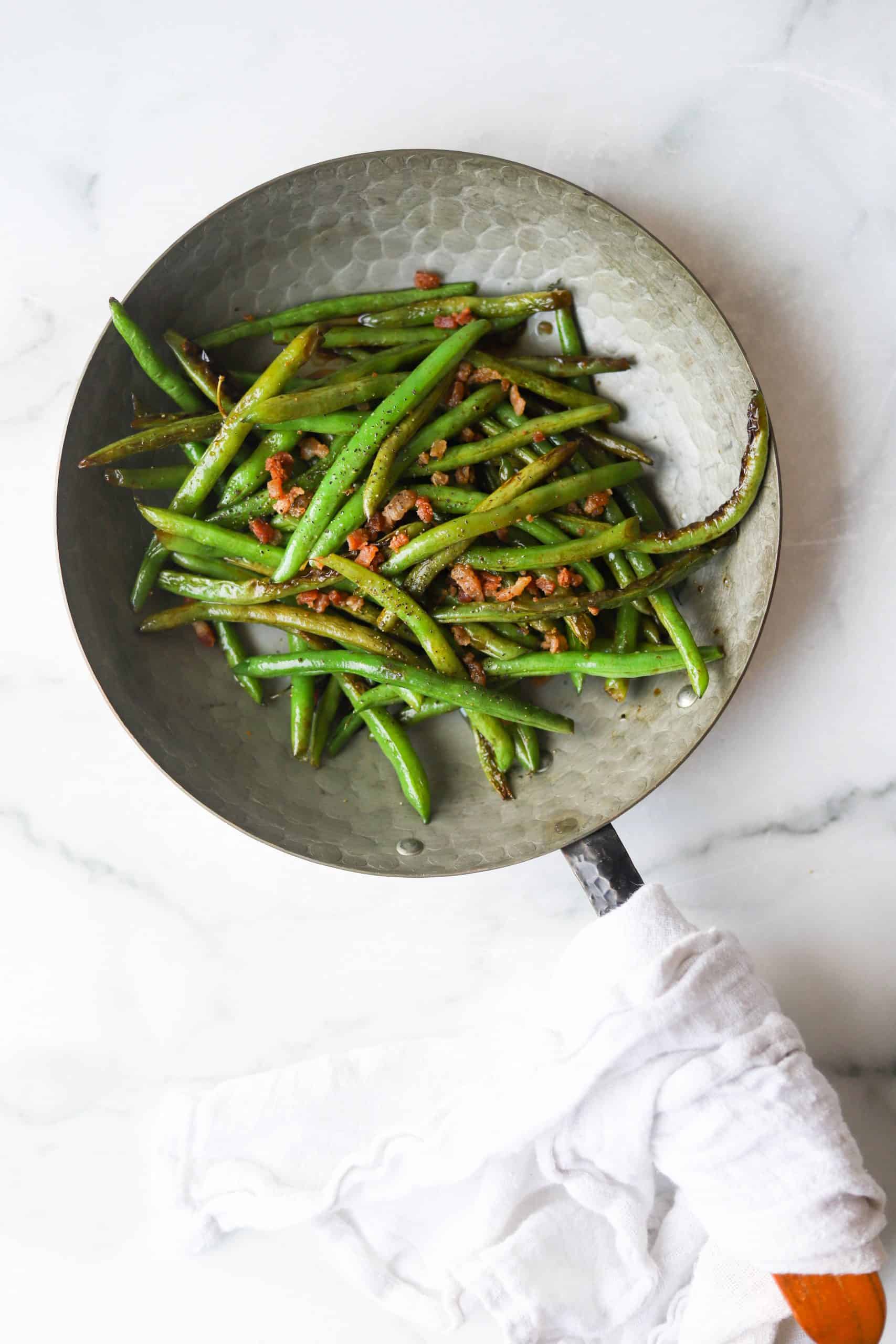 Tips for perfectly cooked green beans
Set up. Wash and trim the green beans, get a pot of salted water boiling, set up a bowl of ice water next to your cooking station and have the rest of your ingredients and equipment ready to go.
Blanch. Blanching is the process of boiling the green beans for 2-3 minutes.

This lightly cooks the vegetable to be finished later.

Shock. Shocking is the process of transfering the blanched green beans to a bowl of ice water, which halts the cooking process and allows the vegetable to hold their bright green color.

Many restaurants blanch and shock their vegetables for this reason, plus it basically par-cooks the greens beans so they can be quickly finished during dinner service.
Once veggies are blanched and shocked, they can be used stir-frying, sauteing or added to a cold salad!

Saute in fat. To add some flavor and texture to the beans, go ahead and saute them quickly in a little bit of oil or butter to finish them.

I like to get a little bit of charred color on them, but make sure to take them out of the pan quickly so they don't overcook.
I like my beans a little al dente!

Season properly. Finish the green beans with a smattering of salt and black pepper.

That's all you really need to make perfect green beans!

Add toppings. Whether the "topping" is a glug of balsamic vinegar or a handful of toasted nuts (or both), toppings add a burst of flavor to any vegetable.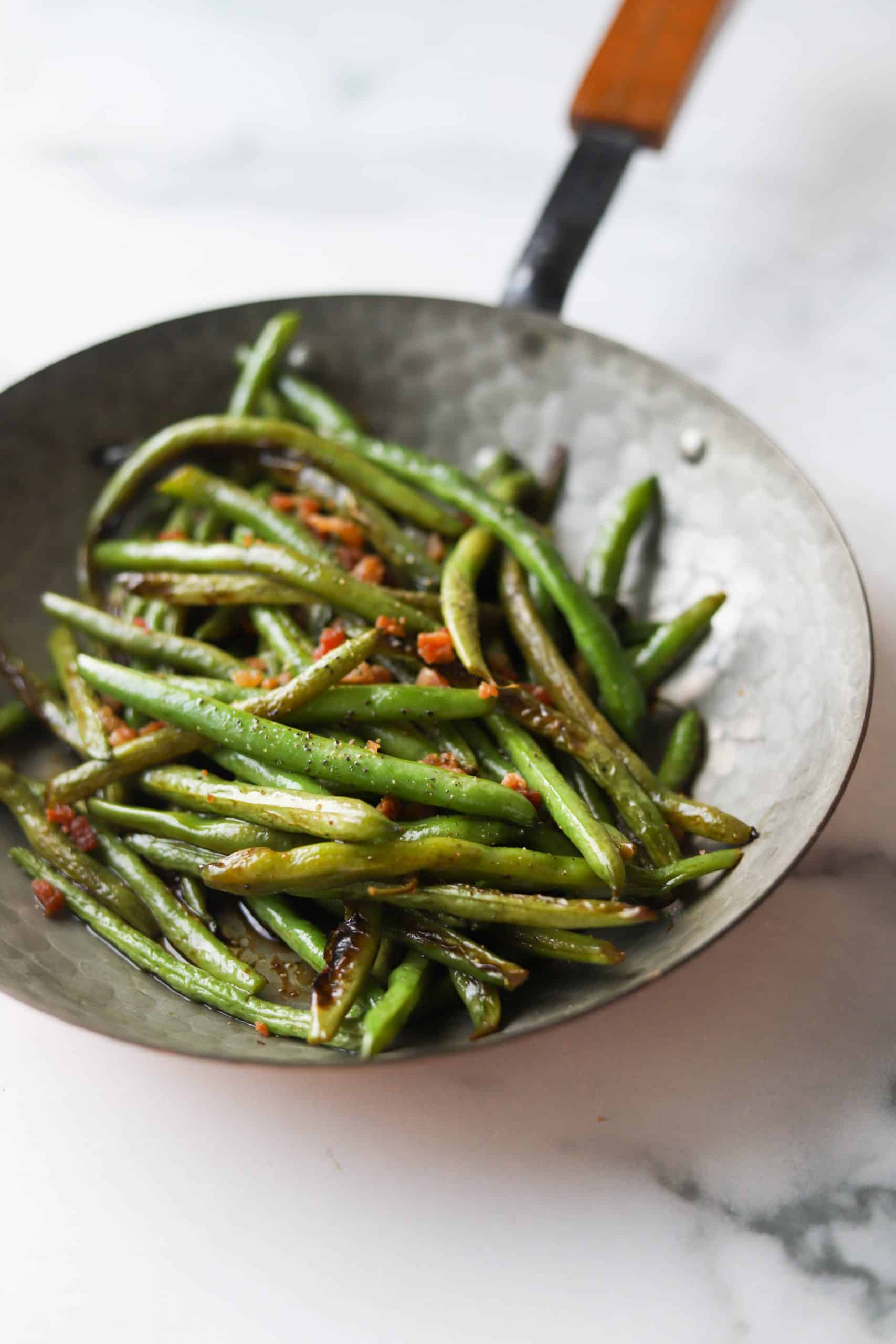 How to spice up your perfectly cooked green beans
Add something salty. This could be cured meats like bacon, pancetta, guancale, ham, and the list goes on.

It could also mean soy sauce, miso, fish sauce or brine from pickled vegetables.
And remember, a little bit goes a long way!

Add toasted nuts. Toasting nuts gives them texture and a greater depth of flavor.

It only takes a minute, and is SO worth it!
To toast nuts, heat a dry skillet to medium or medium-high heat.
Toast them for 30-60 seconds, tossing them in the pan until they're lightly browned and fragrant.
Be sure not to step away, as nuts burn easily!

Add vinegar. Balsamic, apple cider, white wine, champagne... there are so many vinegars to choose from and a dash adds a TON of flavor and a bit of tang. In this recipe I used balsamic because it pairs so nicely with bacon, but anything goes!
Add herbs and spices. Dried, fresh or both!

You can add a touch of heat with cayenne or crushed red pepper flakes, chop up some fresh herbs and toss them in before serving for a little freshness or stir in a pinch of dried herbs and spices to give the a dish a unique flavor.
The possibilities are endless.
Or, you can keep it simple with oil or butter, salt and pepper! There is no wrong answer, folks.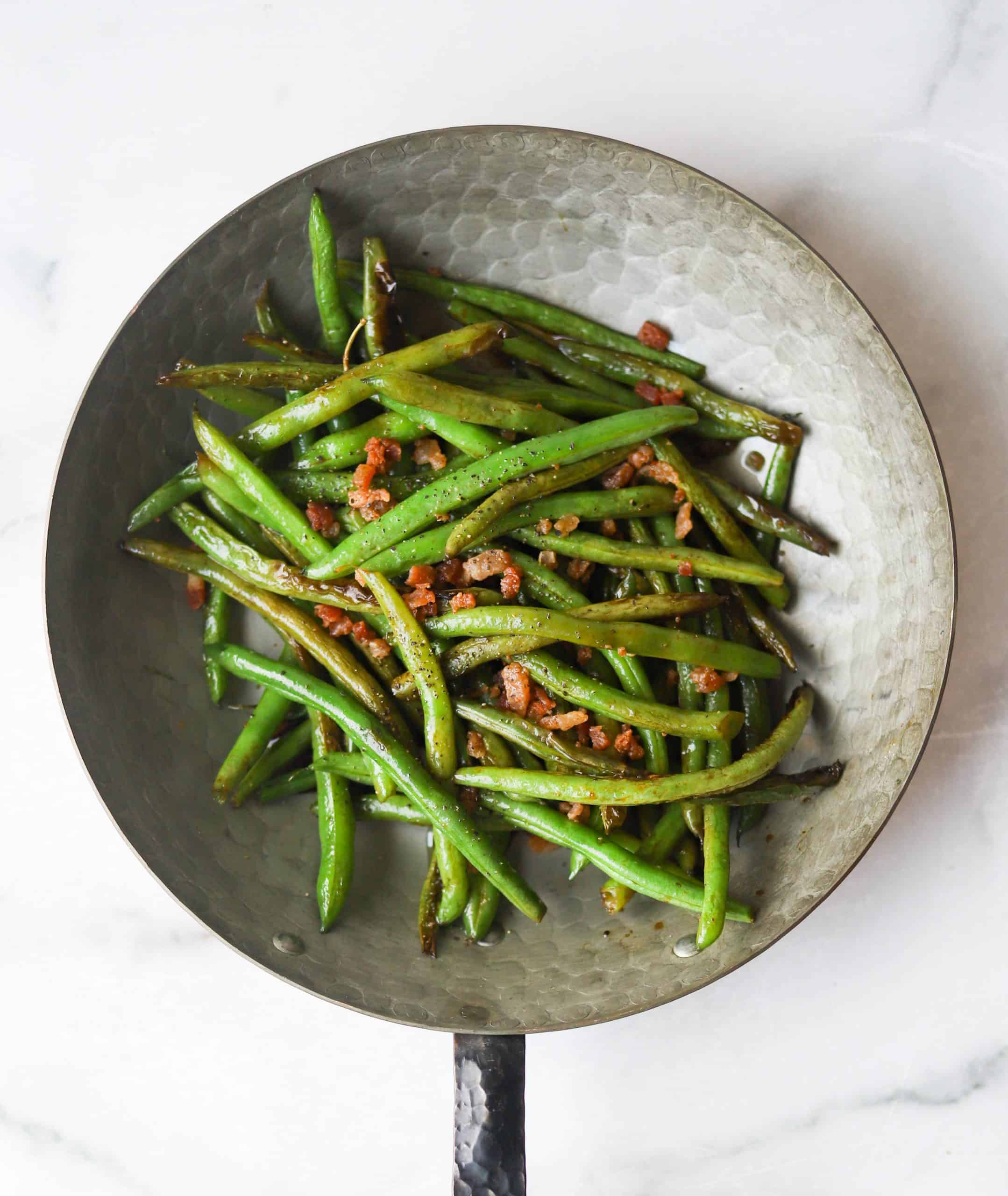 More recipes for green vegetables!
Print
Balsamic Green Beans with Bacon
A simple green bean saute with crispy bacon and Balsamic.
Author:
Prep Time:

5-10 mins

Cook Time:

10-15 mins

Total Time:

15-25 mins

Yield:

Serves 6

Category:

Side Dish

Method:

Stove-Top

Cuisine:

American
1

-pound fresh green beans, trimmed

5

strips bacon, chopped

1 tablespoon

olive oil

3 tablespoons

balsamic vinegar

½ teaspoon

coarse salt

½ teaspoon

ground black pepper

1 tablespoon

honey (optional)
Instructions
Bring a large pot of water to a boil. Cook the green beans 2-3 minutes, then transfer them to a large bowl filled with ice water. Once the ice has melted, use a slotted spoon to remove the green beans from the bowl and place on a paper towel-lined plate. Set aside.
Add the bacon to a large skillet set at medium heat. Cook 6-8 minutes, stirring frequently, until bacon is crispy. Transfer to a paper towel-lined plate. Set aside. Drain all but 1 tablespoon of the bacon fat from the pan; discard the excess bacon fat.
Add the olive oil to the pan and heat to medium-high. Add the green beans and sauté 1-2 minutes or until lightly browned. Add the balsamic vinegar, salt and black pepper and simmer until the balsamic is mostly evaporated. Add the bacon back to the pan and stir to combine. Stir in the honey (if using). Serve immediately.
Notes
Cooking Tip: The technique in step 1 is called blanching and shocking. Blanching slightly cooks the green beans while shocking in an ice water bath helps preserve the bright green color. It is an optional step, as you can start with step number 1, you'll simply need to saute the green beans a few minutes longer to assure they're cooked.
Cooking Tip: To make the green beans a little less tangy, add the honey.
Nutrition
Serving Size:

⅙ of recipe

Calories:

123

Sugar:

6g

Sodium:

347mg

Fat:

8g

Saturated Fat:

2g

Unsaturated Fat:

6g

Trans Fat:

0g

Carbohydrates:

10g

Fiber:

3g

Protein:

5mg

Cholesterol:

9mg
Keywords: side dish, vegetable, vegetables