Wondering how to eat more greens? You've come to the right place.
I've outlined why leafy green vegetables are good for you, how to cook them and how to easily (and deliciously) incorporate them into your meals, every day!
Why are leafy green vegetables good for you?
The great thing about leafy green is they come in many varieties, so there are plenty to choose from.
In terms of nutrition, dark leafy greens are nutrient powerhouses loaded with:
Vitamins A, C, and K
Magnesium, calcium, potassium, iron, and folate
Fiber
Antioxidants
What are leafy green vegetables?
Lettuces, such as romaine and mixed greens
Kale
Spinach
Collard Greens
Arugula
Bok Choy
Beet + Turnip Greens
Swiss Chard
Watercress
...and more! :)
You can eat them raw in salads and sandwiches, or cook them into dishes.
And while we're here to share some ideas, don't be afraid to get creative and use these as inspiration to create your own leafy green magic!
How to Eat More Leafy Greens
1. The most obvious first... salads!
This may be a "duh" moment, but the cool thing about salads is you can use any single green as the base, or you can mix and match!
You can even throw in some fresh herbs for a little bit of pizazz. most people think of lettuce when it comes to salad, like romaine or iceberg, but you can also use spinach, arugula, kale, watercress or any combination of them.
It really depends on the toppings and dressing you're in the mood for.
When it comes to arugula or spinach, I like to pair it with a citrus vinaigrette, but when it comes to romaine or kale, I usually like to top it off with something creamy, like Caesar or ranch.
The sky is the limit, though!
More salad recipes you'll love:
2. Use lettuce as wraps + cups
I am a big fan of putting flavorful meats and fillings in lettuce cups because they're light, crunchy and fresh and really let the flavors of the dish shine.
When shopping, I tend to look for Boston or bibb lettuce, or any artisan variety that is shaped like a cup.
You can even use romaine or iceberg leaves as "boats" in this case! Basically, anywhere you'd use a bun, you can use greens!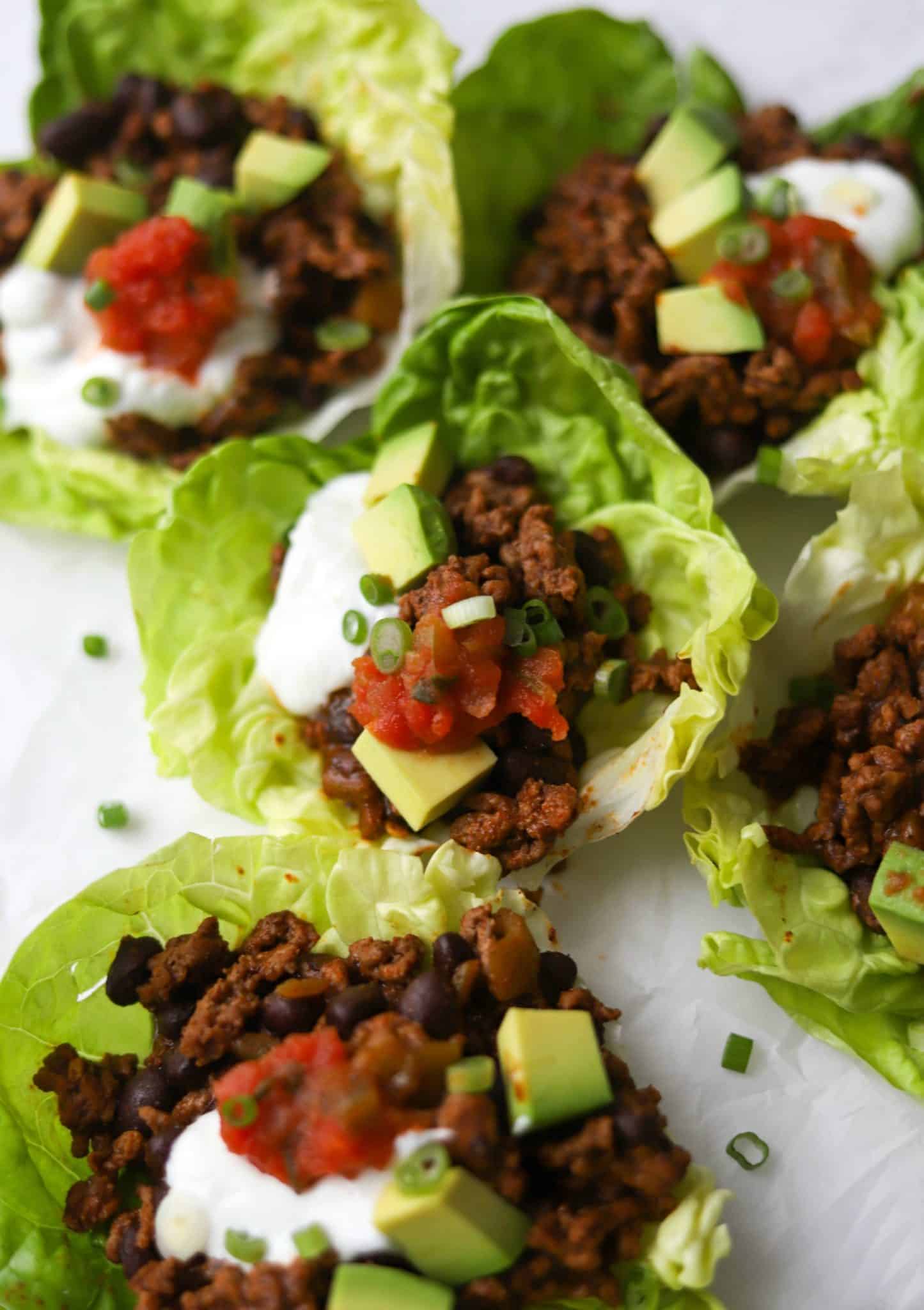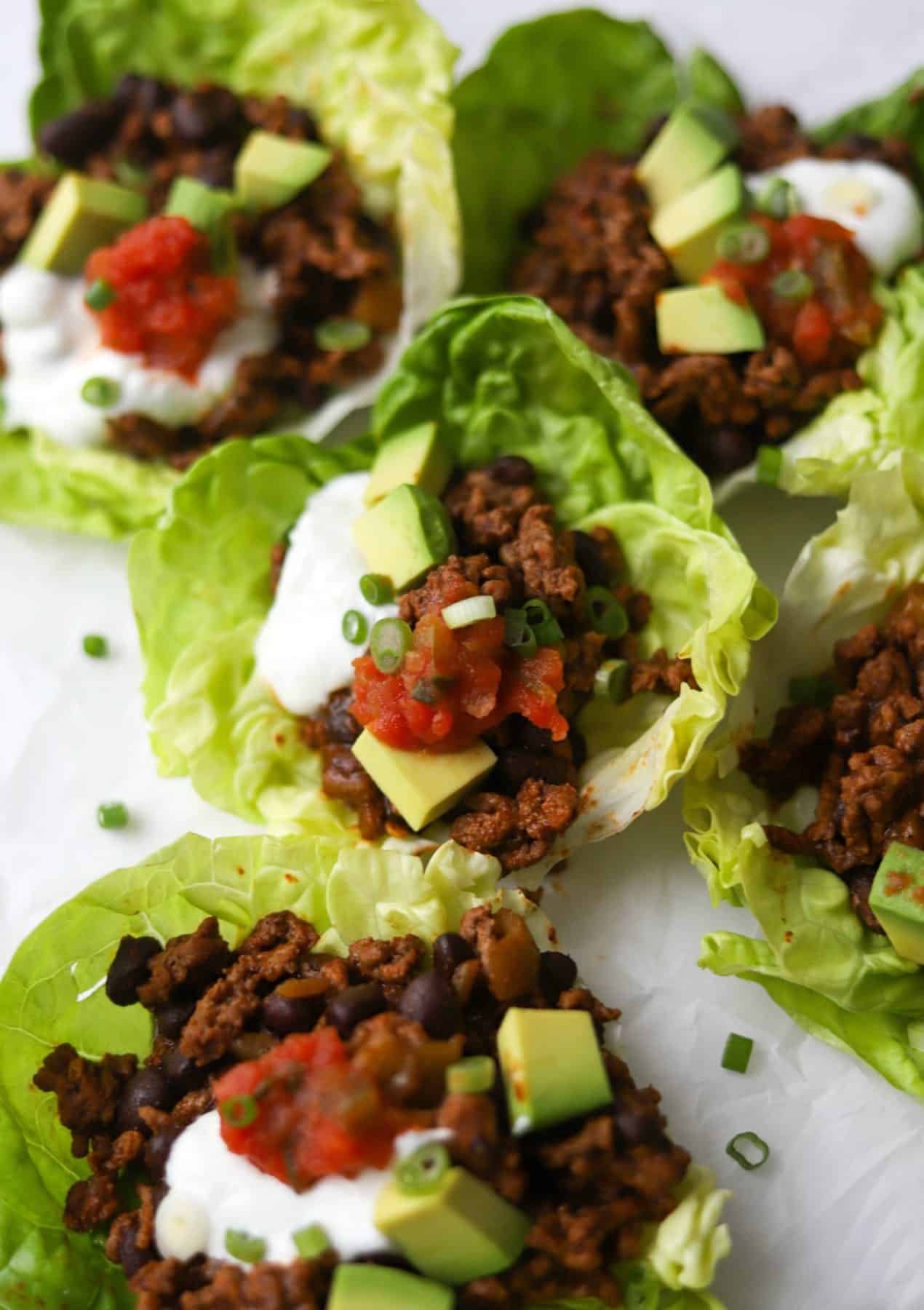 3. Easily cook leafy greens into pasta dishes
This is probably the easiest and most discreet way to add greens to your diet, and is a great way to introduce them to those who may be skeptical - but is also perfect for those who love leafy greens!
Grab a handful of spinach, kale, collards, or any other dark leafy green and add them to pasta.
I like to saute them first in some olive oil and garlic, then add the rest of my ingredients, like chicken, vegetables, fresh lemon juice and of course... pasta!
Make for one easy dinner, I tell ya'.
More casserole and pasta dishes with loads of greens:
4. Or throw them into your favorite soup recipes
Another winner! Whatever greens you have leftover (I'm talking about that container of spinach in the back of your fridge...) can go in your next pot of soup.
You can toss them in at the beginning when you're sauteing the veggies or at the end so they're fresh and vibrant.
Either way you'll be upping the nutritional game of your soups without much effort.
More soups with loads of greens:
5. Make a bed of leafy greens for your protein
If you're looking for a way to cut back on the carbs, ignore my pasta tip from earlier.
Just kidding, but if you really are in the mood for something higher in protein and lower in carbs, whip up some tuna or salmon cakes, a sauteed filet of your favorite fish, a burger patty, or a steak and serve it over a bed of greens with a light vinaigrette dressing. Yum!
6. Add some in your sandwich, burger or wrap... or use greens as the wrap!
There are times when I just want a good ol' sandwich, burger or wrap for lunch or dinner, and a few great ways to amp up the nutrition are by serving greens AS the bread, bun or wrap OR adding greens to the sammie or burger!
Large greens like collards make for the perfect wrap, and spinach or lettuce can easily be added to your ham and cheese.
7. Include them in savory breakfast + brunch dishes
I am a big fan of whipping up a breakfast casserole or egg cups to eat for breakfast all week.
And it's super easy to add handfuls of greens to either by sauteing them with some veggies and/or breakfast meat, then mixing them into the eggs before baking.
Seriously, it doesn't get any easier than that and you'll feel really GOOD about eating vegetables for breakfast!
8. And, blend them into sauces, like pesto!
Not only does using spinach or kale in your pesto sauce save you money (basil is expensive!), but it adds a ton of vitamins and minerals to your dish.
I love to throw pesto on fish, chicken and toss it into pasta, and I love that you can make it ahead and freeze it.
Simply use half the amount of basil the recipe calls for and swap in spinach or kale for the rest.
And voila! The answer to 'how to eat more greens'!
So tell me, what are your favorite ways to eat more leafy greens?
Written by Anna Pashkova, MS, RDN, LD, ACSM-EP / Reviewed by Chef Julie Andrews, MS, RDN, CD, FAND