This post is a collaboration with Beef. It's What's for Dinner., managed by NCBA, on behalf of the Beef Checkoff. I received compensation, but all opinions are my own.
Beef tenderloin with cranberry balsamic compote makes for the perfect special occasion meal.
It's a delightful black pepper seared steak with fluffy mashed cauliflower and potatoes and crisp green beans with a fragrant cranberry balsamic relish.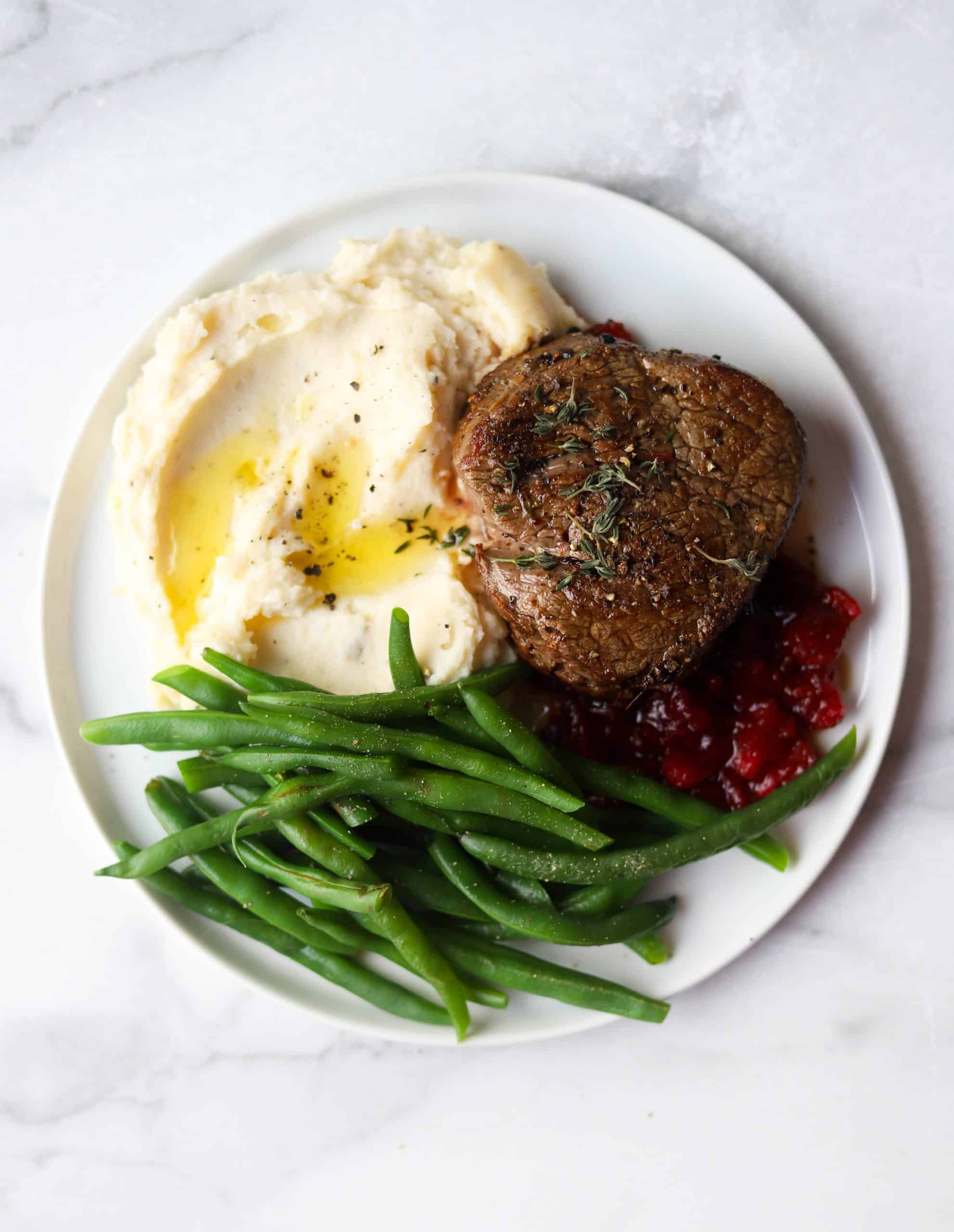 Why I love this recipe
Most holidays will look a little different these days.
Many of us are staying home and having a small gathering with close family and are seeking ways to cook a special and especially delicious holiday meal for just a few people.
But no matter your plans or how you slice it, beef will make your holiday dinner feel special!
And boy do I have a delicious beef recipe to share that'll make it a meal to remember! This beef Tenderloin with cranberry balsamic compote checks all the boxes.
It's fancy but super easy to execute, it includes a smattering of holiday flavors and it's nutritious and well-balanced (BONUS!).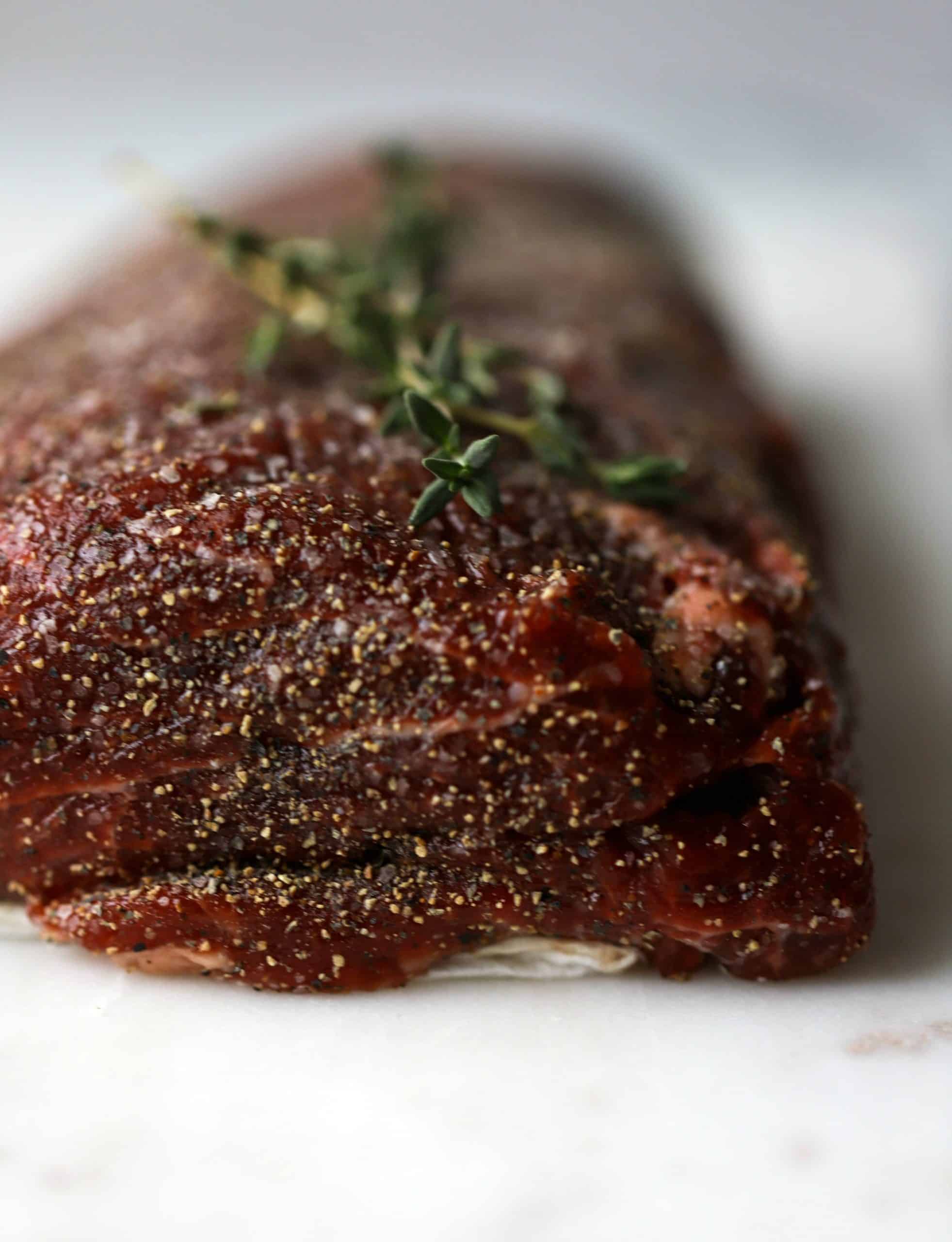 Step-By-Step Cooking Instructions
Start with a high-quality cut of beef. I chose Tenderloin Roast for this recipe because it's quick cooking, lean and is naturally tender (hence why it doesn't need to be slow cooked).

Because Tenderloin carries these qualities, it's a popular choice for a holiday meal.
If you don't see Tenderloin Roast out in the meat display at your supermarket, ask the butcher or meat counter if they have it available.

Pat the roast dry. Excess moisture will make it difficult to get a good sear.

Once it's dried off, season it generously with kosher or sea salt and freshly ground black pepper.
Be sure to season all sides of the roast (even the ends!).

Sear the roast. Heat a thin layer of olive oil in an oven-safe skillet or shallow cast iron pan.

Once the oil is rippling, add the Tenderloin Roast and sear 2-3 minutes per side or until a light brown crust forms.
Transfer it to a preheated 350 degree oven and roast until the internal temperature reaches 140 degrees.
Once removed from the oven, the beef will carryover cook about 5 degrees, allowing it to reach the desirable 145 degrees once it's sliced.
Let it sit about 5 or 10 minutes so the juices can redistribute. Slice into rounds.

Make the cranberry compote. While the beef roasts, toss cranberries, apples, dried cranberries, ginger, cinnamon, sugar, balsamic vinegar, orange zest and juice (fresh from the orange!) and salt in a large saucepan and bring to a simmer.

Stir it occasionally until it's thickened like cranberry sauce.
Taste and adjust the seasoning if needed.

Serve! Serve the beef Tenderloin rounds with a heaping side of green beans and a large dollop of cranberry balsamic compote (even throw in a mound of cauliflower mashed potatoes, if you're in the mood!).

Your family will thank you for the fancy pants dinner that takes less than an hour to prepare!

Make leftovers! If you're cooking for just a few people and have leftover beef, save it, slice it and give it a quick stir fry with loads of veggies in a skillet.

Toss with soy sauce and sesame oil for an easy leftovers dinner.
---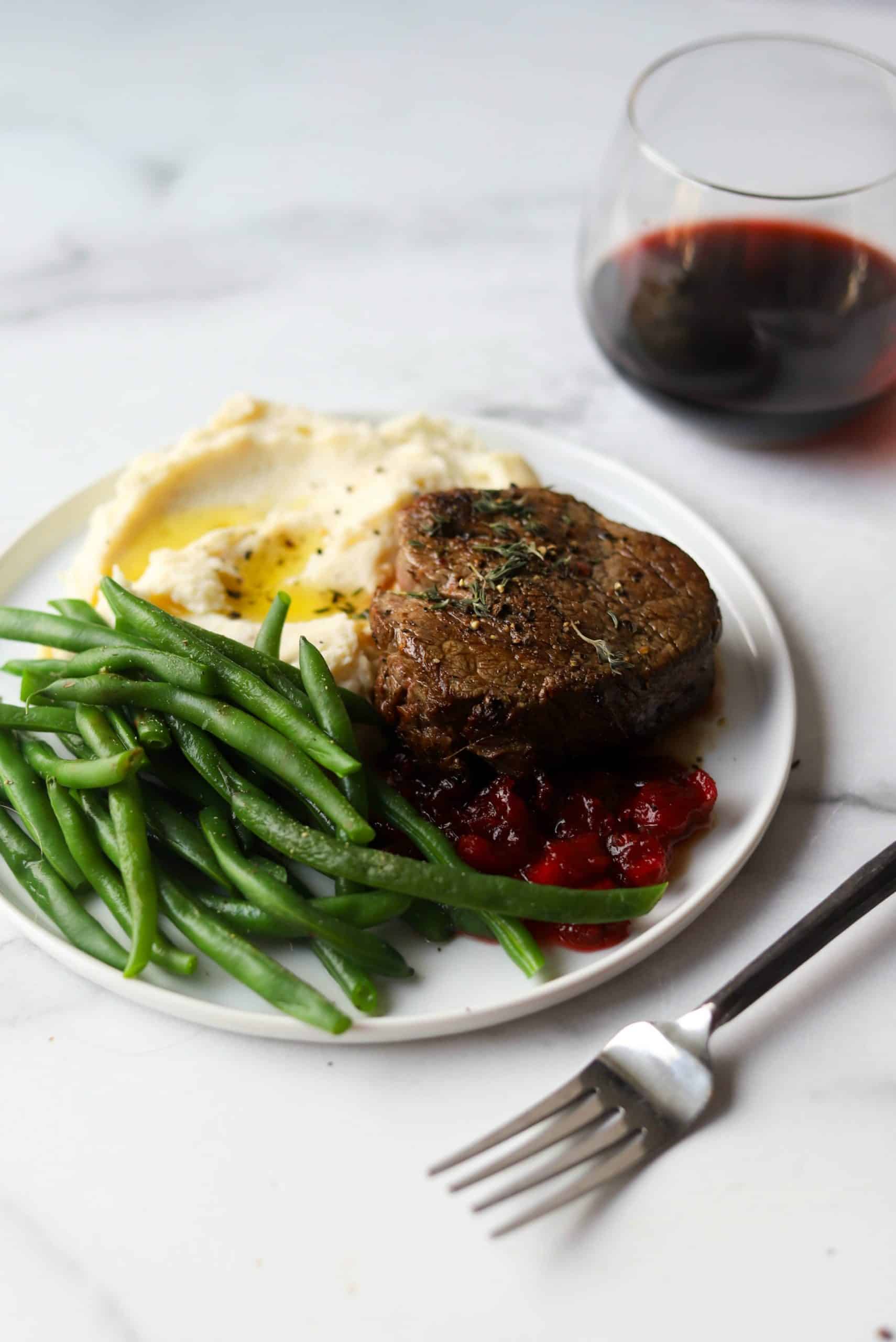 Why should beef be the feature of your holiday meal?
Makes a nourishing, balanced meal. The holiday is a time for indulgence, but it's also a time to celebrate seasonal eats that are nourishing AND delicious!

That's where this beef Tenderloin Roast with cranberry balsamic compote comes in.

It's full of beneficial nutrients. Beef contains high-quality protein, iron, zinc, choline and B vitamins.

As a registered dietitian, the nutritional value of foods is super important to me, and beef fits the bill when it comes to being a nutritional powerhouse.
It can help Americans avoid nutrient shortfalls across the lifespan, support healthy pregnancies; grow and develop throughout childhood; maintain strength, energy and vitality into adulthood; and age vibrantly and independently.

It contains protein. Protein is important at every stage of the lifecycle, from childhood to older adulthood and just a 3-ounce portion of cooked lean beef (such a Tenderloin) provides about 51% of the daily value for protein.
Supports a healthy weight. Beef can support a healthy weight because lean protein helps you feel full and satisfied long after your meal is over.
It can support the immune system. Beef's zinc content helps support a strong immune system, plus it's a great source of heme iron, which is more easily absorbed in the body than plant foods (non-heme iron).

And it's an excellent source of vitamin B12.

You can perfectly portion it. I suggest a 3-ounce portion paired with vegetables, fruits and complex carbohydrates, like whole grains.

In this recipe, I paired beef tenderloin with a cranberry apple relish and sauteed green beans to make it a wholesome, nourishing meal!

Find more ways to enjoy beef! Check out this guide from Beef. It's What's For Dinner for more holiday cooking tips and inspiration: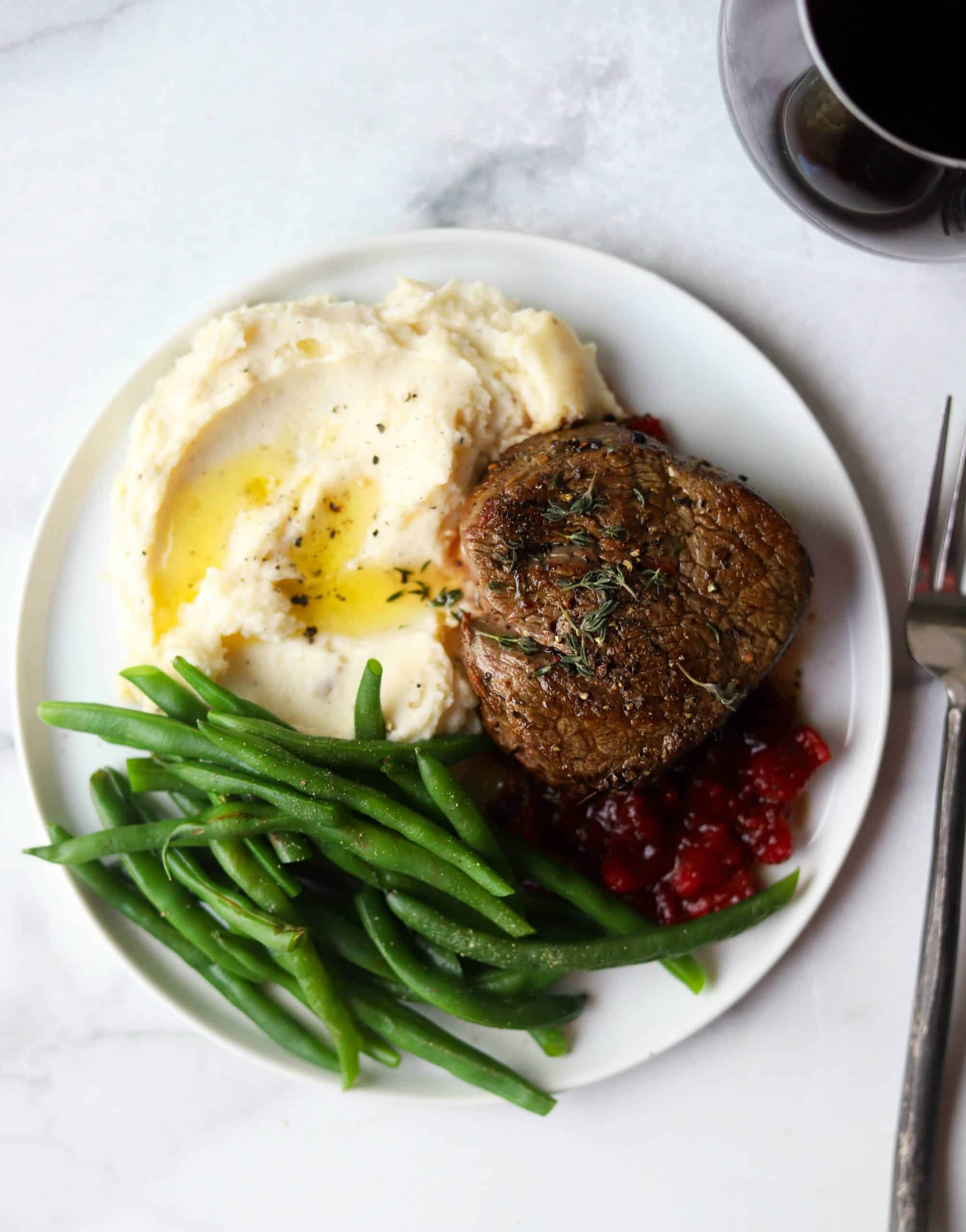 As you can see, this beef Tenderloin Roast with cranberry balsamic compote checks all the boxes (and has the stamp of approval from a chef AND dietitian!).
It'll make for a special, unforgettable gathering with close family.
Print
Beef Tenderloin with Cranberry Balsamic Compote
Seared and roasted beef tenderloin with a simple cranberry, balsamic, ginger and orange compote.
Author:
Prep Time:

15-20 mins

Cook Time:

25-30 mins

Total Time:

35-50 mins

Yield:

Serves 8

Category:

Holiday, Main Dish

Method:

Stove-Top, Baking

Cuisine:

American
Beef Tenderloin:
3

-

pound

beef Tenderloin Roast, trimmed of excess fat

2 tablespoons

olive oil

1 ½ teaspoons

coarse salt

¾ teaspoon

coarsely ground black pepper

3

sprigs fresh thyme

1

sprig fresh rosemary
Cranberry Balsamic Compote:
3

cups

fresh or frozen cranberries

1

medium honey crisp apple, cored and diced

¼

cup

unsweetened dried cranberries

1

-inch piece fresh ginger, peeled and grated

1 teaspoon

ground cinnamon

6 tablespoons

granulated sugar, brown sugar or honey

3 tablespoons

balsamic vinegar
Zest and juice of 3 medium oranges

¼ teaspoon

coarse salt
Instructions
Preheat the oven to 350 degrees.
Heat the olive oil in a large cast iron or oven-safe skillet to medium-high. Season the Roast on all sides with salt and black pepper. Place the Roast in the skillet and cook 2-3 minute per side, until the entire exterior has a browned crust.
Place the thyme and rosemary sprigs in the oil next to the Tenderloin Roast and transfer to the oven. Roast 10-15 minutes or until a thermometer inserted into the center of the roast reads 140 degrees (the Tenderloin will carryover cook about 5 degrees to reach 145 degrees after being removed from the oven). Place aluminum foil over the pan and let rest 10-15 minutes. Transfer to a cutting board and slice.
In a medium saucepan, combine the cranberries, apple, dried cranberries, honey, balsamic vinegar, ginger, cinnamon, salt and orange zest and juice. Heat to medium and bring to a boil, then reduce the heat to low and simmer 10-12 minutes, stirring frequently, until the cranberries burst and most of the liquid is evaporated. Remove from the heat and let slightly cool.
Divide the Tenderloin Roast slices onto plates and spoon the herb-infused olive oil on top. Spoon cranberry balsamic chutney and serve with a side of cauliflower mashed potatoes and green beans. Serve immediately.
Notes
Cooking Tip: Leave the skin on the apple for easy prep.
Nutrition
Serving Size:

⅛ of recipe

Calories:

367

Sugar:

19g

Sodium:

380mg

Fat:

12g

Saturated Fat:

1g

Unsaturated Fat:

11g

Trans Fat:

0g

Carbohydrates:

23g

Fiber:

3g

Protein:

38g

Cholesterol:

89mg
Keywords: holiday, Christmas, entree, main dish, beef, cranberry