Are you ready for my BEST healthy Thanksgiving recipes?!
I've put together a collection of some of my favorite Thanksgiving recipes hoping you'll find something delicious to cook, like Butternut Squash Mac & Cheese, Dutch Oven Turkey Breast, Sweet Potato Casserole or my 'famous' Cranberry Sauce.
I've got the fixins', from salad and soup to turkey and dressing to sides and desserts! There is something for everyone.
These are the BEST healthy Thanksgiving recipes!
When it comes to the life of the party, look no further than this simple charcuterie board that's loaded with meats, cheeses, fruits, olives, pickles, nuts, and dips.
Your guests will be beguiled by the flavors, colors, and textures of this epic party board!
This cranberry orange mocktail features the best holiday flavors: tart cranberries, fresh, juicy orange and sparkling soda for that bit of fizz.
It's all garnished with fresh thyme or rosemary for a bit of herbiness.
Make a few batches for your next holiday gathering or make a single beverage to enjoy next to your holiday tree.
You're going to love it!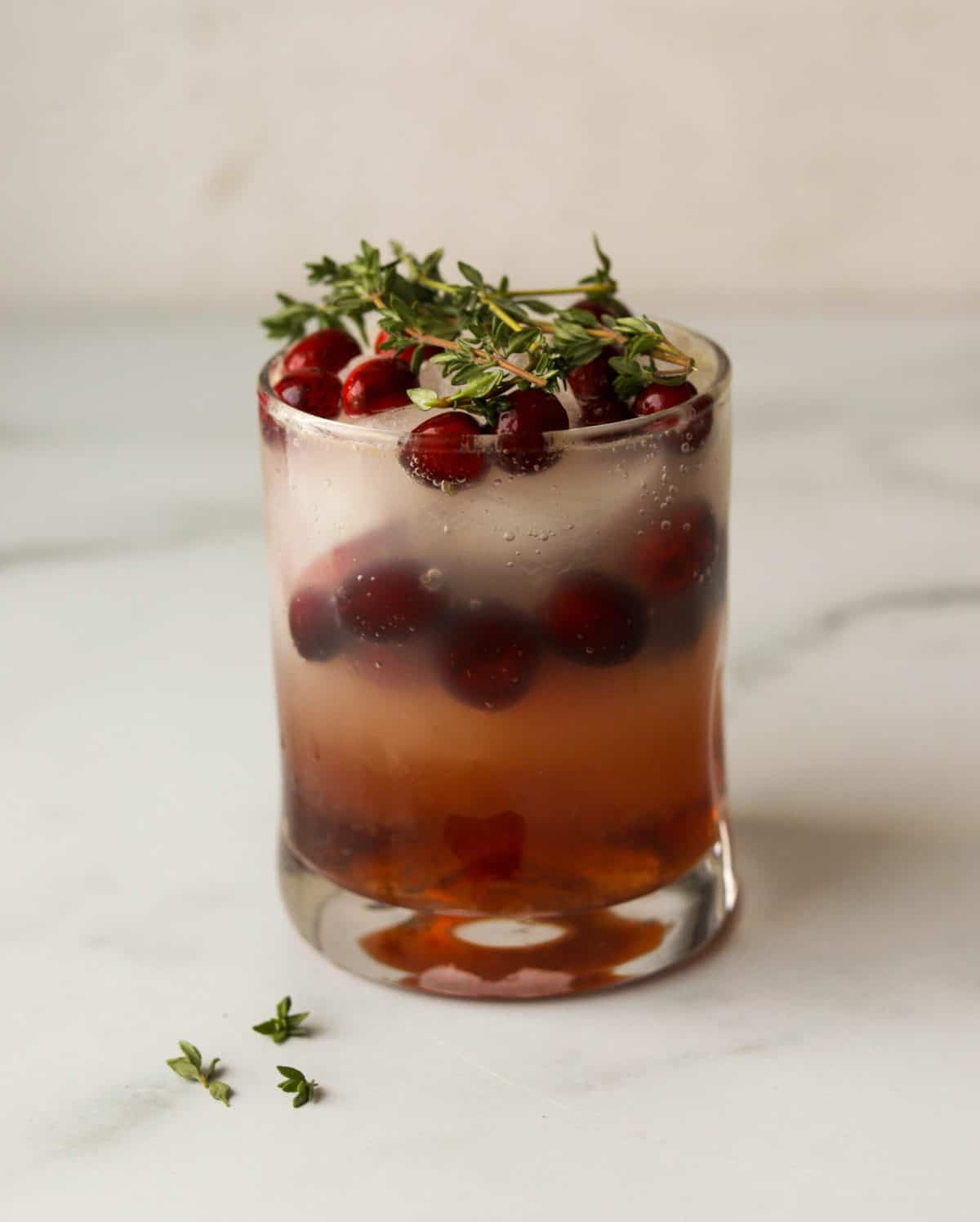 Thanksgiving Turkey & Fixins
Making Thanksgiving dinner for just a few people? Make a turkey breast!
This is my recipe for a simple Thanksgiving-inspired Dutch oven turkey breast with easy cranberry orange glaze.
It has dynamite flavor, is super juicy and makes enough for 6 people.
Serve with a few delicious Thanksgiving sides, and you've got a fabulous dinner party.
I absolutely love a recipe that only requires a few ingredients that is totally dynamite.
In this case, it's fresh cranberries, fresh orange juice and zest and sugar.
Once you make a batch of this stuff, you'll wonder why you ever bought the canned since homemade is so darn easy and way better.
Old-fashioned sausage stuffing with apples, celery and sage made with whole grain bread.
The perfect turkey accompaniment!
Thanksgiving Salads and Soups
THIS SALAD, you guys. I don't know that there is any better salad out there, and even though we don't often crave salad for Thanksgiving (I mean, there are so many other dishes to think about), this one is the exception.
It has fresh greens, honeycrisp apples, roasted butternut squash, toasted walnuts and juicy pomegranates with an apple cider olive oil dressing.
Like I said, it's the salad to beat all salads.
You're going to love this festive salad! Simply toss together sliced Brussels sprouts with sugared cranberries, tangy goat cheese, toasted walnuts and salty bacon.
It's a mélange of amazing cool-weather flavors, I can promise you that!
Fall is upon us, and all I want is squash.
This deliciously satisfying salad fills that desire by featuring perfectly roasted acorn squash, wheat berries, feta cheese and spring greens!
It's hearty, especially for a salad, and is packed with nutrition. It'll keep you full and satisfied and has so much flavor, you will definitely fall in love with it!
This easy pureed maple sweet potato soup is made with simple ingredients and filled with flavor from coconut milk, apple, pure maple syrup and balsamic vinegar.
If you're one of those who think pureed soups are baby food - just set that thought aside and try this soup.
I think you'll be licking the bowl.
The soup is on! This butternut squash and apple soup is silky, smooth and perfectly seasoned.
It has a little maple syrup, a little balsamic vinegar, a hint of heat from cayenne and is super creamy from full fat coconut milk.
I know I said this before, but this is THE BEST butternut squash soup, so look no further.
Welcome to the world's creamiest bowl of winter root vegetable soup.
It's sweet, savory, and loaded with all of the flavors of fall, this soup is perfect for a cozy dinner for two, or as the starter at an elegant dinner party!
A creamy pureed soup made with roasted squash, carrots, apple, sweet potato and red onion with fresh basil and balsamic vinegar.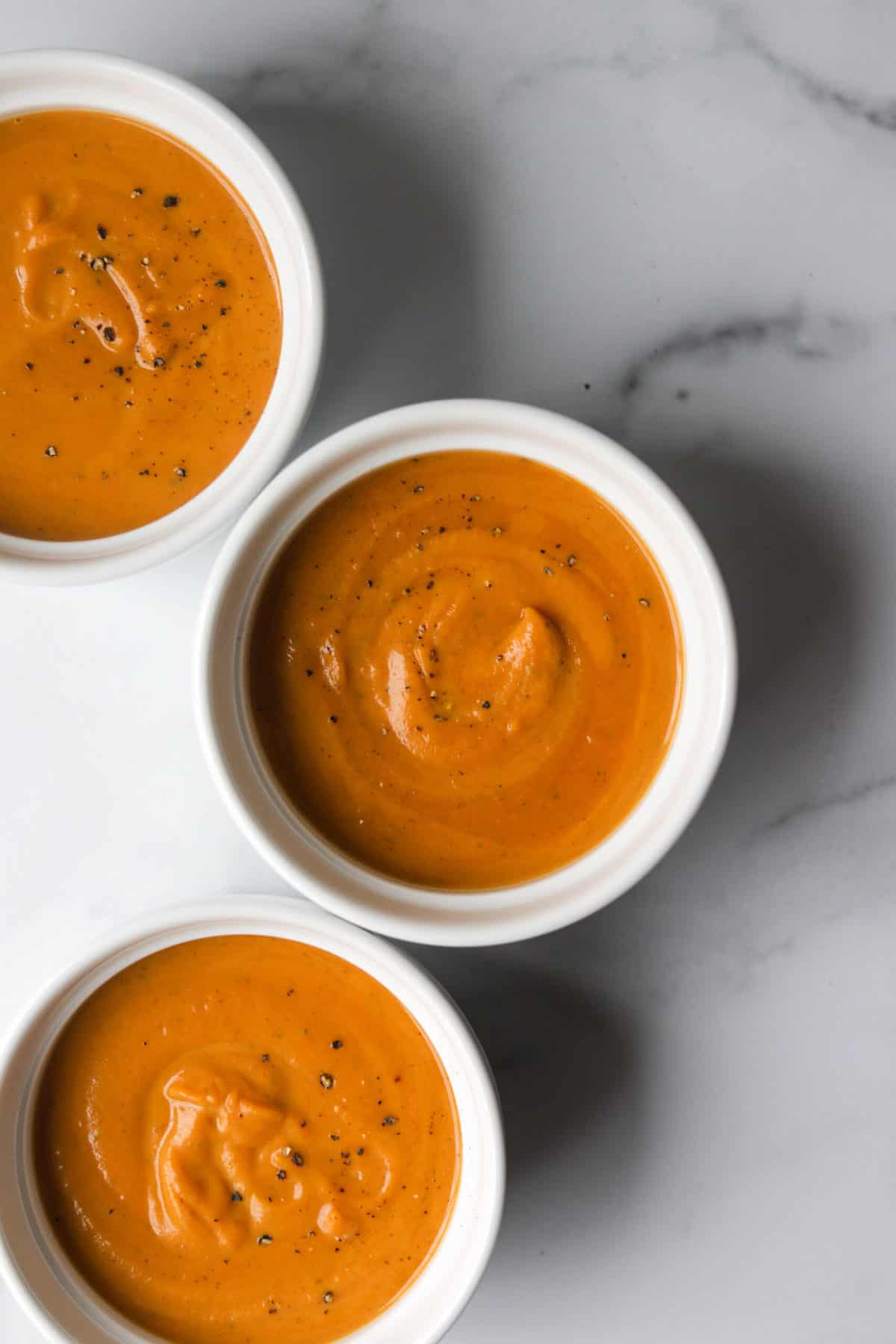 Thanksgiving Sides
These mashed potatoes are LEGIT and one of the best sweet potato recipes, in my humble opinion.
They're made with just a few simple ingredients - sweet potatoes, milk, maple syrup, cinnamon and butter - but they'll totally knock your socks off.
And, they're easy to whip up and can be made in advance.
If you're going to make one squash recipe this year, I highly recommend this one. Delicata squash is fuss-free because you don't have to peel it, so that's one less thing for you to worry about the day-of.
Simply cut it, seed it, toss it in some oil and roast it until caramelized and nutty.
Then, you'll top it with buttery, brown sugary cinnamon walnuts for the ultimate side dish.
If you're not interested in peeling potatoes, this one's for you. Grab a bag (or just a few) Yukon golds, dice them up with the skins on and boil them until fork tender.
Whip them with milk, butter, salt and pepper, and if you're feeling a little wild, add a dab of sour cream or cream cheese and some fresh herbs. Yummo.
Yes, mac and cheese is a totally appropriate Thanksgiving side dish.
Especially this fall rendition that's made with creamy butternut squash and salty Gruyere cheese.
If you haven't made this mac and cheese yet this year, what are you even doing with your life?!
I mean, we should probably throw a vegetable or two on the Thanksgiving menu, right?
All jokes aside, I am a fanatic for Brussels sprouts and this recipe is actually one of my favorite things on the holiday table.
It's another one that's made with just a handful of ingredients - fresh Brussels sprouts, maple syrup and Dijon - and is to-die-for!
These balsamic green beans with bacon are an easy 4-ingredient side dish made of perfectly seasoned crisp green beans, crispy bacon and tangy balsamic vinegar.
They're fabulous enough to serve as a holiday side dish, yet easy enough to make on a weeknight.
This is a lightened-up version of my mom's classic sweet potato casserole, but we actually like it a lot better than the traditional version.
It has a ton of flavor from the cinnamon, vanilla, dark brown sugar and butter with a crunchy nutty topping that is just divine.
This recipe will surely become a family fave!
Not David. Okay, that was a bad joke. But in all seriousness, if you haven't hasselbacked a butternut squash, you just haven't lived.
Essentially it's a culinary technique where you thinly slice a piece of produce almost all of the way to the bottom, then brush it with butter or oil and roast it.
The result is that every little edge of the squash slits become caramelized, making each bite absolutely delicious. This version is made with cinnamon butter, so it really is over the top.
Thanksgiving Desserts
If you're interested in something a bit different or want to compliment your meal with more than one dessert (your girl's gotta have pumpkin pie!), these cranberry and goat cheese stuffed pears with oat crumble are seriously dynamite.
Sweet caramelized pears, creamy, tangy goat cheese, tart cranberries and brown sugary oats on top? Yeah, you can't go wrong.
And last, but not least, is my recipe for sweet potato pie! It's similar to pumpkin pie, but made with sweet potatoes (duh!).
It has a buttery homemade pie crust and many, many dollops of homemade whipped cream sweetened with real maple syrup.
Yum, yum, yum!
Best ways to use up Thanksgiving leftovers: