When it comes to the life of the party, look no further than this simple charcuterie board that's loaded with meats, cheeses, fruits, olives, pickles, nuts, and dips.
Your guests will be beguiled by the flavors, colors, and textures of this epic party board!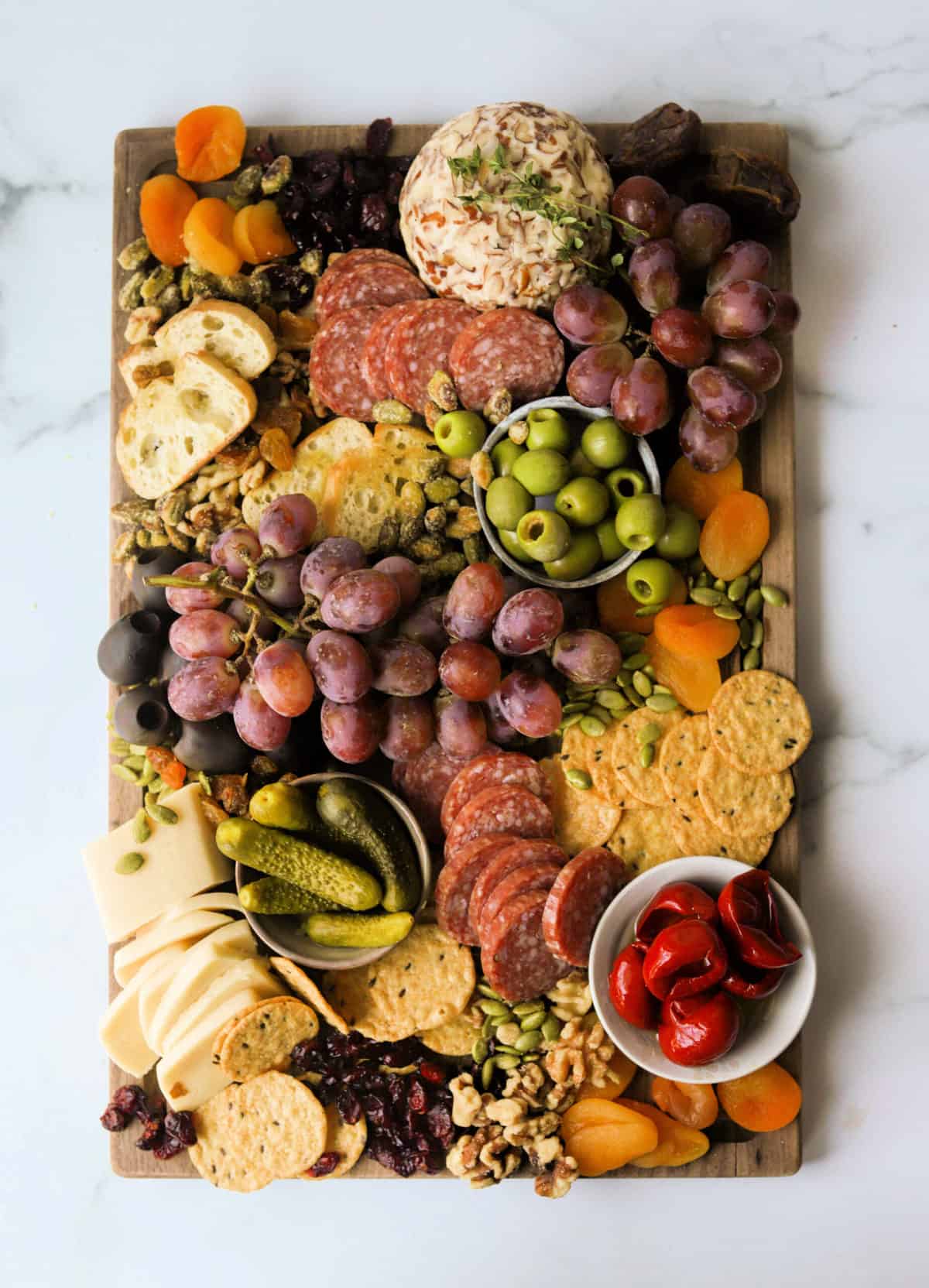 What is a simple charcuterie board?
A charcuterie board is an arranged assortment of breads, meat, cheeses, olives, pickles, fruits, nuts, dips and spreads.
They are typically created as an appetizer platter for parties, events and potlucks with a variety of ingredients to please every palate.
While these foods are traditionally found on charcuterie boards, you can put any ready-to-eat food on a your board to really make it your own.
You can use any board to dress up with your favorite party goodies, and you can make them big or small or anythingi in between. The sky is the limit with charcuterie!
So, grab your creativity and get building!
What board do I use?
There are no rules here! Whatever flat, sturdy serving apparatus you have at home will work. Here are some ideas:
A wooden cutting board
A marble pastry board
A serving platter
A rimmed baking sheet
A drink tray
Your favorite plates
Be sure to grab a few small bowls to house olives, nuts, dips and spreads.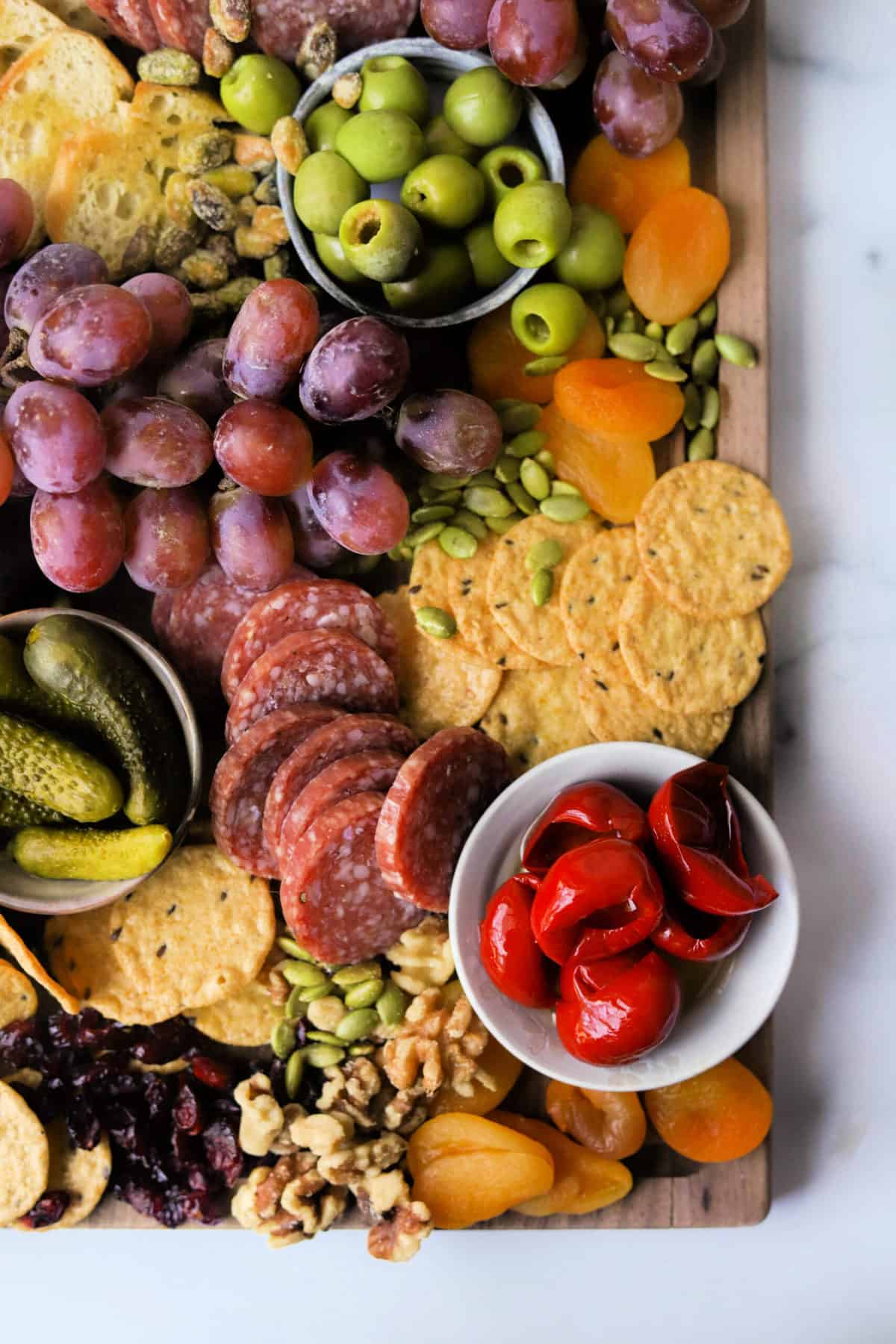 What goes on a charcuterie board?
Bread and Crackers: These are the vehicles for all of your charcuterie goodies, so be sure to include an assortment on your board!

A good rustic baguette sliced and baked with a bit of olive oil (aka crostinis) is the perfect vehicle for all the charcuterie goodies.
It's going to be loaded up with cheeses, meats, and pickles, so make sure the slices are sturdy.
Toast up some canape points in the oven, char those slices of baguette on the grill, and nestle in some breadsticks.

Grab handfuls of your favorite hearty crackers, too. I like whole wheat, rice or nut and seed crackers because they're wholesome and flavorful and lend themselves well to cured meats, cheese and spreads.
These carbs aren't just the side attraction on the charcuterie platter – they are one of the stars!

Cheeses: Go for a fun mix of hard and soft cheeses for the board.

Think of luscious brie, soft fresh mozzarella, or its cousin, cream-filled burrata.
For the hard cheeses, try salty types like parmesan or asiago.
You could also go for creamy hard cheeses like fontina or provolone.
The trick is to mix and match flavors and textures, salty and creamy, because they're going to be combined with a ton of add-ons!

Meat: Cured meats are the ultimate charcuterie ingredient. Their big bold flavors are what people crave when they show up to parties and events, so don't skimp!

Roll up thin slices of prosciutto, slice up thin pieces of salami, sear sausage, and scoop pate into a bowl for the ultimate finger food meat extravaganza.
Many supermarkets have local and unique cured meat options, so go nuts!

Olives: Don't forget to grab an assortment of (pitted) olives.

A mix of different types of olives will please even the pickiest guests. Go for some kalamata, castelvatrano, black, green and a Greek mix.
Also, be sure to pick up a few jars of stuffed olives to really send your guests on a tasty adventure!

Pickles: We love the briny notes of pickles with the rich meats and cheeses.

Grab your favorite jar of pickles, or you can use our basic pickle brine to quick pickle your own homemade ones.
But don't stop at cucumbers! Everything from asparagus and pearl onions to carrots and cauliflower make excellent briny additions to your board.  And don't forget the marinated artichoke hearts and roasted red peppers!

Dips and Spreads: You want all sorts of delicious things to slather onto breadsticks, charred baguette, and toast points.

Basil pesto, grainy mustard, spreadable goat cheese, mascarpone, cream cheese, herby whipped ricotta cheese, or garlicy hummus would all be fantastic options.
Scroll down to grab many of my homemade dip and spread recipes to whip up for your platter (think beet hummus, spinach artichoke bacon dip and dill horseradish dip - yum!).

Nuts: Some crunchy little nibbles are perfect with all the treats on the platter!

My favorites nuts to throw on a charcuterie board are walnut and pecan pieces, pistachios (both shells and unshelled) and cashews. But any nut will work!
You can also toss on a few small bowls filled with sunflower seeds and pepitas.

Fruit: For a glorious palate cleanser, make sure to keep some fruit piled high on the platter!

In my opinion, grapes are a MUST have for any great charcuterie platter. Plus, the little bunches of them look gorgeous when nestled between salty olives and toast points.
Try melon, raspberries, strawberries, grapes, and cherries. After all the salty and creamy goodness of cheeses and meats, some fresh fruit is the perfect thing to munch on.
Grab some dry! Don't forget to add some of your favorite dried fruit, like apricots, figs, dates, golden raisins, cherries and mango.

Veggies: Don't stop there! Add more nutrition, color and crunch to your board with fresh, crisp veggies.

I like veggies cut in finger-sized strips or bite-size pieces, like carrots, cucumber, cauliflower, broccoli, radishes, scallions, snow peas and bell pepper.
Be sure to whip up some of my dip recipes to go with the veggies!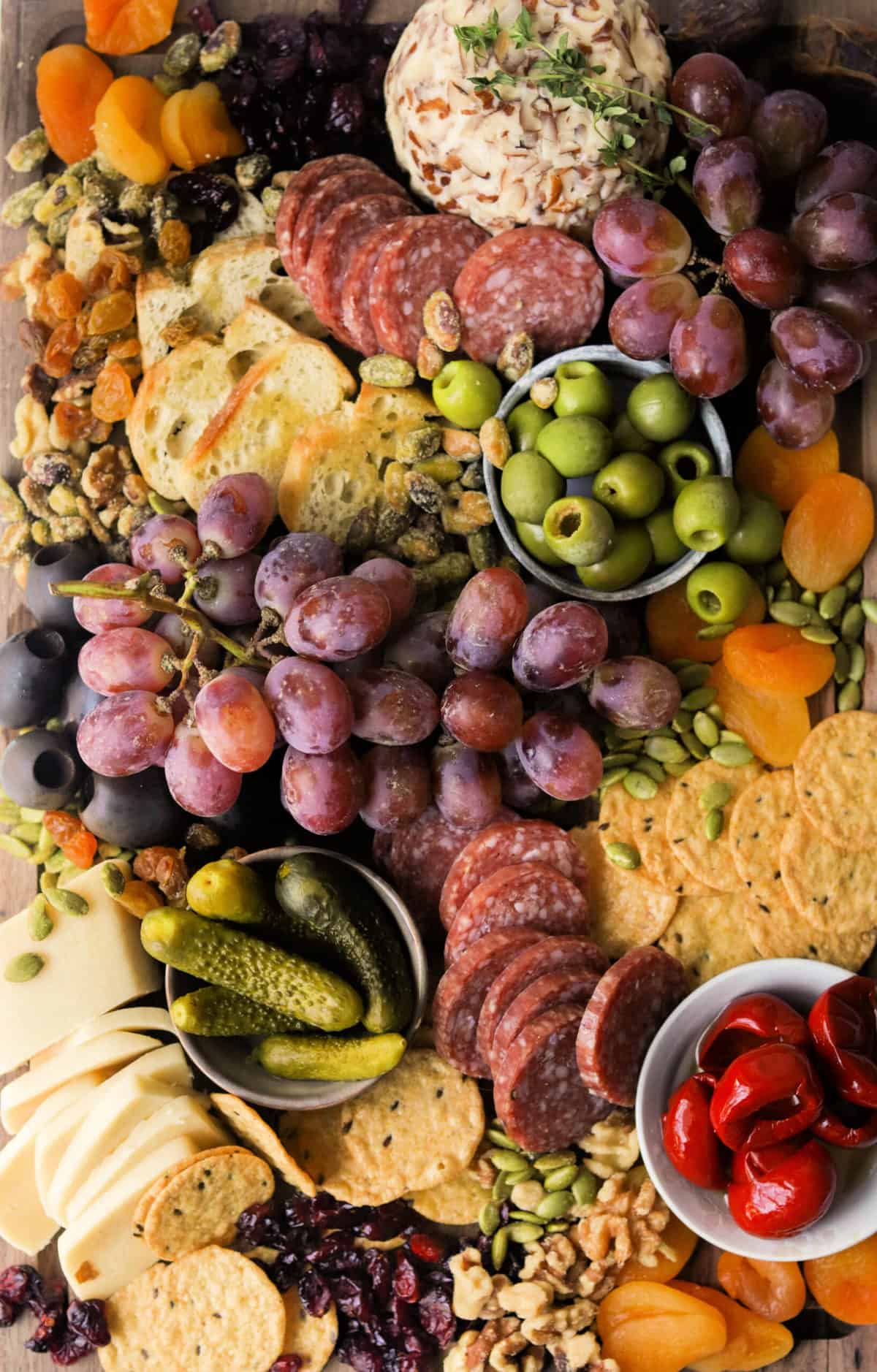 Tips for making a beautiful, functional board
Have a variety of colorful ingredients for your board. Mix up the colors so the entire board is enticing.
Mix up textures, like dried and fresh fruit, crisp veggies, juicy fresh fruit and creamy and hard cheeses.
Mix up flavors with a variety of briny, salty, sweet, nutty and tart ingredients.
Start by filling a few small bowls with ingredients like olives, pickles, dips and spreads, then build the other ingredients around them.
Have refills on hand of meats, cheeses, olives, pickles and nuts in case they go fast.
Be sure there are utensils for the dips, spreads and cheeses, as needed.
Check out the deli section at your local supermarket. They typically have a ton of pre-made dips and spreads, marinated cheese and veggies, local cured meats and other fun and unique ingredients to add to your board.
An easy charcuterie board grocery list:
Bread: A baguette, olive oil and flaky salt to make crostinis.
Crackers: A box or two of nutty, seedy, whole grain crackers.
Cured meats: A few packages of proscuitto, salami, deli ham or summer sausage.
Cheeses: One or two packages each of soft (brie, fresh mozzarella, havarti), hard (Parmesan, blue, asiago) and spreadable cheeses (goat, mascarpone, ricotta).
Olives: A jar or two of olives (one unstuffed like castelvatrano or kalamata and one stuffed like garlic stuffed green olives).
Pickles: A jar of each dill and sweet gherkins and a jar of pickled mixed veggies.
Dips and Spreads: A few packages of pre-made dips from the deli, like spinach artichoke and whipped ricotta. Or, you can make your own (see recipe links below).
Nuts and Seeds: A few packages of walnuts or pecans, pistachios (unshelled, shelled or both), cashews, macadamia nuts, almonds, pepitas and sunflower seeds, to name a few.
Fruit: A bag of seedless grapes (red and/or green), a package of berries and a few packages of assorted dried fruits (like apricots, figs, pitted dates and cranberries).
Veggies: An assortment of fresh veggies, like carrots, celery, cucumber, bell pepper, radishes and snow peas.
Perfect dip and spread recipes for a charcuterie board:
Print
Simple Charcuterie Board
A customizable charcuterie board with bread, meats, cheeses, fruits, pickles, nuts, dips and spreads.
Author:
Prep Time:

20 mins

Cook Time:

8 mins

Total Time:

28 mins

Yield: Serves

12

-

1

6

1

x
Category:

Appetizers

Method:

Baking, No-Cook

Cuisine:

American
Crostinis:
1

large baguette, sliced ½-inch thick

1

-

2

tablespoons olive oil
Coarse salt
Party Board Essentials:
Bread (crostinis, canape toasts, breadsticks, crackers)
Cured meats (prosciutto, salami, sausages, pate)
Cheese (fresh mozzarella, brie, Parmesan, fontina, asiago, provolone)
Olives (pitted kalamata, castelvatrano, green, black, stuffed)
Pickles (cucumbers, pearl onions, artichokes, asparagus, roasted red peppers and marinated artichokes)
Dips/spreads (grainy mustard, pesto, goat cheese, mascarpone, cream cheese, ricotta, hummus)
Nuts and seeds (walnuts, almonds, pine nuts, cashews, pepitas, sunflower seeds)
Fruit (fresh grapes, cherries, berries, melons and dried apricots, figs, dates, cranberries)
Veggies (fresh chopped veggies like carrots, celery, bell pepper, cauliflower and broccoli)
Instructions
To make crostinis: Preheat oven to 350 degrees. Place baguette slices on a large baking sheet. Drizzle with olive oil and sprinkle with coarse salt. Bake 7-8 minutes, until just crisp. Allow to cool.
To build charcuterie board: Create heaps of desired charcuterie board essentials on a large platter, including assembled crostinis. Be sure to have a mix of cheese, meats, pickled vegetables, breads, fruit, dips/spreads and nuts and utensils. Also have stacks of small plates, napkins and utensils.
Notes
Tip: Be sure to get a variety of colorful ingredients to make your board look enticing.
Keywords: best, easy, simple, party, Italian, quick, entertaining, holiday, cheese board