It's that time of year again to think about healthy school lunch ideas for kids and adults.
Whether that's portable or at-home options (either way it's wise to pack lunches and snacks ahead of time!).
Here is my round up of my favorite healthy school lunches!
What makes a healthy school lunch?
When I'm crafting recipes that are lunch box friendly, I think of things that will reheat well, are no-cook (meaning they also don't need to be heated up) and they provide nourishment for growing bodies.
Things like pasta salads, roll-ups, sandwiches and egg bites can easily fit in a lunch or bento box.
Then, I fill the rest of the box up with fruits and veggies and easy items that have protein, like string cheese or yogurt.
Crackers are also a great thing to toss into a lunch box.
So, I've compiled several lunch box-friendly main dishes, sides and snacks that'll keep the kids full and satisfied - and they're delicious, too!
P.S. Even the adults will love these!
Featured Back-to-School Recipes
This recipe for crunchy and tender chicken nuggets will absolutely please kids of any age and adults alike.
Serve it with a 2-ingredient honey mustard, any favorite sauce or just by themselves!
They make a great snack or entree and can easily be reheated under the broiler.
For rushed mornings, make these quick and simple chorizo & hash brown egg muffins ahead of time and have them ready to eat for the entire week.
They can be either frozen or refrigerated.
Tasty, satisfying and filled with protein, these egg muffins will make you look forward to mornings!
If you're looking for the world's brightest and most flavorful pasta salad – you've found it! This is broccoli pesto pasta.
We combined tender broccoli pesto (yes, you can make pesto with broccoli!) with fresh Parmesan and parsley for a mixture that elevates the pasta to out-of-this-world deliciousness.
These mini muffins are perfect to pack in a lunch pail for lunch or a snack!
They're tender muffins made with whole grain flour, Greek yogurt and mini dark chocolate chips. The kids AND adults will love them!
These Rainbow Veggie Pinwheels are made with a special spread that has broccoli, carrots, Greek yogurt, cream cheese, Dijon mustard and spices.
Paired with honey smoked ham and muenster cheese, these pinwheels will be gone in no-time!
These mac and cheese cups are made with whole grain pasta, a creamy and light cheese sauce and they have your favorite cooked veggies mixed in.
They are made in a muffin tin so each little cup is perfect to pack for lunch!
Chocolate-dipped peanut butter cereal bars:
Simple 6-ingredient cereal bars with wholesome ingredients, like peanut butter, honey, coconut oil and Cheerios dipped in dark chocolate.
I think you'll fall in love with this apple walnut chicken salad.
It's basically waldorf chicken salad with rotisserie chicken, celery, grapes, honeycrisp apples and walnuts tossed in a creamy yogurt dressing.
It'll be your new favorite, I'm sure of it.
These homemade granola bars are made with oats, coconut, walnuts and either dates, figs or prunes to add sweetness and hold everything together.
Make a double batch and freeze some to have as snacks, anytime!
Broccoli cheese egg muffins are the ultimate make-ahead breakfast.
They are packed with protein and fiber and vitamins and minerals. They're easy to make and are absolutely delicious.
Skip the Starbucks line and make these instead!
I love a good whole grain muffin, and these blueberry ones are SO good! They are chopped dates mixed in to add sweetness and texture.
This is the last blueberry muffin recipe you'll ever need!
These scrumptious oat and yogurt cookies are the perfect on-the-go breakfast or snack.
You can mix in whatever you want, whether it be dried fruit, nuts, chocolate chips, coconut, banana or jam!
Anything goes with these soft, chewy cookies.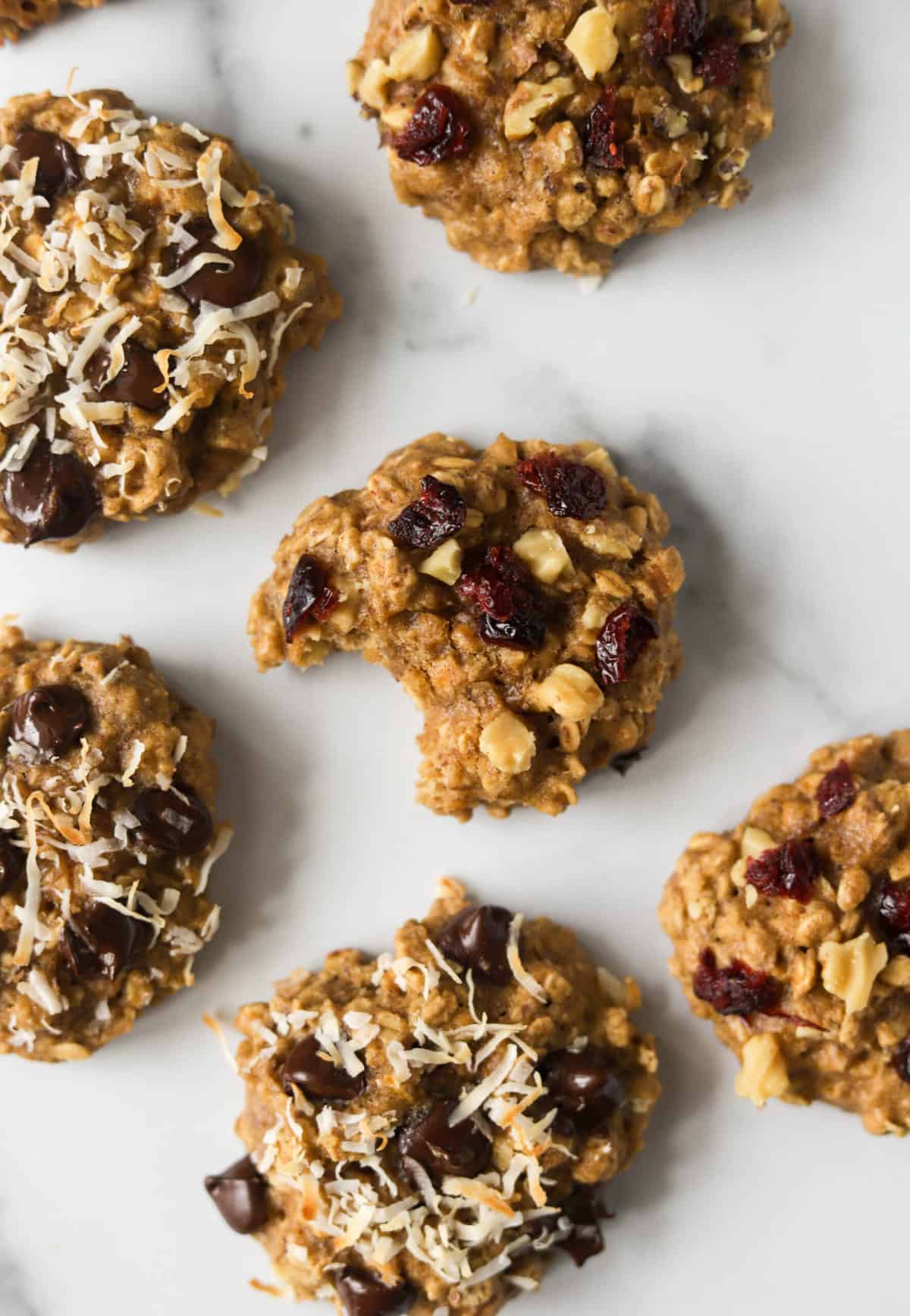 I love a good no-cook lunch or snack, and these ham roll ups are just that.
They're made with a cream cheese spread, sliced provolone, artichokes, sun-dried tomatoes and olives are packed with flavor and nutrition.
Today we're making an inspired dish I like to call ramen noodle salad with orange sesame dressing.
It's loaded with red cabbage, carrots, edamame and chicken and is just packed with flavor. It'll be your new favorite salad, for sure!
This is caprese pesto pasta salad.
I cannot think of a better combo for a spring or summer dish than spinach basil pesto, bright, juicy cherry tomatoes and squeaky fresh mozzarella. All tossed with al dente pasta.
You're going to love it!
This fabulous green bean potato salad is bright and fresh and giving us life this summer!
It's made with yukon golds, green beans, hard-boiled eggs and herbs and a light mayo, olive oil and Dijon dressing.
You're going to want to serve it next to your favorite grilled meats or on a table with a big summer potluck spread, I promise.
Healthy Back-to-School Recipe Ideas from Around the Web
Check out these other amazing kid-friendly recipes that are perfect for back-to-school from other dietitian bloggers:
Hope you enjoy these healthy back-to-school recipes and walk away with a few go-to favorites for the year ahead!
Written by Anna Pashkova, MS, RDN, LD, ACSM-EP / Reviewed by Chef Julie Andrews, MS, RDN, CD, FAND