What to do with leftover herbs?
Have you ever purchased a bunch of fresh herbs, used just a small amount in a recipe, and then had the rest go bad?
Well I've got you covered with handfuls of options for delicious ways to use up what's in your fridge.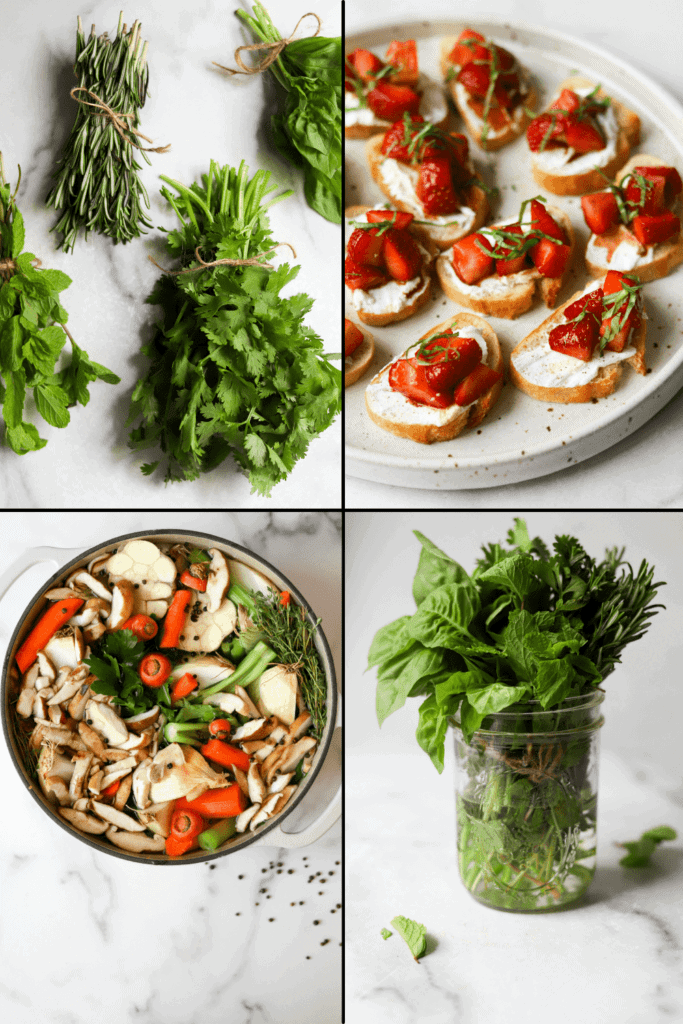 How to use and save those fresh herbs
If you don't regularly cook with fresh herbs, having a bunch stashed in the fridge can be easily overlooked or forgotten.
Part of the challenge is that many fresh herbs are sold in large bundles and it can be hard to use them up before they go bad.
But with a few cooking tips and tricks, you can conquer food waste and add fresh and flavorful herbal notes to plenty of recipes.
You've probably heard of freezing leftover fresh herbs in a bit of olive oil or butter for use down the road. That can definitely be an option.
But the best way to use up fresh herbs is to cook with them now! Here are seven tips for quick and easy ways to use up leftover herbs.
Seven tips for using up leftover herbs:
Plan ahead
Garnish your meals
Infuse your drinking water
Make homemade sauces, dips and dressings
Add to salads
Make homemade stock
Make your own dried herbs
Tip #1: Plan ahead
The easiest way to use up fresh herbs is to plan out several recipes that use the same herbs at once.
Making meals that utilize similar ingredients is a surefire way to cut back on food waste. Plus, it equals fewer trips to the grocery store for you!
If you know you're making a recipe that calls for a certain herb, plan in advance so you know what other recipes you can make to use it up.
Let's say you need a bunch of fresh basil for a pesto pasta recipe, like this Caprese Pesto Pasta Salad.
You can use up any remaining basil by making extra pesto for roasted vegetables, like these Pesto Roasted Baby Potatoes.
Or toss basil leaves in a fruit smoothie or on a sandwich, like this Grilled Cheese with Bacon, Cherries, and Basil for an unexpected herbal twist.
Tip #2: Garnish your meals
If you think garnish is just for fancy restaurant meals, think again.
Finishing a home cooked meal with a sprinkle of fresh herbs adds a light, fresh flavor note.
Plus, it looks seriously pretty.

Impress your family and friends with an extra pop of green herbs on any recipe.

You can try adding fresh herbs to garnish soups, pasta, casseroles, egg dishes, dips and appetizers like this recipe for Strawberry Basil Bruschetta!
A tip for prepping your garnish: finely chop whatever herb you're using so you don't end up with uneven or extra large pieces.
Chop just before garnishing since some herbs, like basil, parsley, and cilantro are tender and can bruise and wilt quickly after being chopped.
Also, be sure to add your garnish away from a heat source to prevent wilting.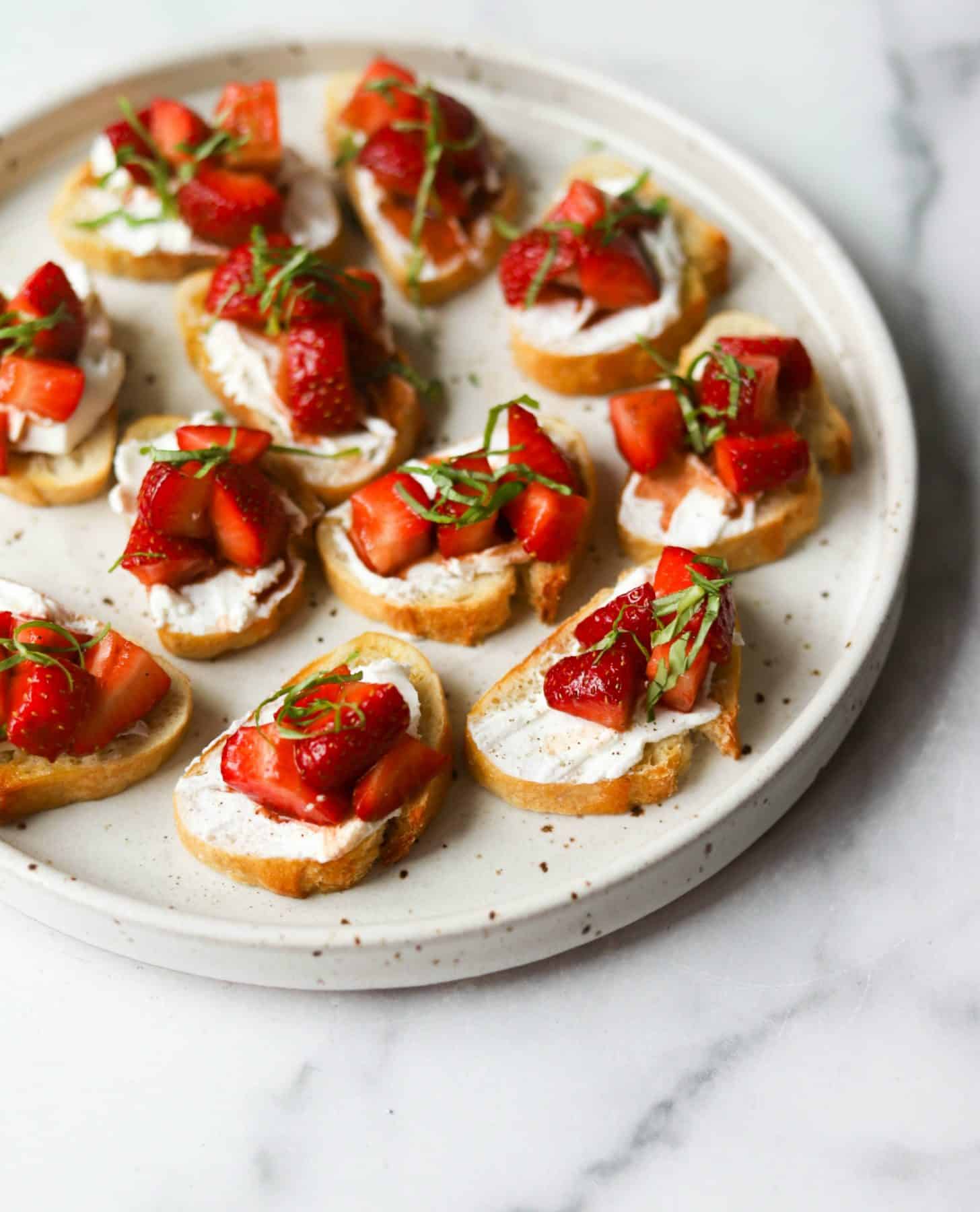 Tip #3: Infuse your drinking water
If you have just a few sprigs of an herb, a quick and easy way to use it is to add it to your drinking water for a boost of flavor.
Try experimenting with herb, fruit, or vegetable combinations for different flavored waters.
Pair mint with lemon or basil with strawberries to make meeting your hydration needs a little more fun and flavorful.
Tip #4: Make homemade sauces, dips and dressings
Herb based sauces, like pesto and chimichurri, have a multitude of culinary uses.
Traditionally, pesto is made from finely chopped basil blended with olive oil and garlic.

But you can make pesto from any tender herb including parsley or cilantro.

Use pesto on salads, grain bowls, pasta, as a sandwich spread, or as a pizza topping, like my Mediterranean Flatbread Pizza.
Chimichurri is traditionally made from chopped parsley and cilantro blended with olive oil and garlic.

But again, play with the herbs you have on hand. Use chimichurri sauce for topping steak, poultry, and seafood.

You can also use finely chopped leftover herbs to make homemade salad dressings and healthy dips.
Tip #5: Add to Salads
Fresh herbs can transform a basic green salad.
Try tossing whole leaves of mint, basil, parsley, cilantro, or dill to your favorite greens to create an herbal salad like this Spring Veggie & Burrata Salad.
You'll get an extra dose of flavor and super nutritious greens!
You can also add large bunches of herbs to a grain salad, like in this recipe for Breakfast Tabbouleh.
Continued: What To Do With Leftover Herbs
Tip #6: Make homemade stock
Making your own stock is one of the best ways to use up bunches of leftover herbs, along with vegetables approaching the end of their shelf-life.
Stock is incredibly simple to make, it's a one pot recipe and I promise you can't beat the flavor of homemade stock!
Make a batch of Homemade Chicken Stock and then use to make soup or freeze for later use.
Tip #7: Make your own dried herbs
Finally, if you know you're not going to get around to cooking with your leftover herbs, try drying them to extend their usable life.
Tie small bunches of herbs with kitchen twine and hand upside down.
Warmth and humidity can inhibit the drying process, so the kitchen probably isn't the best place to do this.
Drying can take anywhere from a few days to about a week.

You'll know the herbs are dried when they crumble easily.
Simply crumble them up and store in airtight containers.

Keep these tips handy for the next time you find yourself buying a bunch of fresh herbs.

Committing to cooking with fresh herbs means more flavorful and colorful food and more bang for your grocery buck.