This easy homemade chicken stock is made with kitchen scraps!
It may seem like making your own stock is a lot of work, but it's actually easy and requires ingredient scraps, such as onion peels, carrot stems and celery leaves.
It's a sustainable cooking practice and takes your soup recipes from great - to spectacular.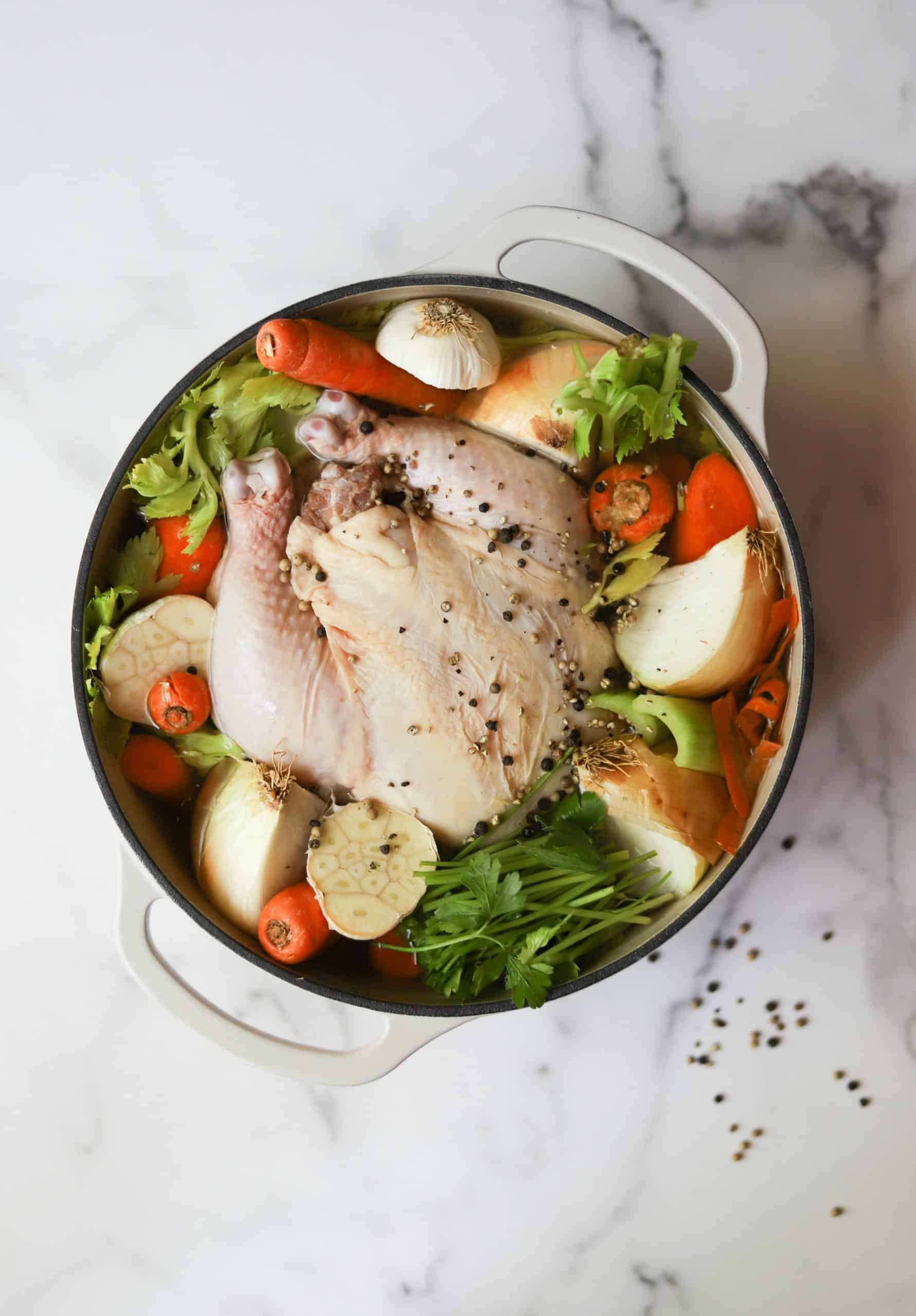 Should I make my own chicken stock?
I have always been a huge fan of purchasing a high quality stock to have on hand for those crazy nights where you want some flavor in your meals, but don't have time to wait for homemade stock to simmer and you don't have a stock pile in your freezer.
It's usually more flavorful than store-bought stock.
You are in control of the ingredients that go into your stock.
It's a sustainable practice because you're using kitchen scraps, such as chicken bones, onion peel, carrot stems and celery leaves.
It's budget-friendly, since you are using kitchen scraps and not purchasing ingredients just to make stock.
You can freeze it and use it anytime you want.
You can save kitchen scraps in a sealable plastic bag in the freezer and continue adding ingredients to the bag until it's full. Then, make stock!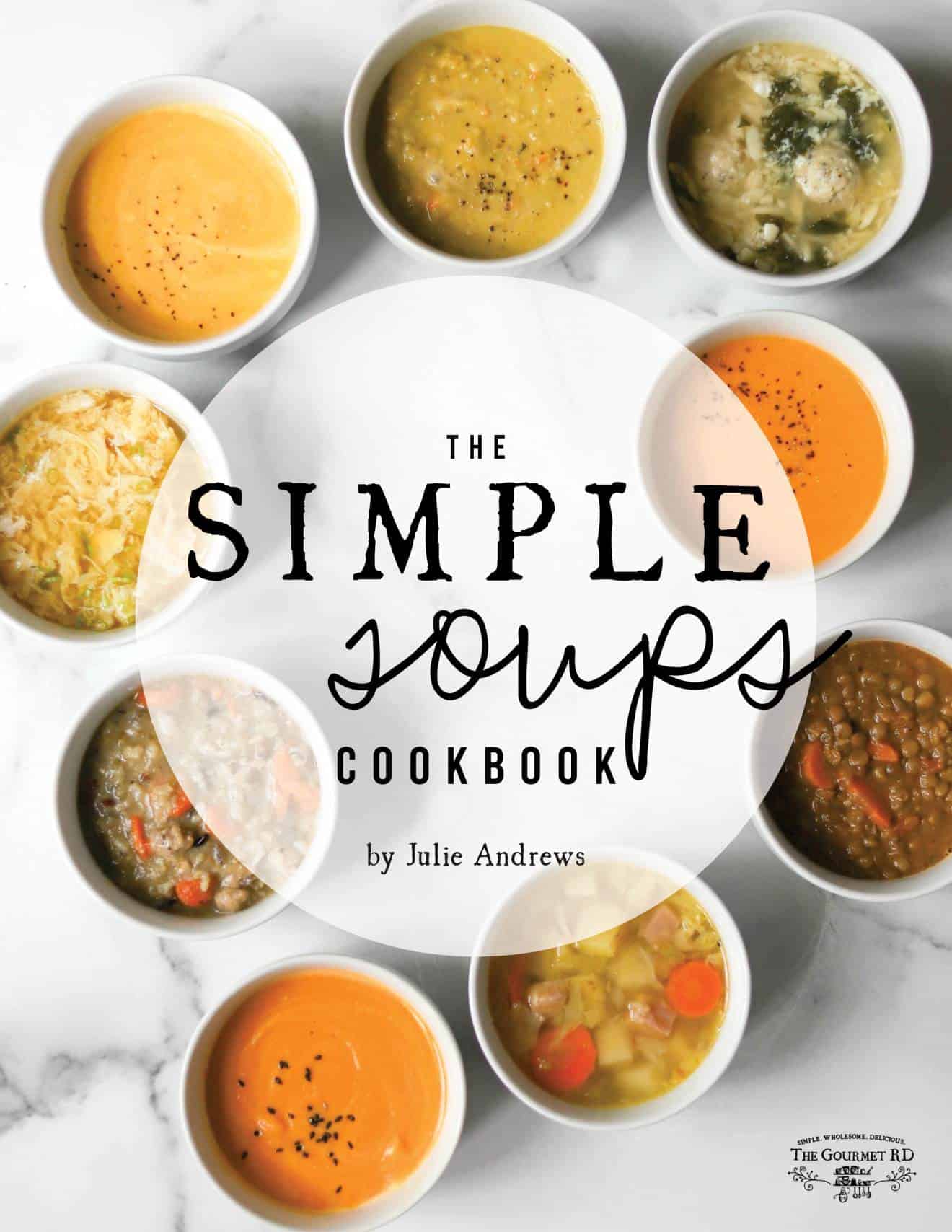 Step-by-Step Instructions for Making Homemade Chicken Stock
Save your veggie and chicken scraps
Place the contents of your bag into a pot
Simmer for 4 or more hours
Strain the scraps from your stock
Refrigerate or freeze
Save your veggie and chicken scraps. This means any onion peels, carrot stems and celery leaves you trim off when chopping can go in a Ziploc bag and into the freezer.

As you accumulate more scraps, add them to the bag and pop it back in the freezer. Once it's full, make stock!
You can also add chicken bones, parsley stems, garlic peels and black peppercorns to really transform your stock into liquid gold.
For richer chicken flavor, you can roast the bones in a 400 degree oven until they're browned, then add them to your stock!

Place the contents of your bag into a pot and fill with water. I like to use a big Dutch oven because it's heavy duty and can fit an entire gallon-size bag of scraps.

Once you've stuffed all of it in there, fill it with cold water.
Place it on the stove to get things rolling.

Simmer for 4 or more hours. The longer the simmer, the more flavorful your stock will become.

But, you will lose some of the liquid as it evaporates as it cooks.
So I think 4 hours (ish) is the sweet spot! You can make stock in the Instant Pot as well, and I like to cook it on high pressure for 30-45 minutes.

Strain the scraps from your stock. You can discard the scraps, then place the chicken stock in freezer-safe containers.

Let it cool, then place lids on top!

Refrigerate or freeze. It'll last in the refrigerator for about 5 days and in the freezer up to a year.

Make freakishly amazing soup using your homemade stock anytime!
Storage Instructions
Store in the Refrigerator: Store the stock in airtight containers in the refrigerator for up to 7 days.
Store in the Freezer: Store the stock in airtight containers in the freezer for 6-12 months.
How to store scraps to make stock: Use a gallon Ziploc bag to store scraps in the freezer. You can continue to add to the bag as you accumulate more scraps!

This includes things like carrot and onion peels, celery ends and leaves, parsley stems, mushroom caps, garlic ends and peels, leek ends, etc!
The options are endless!
Simply continue adding to your freezer Ziploc scrap bag until it's full, then make stock!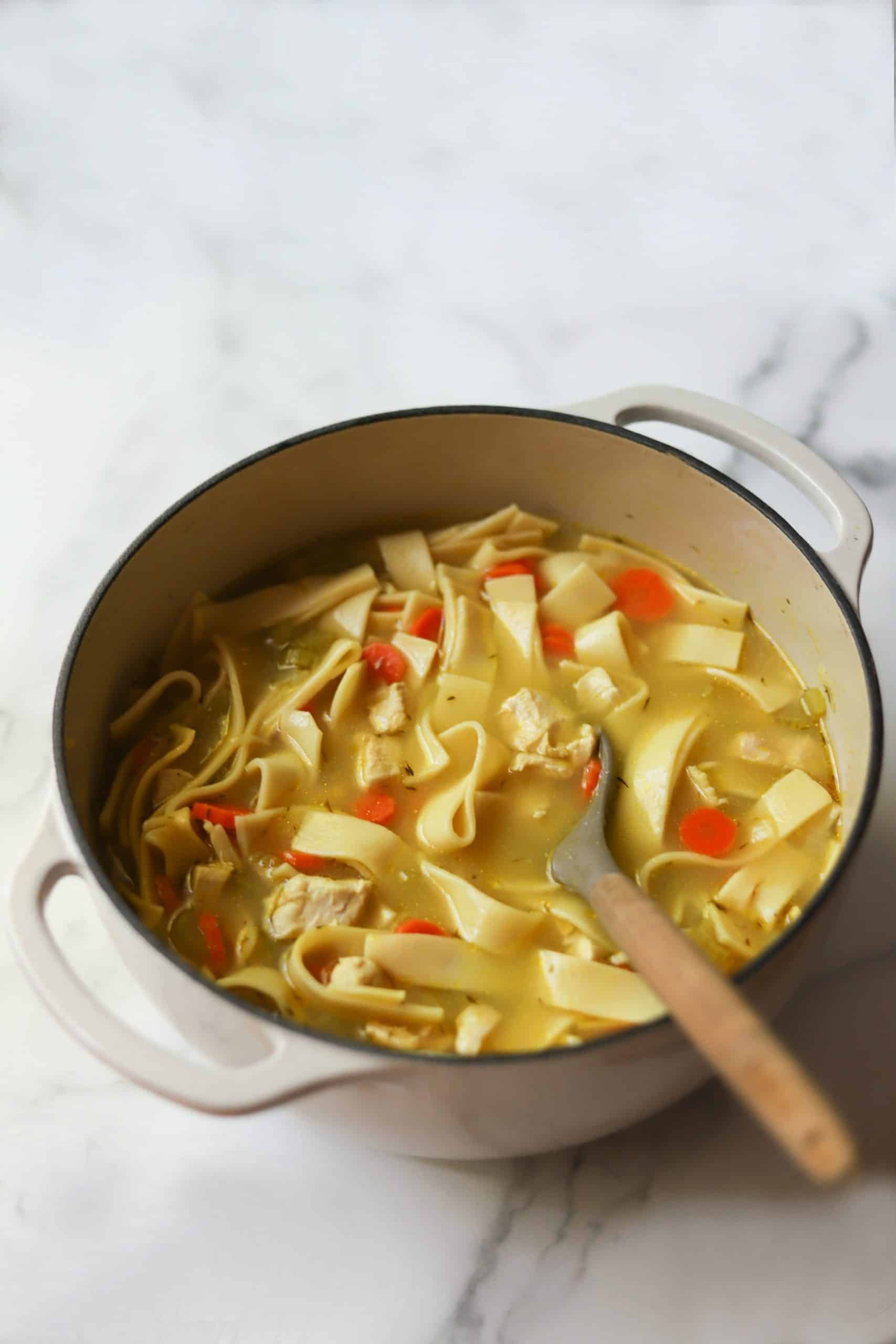 Reasons to Make Your Own Stock
No need for a 'recipe'. The other cool thing about making your own stock is that there doesn't need to be a 'recipe', per say.
You use up kitchen scraps. Simply toss a whole chicken or bones (you could roast them in advance, too) into a large pot.

Add your veggie scraps and some aromatics (parsley, thyme, bay leaves, peppercorns), fill the pot with cold water (yes, cold) and bring it to a gentle simmer.

You simply use what you have on hand. Don't worry about measuring or counting, just use what you have.

I don't add salt to my stock because I like to salt as needed when I am cooking with it.
If I plan to sip on it, I'll stir in some salt and go to town.

It saves money! Because you're using scraps (rather than throwing them out), it's virtually FREE to make your own stock!
You're in control. One of the reasons I love cooking from scratch is I am in control of what goes into my meals.

Stock is no exception! You can control the amount of salt, what ingredients you use to flavor it and you can simply use up what you have as scraps to make it your own.
You can use the chicken for soups, casseroles, or whatever else if you use a whole one.
Simply save the chicken after you make this homemade chicken stock.
How to Use Homemade Stock
Print
Homemade Chicken Stock
This stock will take all your other recipes from great to spectacular.
Author:
Prep Time:

15 mins

Cook Time:

4 hours

Total Time:

4 hours 15 mins

Category:

Soups, Stock

Method:

Stove-Top

Cuisine:

American
3

-

4

pounds whole chicken or chicken bones

1

-

2

medium yellow onions, quartered, skins on

3

-

4

medium carrots, chopped

3

-

4

celery stalks, chopped, with leaves
Handful parsley stems

3

-

4

bay leaves

3

-

4

sprigs thyme

2 tablespoons

whole black peppercorns
Instructions
Pack the chicken/chicken bones, onions, carrots, celery and parsley stems into a large Dutch oven. Cover with cold water and place bay leaves, thyme and peppercorns on the top (or in a sachet bag, tied). Bring pot to a low simmer and place the lid on top. Cook 3-5 hours. Discard veggies, bones, chicken fat and aromatics. Remove the chicken meat and place in a container for future use.
Let slightly cool. Strain stock into air tight containers. Skim the fat off the top before using.
Notes
Storage Tip: Refrigerate up to 5 days. Freeze for 6-12 months.
Keywords: easy, healthy, homemade, from scratch, make ahead, best