I can't get enough of this soup! One of my all-time most favorite recipes is this old-fashioned ham and cabbage soup with potatoes.
Could it be the cozy, warm bowl of broth when it's chilly outside? Or the fact that it's a one-pot meal, meaning fewer dishes? Or is it the hearty, perfectly cooked veggies that are flavored juicy ham and fresh herbs?
I'm not entirely sure, but I'm just going to say soup is cozy and delicious, and it's all I ever want in life.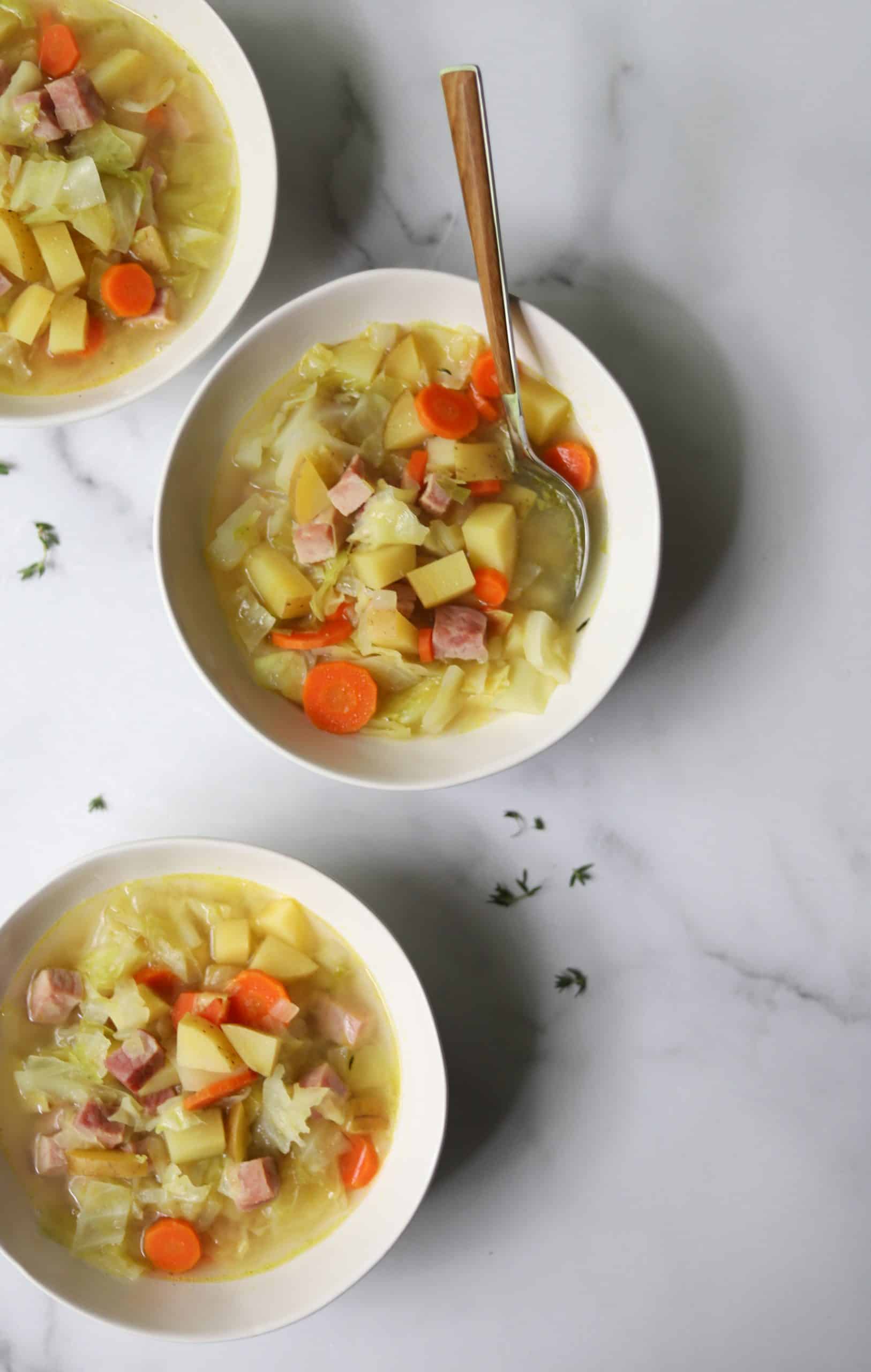 About This Recipe
The soup du jour is this amazing ham and cabbage soup, inspired by leftover ham and the bag of Yukon golds sitting on my kitchen counter.
I had to make a trip to the store for cabbage, but let me tell you - it's absolutely necessary for this soup, and worth the trip.
I love how it melts into the soup and creates a luscious broth that I wanna drink all day long.
It reminds me of boiled dinner, and I LOVE boiled dinner.
Ingredients
Aromatics. We need onion and garlic for this soup to give it that heavenly deep rich soup flavor.

Also throw in a few carrots for flavor, color and even more texture.

Ham. I tend to have leftover ham from the holidays that I pop into a Ziploc and save in the freezer.

This is a good place to use it!
But if you don't have any saved, grab a small ham from the grocery store and dice it up.

Cabbage. A big head of green cabbage chopped into big chunks will work perfectly here.

It seriously makes this soup.

Potatoes. Use whatever you have on hand, but I like Yukons and I leave the skins on.

Reds will work too!

Broth enhancers. Start with a good stock and add some good bouillon (I like Better Than Bouillon).

Also add celery salt, thyme, bay leaves and just the right amount of salt and black pepper.
You'll be sippin' on this broth, trust me.
Equipment
A pot. Use a Dutch oven or your favorite soup pot.
A knife and cutting board. This is to chop up your onion, garlic, cabbage, ham and potatoes.
Measuring cups and spoons if you're into that sorta thing. 😉
A wooden spoon for cooking.
A regular spoon so you can taste your broth as the soup cooks. Always a necessity!
A soup ladle and bowls for serving.
Step-By-Step Instructions
The first step is to saute the onion and carrot in a little bit of oil.

Once they're a little soft, stir in the garlic just until fragrant (we don't want it to burn!).

Next, add the diced potatoes.

I leave the skins on for texture and the added fiber. Plus, it's one less prep step!

Add the chopped cabbage (it looks like a ton, but it'll cook down) and the diced ham.

You can use leftover ham from a holiday or party or grab a small ham or pre-diced ham at the grocery store.
If you have the ham bones, you can simmer them in the soup to make the broth even more flavorful.

Now, add the fresh thyme, salt, black pepper and celery salt.

Then, add the stock and bring it to a boil (this is when you'd add the ham bones, if you have them).

Add a few bay leaves and the bouillon and let it simmer.

The longer it's at a slow simmer, the better it will taste!

When you're ready to eat, remove and discard the bay leaves, taste and adjust seasoning if you need to, and enjoy!
Storage Instructions
Refrigerator. This soup can be store in airtight containers up to 7 days in the refrigerator.

Reheat in microwave-safe containers or in a saucepan on the stove until heated through.

Freezer. This soup can be stored in airtight containers in the freezer for 6-12 months.

Thaw in the refrigerator overnight and reheat in microwave-safe containers or in a saucepan on the stove until heated through.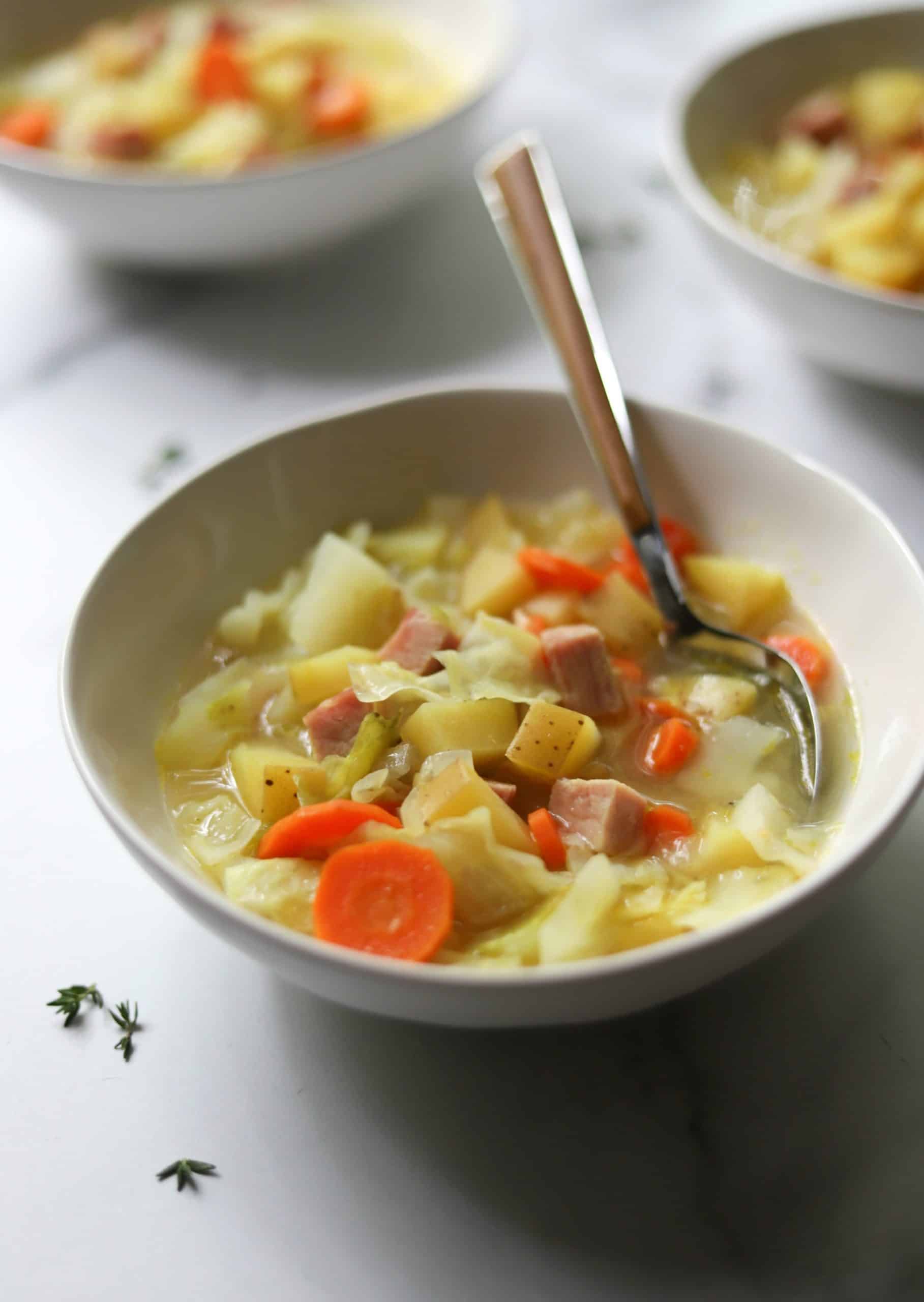 Chef's Tips
Soup always tastes better the next day.

Actually, the next next day.
My point is, as it simmers and then sits, the flavors meld and become deeper and richer.

If you can, whip up a batch the day before (or the day before the day before), then reheat to serve.
If you love soup and want more of my soup recipes, check out my
Other soup recipes I know you'll love:
Print
Old-Fashioned Ham and Cabbage with Potatoes
Delicious old-fashioned chunky ham and cabbage soup with potatoes that's comforting and flavorful.
Author:
Prep Time:

15 mins

Cook Time:

35 min

Total Time:

50 mins

Yield:

Serves 8

Category:

Soup

Method:

Stove-Top

Cuisine:

American
1 tablespoon

butter or oil

1

small yellow onion, diced

1

large carrot, peeled and sliced

2

cloves garlic, minced

3

medium Yukon gold potatoes, diced (peels left on)

1

small head green cabbage, chopped

1

-

1 ½

cup

(s) diced ham

1 tablespoon

fresh thyme leaves, chopped

¾ teaspoon

coarse salt + more for tasting

½ teaspoon

ground black pepper + more for tasting

¼ teaspoon

celery salt
2

32

-

ounce

containers unsalted chicken stock

1

-

2

bay leaves

1

-

2

tablespoons all-natural chicken bouillon
Instructions
In a large Dutch oven or stock pot, heat butter or oil to medium-high heat. Add onion and carrot and saute until just starting to soften, about 3-4 minutes. Stir in garlic.
Add potatoes, cabbage and ham and stir to combine. Stir in thyme leaves, salt, black pepper and celery salt.
Add the chicken stock and bay leaf and bring to a simmer. Place lid on pot and reduce to a very low simmer. Allow to cook 30-35 minutes, until potatoes and cabbage are soft. Stir in bouillon.
Taste and adjust seasoning, if necessary.
Notes
Cooking Tip: Soup will taste better the next day, or after simmering for several hours.
Nutrition
Serving Size:

⅛ of recipe

Calories:

202

Sugar:

5 g

Sodium:

645 mg

Fat:

5 g

Saturated Fat:

1 g

Unsaturated Fat:

4 g

Trans Fat:

0 g

Carbohydrates:

24 g

Fiber:

4 g

Protein:

17 g

Cholesterol:

25 mg
Keywords: easy, best, with meat, without tomatoes, comforting, comfort food, fall, winter