I promised homemade popcorn, so here it is! I mentioned it was one of my favorite foods, and I wasn't lying. Several years ago, my family was craving popcorn but we didn't have any microwaveable bags.
My mom said she knew how to make it "the old-fashioned way", so she got out a big soup pot and popped some kernels on the stove.
And as silly as it sounds, I had no idea you could make it that way. It was SO delicious and officially started my love affair with stovetop popcorn.
How to make homemade popcorn
How to make stovetop popcorn
My favorite popcorn is just good ol' butter and salt.  It reminds me of sitting in the movie theatre, munching on popcorn (and, um, finishing the entire bucket before the movie even starts).
And that's exactly what this is. I just requires popcorn kernels, oil, real butter (optional) and salt. It sounds crazy, but it's honestly so good even without the butter.
The first step is to heat the oil in the pot - just enough to coat the bottom - then a layer of popcorn kernels.
You can use white or yellow - either works. I used to use canola or avocado oil, but tasted a really amazing "just salted" popcorn at the farmer's market and for some reason, it tasted better than mine. So, I asked the woman making it what she pops the corn in, and she said corn oil!
I don't typically cook with corn oil, but I now keep some around just for popcorn. I don't know why it makes such a difference - but it does. Anyway, throw the lid on the pot and make sure the heat is cranked up to medium-high.
Once it starts popping, use hot pads to grab the pot handles and shake it around every few seconds, just to make sure it doesn't burn. Once the popping slows down, remove it from the stove and let it finish popping.
Remove the lid and if using, pour some butter over it and shake to combine.
But either way, you'll want to add some salt. And then, it's ready to serve. YUM.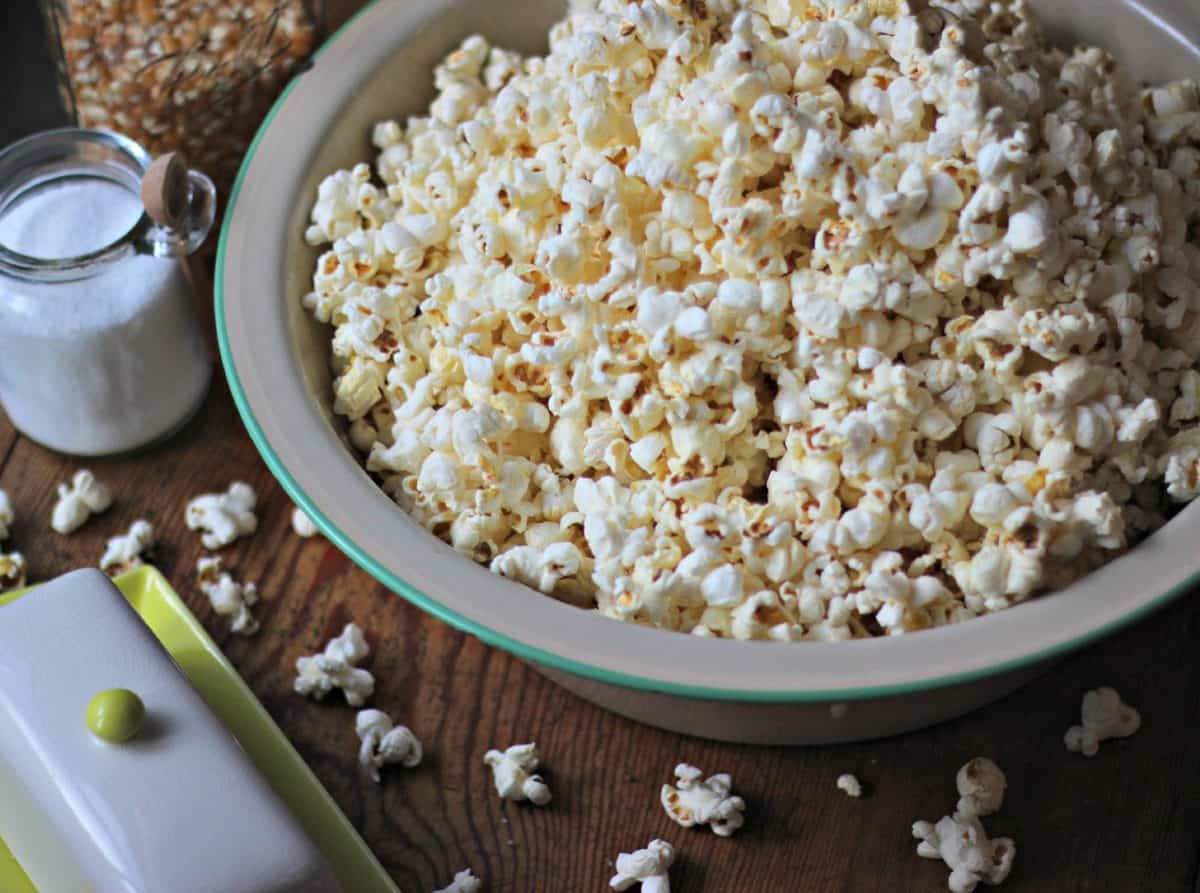 How to make fun popcorn flavor combinations
If I'm feeling adventurous or bored with my typical butter-salt flavor combo, I'll go out on a limb and make some crazy concoction from my spice cabinet. 
And sometimes something from the fridge (hello – grated parmesan on popcorn is THE BOMB).
A few flavors combo recipes I tossed below - chai vanilla, Parmesan garlic, smoked & spicy, caprese, pumpkin pie, coconut curry and ranch. You could also toss it with a little nutritional yeast - AKA "nooch" for a cheesy flavor.
Whatever you're feeling, you can make it happen. Regardless, stovetop popcorn will be your fave snack.
Print
Stovetop Popcorn
Old-fashioned stove-top popcorn lightly buttered and salted.
Author:
Prep Time:

5 mins

Cook Time:

5 mins

Total Time:

10 mins

Yield:

Serves 4

Category:

Snacks

Method:

Stove-Top

Cuisine:

American
2 tablespoons

corn oil

½ cup

yellow or white popcorn kernels

1 ½ tablespoons

butter, melted (optional)
Kosher salt, to taste
Instructions
Heat oil in a large stock pot to medium-high heat. Add popcorn kernels and place lid on top. Allow popcorn to pop until popping slows. Remove from heat. Once popcorn completely stops popping, remove the lid.
Slowly melt about a quarter of the butter over the popcorn and sprinkle with salt; shake the pot so it coats the popcorn; do this again, about 4 or 5 different times so the popcorn is evenly coated with butter and salt.
(Note: You can use any neutral oil for making popcorn – I like corn the best because it enhances the corn flavor of the popcorn. You can also skip the butter – Eat it plain or with salt, or spritz with olive oil and season to your liking!)
Notes
Flavoring Combinations:
Vanilla Chia: 1 tablespoon chai tea + ½ teaspoon pure vanilla extract
Smoked & Spicy: 1 tablespoon smoked paprika + 1 tablespoon chili powder + Dash cayenne
Pumpkin Pie: 1 tablespoon pumpkin pie spice + 1 teaspoon cinnamon + 1 teaspoon brown sugar
Caprese: 1 ½ tablespoons tomato basil seasoning
Coconut Curry: 1 tablespoon curry powder + Dash cayenne + 2 tablespoons unsweetened shredded coconut
Garlic Parmesan: 1 tablespoon minced garlic + 2 tablespoons grated parmesan
Ranch: 1 tablespoon grated parmesan + 2 tablespoons finely minced chives + 1 tablespoon finely minced parsley + 1 teaspoon minced garlic
How-To Make Special Combinations:
Pop kernels in oil, per directions above.
Mix butter with seasoning combo and pour and toss on popped popcorn.
Season with salt and enjoy!
Nutrition
Serving Size:

¼ of recipe

Calories:

125

Sugar:

1g

Sodium:

0mg

Fat:

8g

Saturated Fat:

1g

Unsaturated Fat:

7g

Trans Fat:

0g

Carbohydrates:

13g

Fiber:

3g

Protein:

2g

Cholesterol:

0mg
Keywords: whole grain, healthy, easy, flavored popcorn, plain popcorn, homemade, from scratch