Enter spring salad with burrata - it's filled with fresh asparagus, snap peas, green beans, carrots, mint and basil, topped with creamy burrata cheese, lemon vinaigrette and pistachios.
Because there aren't a lot of ingredients in this salad, you want them all to shine.
So, now's the perfect time to try that farmer's market you keep meaning to check out.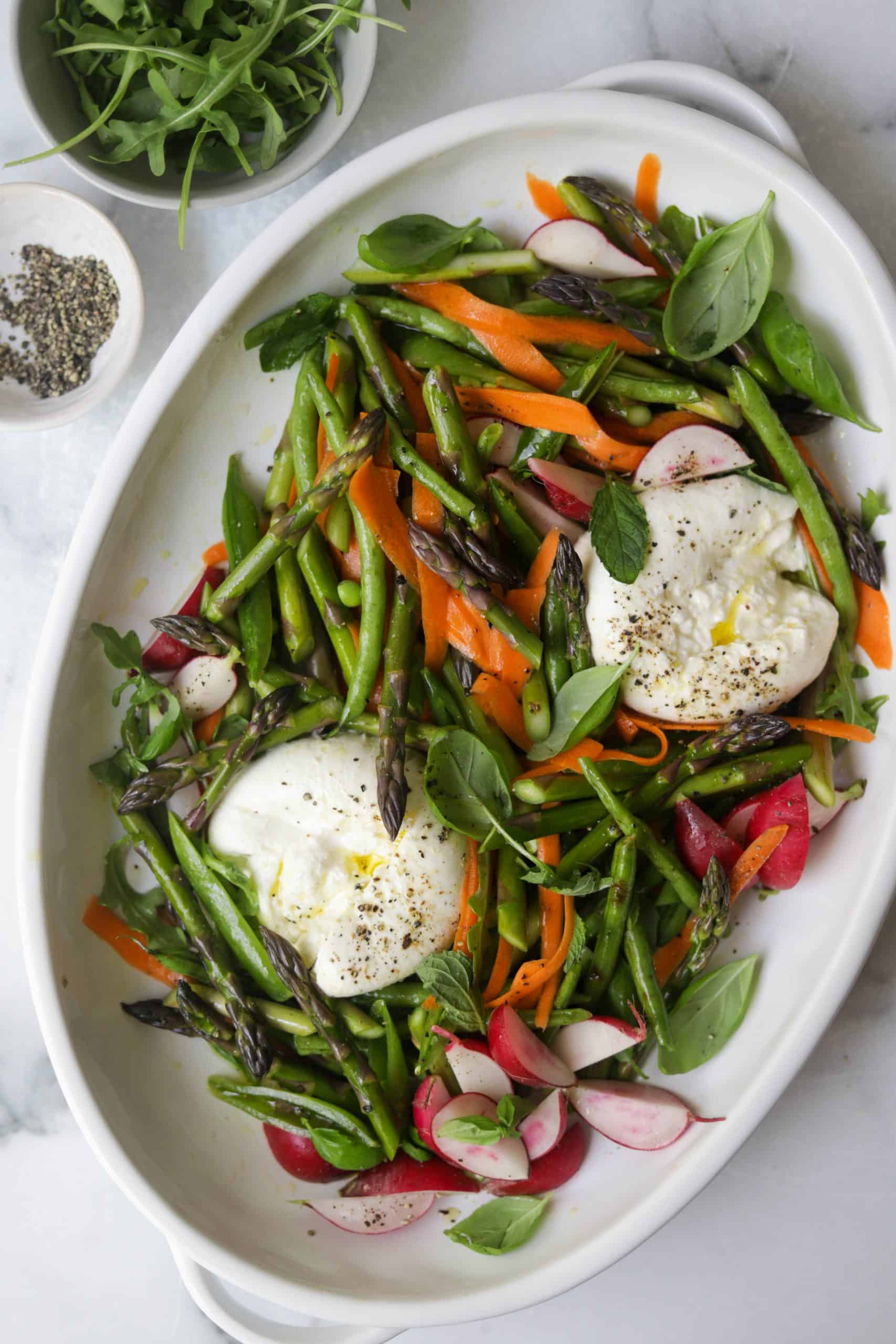 How to make salad with burrata cheese
Ingredients
Fresh Vegetables. Go for the crispest green sugar snap peas you can lay your hands on.

Reach for the green beans that sing to you.
Look for perfectly orange carrots that are still kissed with dirt.
You want your veggies to be fresh and a riot of color on the plate.

Lettuces. I suggested using arugula in the salad, but feel free to experiment with different spring lettuces too.

Arugula is pure perfection because it's peppery and bright.
But, watercress deliciously falls right into that category as well.
And don't be shy about using even heartier greens, like mustard greens!
They pack a lot of texture and pepperiness into every bite.

Burrata. Now, let's talk about this creamy cow's-milk cheese from Italy.

Earlier I said, "It will make you forget any other cheese exists in this world."
And I wasn't exaggerating. Burrata is transcendent. It will change your life in ways you never thought possible.
The creamy center somehow will find its way into your dreams.
Burrata is the cheese you never knew you needed. But you so need it!

Herbs. I love, (and highly recommend), basil and mint.

But, you could play with the flavor profile a little bit by adding parsley, or even something big and bold like lemon thyme.
And, of course, you can never go wrong with a little oregano.
Or, you can grab a bunch of your favorite herbs and toss them in a mini-food process with a bit of good olive oil and lemon juice to create an herb-medley puree!

Lemon. I use lemon in A LOT of my recipes, especially when it comes to making salad dressings.

I recommend using a fresh lemon and zesting it first, then squeezing the juice.
There is simply no subsitute for fresh citrus juice!

Pistachios. You can use any nut here, but I love the unique flavor of pistachios and the green hue is so beautiful in this spring salad.

Grab a bag of roasted pistachios, crush them a little bit with a rolling pin and sprinkle them on the salad before serving.
Optional Salad Additions
If you're looking for a little extra protein to go with the salad, grill some white fish or salmon. Either would pair perfectly with the vegetables and cheese.
Speaking of "perfectly," a little sprinkling of bacon would also be perfection with this salad!
Fruit would also be a fun addition to our spring veggie and burrata salad. Grilled peaches and burrata are a match made in heaven!
But, burrata also adores a mix of berries. And, of course, citrus would pair perfectly – and it would really be a great match for the pistachios!
Equipment
A cutting board and chef's knife
Measuring cups and spoons (or you can eyeball it)
A large bowl
A microplane
A whisk
A big ol' platter for serving
Plates and forks for eating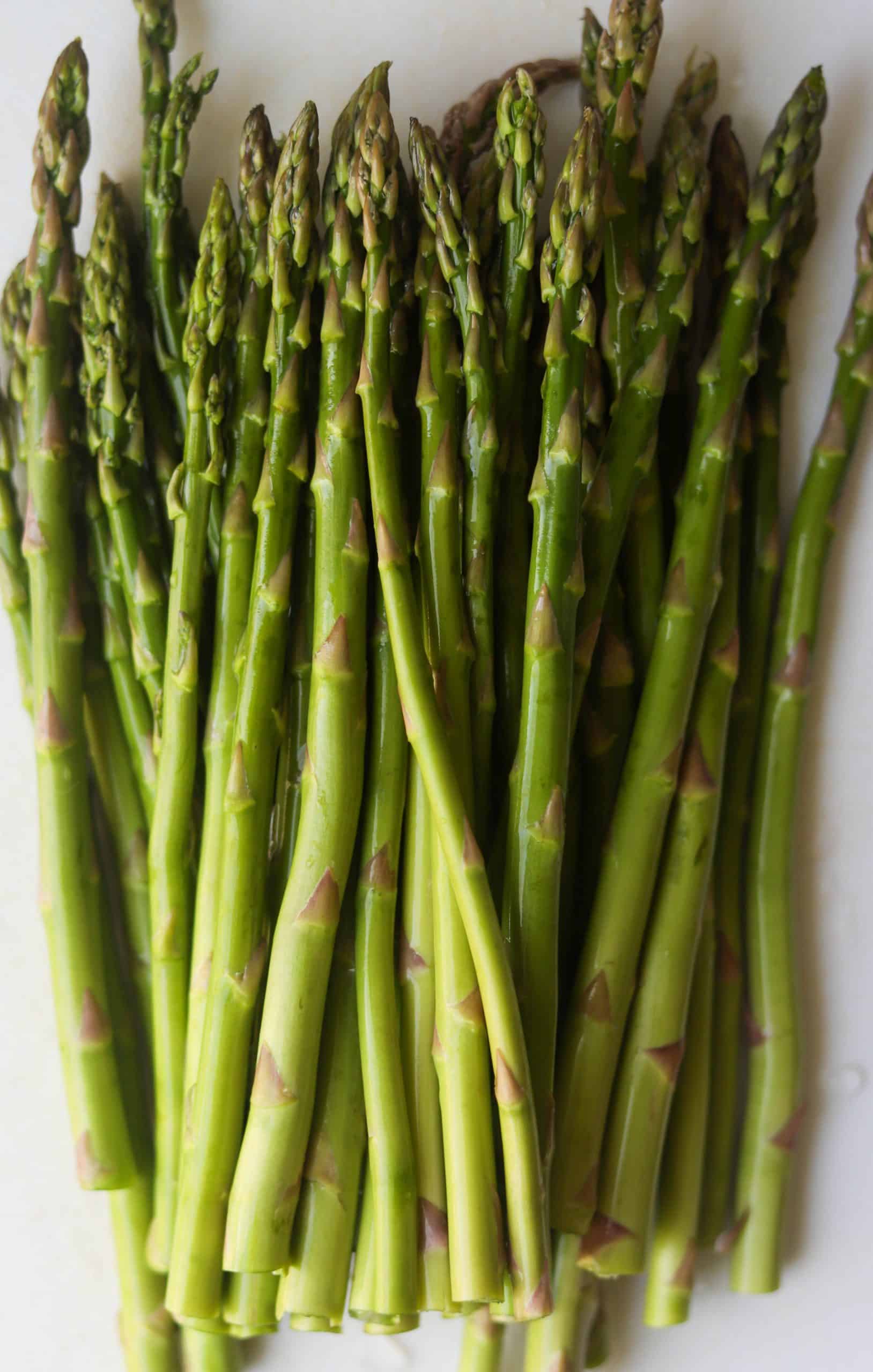 Step-by-Step Instructions
The first step is to make the lemony dressing.

Whisk together fresh lemon zest and juice, honey or granulated sugar, olive oil, salt and black pepper. That's it!
You can add a little Dijon mustard for more pizazz and body, but that's optional!
And I want the fresh herbs to shine in this salad, so I'm not adding any dried herbs to the dressing this time.

Next, chop all of your veggies. You'll want to trim the ends of the asparagus then cut them into 2-inch pieces, trim the green beans and cut them in 2-inch pieces, slice your snap peas in half lengthwise, peel the carrots (discard) then peel them into ribbons and trim the radishes and cut them into halves or quarters.
Now, toss the veggies with the dressing.

Add a bit more salt and freshly cracked black pepper if you'd like. Gently fold in some arugula for a bit of peppery goodness.

Arrange the burrata balls on a platter and sprinkle with salt and freshly cracked black pepper.

Arrange the salad around the burrata, then sprinkle with fresh mint, fresh basil and crushed roasted pistachios.
Drizzle the burrata and salad with the rest of the dressing.

Serve and enjoy!
How to Plate this Spring Salad
I love serving salads on large neutral-colored plates or large bowls.

But, when the veggies are this fresh and so seasonal and well – special – don't be shy about pulling out that platter your grandparents gave you.
Or the good wedding china.

Or, that bowl that you scored at the yard sale that you suspect might be Depression-era glass.

Have fun with your plating! (Or "bowling," as the case may be.)
Chef's Tip
If you're not a fan of raw vegetables like asparagus and green beans, which you traditionally eat cooked, then blanch and shock them before adding them to the salad. Here are the instructions:

Bring a large pot of water to a boil. Add the asparagus and green beans (after they've been trimmed and cut) and cook 1-3 minutes, just until the rawness has been taken off the vegetable.
Use a slotted spoon or spider to transfer the veggies to a large bowl of ice water.
Let them cool for a few minutes in the ice bath, then dry them off and add them to the dressing.
It's springtime on a plate, man. You're gonna dig it. Or dig in.
Other Spring Recipes You'll Love
Print
Spring Salad with Burrata
Refreshing garden vegetable salad filled with snap peas, green beans, carrots and herbs served with creamy burrata cheese, lemon vinaigrette and pistachios. 
Author:
Prep Time:

10 mins

Cook Time:

0 mins

Total Time:

10 mins

Yield:

Serves 6

Category:

Salad

Method:

No-Cook

Cuisine:

American

Diet:

Vegetarian
Dressing:
Zest and juice of 1 medium lemon

1 tablespoon

honey or granulated sugar

3 tablespoons

olive oil

½ teaspoon

coarse salt

¼ teaspoon

freshly cracked black pepper
Salad:
½

-pound asparagus, ends trimmed, cut into

2

-inch pieces

½

-pound sugar snap peas, trimmed, strings removed

½

-pound green beans, trimmed

2

medium carrots, peeled and thinly sliced

1 cup

radishes, trimmed and halved or quartered

2 cups

baby arugula (optional)

½

-pound fresh Burrata or fresh mozzarella

¼ cup

fresh basil leaves, torn

¼ cup

fresh mint leaves, torn

½ cup

pistachios, roughly chopped
Instructions
Whisk together fresh lemon zest and juice, honey, olive oil, salt and black pepper in a large bowl. Taste and adjust seasoning, if necessary.
Add asparagus, peas, green beans, carrots and arugula (if using) in the bowl and toss with the dressing.
Tear open ball of burrata and arrange on a platter. Top with salad, basil, mint and pistachios.
Notes
Substitution Tip: Use fresh mozzarella if you can't find burrata.
Nutrition
Serving Size:

¼ of recipe

Calories:

398

Sugar:

8 g

Sodium:

97 mg

Fat:

31 g

Saturated Fat:

11 g

Unsaturated Fat:

9 g

Trans Fat:

0 g

Carbohydrates:

18 g

Fiber:

4 g

Protein:

11 g

Cholesterol:

0 mg
Keywords: vegetables, healthy, easy, side salad, simple, spring, seasonal