This six-ingredient lemon asparagus pasta dish is "carbonara creamy" and loaded with just what you'd expect - garlic, asparagus and fresh lemon.
Double or triple the recipe for an easy meal for entertaining inside - or al fresco in the backyard.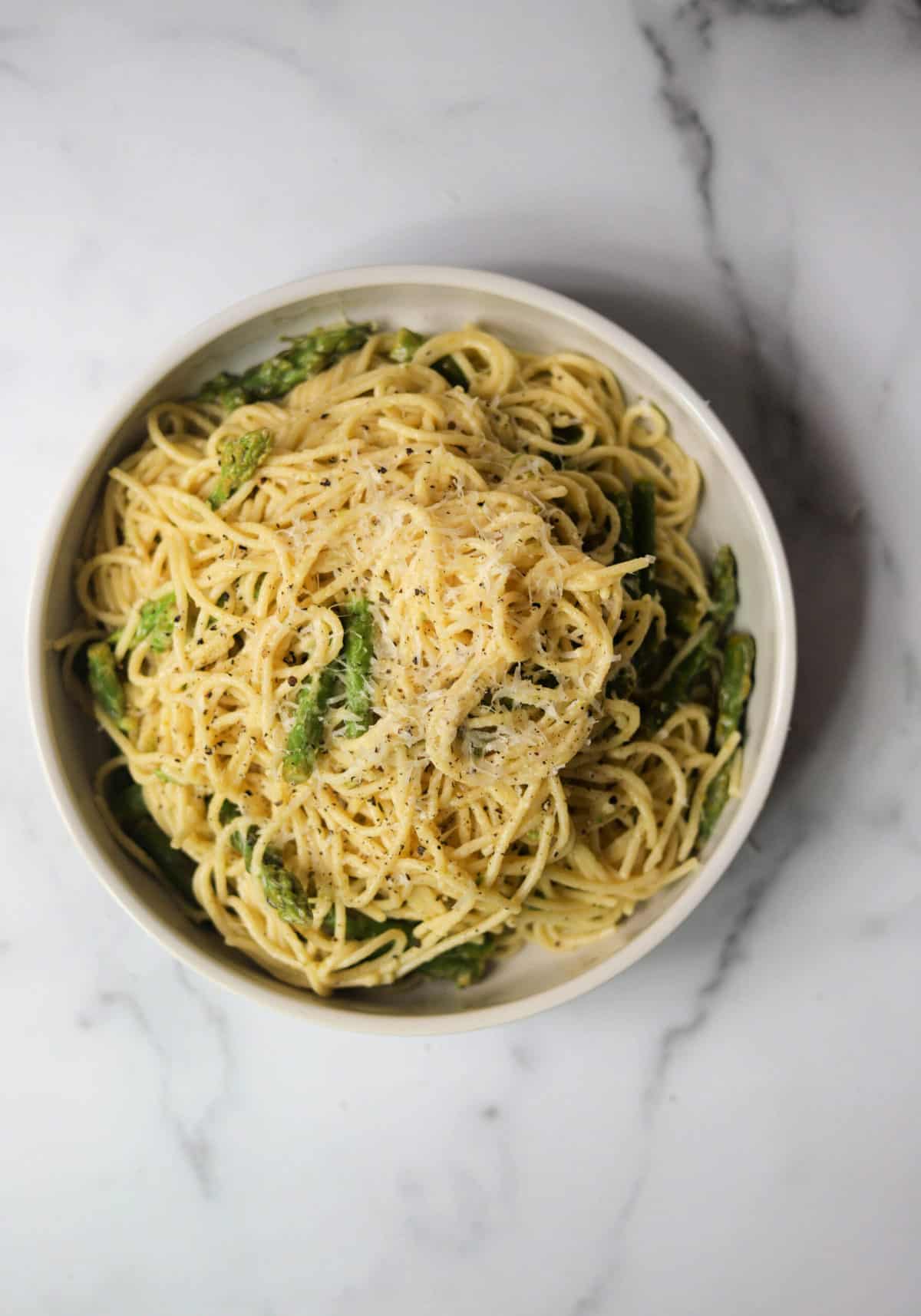 How to make lemon asparagus pasta
Ingredients
Pasta: When it comes to simple recipes like this that have very few ingredients, let your wallet be your guide for the best pasta you can find.

Maybe stick your head into a local food specialty shop, and see what they have for fresh or boxed pasta.
The building block of this dish is the spaghetti, so feel free to splurge on what really appeals to you.

Olive Oil: We all know that certain television personality and cookbook author who always recommends, "really good olive oil."

(Hint, it's Ina Garten!) In case you've ever wondered what she means by "really good," she means her personal favorite Olio Santo Olive Oil from California.
She loves the fruitiness of the olive oil. But, again, splurge for the best stuff to your taste that your wallet will give a thumbs up to.
Whether it's Italian olive oil, or a domestic brand, cook with what makes you happy.

Parmesan: Spring for the best stuff you can afford.

The older the parmesan, the more crystallization you get. Crystallization equals flavor.
Look for Parmigiano-Reggiano that's been aged for at least 24 months.

Egg yolks: This gives the rich, decadent flavor and 'sauce' of carbonara!

You'll want to make all of your pasta with egg yolks.

Freshly-Cracked Black Pepper: This isn't a recipe where you want old and dusty black pepper that's pre-ground and lives on the back of the stove. (I'd actually argue that about any recipe!)

This is a recipe that screams out for freshly ground black pepper – and a decent amount of it.

Lemons: Fresh lemons are always the way to go!

Bottled lemon juice just doesn't have the same oomph as a freshly squeezed lemon.
Plus, has there ever been a time when the scent of freshly squeezed lemon juice hit your nose and you didn't sigh with joy?
Equipment
A cutting board and chef's knife.
A stove.
A large stock pot for cooking the asparagus and pasta.
A colander and spider or slotted spoon.
A medium to large bowl filled with ice water.
Measuring cups and spoons or you can wing it.
A microplane for zesting the lemon and shredding Parmesan.
A glass measuring cup or mug to scoop out some pasta water.
Tongs for tossing the spaghetti.
Bowls and forks for serving.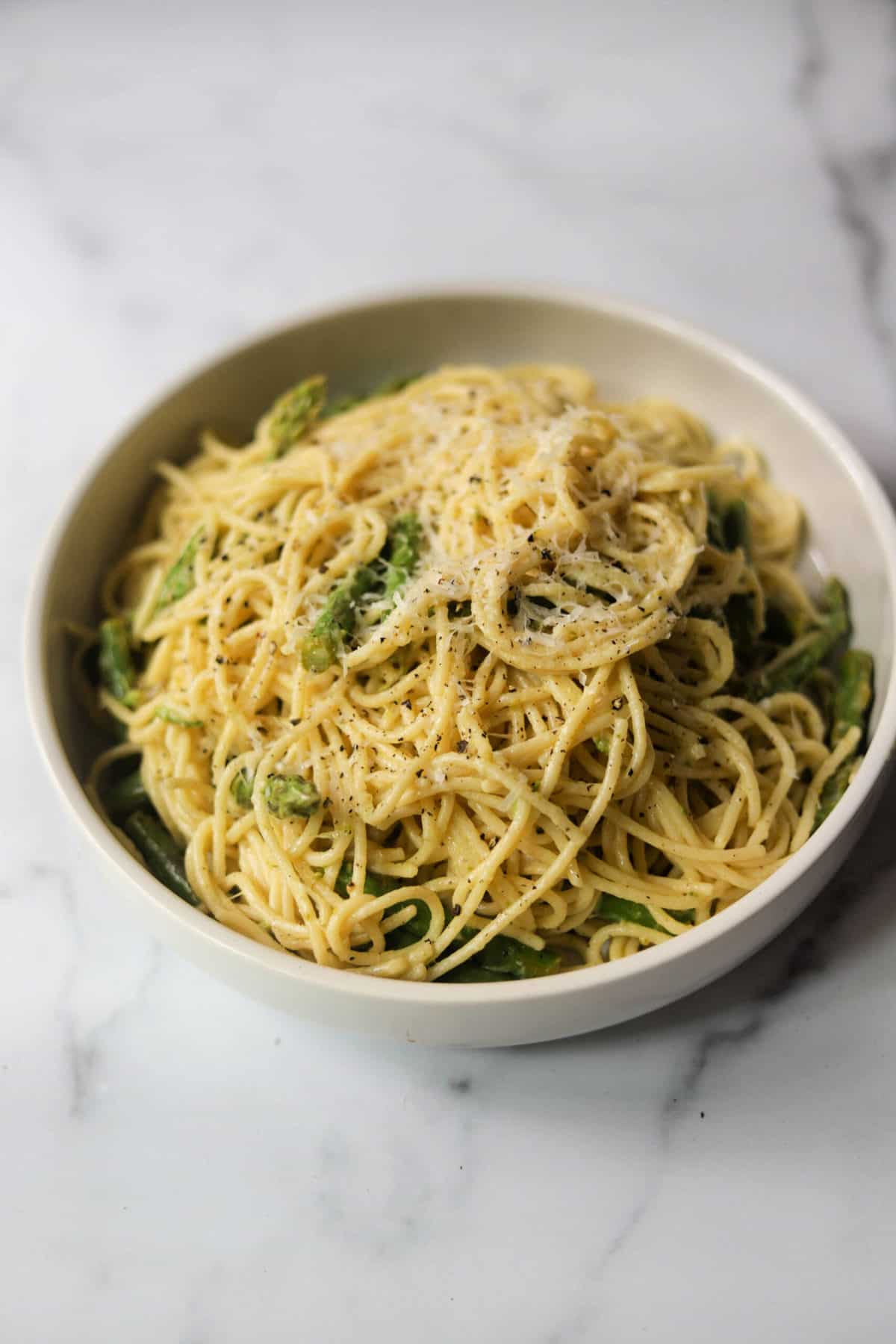 Serving Tips
This recipe is vegetarian, but if you wanted to add a hit of smoky bacon to the bright and sunny pasta, go ahead. It will be delicious!
Adding bacon and peas for even more of a kiss of springtime flavor would be fabulous.
Serving a good crusty bread with the pasta would be amazing.
Do you know what would be even better than just crusty rustic bread with this pasta?

A lemon compound butter to spread on the bread! It takes just a minute to make, but it really elevates everything it touches.

And for dessert, lean into the simplicity of the meal by serving an elegant fruit salad.

A simple salad of strawberries, peaches, melon, and basil would be the perfect ending to the meal of lemon asparagus pasta.
Recipe Substitutions & Alterations
To make it gluten free: Use gluten free pasta and assure all other packaged ingredients are gluten free.
To make it dairy free: Skip the Parmesan and try it with nutritional yeast instead.
To make it vegan: Skip the Parmesan and try it with nutritional yeast instead. Also skip the egg yolks and just add a bit more olive oil to finish the dish.
To make it high in protein: Serve with grilled or sauteed salmon or chicken. Use protein-fortified pasta.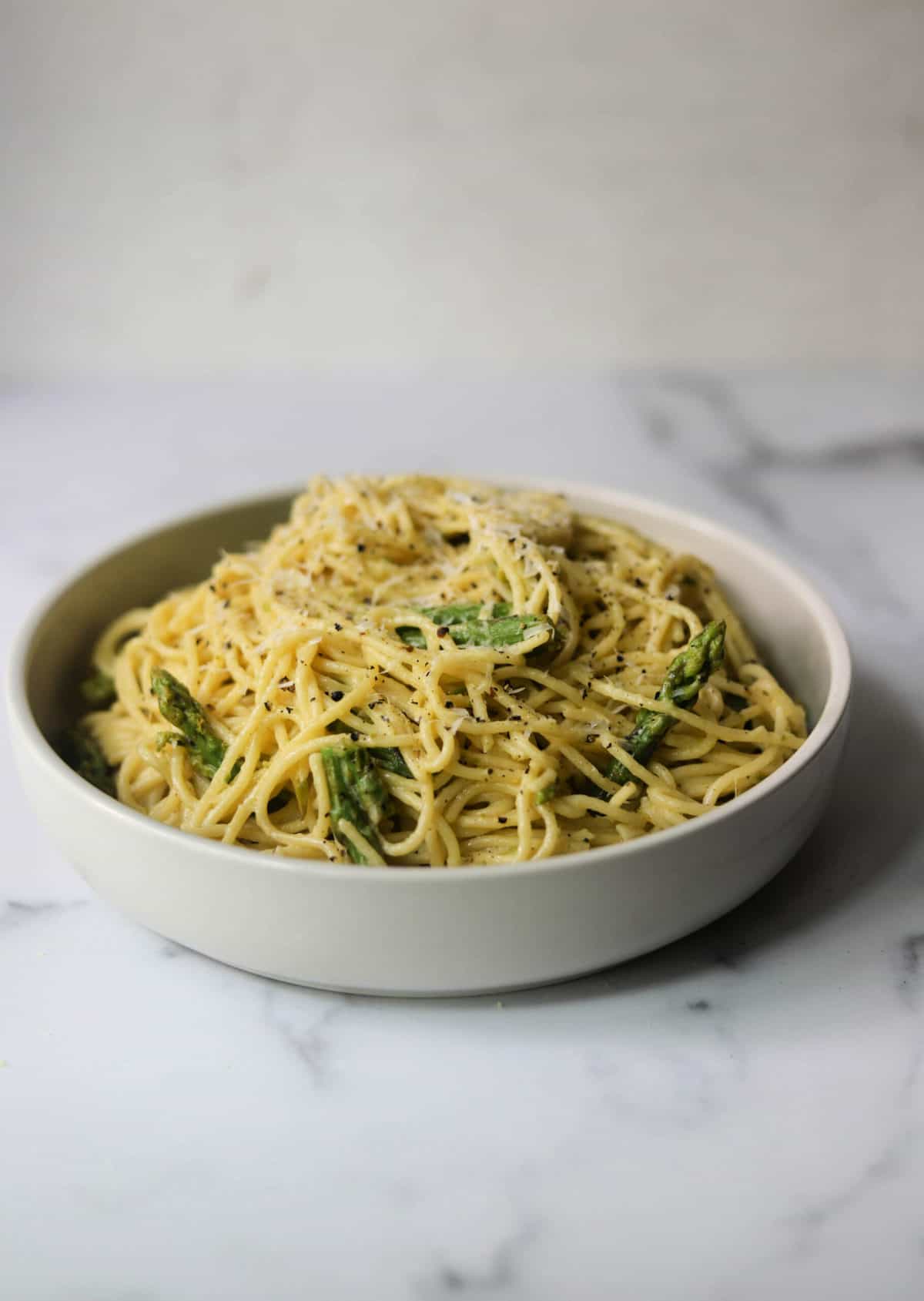 Storage and Reheating Suggestions
Let slightly cool before transfering the pasta leftovers to airtight containers.
Pasta will hold up in the refrigerator up to 5 days.
Reheat individual servings in the microwave 60-90 seconds or until heated through.
I wouldn't recommend freezing this pasta.
Tip for making the best pasta with asparagus and lemon
Cook the pasta just a hair under al dente so it doesn't overcook when you add it back to the pot with the pasta water and other ingredients.
This recipe is made "carbonara style", meaning the spaghetti is tossed in egg yolks and Parmesan at the end of the cooking process.
In order to avoid making scrambled eggs, remove the pot from the heat and toss the egg yolks into the spaghetti using tongs.
Some people transfer the spaghetti to a bowl, then adding the egg yolks to avoid scrambling, but I've found my method fool proof!
Just be sure to remove the pot from the heat first rather than adding the egg yolks while it's still on the stove.
Asparagus Recipe Round-Up
Print
Lemon Asparagus Pasta
Quick and easy pasta with fresh lemon, asparagus, spaghetti, olive oil and Parmesan cheese.
Author:
Prep Time:

10-15 mins

Cook Time:

15-20 mins

Total Time:

25-35 mins

Yield:

Serves 8

Category:

Dinner

Method:

Stove-Top

Cuisine:

Italian, American
1

-pound asparagus, trimmed and cut into

2

inch pieces on a bias

1

-pound whole grain spaghetti

¼ cup

extra virgin olive oil + more for garnish

2

-

3

cloves garlic, peeled and minced
Zest and juice of 2 medium lemons
Coarse salt and ground black pepper, to taste

2

large egg yolks

½ cup

fresh Parmesan cheese, grated or shredded + more for garnish
Instructions
Bring a pot of salted water to a boil. Blanch asparagus for 2-3 minutes. Remove asparagus with a slotted spoon and shock in a large bowl of ice water. Drain and set aside.
Add spaghetti to the boiling water and cook according to package directions. Drain spaghetti, reserving about 1 cup pasta water. Set aside.
In the same pot, heat ¼ cup olive oil to medium-high. Add garlic and sauté 60-90 seconds, until fragrant. Add lemon zest and juice. Add 1 cup pasta water and bring to a simmer for about a minute, allowing it to slightly thicken. Add spaghetti back into the pot and toss with a generous dash of salt and black pepper. Shut off the heat.
Add egg yolks and toss, using tongs. Add ½ cup Parmesan cheese and continue to toss the pasta, until it forms a creamy sauce. Taste and adjust seasonings, if necessary. Add asparagus and toss to combine.
Distribute pasta into bowls and top with a drizzle of olive oil, Parmesan cheese and freshly cracked black pepper.
Notes
Cooking Tip: Add cooked salmon or chicken to make this a complete dish.
Nutrition
Serving Size:

⅛ of recipe

Calories:

320

Sugar:

3g

Sodium:

162mg

Fat:

11g

Saturated Fat:

2g

Unsaturated Fat:

9g

Trans Fat:

0g

Carbohydrates:

45g

Fiber:

7g

Protein:

11g

Cholesterol:

51mg
Keywords: best, cheesy, whole grain, sauce, lemony, easy, healthy, weeknight dinner, quick