Lemon Ricotta Pancakes: Fluffy whole grain lemon ricotta pancakes with berry compote. Easy to make, healthy and absolutely delicious!
And I'm excited that today is the day I'll be sharing my special recipe!
(I mean, not literally sharing them, but sharing the recipe - this stack is all mine).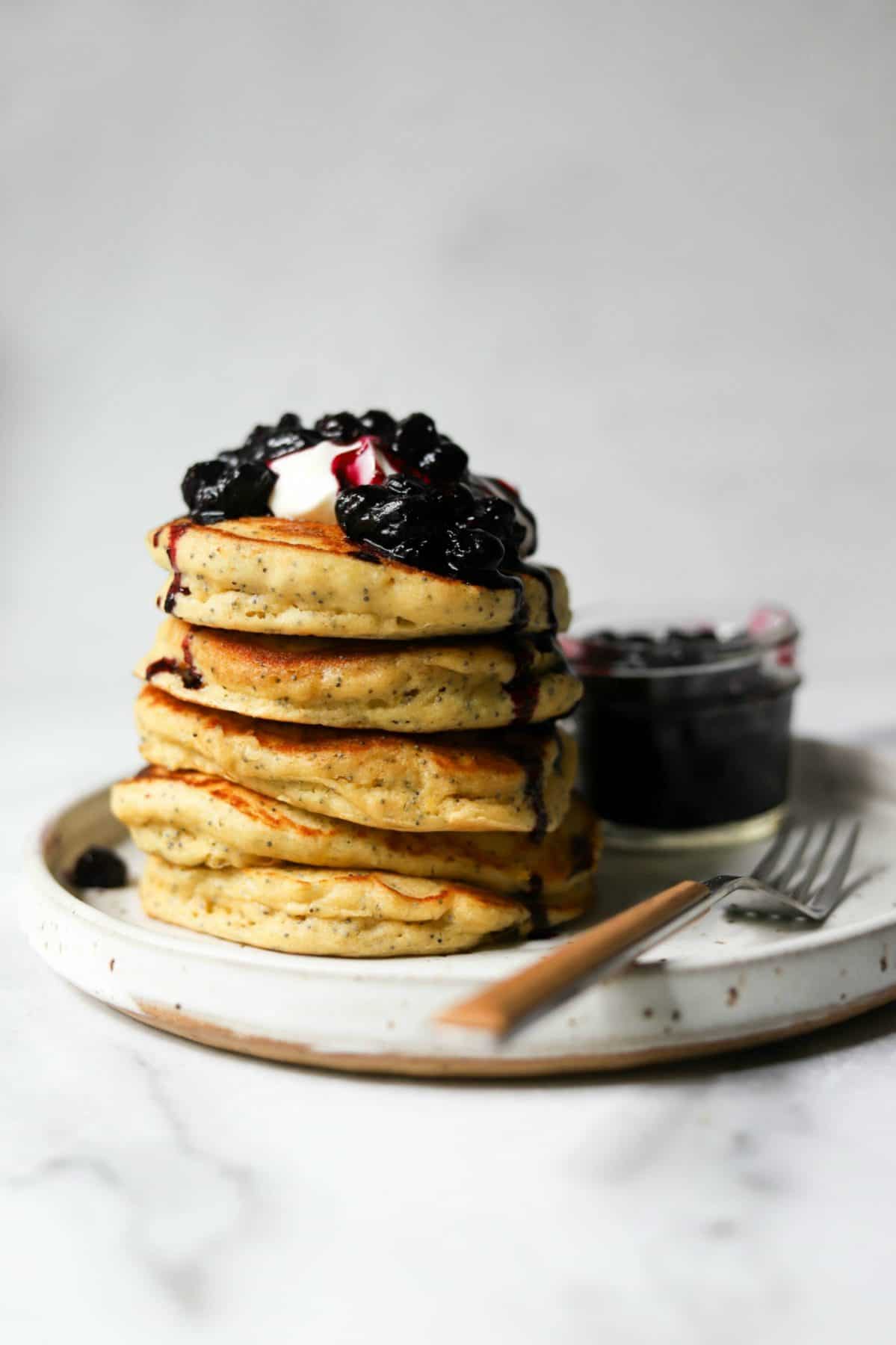 How to make fluffy pancakes
A very important part of my job was/is to figure out how to make pancakes really, really fluffy.
It's something I know we've all worked really hard to accomplish over the years, and I'm here to serve. I mean, we all go ga-ga over fluffy diner pancakes, right?
Well, I've tried a million recipes and not many of them have delivered, unfortunately.
However, there have been characteristics of many of the recipes that come together to create a super fluffy batch of pancakes, so I'm here to share.
Tip #1: Once you've mixed the batter together, let it rest for 5 minutes.

This gives the ingredients in the batter (the baking powder/soda, eggs, flour, etc.) to come together and do their jobs - aka create fluff.
You'll even see the batter itself start to change/activate as it sits. I promise it's worth the wait.

Tip #2: Separate the egg whites from the egg yolks and whip the egg whites until fluffy.

I fully realize this is another step, but again, it is 100% worth it. When you whip egg whites (I recommend using a hand mixer, stand mixer or immersion blender), air is incorporated, which equals fluff (think of a fluffy meringue!).
You can also use an immersion blender to mix together the wet ingredients, as this will add air and more FLUFF to the batter as well - totally optional, though.

Tip #3: Carefully measure the ingredients. I know how easy it is to lazily scoop the ingredients into a bowl without accurately measuring (I'm totally guilty!).

But it's worth it to measure the ingredients using the proper measuring cups and spoons and be sure to level off the dry ingredients with the back of a knife.
This ensures the batter will not be too thick or too thin, but just right.

Tip #4: Adding a bit of seltzer water or club soda to a standard pancake recipe can add some additional fluff! So can adding yogurt or ricotta cheese.

In this recipe, I use ricotta cheese and not only does it make the cakes a little fluffier, but it adds to the overall texture of these melt-in-your-mouth pancakes.

Tip #5: Try not to rush the cooking process. First, heat a non-stick skillet or griddle to medium to medium-low heat. Use butter (or cooking spray) in the pan to keep them from sticking.

When the skillet or griddle is hot, add the batter using a ¼ cup measuring cup to make even pancake rounds (give the pancakes some space - don't overcrowd the cooking surface, as this brings the heat down).
Let them cook until the tops bubble and the bottom is lightly browned and crisp on the edges. Give them a flip and cook just until set.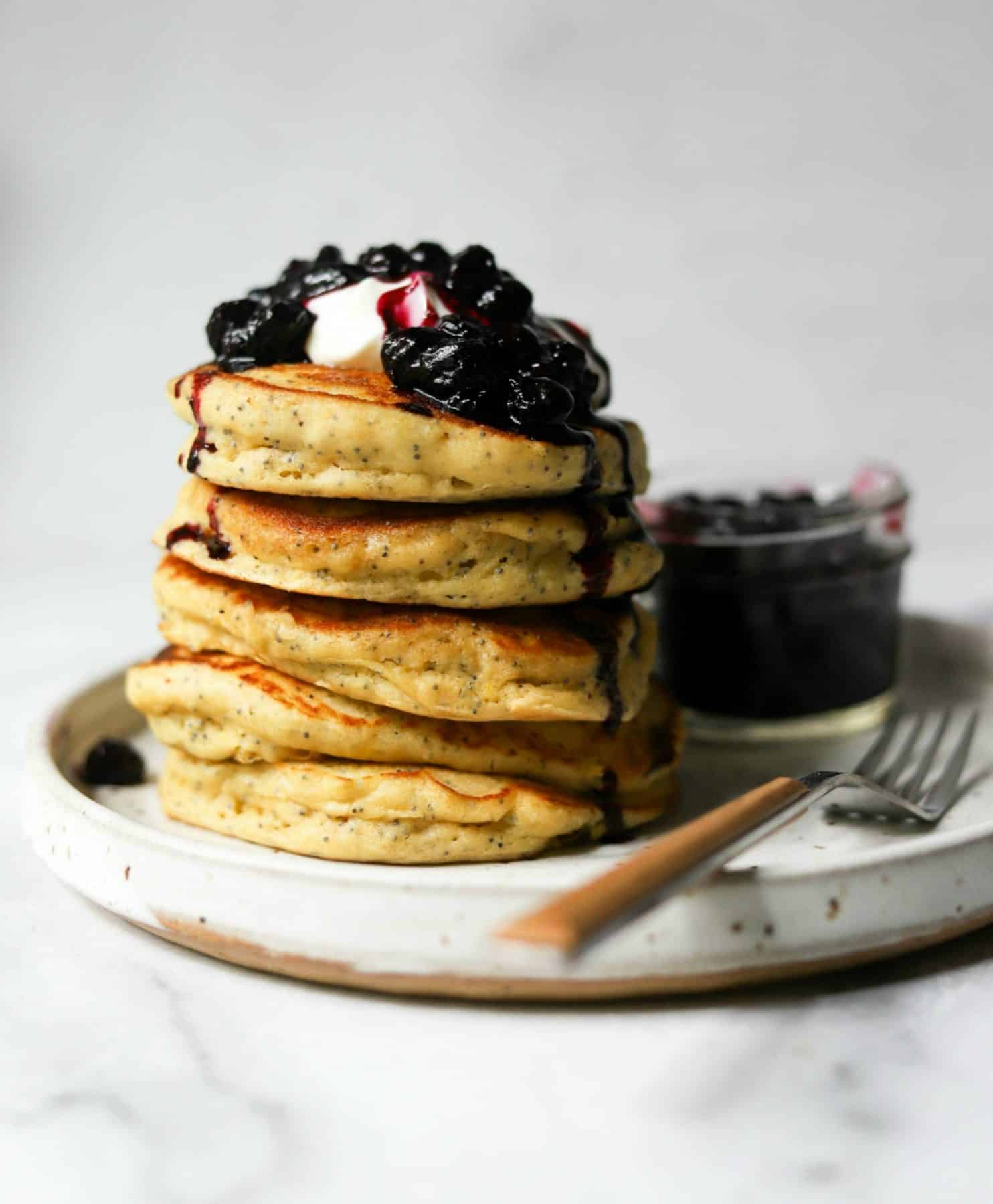 Recipe Substitutions and Alterations
Instead of blueberries: Try blackberries, raspberries, strawberries or dark sweet cherries.
Instead of lemon: Try making the compote with fresh orange.
For the flour: Use any all-purpose style flour.
Instead of ricotta: Try making the pancake batter with plain or vanilla Greek yogurt.
Nutrition Considerations:
To make them gluten free: Use gluten free all-purpose flour. Be sure all other packaged ingredients are gluten free.
To make them dairy free: Use any dairy free milk alternative, such as soy, coconut, rice, almond or oat milk.

Use dairy free yogurt alternative instead of ricotta cheese, such as soy or almond milk yogurt.

To make them vegan: Use any plant-based milk alternative, such as soy, coconut, rice, almond or oat milk.

Use plant-based yogurt alternative instead of ricotta cheese, such as soy or almond milk yogurt.

To make them nut free: This recipe is nut free! Be sure all packaged ingredients are nut free.
Also, this recipe originated in my Brain Health Cookbook, so if you LOVE these cakes, be sure to check out the rest of my cookbook recipes!
Other scrumptious breakfast recipes:
Print
Lemon Ricotta Pancakes
Light, fluffy and rich lemony flapjacks with blueberry compote.
Author:
Prep Time:

10-15 mins

Cook Time:

10-15 mins

Total Time:

20-30 mins

Yield:

Serves 5

Category:

Breakfast

Method:

Stove-Top

Cuisine:

American
Berry Compote:
1 ½ cups

fresh or frozen blueberries
Zest and juice of ½ medium lemon (about 1 tablespoon)

½ tablespoon

granulated sugar
Lemon Ricotta Pancakes:
1 ¼ cups

whole wheat or oat flour

1 tablespoon

granulated sugar

2 teaspoons

baking powder

½ teaspoon

baking soda

¼ teaspoon

kosher or sea salt

1 cup

ricotta cheese

2

large eggs, yolks and white separated
Zest and juice of 2 medium lemons (about ¼ cup)

¼ cup

milk

2 tablespoons

oil

1 teaspoon

pure vanilla extract
Instructions
Stir together the blueberries, lemon zest and juice, and sugar in a small saucepan. Bring to a low simmer for 10-15 minutes, stirring occasionally, until slightly thickened. Remove from the heat and set aside.
In a large mixing bowl, stir together the flour, sugar, baking powder, baking soda, and salt.
In a separate medium mixing bowl, whisk together ricotta cheese and egg yolks until fluffy. Whisk in the lemon zest and juice, milk, oil, and vanilla extract until combined. Fold in the dry ingredients until combined.
Place the egg whites in a separate bowl. Use a hand mixer to whip the egg whites until stiff peaks form. Gently fold the egg whites into the batter, just until combined.
Heat a large skillet to medium-high heat. Coat with cooking spray. Working in batches, pour ¼ cup batter into the hot skillet and cook 2-3 minutes per side, until set. Repeat with remaining batter.
Serve the pancakes with blueberry compote.
Notes
Variation Tip: Try stawberries, blackberries or raspberries instead of blueberries for the compote.
Cooking tip: Once mixed, let the batter sit 5 minutes.
Nutrition
Serving Size:

2 pancakes

Calories:

277

Sugar:

13g

Sodium:

471mg

Fat:

10g

Saturated Fat:

2g

Unsaturated Fat:

8g

Trans Fat:

0g

Carbohydrates:

36g

Fiber:

6g

Protein:

12g

Cholesterol:

86mg
Keywords: breakfast, make-ahead, make ahead, freezer friendly, brunch