This recipe for salmon nicoise salad is in partnership with Sitka Salmon Shares. All views are my own.
This recipe for salmon niçoise salad might sound fancy, but it's easy enought to make on a weeknight!
Niçoise salad is traditionally a French salad served with greens, tuna (and in this case, salmon), potatoes, green beans and hard-boiled eggs with other veggies like tomatoes, cucumbers and olives.
I, of course, wouldn't even consider leaving the olives off because they provide such fabulous flavor.
But, you can absolutely switch things up to make this salad the way you like it!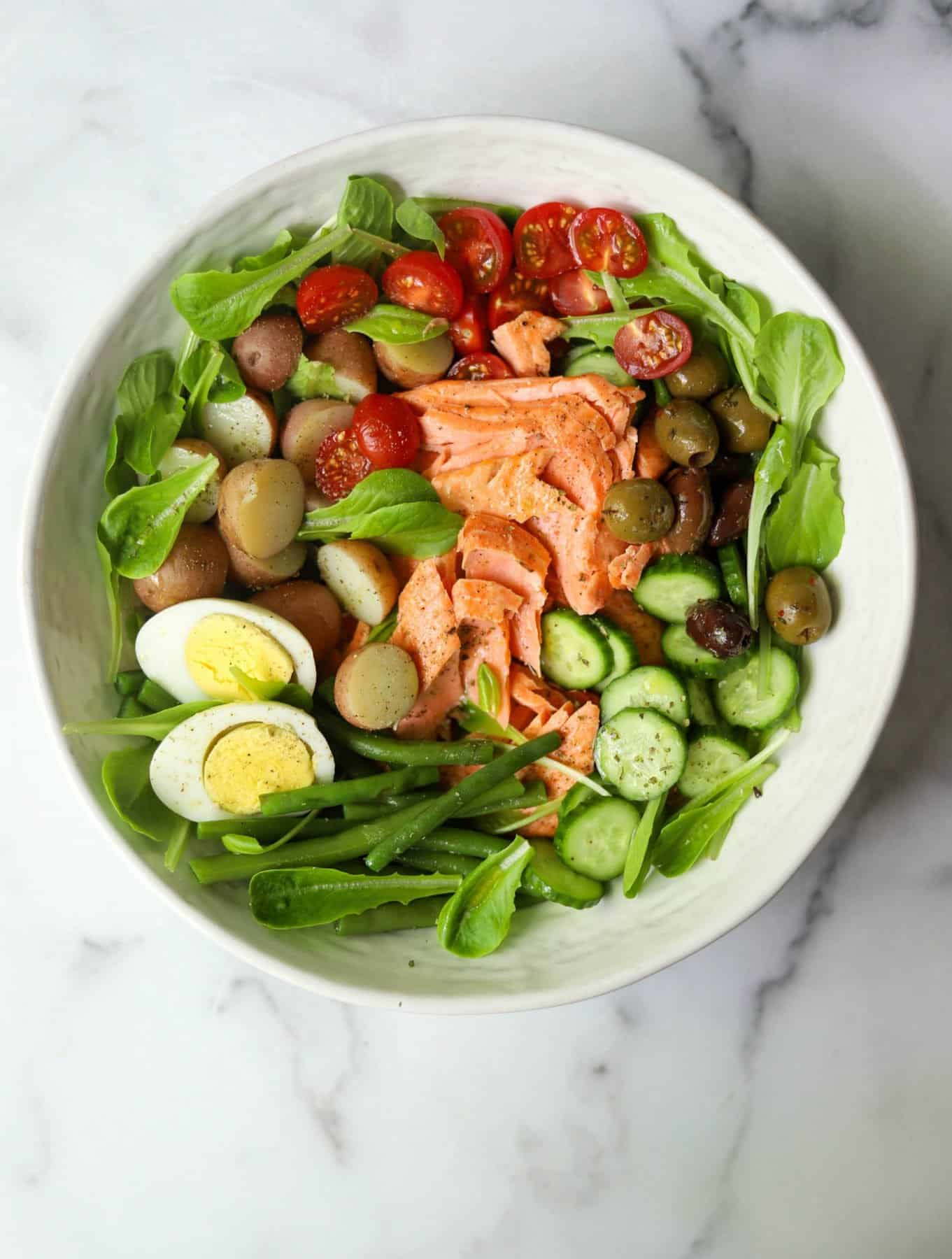 How to properly cook salmon
Many people are intimidated by cooking fish and seafood because it can be pricy and because many people just don't have as much experience cooking it as they do other proteins.
But the great news is fish is actually quite easy to cook and cooks really, really fast!
Here are my best tips for cooking fish:
The first step is to prep the salmon.

If it's frozen, you can thaw it out in the refrigerator for 1-2 days or you can run it over cold water in its vacuum sealed package until it's thawed (not hot water, as this will start the cooking process).
If it's fresh, it should be ready to go!
Always read the label, but most fresh fish should be cooked within a day or two of purchasing.
If it has skin on it, you can remove it yourself or you can ask the seafood department at your grocery store to remove it for you prior to purchasing.
If you like to eat the skin, go for it! Just be sure to get it nice and crispy when cooking (see tips below).

The next step is to dry off the salmon.

Oftentimes it has a high moisture content, and moisture is not our friend when we're looking for a nice browned sear on the fish and crispy skin.
Use paper towels to dab the fish until there is no visible moisture on it.

Next, we'll oil the salmon or oil the cooking surface we're using.

If you're grilling, broiling or baking, you'll want to brush the fish with oil.
If you're cooking it in a pan, you can add the oil to the pan.

Now we'll season the salmon.

A simple dusting of salt and black pepper is a must no matter what else you plan to put on it.
In this case we're using blackened seasoning, but you can always play around with other dried herbs and spices like chili powder, cumin and smoked paprika or Italian mixes like basil, oregano and thyme.
The sky's the limit with seasoning!

Get the grill, oven or pan nice and hot (I heat them to medium or medium-high), then go ahead and add the fish to the apparatus.

If the fish filets are thin and you're grilling or pan-frying it, the fish will cook in just 1-2 minutes per side.
If you're broiling or baking it, it may take a few minutes longer, but will still cook in under 10 minutes.
It's best to check on it regularly so it doesn't overcook.
Don't add fish to a cold pan because it tends to stick to the surface and break apart and it will be difficult to achieve that browned sear on the outside (skin or no skin).

To tell when salmon is done, use the back of a fork and press gently on the fish.

If it starts to flake apart (or you visibly see it flaking), it's done!
If the flesh bounces back and you and doesn't flake, it's not quite ready.
White fish and thin filets will cook really quickly, while fattier fish like salmon and thicker cuts will take a bit longer.
You can also use an instant read thermometer to test for doneness; fish should reach 145 degrees, but I take it out or off of the cooking appartus once it hits 140 degrees, as it will carryover cook about 5 degrees.
Fish that is cooked properly will melt in your mouth, while overcooked fish will be rubbery.
How to source high-quality fish
I like to buy fish and seafood from a reputable market or grocery store, and fresh or frozen are both great options!
My new favorite way to buy fish is through Sitka Salmon Shares.
Their shares of wild Alaska seafood come straight from the fisherman to your doorstep, and besides the fantastic taste and quality of the fish, I love that they share about the family fishermen that caught it.
There's nothing better than eating amazing fish, knowing you're supporting a small business and supporting a sustainable business!
My last few boxes have been stocked with salmon, black bass and cod, and let me tell you – you can taste the difference!
And I just love using Sitka Salmon in this Salmon Nicoise Salad!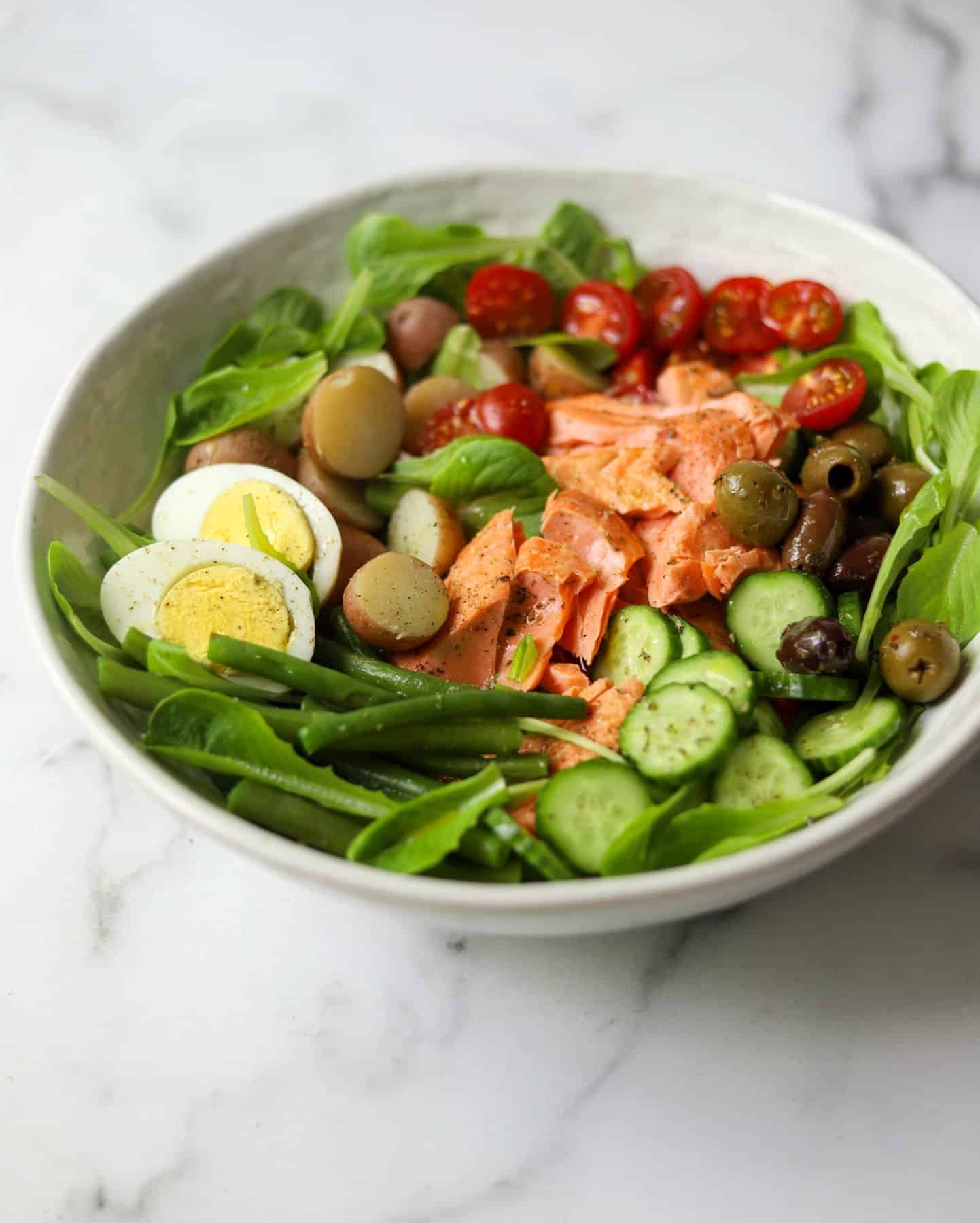 How to make your own vinaigrette dressing
If you prefer lighter dressings, you'll want to experiment with vinaigrettes first.
The best thing about oil based dressings is that you can usually whip them up from staple pantry ingredients you already have on hand.
The most basic vinaigrettes are made from oil, vinegar, (sometimes) an emulsifier like Dijon mustard, and seasonings.
They can be made tangy, sweet, fruity, or even spicy.
Seasoning can be as simple as salt and pepper or a combination of fresh or dried herbs.
A classic ratio to get you started making your own vinaigrettes is three parts oil to one part vinegar.
That means for every tablespoon of vinegar used, you would use three tablespoons of oil.
But rules are made to be broken, so by all means taste as you go to learn what ratio of oil and acid your taste buds like best.
A classic dressing like a balsamic vinaigrette can be used on a variety of salads.
In this case, we use fresh lemon zest and juice, olive oil, Dijon, honey, salt and black pepper and it's DYNAMITE.
Toss it in a mason jar, shake and voila!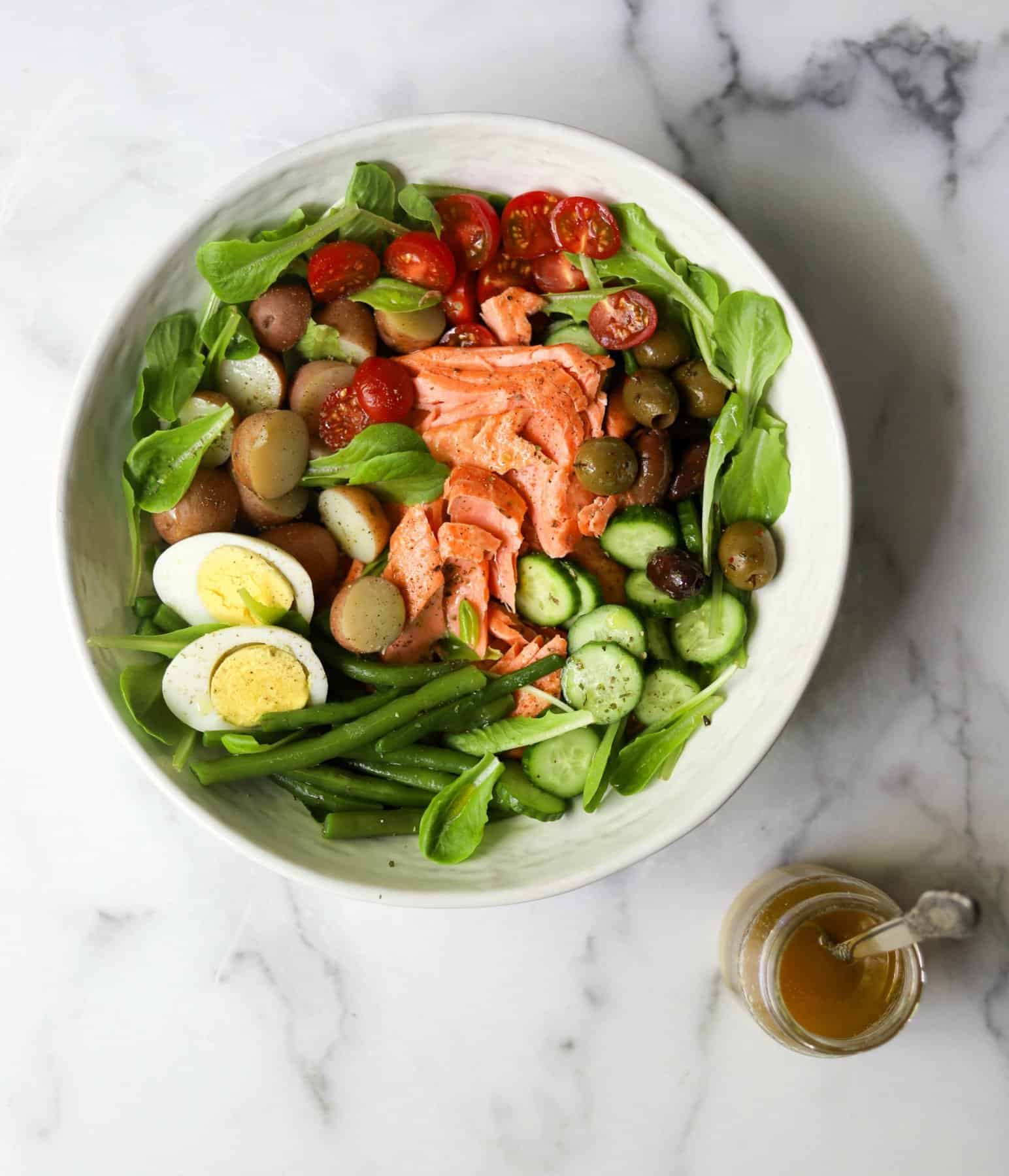 How to build a hearty, filling salad like this salmon nicoise salad
Start with your choice of greens.

If it's a light, fruit salad, I tend to go with darky leafy greens like spinach or spring mix.
If you're going for something heartier, I like to use romaine or kale as the base.
I tend to enjoy spinach and spring mix salads with a vinaigrette dressing and heartier salads with kale or romaine with a creamy dressing, but I'm also totally open to mixing it up.
I also like tossing in arugula or butter lettuce to keep things exciting.

Add protein, like chicken, salmon, crab, tuna, chickpeas, black beans, cooked grains, hard-boiled egg, cheese, sliced turkey or ham or tofu.

The sky is the limit for protein options, but I never leave it out, as protein helps fill you up and keep you satisfied longer than if you omit it.

Fill it up with fun veggies and fruit.

Salads aren't all about lettuce. Grab some berries, melon, cucumber, carrots, bell peppers, broccoli, cauliflower, tomatoes, green beans, zucchini or summer squash, or whatever else you have on hand for fruits and veggies.
It's good for your body to have a variety of colorful fruits and veggies, as they each provide unique nutrients.

Add some carbs! I love adding potato or sweet potato, cooked whole grain pasta and grains and beans to my salad to give me more fiber and filling power.

Complex carbs are a good thing!

Give it some pizazz with fresh herbs!

Toss in a bit of fresh basil, cilantro, mint or parsley for a fresh, herbacious flavor.

Have fun with dressings.

Make a variety of your own dressings to keep things fun.
Check out my blog post on how to make your own salad dressings for ideas and inspiration!
Satisfying Salads You'll Crave:
Print
Salmon Nicoise Salad
Sauteed salmon filets on a bed of butter lettuce with baby potatoes, green beans, hard-boiled eggs, tomatoes, cucumbers and kalamata olives with a light lemon dressing.
Author:
Prep Time:

10-15 mins

Cook Time:

6-10 mins

Total Time:

16-25 mins

Yield:

Serves 6

Category:

Salads

Method:

Stove-Top, No-Cook

Cuisine:

French, American
Lemon Dressing:
Zest and juice of 2 medium lemons

1 tablespoon

Dijon mustard

½ tablespoon

honey

⅓ cup

olive oil

½ teaspoon

coarse salt

¼ teaspoon

ground black pepper 
Niçoise Salad:
½

pound baby Yukon or red potatoes, halved

1

-pound green beans, trimmed

6 cups

butter lettuce

6

hard-boiled or soft-boiled eggs, halved

4

mini cucumbers or

1

medium English cucumber, sliced

1

-pint cherry or grape tomatoes, halved

½ cup

Greek or kalamata olives
Salmon:
1 tablespoon

olive oil

1

-pound fresh salmon, skin removed

½ teaspoon

coarse salt

¼ teaspoon

ground black pepper
Instructions
Bring a large pot of salted water to a boil.
In a small bowl, whisk together the lemon zest and juice, Dijon mustard, honey, olive oil, salt and black pepper. Taste and adjust seasoning, if necessary. Refrigerate until ready to use.
Add the potatoes to the boiling water and cook 5 minutes. Add the green beans and cook the potatoes and beans another 3-4 minutes. Transfer to a large bowl of ice water. Use a slotted spoon to transfer the potatoes and green beans to a paper towel-lined plate to dry.
Arrange salad bowls with butter lettuce, potatoes, green beans, eggs, cucumbers, tomatoes and olives. Set aside.
Heat the olive oil in a large nonstick skillet or cast-iron pan to medium heat. Season the salmon with salt and black pepper. Once the pan is hot, add the salmon and cook 2-3 minutes per side or until it just starts to flake when gently pressed with the back of a fork. Let slightly cool, then transfer salmon pieces to the salad bowls.
Drizzle lemon dressing on each salad and serve immediately.
Notes
Meal Prep Tip: The salad and dressing can be prepped in advance and stored separately in airtight containers in the refrigerator. Drizzle with dressing just before serving.
Nutrition
Serving Size:

⅙ of recipe

Calories:

446

Sugar:

6g

Sodium:

495mg

Fat:

30g

Saturated Fat:

5g

Unsaturated Fat:

25g

Trans Fat:

0g

Carbohydrates:

18g

Fiber:

5g

Protein:

27g

Cholesterol:

257mg
Keywords: salmon, seafood, fish, salad, salads, meal prep