Let's talk about how to make healthy homemade salad dressing.
Whether you love salads or simply them for health reasons, they're an easily customizable dish that can fit any diet.
They are also an incredible way to help you boost your intake of vegetables.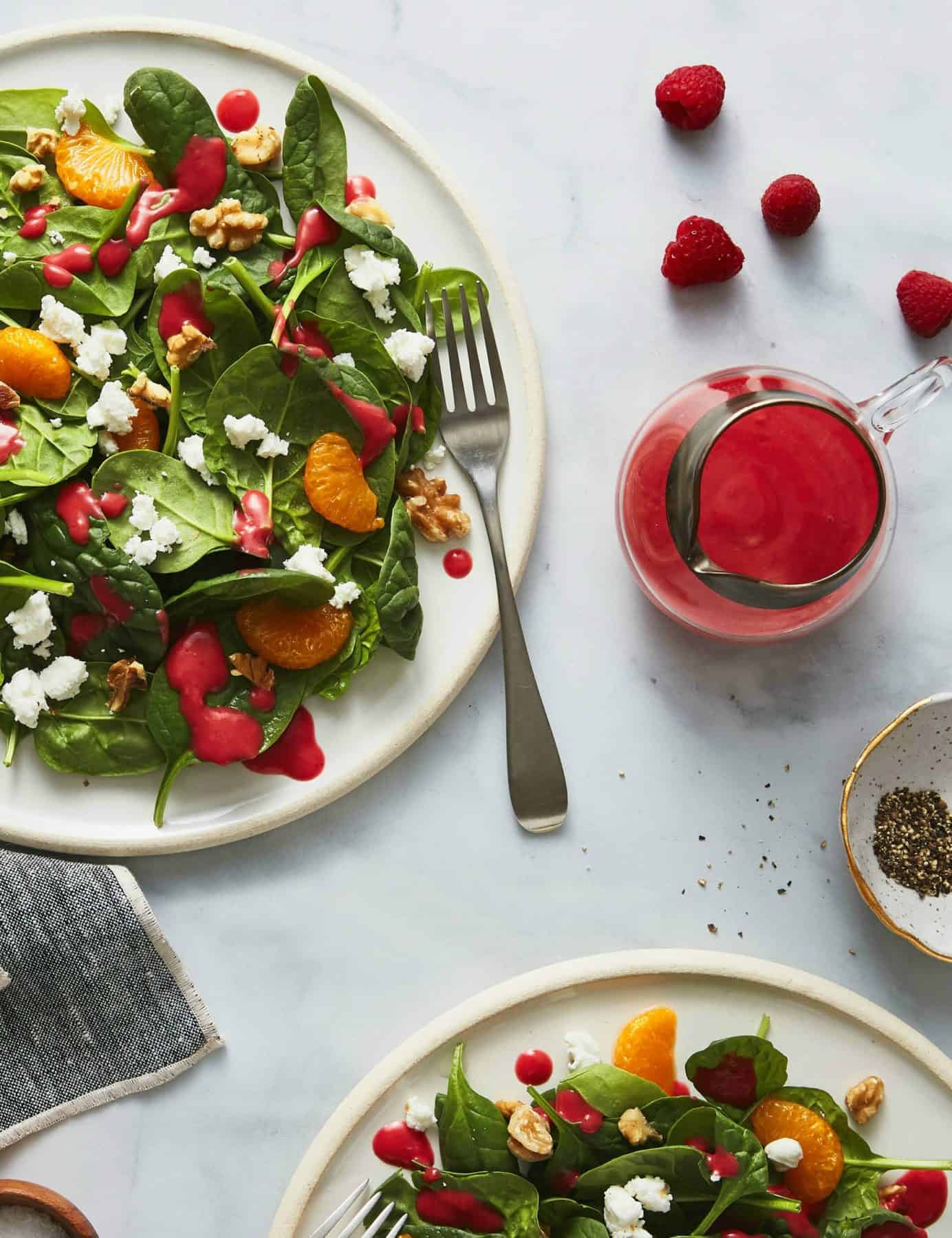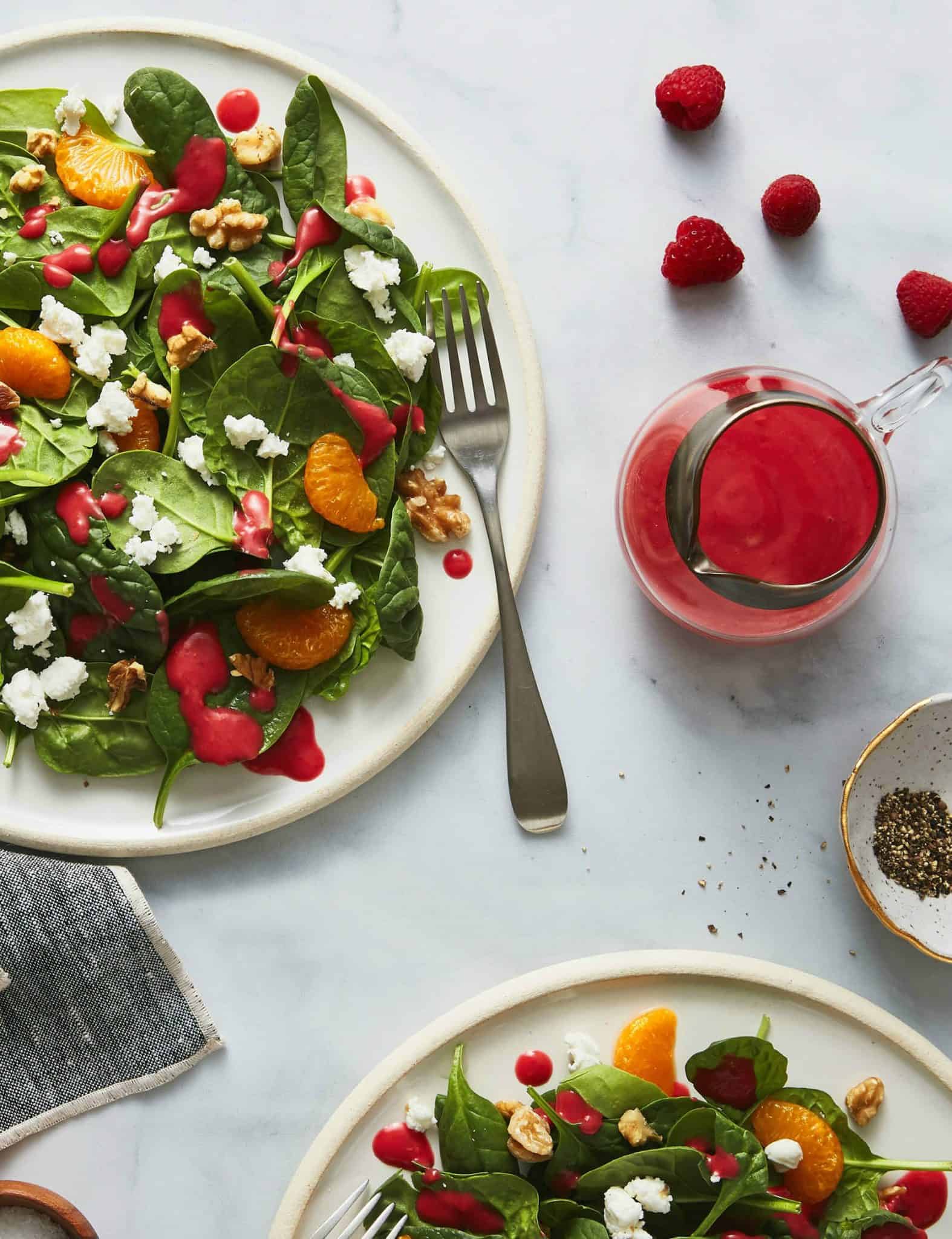 Salads can be a side dish or a complete meal when topped with a good source of protein and healthy fat.
And no salad is complete without dressing - after all, the dressing is what melds a salad base with all the toppings.
Although there are some good store-bought salad dressing options available, I love to advocate for learning how to make your own healthy homemade salad dressing.
Five reasons to make your own salad dressing
Homemade dressings tend to be healthier
Homemade dressings are less expensive
It's a kid-friendly kitchen project
Uses up leftover herbs
Homemade dressings taste better
# 1 - Homemade dressings tend to be healthier
Many store-bought salad dressings contain less than ideal ingredients; they're often loaded with sugar, salt, and artificial ingredients.
They may also contain preservatives to help them last on store shelves or in your pantry or refrigerator for months at a time - not exactly fresh food!
#2 - Homemade dressings are less expensive
Store bought salad dressings can cost several dollars per bottle depending on brand.
Those dressings that are better for you and leave out artificial ingredients tend to cost more, ranging anywhere from $5-$10 a bottle.
Making a healthy homemade salad dressing costs a fraction of what the store bought will cost, saving you money on your grocery bill.
#3 - It's a kid-friendly kitchen project
Making a healthy homemade salad dressing requires minimal kitchen equipment and prep work, so it's a great project for little kitchen helpers to get involved with.
Kids can help measure dressing ingredients, taste for the ingredient ratios they like best, and whisk or shake ingredients together in a lidded jar.
#4 - Uses up leftover herbs
Whether you have a bunch of fresh herbs leftover from a recipe or a plentiful supply of garden grown herbs you're wondering what to do with, homemade salad dressing can help you use them up and minimize food waste.
#5 - Homemade dressings taste better
Ever purchased a bottle of salad dressing and felt underwhelmed at the flavor or consistency after you poured it on your salad? Your salad deserves better!
Making your own salad dressing will enable you to learn what ratios of ingredients (tangy vs mild, fruity vs herby, creamy vs vinaigrette) you like best.
Once you have that ratio figured out, you'll have a go-to salad dressing recipe for which the flavoring options will be endless.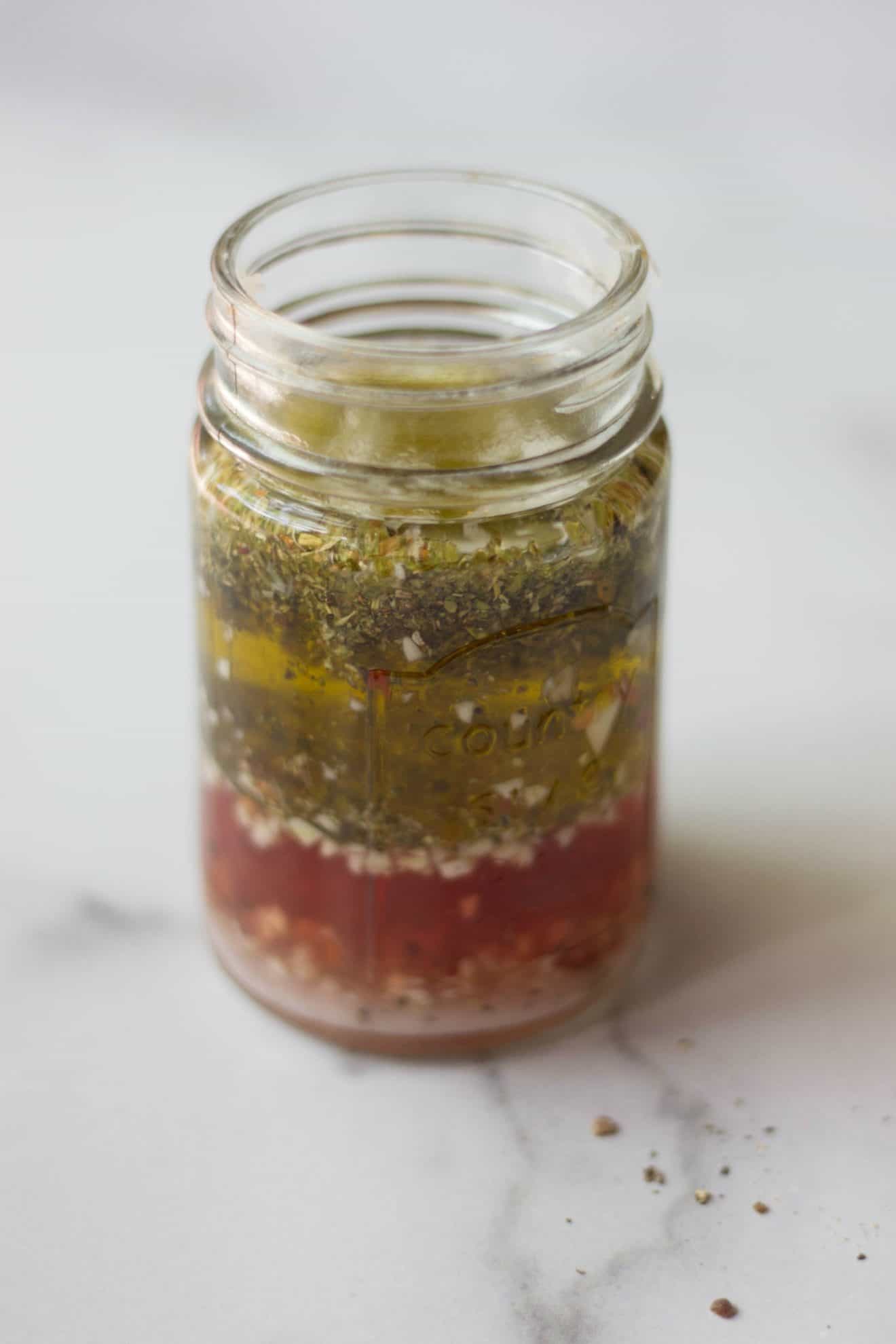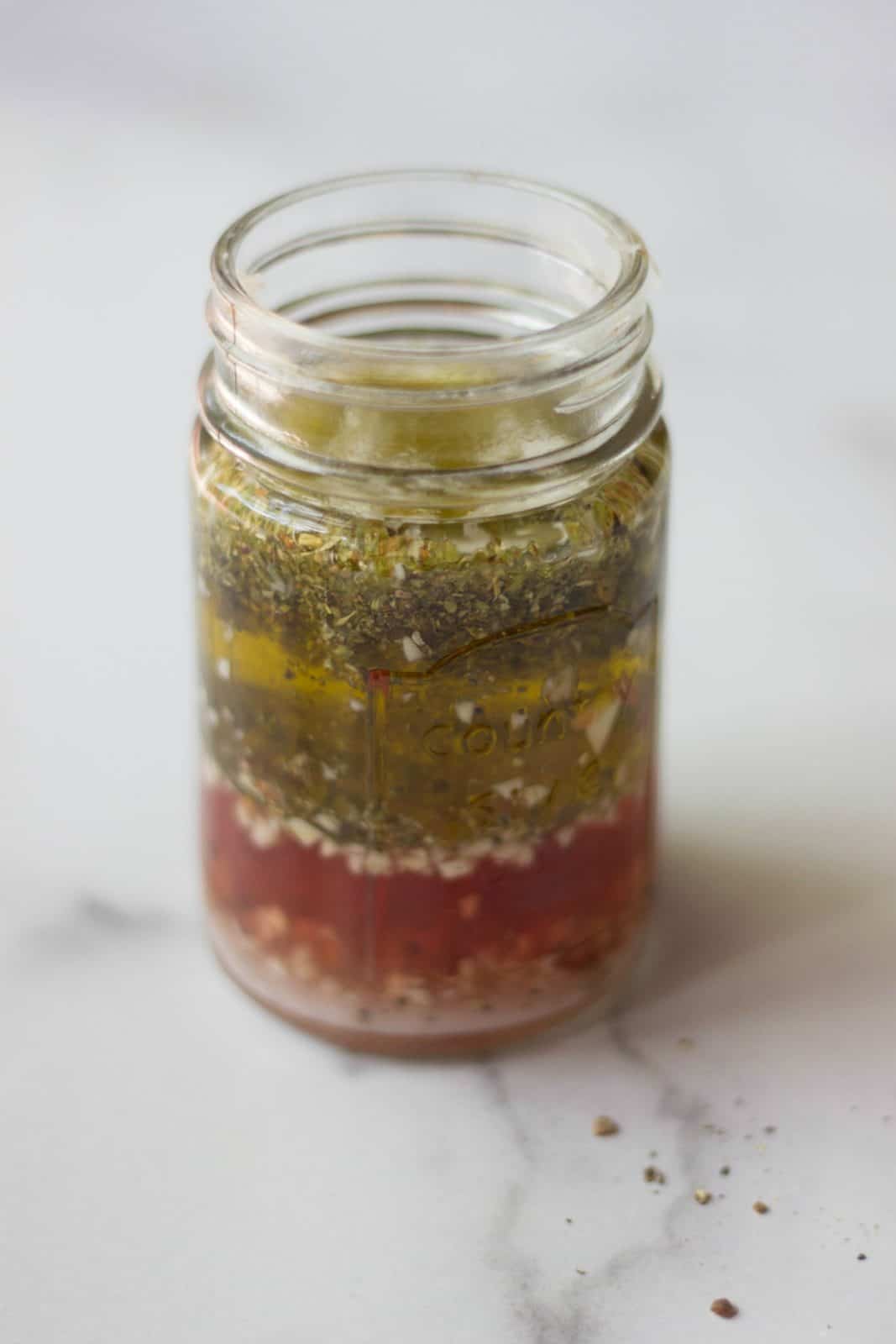 Two basic types of salad dressings
Oil-based vinaigrettes
If you prefer lighter dressings, you'll want to experiment with vinaigrettes first. 
The best thing about oil based dressings is that you can usually whip them up from staple pantry ingredients you already have on hand.
The most basic vinaigrettes are made from oil, vinegar, an emulsifier like Dijon mustard, and seasonings.
They can be made tangy, sweet, fruity, or even spicy.  Seasoning can be as simple as salt and pepper or a combination of fresh or dried herbs. 
A classic ratio to get you started making your own vinaigrettes is three parts oil to one part vinegar.
That means for every tablespoon of vinegar used, you would use three tablespoons of oil.
But rules are made to be broken, so by all means taste as you go to learn what ratio of oil and acid your taste buds like best.
A classic dressing like this balsamic vinaigrette can be used on a variety of salads.
Creamy salad dressings
You'll need some perishable items on hand to create a creamy dressing. Creamy dressing bases are typically made from thicker ingredients compared to oil.
You can make a creamy dressing, like Caesar, healthier by swapping in some olive oil.
A creamy dressing can be made from a base of plain yogurt (Greek or regular), sour cream, buttermilk, or mayonnaise, like this creamy lemon poppyseed dressing.
Not all creamy salad dressings have to include dairy, though. You can also make healthy creamy dressings from a base of healthy fat like avocado or nut butter, like this Asian inspired peanut dressing.
A bit of acid like vinegar or citrus juice helps cut through the richness of creamier salad dressings and, of course, seasonings are the key to a variety of flavors.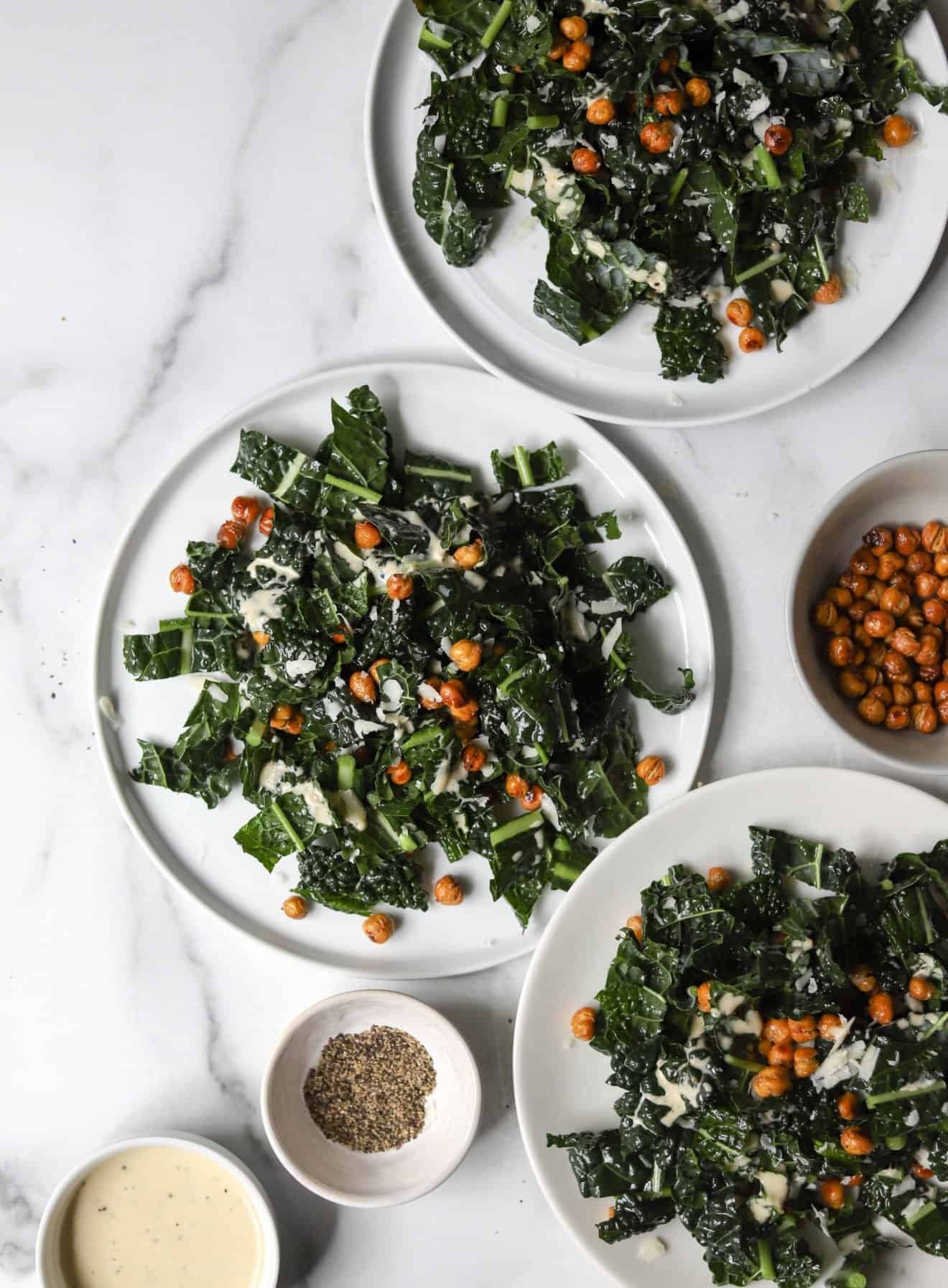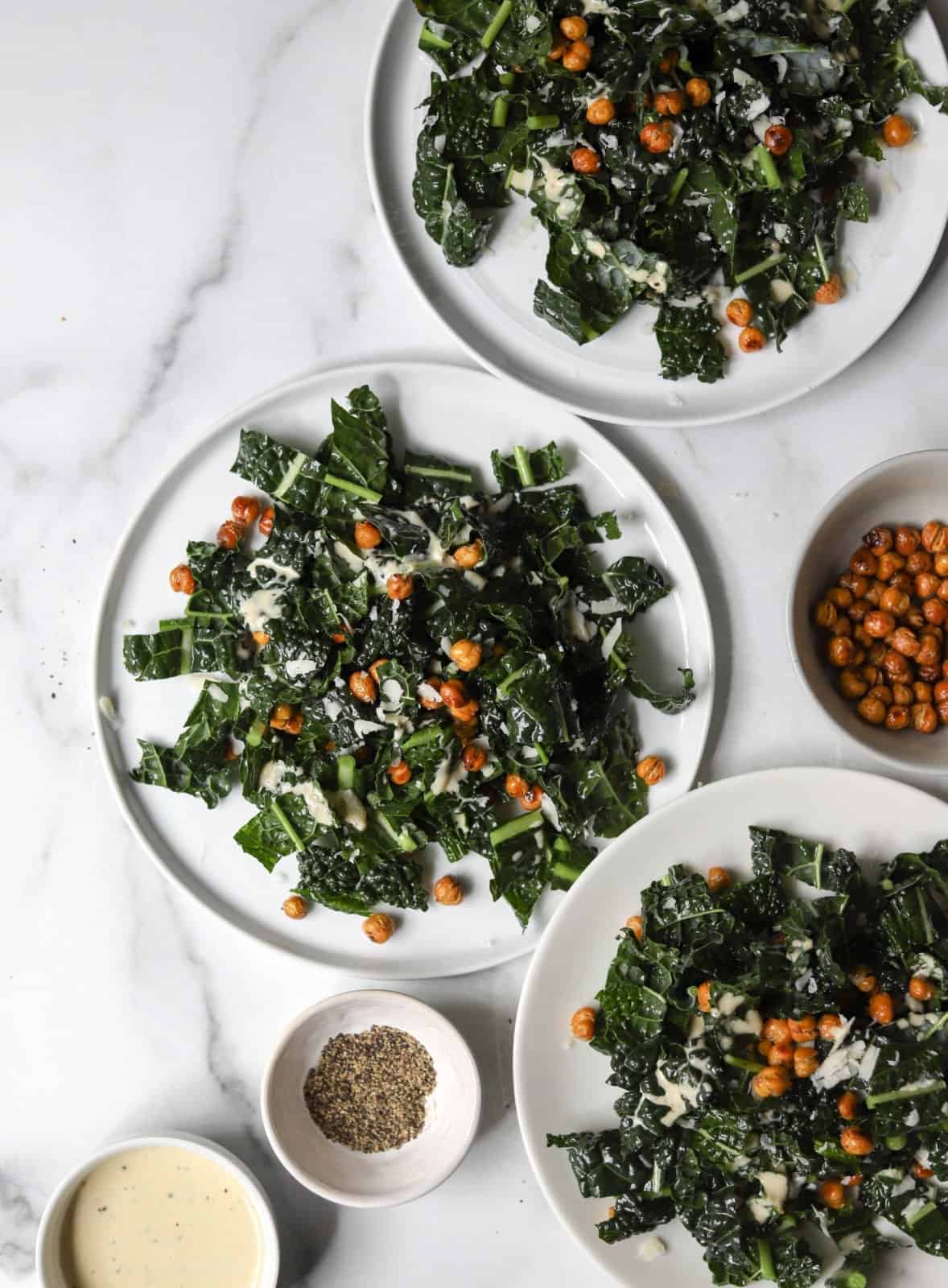 Ingredients you'll want to keep on hand to whip up a variety of dressings:
Oil: Although you can use any light tasting oil, olive oil is a classic salad dressing ingredient.

Olive oil contains heart healthy monounsaturated fats and antioxidants.
Avocado oil would also be a good choice for a salad dressing, as it's mild in taste and also contains heart healthy fats.
Vinegar: The type of vinegar you use in your dressing will determine flavor.
Mustard: Dijon mustard appears in many salad dressing recipes because it acts as an emulsifier.

Oil and vinegar do not mix, so the addition of mustard helps them blend together and stay that way.
Sweeteners: Sweeteners often appear in salad dressing recipes because they help balance out strong flavors of acidic ingredients and rich oils or creamy bases.

You can use honey, maple syrup, or even granulated sugar.
Honey also serves as an emulsifier to help oil and vinegar dressings blend together.
Fresh and dried herbs: When it comes to herbs, there really are no rules except to use whatever you have on hand.

If you opt for dried herbs, you'll want to make your salad dressing ahead of time to give the flavors a chance to develop.
Salt & pepper: If you use no other seasoning, a pinch of salt and freshly ground pepper will make a world of difference in your homemade salad dressings.

Start with just a pinch, taste, and adjust as needed.
Fruit: The juice and zest of citrus fruits like lemon and orange create wonderfully bright and tangy dressings.
Flavorings: Other ingredients you can use to flavor dressings include fresh garlic cloves, grated cheese such as Parmesan, fresh ginger, and Sriracha.
Making healthy homemade salad dressing is the easier, more cost effective, and tastier solution to store bought dressings.
With these tips and a bit of practice, you can create a variety of flavors to compliment all your favorite salads!
Print
Basic Italian Vinaigrette
A basic Italian vinaigrette dressing with olive oil, vinegar, garlic and dried herbs.
Author:
Prep Time:

5 mins

Cook Time:

0 mins

Total Time:

5 mins

Yield:

Serves 8

Category:

Salads

Method:

No-Cook

Cuisine:

Italian
¼ cup

 white and/or red wine vinegar

2 tablespoons

 freshly grated Parmesan cheese

1

 clove garlic, minced

1 teaspoon

 granulated sugar

1 teaspoon

 Italian seasoning

½ teaspoon

 coarse salt

½ teaspoon

freshly cracked black pepper

¼ teaspoon

 crushed red pepper flakes

⅓ cup

 olive oil
Instructions
In a largebowl, whisk together the vinegar, Parmesan, garlic, sugar, Italian seasoning, salt, black pepper and crushed red pepper flakes.
Slowly whisk in the olive oil until emulsified.
Taste and adjust the seasoning, if necessary.
Notes
Preparation Tip: Place all ingredients in a jar, secure the lid and shake until emulsified. Store in the refrigerator up to 7 days. Shake the jar again just before use.
Nutrition
Serving Size:

⅛ of recipe

Calories:

87

Sugar:

1g

Sodium:

143mg

Fat:

9g

Saturated Fat:

1g

Unsaturated Fat:

8g

Trans Fat:

0g

Carbohydrates:

1g

Fiber:

0g

Protein:

0g

Cholesterol:

1mg
Keywords: salad dressing, vinaigrette, Italian dressing, dressing