These copycat Starbucks egg bites are slow cooked in the oven, yet reminiscent of tender sous vide breakfast bites with ham, bell peppers and a flavorful egg base.
They're pretty darn close to the real thing, but you can make them at home with your favorite mix-ins, and for a lot less money.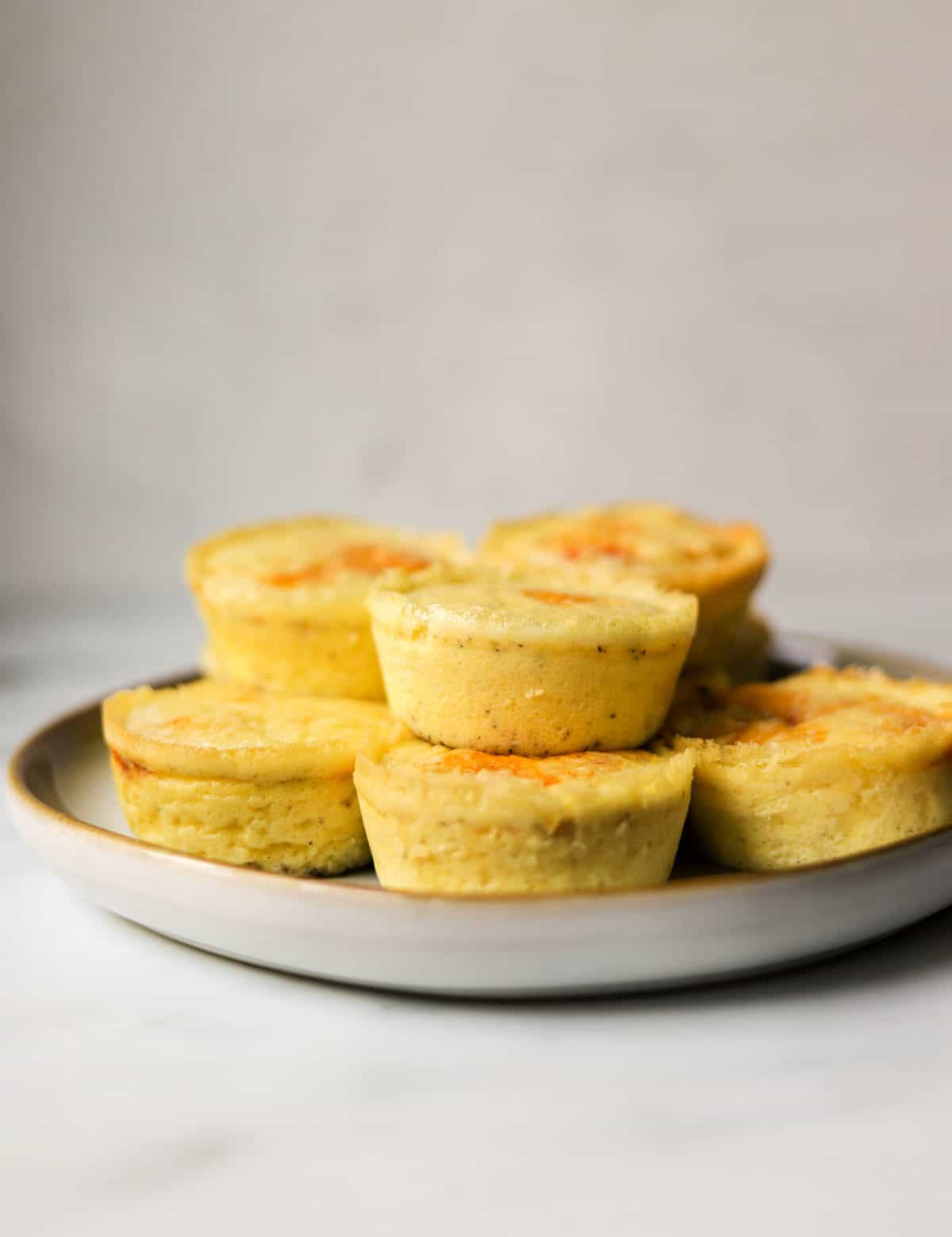 Step-By-Step Cooking Instructions
The steps are really simple and you'll invest 10 to 15 minutes of prep time to have breakfast all week!
Here's how to make the bites:
Preheat the oven. To make these 'sous vide' ish, I bake them at a bit of a lower temperature than normal egg muffins - 325 degrees Fahrenheit.

This will help them bake 'softly' and yield tender egg bites and make sure they're evenly cooked.
No we're not actually sous vide-ing these bites like Starbucks does because most people don't have a sous vide machine, so we're doing our best to yield tender egg bites by cooking them in the oven!

Prepare a water bath. Fill a baking dish ¾ full with water. Place it on the bottom rack of the oven.

This will add moisture to the oven while the egg bites cook to give them that sous vide-style finish.

Prepare the muffin tin. Coat a 12-cup muffin tin with cooking spray.

You can also brush them with melted butter or oil, if you'd prefer.

Saute the veggies. While the oven preheats, saute the veggies.

Heat the olive oil in a large skillet to medium.

Add any combination of veggies you have on hand or want to use in your cups. I like to saute them first to soften them and give them a bit of caramelization (i.e. FLAVOR!).
Once they're a little soft and the greens are wilted, they're ready to go!

Blend the base. Besides the lower cooking temperature, this is another feature of this recipe that helps these bites resemble the Starbucks sous vide egg bites.

The mixture is whirled in a blender! This incorporates air into the mixture, making the cups light and fluffy.
There are no streaky egg bits here, folks! In addition, the eggs get blended with Greek yogurt, cottage cheese or ricotta, which also provides a nice texture.
So go ahead and give the eggs, dairy of your choice and the spices a thorough trip in the blender.
As for spices, I use onion and garlic powder as well as mustard powder because they give a nice background flavor to the cups.
Feel free to add other spices and herbs as you wish.

Pour mixture into the muffin wells. Now that the egg base is ready, pour it into the prepared muffin tin, filling each well about ¾ of the way full.

Don't overstuff them, as you still need to add the veggies, breakfast meat and cheese!

Add the mix-ins. In this case we are using sauteed spinach and bell pepper (the spinach is an add-in, as the Starbucks version doesn't have spinach.

Why not make these cups more colorful?! So go ahead and spoon some of the veggie mixture into each cup.
And in this case, a little spoonful of diced ham.
Then, top each with shredded cheese (my favorite part).

Bake. Stick the pan in the oven and let the magic happen!

They'll take anywhere from 20 to 30 minutes to cook, depending on your oven.
The eggs should be just set (not jiggly or wet!) and only a little bit of browning on the edges.
Take them out and let them cool a little, then run a knife around the edges to help them release smoothly. And... DIG IN!

Discard the water bath. Pitch it!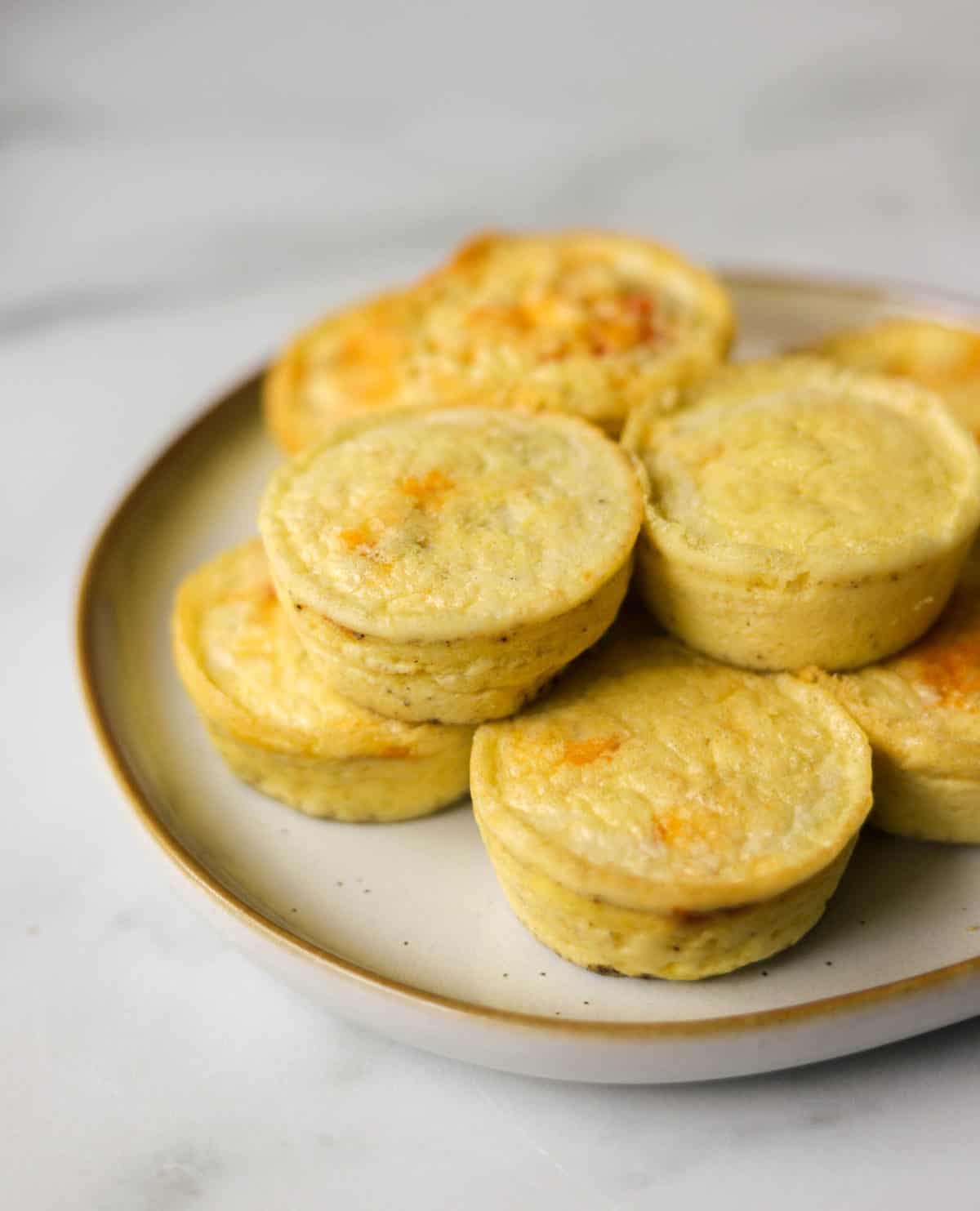 Recipe Substitution and Alterations
One of the perks of making your own copycat Starbucks egg bites is the ability to customize them to meet your taste and dietary preferences.
Veggie options: Starbucks uses bell peppers in their bites, and I really love that, so I stuck with it for this rendition.

But you can use any combo of veggies, like greens, mushrooms, onion or broccoli, for example.
As written in the directions, I suggest sauteing the greens, like spinach, kale, mustard greens or chard and the other diced veggies first to soften them a bit and give them a bit of caramelization.
More flavor is a good thing! You can also add in a scoop of frozen shredded hash browns, if you wish!

Meat options: You can use any variety of breakfast meat, such as ham, crispy bacon or chicken, turkey or pork sausage or chorizo.

You can saute the ham a bit before adding it to the mixture, if you'd like, so the edges are browned and crisp.
Be sure to cook the bacon or sausage before adding to the cups, for sure. You can also go meatless!
Starbucks makes a bell pepper and egg white cup that doesn't have any meat.

Cheese options: I am a huge fan of mild, white or sharp cheddar, Gruyere, gouda, Swiss, havarti, a Mexican blend or any other delicious shredded cheese you like.

These would even be great with crumbled feta or goat cheese. The cheese you choose will likely be dependent on what veggies, meat and spices/herbs you go with.
For example, a Mexican blend will go nicely with a mix of chorizo, bell pepper, onion, chili powder and smoked paprika.

Spice and herb options: Anything goes, friends!

Definitely add the mustard powder and onion and garlic powder, no matter what else you add to give the base a nice flavor.
But you can add chili powder, smoked paprika, cumin, Italian seasoning, Indian spices, and really any other spices and herbs you're in the mood for.
You can even stir in some chopped fresh herbs if you have them at home. Yum!
Nutrition Considerations
To make them vegetarian: Skip the meat! And add more veggies.
To make them dairy free: Skip the Greek yogurt, cottage cheese or ricotta and leave the cheese off. And voila - dairy free egg bites!
To make them gluten free: The main ingredients of the egg bites are gluten free, but check the labels of every product you buy to be sure they're gluten free. Then you're good to go!
Storage and Reheating Instructions
To store in the refrigerator: Place the bites in an airtight container and refrigerate up to 5 days.

Reheat in the microwave for 30-60 seconds on high or until heated through.

To store in the freezer: Place the bites in an airtight container and freeze up to 2 months.

Reheat in the microwave for 60-90 seconds on high or until heated through.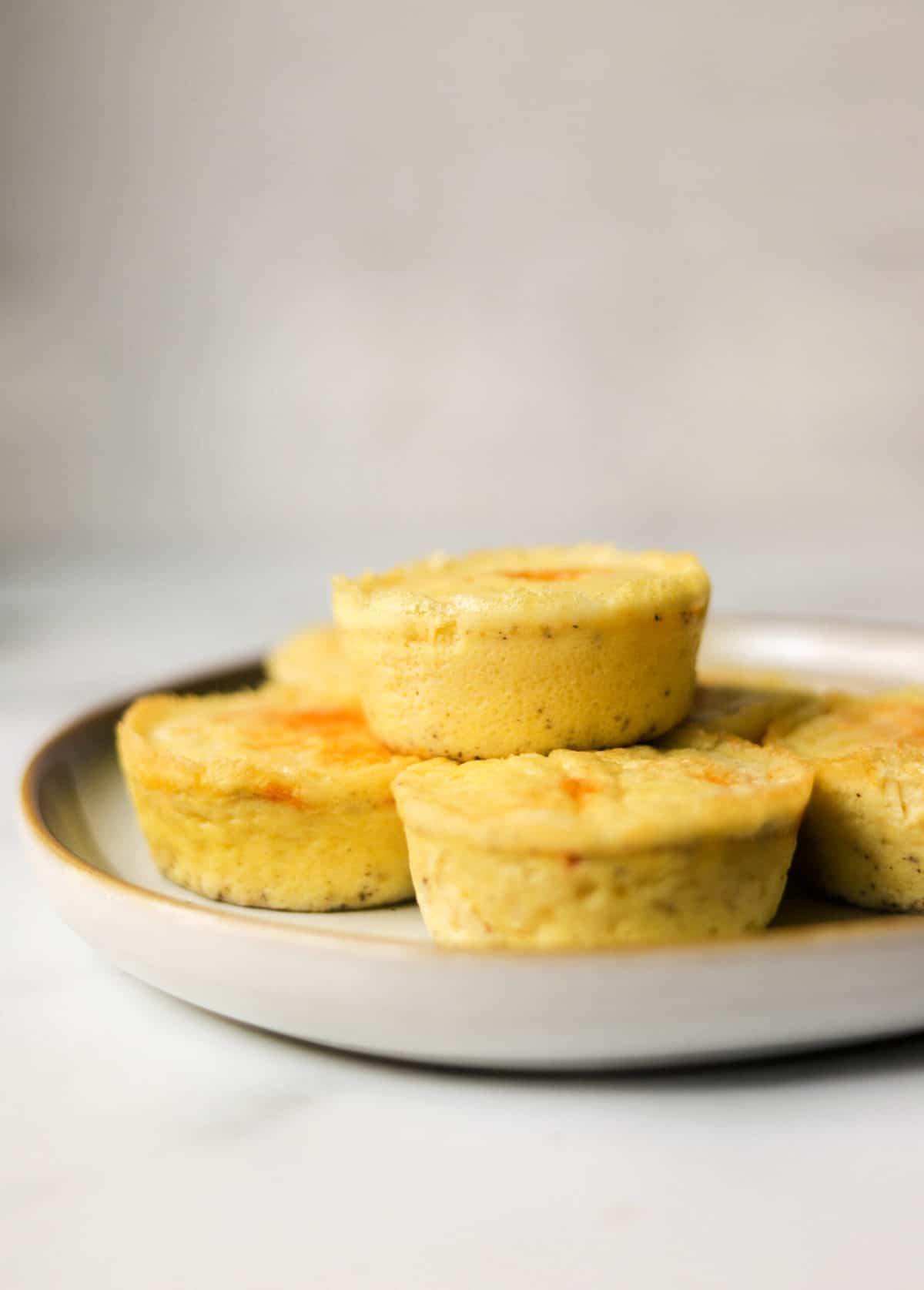 What can I pair with the egg bites to make a balanced meal?
You can certainly enjoy these copycat Starbucks egg bites all by their lonesome because they contain a good amount of protein, fat and veggies.
But if you want to get a bit more fiber in with breakfast, you can certainly do that.
Fruit. Adding a side of fruit to breakfast is never a bad thing.

Fruit provides fiber, vitamins, minerals and antioxidants!
I like to do a mix of berries, pineapple, mango and kiwi. Or you could enjoy an apple, pear, orange or a few clementines.
The sky is the limit with fruit options!

Potatoes. Potatoes are a good source of fiber and potassium and are the perfect breakfast accompaniment.

Go for hash browns, American fries or good ol roasted sweet potatoes, my friends.
I highly suggest my recipe for crispy breakfast potatoes, just sayin'.
Do I save money by making my own egg bites?
Don't get me wrong, I LOVE Starbucks sous vide egg bites.
And I won't lie - making them in the oven isn't exactly the same. But, they're pretty darn close.
The cost adds up really quickly, plus its easier to make a big batch at home to reheat throughout the week. Here is the comparison:
2 egg bites at Starbucks: $4.45
2 egg bites made at home: $0.81 (!!!!!) You can make a batch of 12 egg bites for $4.86 at home!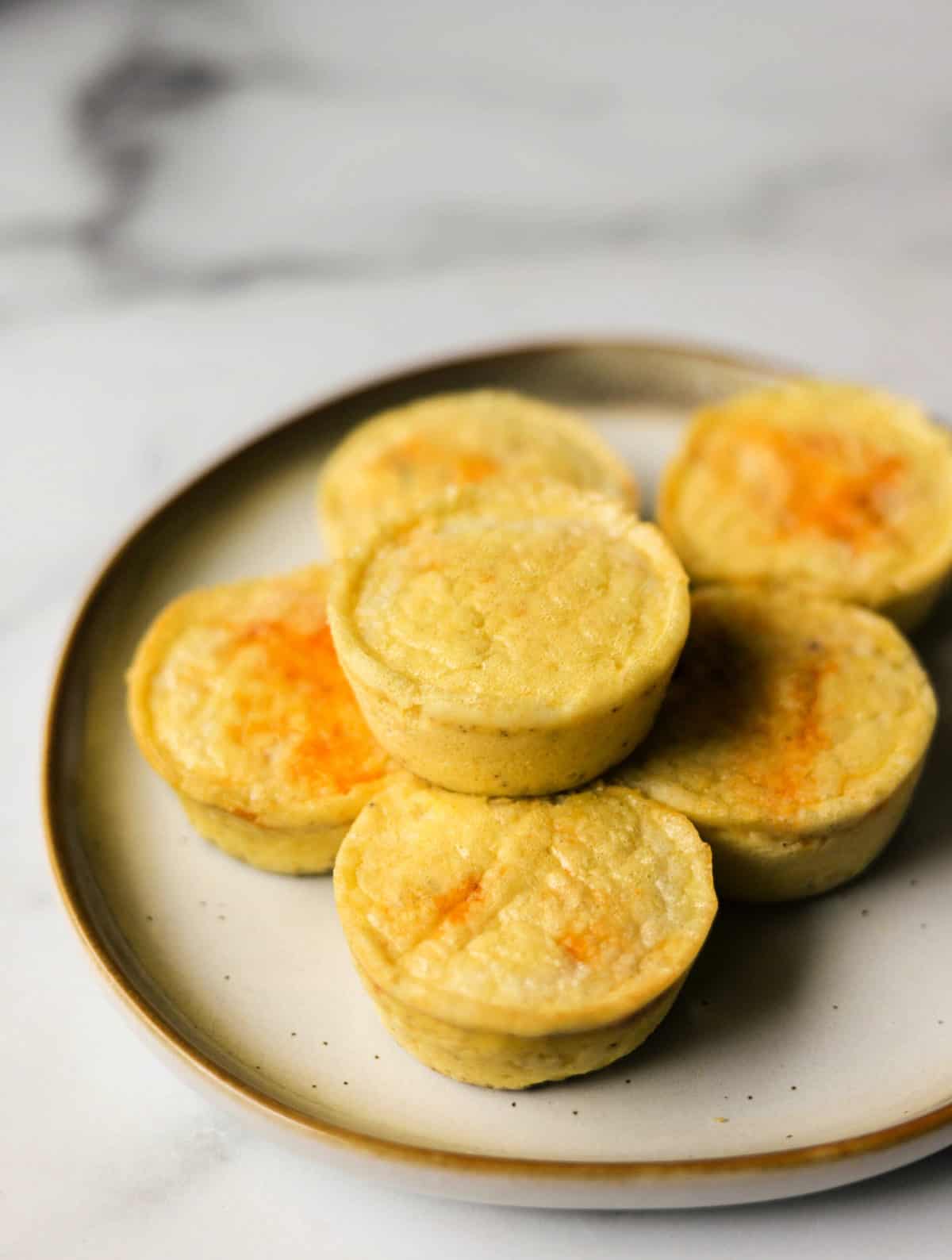 More Delicious Egg Recipes:
Print
Copycat Starbucks Egg Bites
Easy baked Copycat Starbucks egg bites with bell pepper and ham. Save money and customize your egg bites by making them at home!
Author:
Prep Time:

10-15 mins

Cook Time:

18-25 mins

Total Time:

28-40 mins

Yield: Makes

12

bites

1

x
Category:

Breakfast, Brunch

Method:

Baking, Stove-Top

Cuisine:

American
1 teaspoon

olive oil

½

medium red bell pepper, seeded and diced

2 cups

fresh baby spinach, chopped (optional)

8

large eggs

½ cup

plain Greek yogurt, cottage cheese or ricotta

1

-

1 ¼

 teaspoons coarse salt

1 teaspoon

onion powder

1 teaspoon

garlic powder

1 teaspoon

mustard powder

½ teaspoon

ground black pepper

½ cup

diced ham

¼ cup

shredded Gruyere or white cheddar
Instructions
Preheat the oven to 325 degrees.
Fill a baking dish ¾ full with hot water. Place it on the bottom rack of the oven as soon as you turn it on. (This will add moisture to the oven while the egg bites cook to give them that sous vide-style finish.)
Meanwhile, heat the olive oil in a large skillet to medium. Add the bell pepper and spinach (if using) and sauté 2-3 minutes or until the peppers are slightly soft. Set aside.
Place the eggs, Greek yogurt, cottage cheese or ricotta, salt, onion powder, garlic powder, mustard powder and black pepper in a blender. Puree until smooth.
Coat a 12-cup muffin tin with cooking spray. Pour the egg mixture into each of the muffin cups, filling about ¾ of the way to the top.
Spoon a small spoonful of the pepper mixture and the diced ham into each cup. Top each with shredded Gruyere or white cheddar.
Bake 20-25 minutes or until egg is set. Let slightly cool, then run a knife around the edge of each muffin and carefully remove from the muffin tin cup. Serve immediately or let cool and store in airtight containers in the refrigerator up to 5 days or the freezer up to 2 months.
Discard the water from the water bath.
Notes
Cooking, Storage and Substitution Tips: See the blog post for tips!
Nutrition
Serving Size:

1 bite

Calories:

78

Sugar:

1g

Sodium:

259mg

Fat:

5g

Saturated Fat:

2g

Unsaturated Fat:

3g

Trans Fat:

0g

Carbohydrates:

1g

Fiber:

0g

Protein:

7g

Cholesterol:

129mg
Keywords: egg cups, egg muffins, breakfast, brunch, sous vide, meal prep