Ever wonder what the Mediterranean way of eating is all about?
If your answer is yes, you've come to the right place! I've rounded up over 90 of the BEST Mediterranean recipes, so you have plenty deliciousness to try.
I've also outlined the ins and outs of the typical foods consumed in the Mediterranean region, why their diet and lifestyle is one of the world's healthiest and how to emulate that, no matter where you live.
What is the Mediterranean Diet?
The Mediterranean Diet comes from the region surrounding the Mediterranean sea.
It's based on the traditional eating habits of the people who live in the area and is widely recognized to be one of the easiest and healthiest eating patterns to follow by health professionals, including dietitians.
The main components of the Mediterranean diet
Fruits + vegetables: A driving factor of this eating pattern, fruits and veggies make up a large portion of the diet since it is heavily plant-based.

A variety of produce is encouraged such as olives, tomatoes, peppers, onions, potatoes, grapes, citrus fruit, cucumbers and more!

Whole grains: This can include brown rice, oats, whole grain pasta and breads, buckwheat, and others.

Whole grains make a great base for meals or as a healthy snack!

Beans + legumes: You'll see more beans and legumes in the Mediterranean Diet than meat, and especially red meat.

Any types of beans work as well as chickpeas, peas, and lentils.

Healthy fats: A variety of foods can contribute to this category like nuts, seeds, and extra-virgin olive oil.

While seafood and fish are their own category, fatty fish can count as healthy fats as well. Olive oil can be used in some cooking and in salad dressing.
Nuts and seeds can be added to snacks or as toppings, and fatty fish can be a great protein source to round out a meal.

Fish + seafood: One of the primary protein sources in the Mediterranean diet, fish and seafood also bring in a ton of heart- and brain-healthy nutrients like omega-3s.
There's always room for traditional Mediterranean desserts, too!
Mediterranean Breakfast Recipes
A North African dish of eggs poached in fragrant harissa, red pepper and tomato sauce topped with black lime-infused feta and fresh parsley.
This shakshuka with feta is the perfect brunch recipe or easy one-pan dinner.
Give your breakfast an upgrade with this easy Mediterranean-inspired sweet potato hash recipe featuring fresh veggies, poached eggs, and warm spices!
A delicious soft dough topped with cheesy goodness and Za'atar with a hot cup of tea for breakfast.
This Lebanese manakish recipe is so easy to make and I guarantee you'll be so impressed by your own dough and manakish making skills once you try it.
Try these other Mediterranean breakfast recipes
Mediterranean Appetizer Recipes
Creamy labneh dip with spicy burst cherry tomato sauce infused with harissa, maple syrup and balsamic vinegar is the perfect no-fuss appetizer for summer entertaining.
The delicious stovetop sweet-and-spicy-tomato sauce only takes 15 minutes to prepare!
Muhammara is a delicious red pepper and walnut dip common in Turkish and Lebanese cuisine.
It is savory, sweet, spicy and acidic with a wholesome walnut crunch.
My version uses jarred red peppers for the ultimate quick and easy Middle Eastern dip.
Mezze Platter
This mezze platter is perfect for serving a crowd!
Filled with fresh veggies, pita, and assorted spreads and dips, it offers a little something for everyone.
These Greek olives are marinated in garlic, orange, oregano, red wine vinegar and chili flakes.
Serve with feta as an appetizer or as part of a mezze platter.
Try these other Mediterranean appetizer recipes
Mediterranean Salad Recipes
This Mediterranean tomato cucumber salad is an easy summer salad recipe that comes together in less than 15 minutes.
It is perfect for a simple and light lunch. Toss with an olive oil balsamic dressing for extra flavor.
Love a loaded falafel wrap but can't be bothered to cook all the elements separately?
Then this chopped falafel salad is going to become your best friend. Cut your cooking time in half with this easy recipe.
Tomato and cucumber tahini salad is a simple yet satisfying and refreshing side.
Cubed fresh veggies tossed with a generous splash of olive oil and a creamy lemon tahini dressing are the perfect accompaniment to other Middle Eastern dishes.
You've never had a Mediterranean kale salad like this one!
It leaps out of the salad bowl with Mediterranean flavors! Big bold and briny olives, sweet tomatoes, salty feta, and crisp cucumber make this the perfect summer evening meal!
An easy, simple, nutritious and delicious mediterranean recipe for chickpea & tuna salad that comes together in just 10 minutes!
It's made mostly out of pantry staples, like canned tuna and chickpeas, kalamata olives, jarred artichokes, olive oil and vinegar, with a few fresh ingredients mixed in.
Try these other Mediterranean salad recipes
Mediterranean Soup Recipes
If you're looking for an easy 1-pot red pepper and lentil soup, you've found it! Any red pepper lover will love this thick, creamy and smokey soup.
It's made with caramelized peppers, tomato paste, vegetable broth and red lentils.
There are a million copycat recipes out there for your favorite Tuscan soup, Zuppa Toscana. But the truth is, THIS version is going to be your new favorite.
And that's because it has all of the ingredients and flavors we know and love - spiced Italian sausage, hearty kale, al dente Yukon golds and a creamy Italian seasoned broth - but it's a little lighter and lots tastier than the OG.
This Italian lentil soup (Zuppa di Lenticchie) is hearty, nourishing, and easy to make and will frequently turn to because it contains simple ingredients you may already have on hand.
With protein-rich lentils, traditional Italian herbs and vegetables, it is nutritious and comforting, as well as being budget friendly.
Try these other Mediterranean soup recipes
Mediterranean Vegetarian Main Dishes
This homemade crispy falafel pita sandwich has lots of fresh herbs, golden brown falafel balls, and creamy hummus packed inside fluffy soft pita bread.
Served hot or cold, this recipe makes a delicious vegan lunch or an easy weeknight dinner.
Roasted cauliflower with tahini sauce is a flavour-packed side that pairs perfectly with any Middle Eastern or Mediterranean-style main meal.
Or serve golden cauliflower florets and creamy tahini sauce with pita and salad for a plant-based dinner.
These easy chickpea patties are crispy on the outside, tender on the inside, and ready in 30 minutes!
They're well-seasoned and air fried or baked until golden perfection and packed with plant-based protein and fiber!
Try these other Mediterranean vegetarian main dish recipes
Mediterranean Seafood Main Dishes
This 10-minute Sheet Pan Mediterranean Shrimp recipe features lightly seasoned shrimp and colorful vegetables all cooked on the same pan.
With maximum flavor and minimal effort, it's perfect for quick, easy, and healthy weeknight dinners!
Mediterranean Baked Cod with burst cherry tomatoes, fennel, and fresh basil.
This simple, one-pan meal is light, nutritious, and ultra flavorful.
This Mediterranean salmon skillet meal features pan-seared salmon, burst cherry tomato couscous, and an olive-pistachio salsa.
Made in one pan in right around 40 minutes, this salmon dinner is equal parts nutritious and delicious.
Try these other Mediterranean seafood recipes
Meaty Mediterranean Main Dishes
These Greek lamb meatballs are made of spiced ground lamb formed into tasty little balls and roasted to perfection.
They're juicy, golden brown, crispy-on-the-outside, and melt-in-your-mouth-inside.
As an added bonus, these lamb meatballs are made even better served as a gyro wrapped up in a toasted whole grain pita and topped with homemade mint pesto and coconut milk tzatziki!
Al faham chicken, or charcoal chicken, perfectly blends smoky grilled chicken with aromatic Middle Eastern spices.
This meal is perfect for any casual gathering or backyard barbecue.
Moussaka is a labor of love, there's no two ways about it. There's a fair few steps, but once you get in the swing of things it truly couldn't be easier to make.
There's also a fair few different ways to make Moussaka, but today I'll show you what I deem to be the most delicious way!
Try these other meaty Mediterranean main dish recipes
Mediterranean Pasta Recipes
This vegan Mediterranean pasta dish is a simple way to serve ripe summer vegetables.
The ratatouille sauce is made with flavorful eggplants, zucchini and fresh tomatoes. Add a little bit of olive tapenade for an additional Mediterranean touch.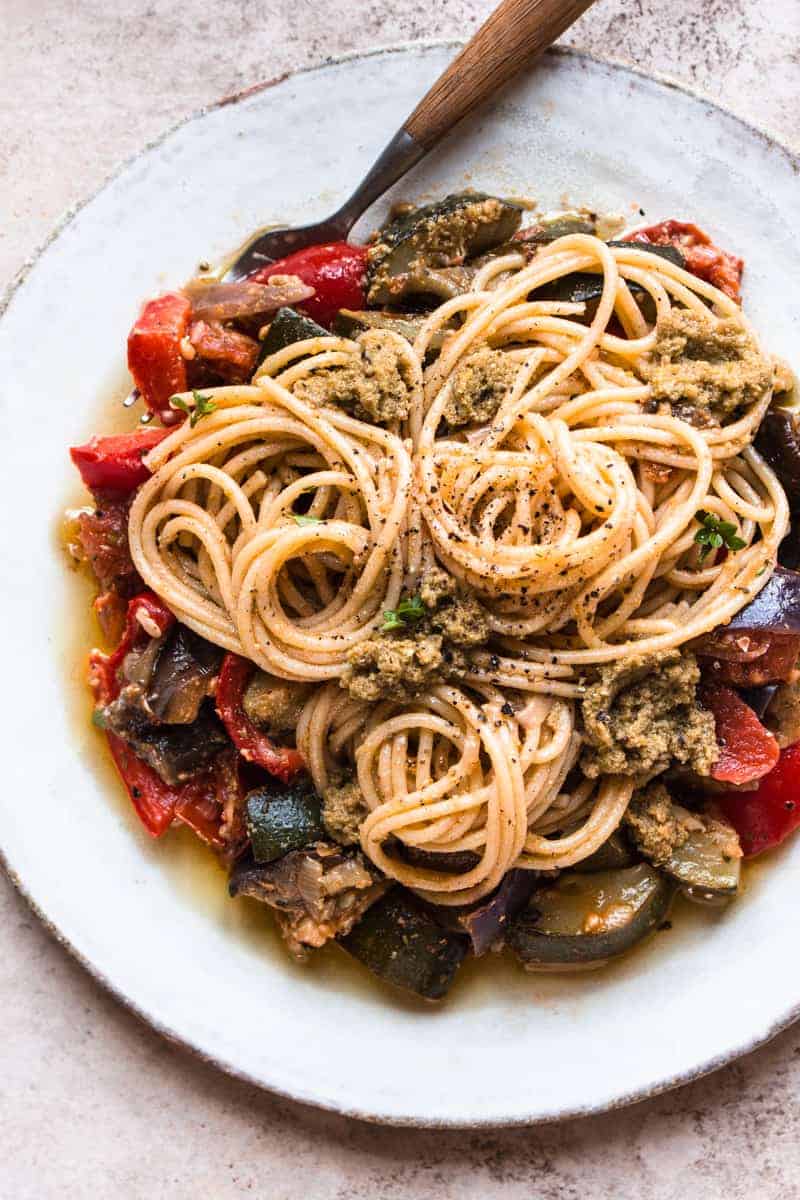 This healthy Mediterranean Pasta is filled with burst tomatoes, creamy feta cheese, lemon, and fresh herbs.
So quick and easy to throw together, it's the ultimate weeknight Mediterranean spaghetti.
Try these other Mediterranean pasta recipes
Mediterranean Side Dishes
This Mediterranean roasted eggplant recipe is unique and delicious!
A Mediterranean spice blend seasons caramelized roasted eggplant pieces, which are then topped with a creamy tahini sauce and chopped dates.
This is the only way you'll want to eat white beans from now on. They are soft and lemony with the perfect combination of spices.
You can serve this vegan white bean recipe as a side or add some grains to make it a nutritious lunch or dinner.
Kolokithokeftedes, also referred to as Greek zucchini fritters or zucchini balls, are a delicious appetizer, snack, side or addition to a Greek mezze platter.
Made with fresh ingredients like zucchini, mint, scallions and feta cheese, it's impossible to just eat one – especially when dipped into creamy tzatziki!
Try these other Mediterranean side dish recipes
Mediterranean Condiments and Sauces
Sumac marinated red onions are a deliciously tart and lemony Middle Eastern condiment.
Serve it as a side dish for grilled meats, stuff it into pita sandwiches or gyros, add it to mezze platters, or use it to top salads.
Try these other Mediterranean condiment and sauce recipes
Mediterranean Dessert Recipes
This Greek Baklava recipe makes a crispy and impressive sweet dessert!
With walnuts and cinnamon layered between flaky phyllo dough brushed with melted butter, it's baked and then drizzled with sugar and sweet syrup!
This traditional Italian tiramisu is made with layers of boozy coffee-soaked ladyfingers and creamy vanilla-infused mascarpone cheese.
One bite and you'll understand why this recipe is such a timeless classic.
This delightful olive oil rosemary cake is soft, moist, and created without butter.
The subtle addition of fresh rosemary is warm and inviting. A touch of lemon zest and juice adds freshness and balance.
Delicious and easy to make Lebanese rice pudding aka riz bi haleeb is a fragrant and creamy dessert.
Flavored with orange blossom, naturally sweetened and gluten free using dairy free milk.
This elegant chocolate olive oil cake is the easiest, most delicious way to get a hit of chocolate on a whim.
Because you already have (almost) all the ingredients, requires only one bowl, it will become a go-to chocolate recipe in your kitchen! Shall we?
Try these other Mediterranean dessert recipes
The Lifestyle of the Mediterranean
While the food and nutrition component of the Mediterranean lifestyle is important, the health of the Mediterranean people is also attributed to many other lifestyle habits.
In general, they tend to enjoy life at a slower, more intentional pace.
This includes a bigger focus on mindful eating at meals, which are usually home cooked and can last an hour or two (or more!).
Food is celebrated as something to enjoy, savor and connect over with loved ones, often with red wine as the drink of choice.
In addition, natural ways of movement are incorporated throughout their day, like walking whenever possible.
All of this is truly part of a lifestyle, meaning no calorie counting or over-planning each move. It's just a part of their daily "normal".
While we may not always be able to model their way of living, we can all certainly take away some tips from the people of the Mediterranean region.
Written by Anna Pashkova, MS, RDN, LD, ACSM-EP / Written and Reviewed by Chef Julie Andrews, MS, RDN, FAND