Breakfast is the most important meal of the day, right?
I'd argue that all meals are important, but it's definitely wise to start the day off with a protein- and fiber-filled breakfast with loads of color!
We've rounded up 75+ of the best smoothies, oatmeal, chia pudding, pancakes, waffles, egg dishes, potatoes, granola, cookies, toasts and muffins that are both heart-healthy AND delicious!
There's breakfast for everyone on this list.
What makes a breakfast heart-healthy?
Nutrients like fiber, fat, vitamins and minerals can make a positive impact on your health.
Other nutrients, like trans fats, (too much) sodium and sugar can be harmful if consumed in excess.
Use these tips and recipes for making the ultimate heart-healthy breakfast!
Fiber: Fiber is a compound found in plant foods that goes through your system undigested and has been linked to lower risk of heart conditions (among other health benefits).

Include lots of plant foods in your diet, such as fruits, vegetables, whole grains, beans, legumes, nuts, seeds, flax, chia and oats.
Adults should aim for 25-35 grams of fiber per day, from a variety of sources.
An easy way to get more fiber in your diet is to swap refined grains for whole grains (most of the time) and make half of your plate vegetables and fruits for each meal (even breakfast!).

Type of fat: The main fat sources in your diet should be from fats rich in monounsaturated fats and omega 3s.

Choose extra virgin olive oil and avocado oil as your main cooking fats. It's okay to occasionally use other fats like real butter and coconut oil, but they shouldn't be your main sources of fat.
Include fatty fish in your diet - they're rich in omega 3s! Grab salmon, lake trout, albacore tuna and sardines, to name a few.

Walnuts, flax, chia and canola oil are also rich in omega 3s (ALA).

Breakfast is the perfect place to add in some nuts and seeds, which are rich in heart-healthy fats (and vitamins and minerals!).
Add avocado! Mash it and spread it on toast, slice and serve it with eggs or mix it into baked goods. The possibilities for monounsaturated fat-rich avocado are endless!
Skip the trans fats (partially hydrogenated oils) and limit saturated fats.

Vitamins and minerals: The easiest way to amp up the vitamin and mineral content in your diet is to add COLOR! As they say, eat the RAINBOW!

Aim for each meal to have at least 2 colors in it and each snack at least 1 color. The more the merrier!
Minerals like potassium are crucial for heart health, for example, as it helps regulate blood pressure.
Foods like sweet potatoes, white potatoes and bananas are full of potassium.

Protein: An important macronutrient for so many bodily functions, including helping you stay full and satisfied and help regulate blood sugar.

Be sure each meal and snack has a source of protein, such as eggs, meat, seafood, dairy, beans, legumes, nuts, seeds or tofu, to name a few.

Lower sugar: Keep sugars in check by limiting the amount of added sugar in your diet.

Opt for water, unsweetened coffee or tea and other unsweetened beverages instead of sugar-sweetened beverages and soda.
Eat smaller portions of desserts and other sugar-rich foods.
When baking, use less sugar or try a natural sweetener like stevia or monk fruit extract instead.

Keep an eye on salt: Adding some salt to your food when cooking is fine (you need sodium in your diet!).

But adding too much salt and/or eating highly processed foods that are rich in salt can be harmful for your heart.
Cooking mostly from scratch is a great way to control how much salt you consume.
Now that we've discussed the details on heart-healthy nutrients and foods, let's eat!
Here is a compilation of my favorite heart-healthy breakfast recipes.
Smoothies and Smoothie Bowls
Smoothies are arguably the easiest and quickest breakfast option, with endless concoctions and possibilities.
You can pack a ton of produce into a smoothie or smoothie bowl and never get bored!
Get ready for a refreshing treat that'll make your taste buds spark joy.
It's a simple banana peach smoothie made with Greek yogurt, milk and honey, and it's delicious.
Creamy, naturally sweet, and exploding with vitamin C and antioxidants.
This smoothie is a perfect heart-healthy breakfast option and only takes 10 minutes to prepare!
The best green smoothie recipe is made with a simple combination of fresh fruits and veggies including sweet mango, peach, and nutritious spinach.
Healthy and refreshing, green smoothies are perfect for breakfast or as a post-workout snack.
This vegan hibiscus coconut yogurt bowl is the perfect quick morning meal!
This gluten-free and refined sugar-free breakfast bowl takes just a few minutes to prepare, but it's also healthy and delicious.
These beautiful green smoothie bowls are a tropically delicious and healthy breakfast to kickstart your day (and with just FOUR ingredients!).
Plus you can customize them in so many ways!
Also try these smoothies and smoothie bowls:
Breakfast Toasts
We've been eating toast for breakfast for ages, but why not change it up a bit with some fun and nutritious toppings?
We're talking salmon, avocado, eggs, greens and herbs. There are a ton of ways to spice up a slice of toasty whole grain.
If you are looking for an easy but delicious avocado toast, look no more. This avocado toast with grilled salmon is the only toast you need in your life.
A slice of whole grain toast rubbed with garlic and juicy ripe tomatoes, then anointed with olive oil. So fresh!
This is the perfect recipe to make when you don't have a lot of time to cook but still looking for something delicious, healthy, and nutritious for breakfast.
Also try these breakfast toast ideas:
Muffins
Muffins are the ultimate breakfast baked good and there are tons of ways to pack them with fiber (we're looking at you whole grain flour, oats, bran, fruits and veggies).
These muffins will get you started on the right foot, that's for sure!
Your search for the BEST bran muffins ends here!
These are so flavorful, ultra moist and healthier than most muffin recipes with extra fiber and protein.
These fluffy banana muffins are everything you want them to be.
They're tender and fluffy on the inside, and topped with a crunchy buttery topping that's bound to please all of the muffin lovers in the house!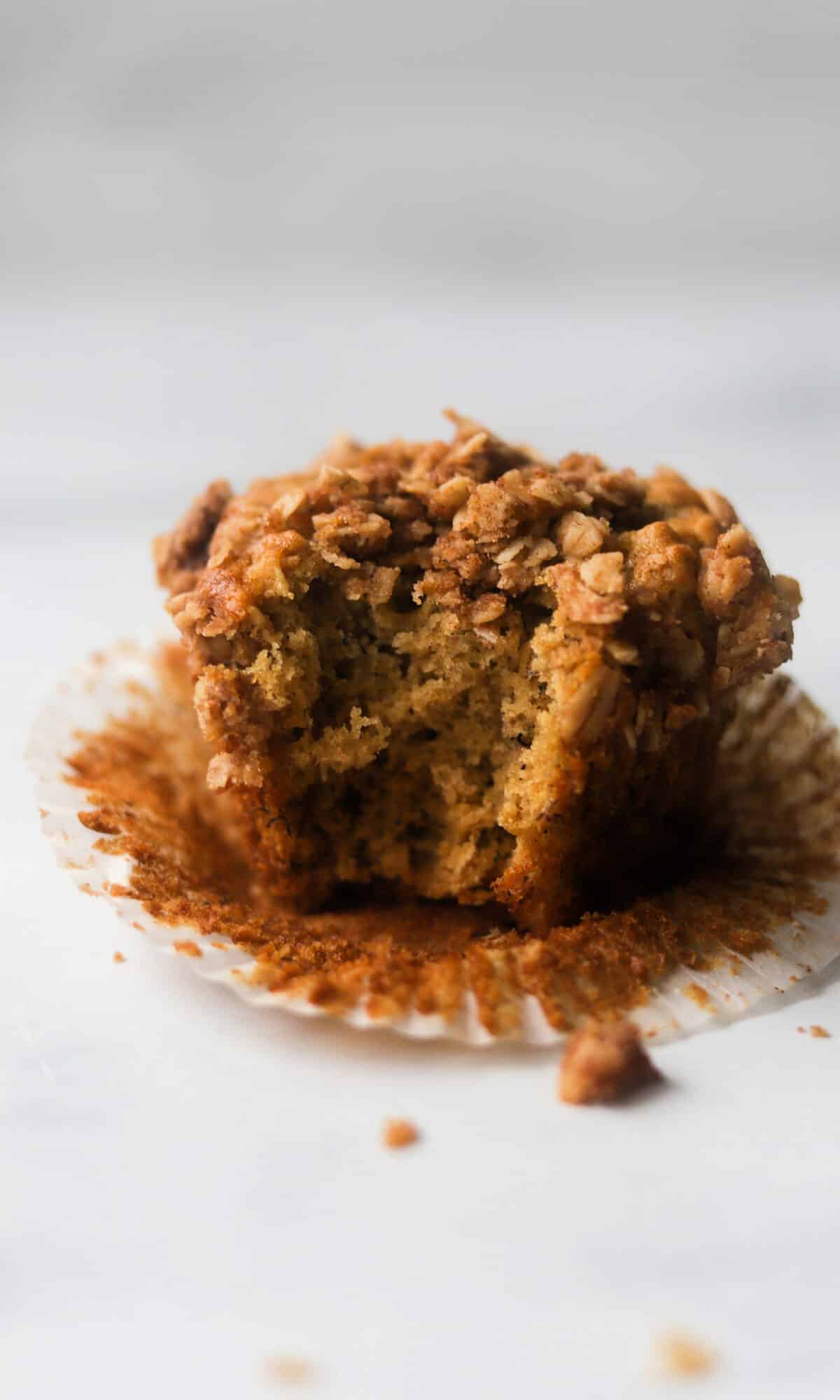 Also try these muffin recipes:
Oatmeal, Baked Oats and Overnight Oats
Oats are quite possibly one of the most nutritious breakfast foods! They're filled with fiber, vitamins and minerals, all important for heart health.
We like them baked, cooked on the stove or soaked overnight.
These peanut butter and jelly overnight oats are practically hands off, loaded with flavor, and irresistible to everyone in the vicinity.
This is the definition of the perfect on-the-go breakfast!
Did you know you can make overnight oats with water? No milk or yogurt required.
They're a fantastic option for those who are lactose intolerant, vegan, or just looking for a lighter alternative to traditional oatmeal.
Meet apple pie overnight oats - an easy and absolutely scrumptious make-ahead breakfast!
The vanilla maple overnight oats take just minutes to whip up and the sauteed cinnamon apple pie topping is to-die-for.
Make your mornings a breeze with a delicious batch of chocolatey oats.
It takes just 5 minutes to prep without any cooking — just combine and chill. It's the perfect grab-and-go meal to keep you going until lunch.
If you love a hot breakfast then you'll love this simple recipe made with a few pantry ingredients and regular oatmeal.
The best part is that produces a cake-like texture. Enjoy this delicious breakfast or snack in less than 30 minutes.
Ever tried savory oatmeal before? You need to try this delicious cheesy oatmeal that's topped with the perfectly fried egg! Ready in less than 10 minutes!
Try these other oat recipes:
Chia Pudding and Yogurt Parfaits
Chia seeds soaked in milk or yogurt make for a dreamy pudding that's filled with fiber and omega 3s!
Mix in your favorite extracts, natural sweetener and fruit to make for an easy make-ahead breakfast!
Get ready for my chocolate raspberry oatmeal chia pudding...
When you can't choose between chocolate overnight oats and raspberry chia pudding, have both - in a parfait!
This chia pudding recipe is a fun and tasty breakfast, or healthy mid-afternoon snack.
Packed with healthy ingredients, the jam gives a special touch of extra sweetness. A vegan, gluten free and low histamine breakfast idea.
This easy banana chia pudding is SO simple to make with just 4 ingredients!
Everything comes together in a jar so all you have to do is shake it up and let it sit in the fridge.
This recipe for chia pudding is made with nut milk, matcha, avocado, and chia seeds for the ultimate thick and creamy chia seed pudding!
A great breakfast or healthy snack filled with healthy fat, protein, and carbs. Quick and easy and delicious!
Try these other chia pudding recipes:
Granola and Muesli
The best homemade breakfast cereal is made with loads of oats, nuts, seeds and dried fruit.
Toss in your favorite flavorings (dark cocoa powder and vanilla extract, I'm looking at you!) and you'll have a satisfying breakfast prepped for the week!
Homemade granola made with fresh quality ingredients is the perfect breakfast cereal and is great in yogurt parfait bowls, granola bars, cookies, and more.
Mix up a big batch of this healthy granola recipe loaded with bran, wheat germ, chia, natural sweeteners, lots of texture, and a super great crunch.
This honey nut granola is easy, lightly sweetened and full of honey, nut and cinnamon flavor!
Chunky granola clusters are made with oats, almonds, cinnamon, honey and coconut oil. An easy and healthy snack or breakfast!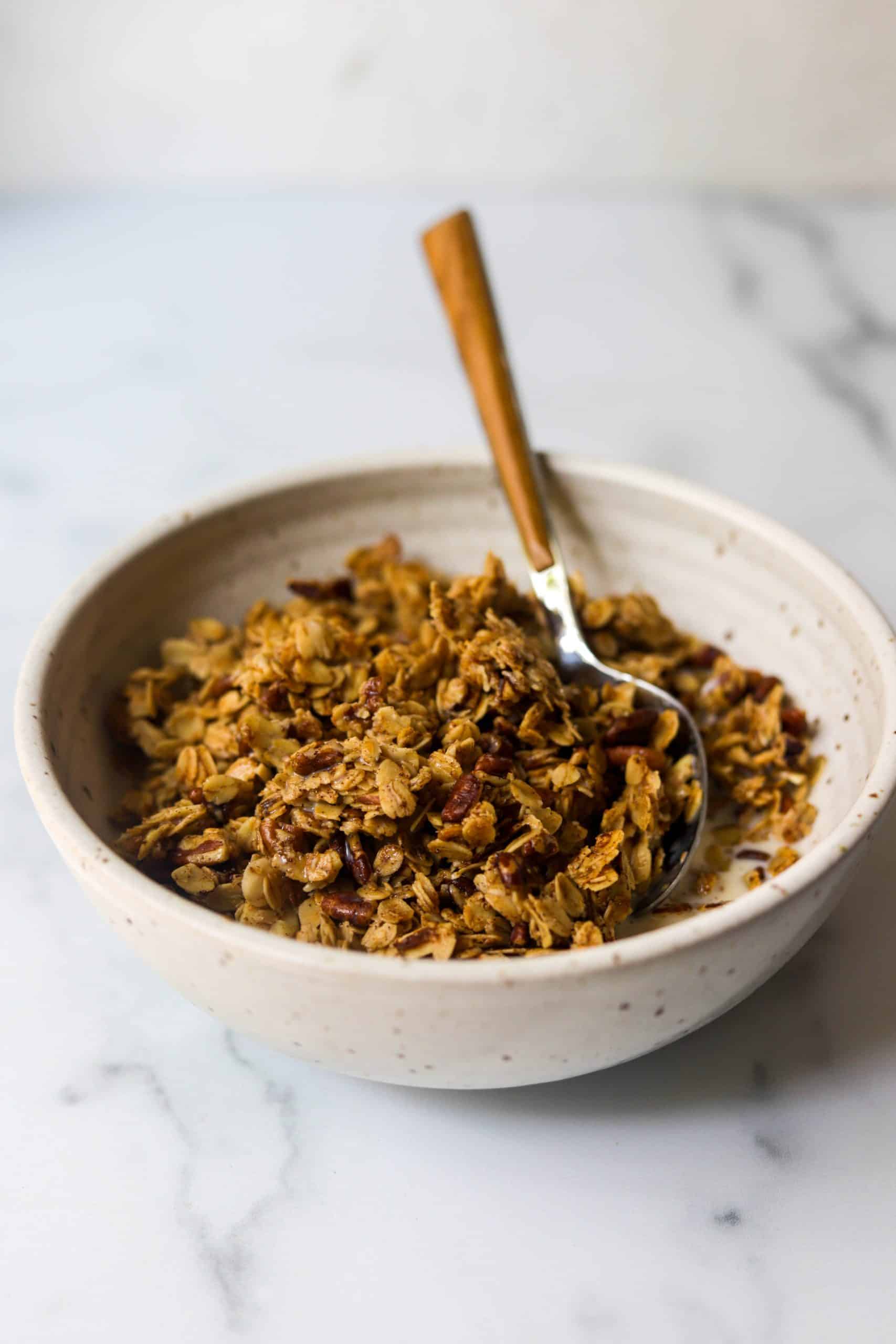 This dark chocolate granola is incredibly simple to make and has flavor for miles! It's loaded with nutritious ingredients like oats, coconut, chia seeds, and flax along with delicious dark chocolate.
You'll have a big batch to eat all week long, making it the perfect recipe for meal prep!
Try these other granola and muesli recipes:
Breakfast Cookies and Bars
Cookies and bars CAN be nutritious!
These recipes are made with a variety of fiber, probiotic and protein-rich ingredients. "Dessert" for breakfast - yes please.
These cookies are filled with oats, yogurt, cinnamon and flax with toppings and mix-ins like dried cranberries and walnuts, coconut and dark chocolate or peanut butter and jelly.
Make one batch or several and freeze them for later!
These chocolate peanut butter breakfast cookies are loaded with oats and flaxseed to make for a healthy and delicious breakfast cookie!
Subtly sweet.
These walnut oat bars with dates are made with dates, coconut, walnuts, honey, coconut oil and chia seeds. They're naturally sweet and packed with fiber.
You'll love them, I just know it! My favorite raw granola bars are about to become your favorite, too!
Try these other cookie and bar recipes:
Pancakes and Waffles
Probably one of the most popular breakfast foods - ever!
Pancakes and waffles can be made with whole grains, nuts and seeds, oats, vegetables and fruit.
Experiment with a few of these recipes and I bet you'll find a new favorite!
These vegan sweet potato pancakes are made with oats, white rice flour, spices, and sweetened with maple syrup.
Whole grain apple cinnamon pancakes with flax, Greek yogurt and vanilla, topped with sauteed apples and maple syrup.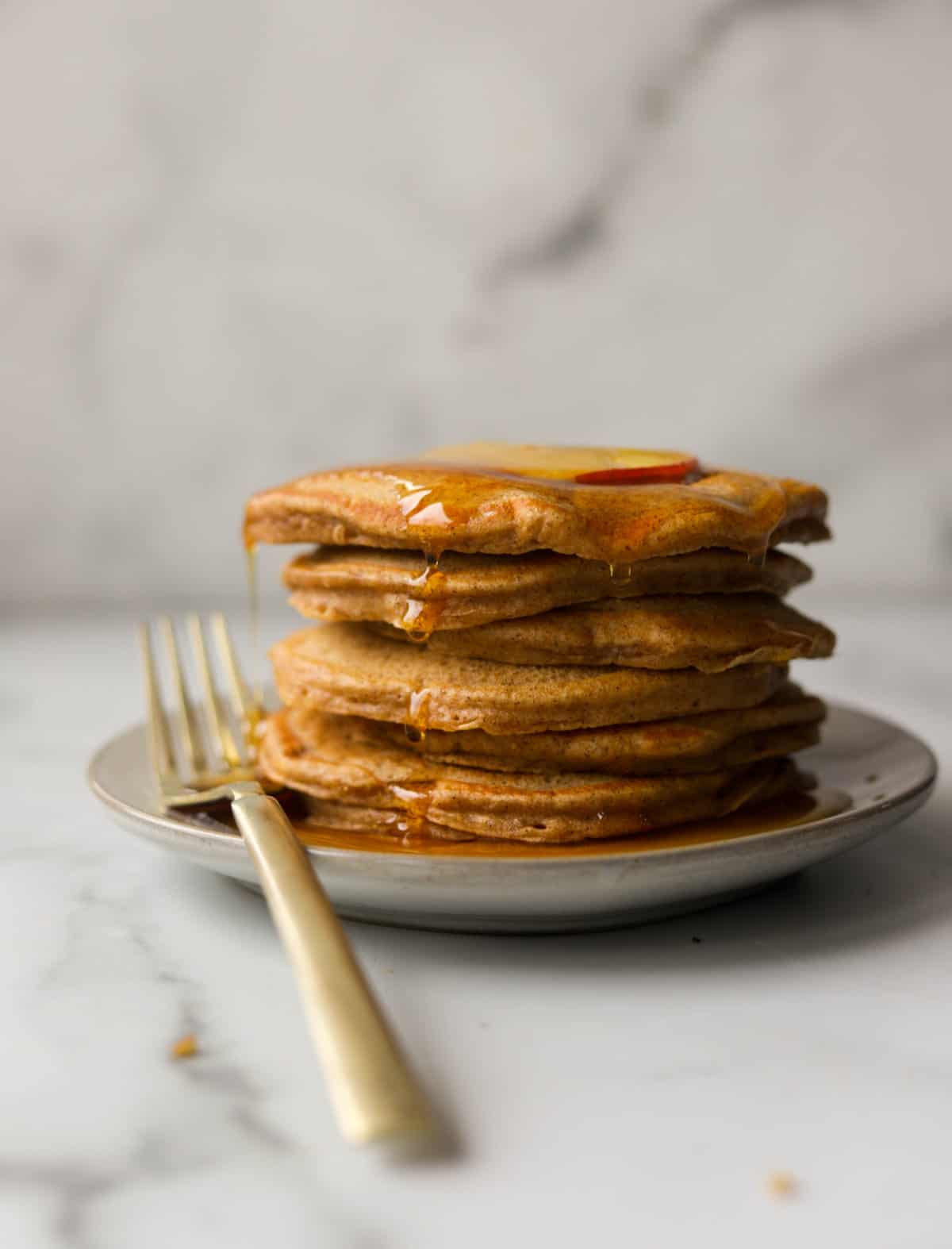 You're going to love these walnut chai pancakes! Chai tea-infused whole grain pancakes topped with vanilla yogurt and walnuts.
A unique and easy breakfast that everyone will devour!
Easy banana oat waffles are a simple and delicious breakfast.
These waffles are gluten free, low in sugar and freezer-friendly!
Healthy whole wheat waffles with applesauce. Easy blender recipe with quick clean up!
Low fat, fluffy, and perfect for freezing in batches for later.
Try these other pancake and waffle recipes:
Breakfast Sandwiches and Burritos
I love a good breakfast sandwich or burrito.
Prep these nutritient-dense recipes that have plenty of protein and lots of fiber. Warm them up and run out the door!
These healthy make ahead freezer breakfast sandwiches are the perfect breakfast option for busy mornings!
Not only are they loaded with flavor, but they can also be made in advance for a quick and easy breakfast on the run. Best breakfast sandwiches ever!
Try these other breakfast sandwiches and burritos:
Egg Dishes
Eggs are loaded with nutrition (yes there's fat but we need fat!) and they're generally budget-friendly.
Make omelets, frittatas, breakfast casseroles and scrambles and pack in lots of veggies.
Sautéed mushrooms are so simple yet full of flavor! Adding them to an omelet is a great way to quickly enhance your morning breakfast!
It's topped off with a little feta, chili flakes, and a side of sliced avocado for the perfect breakfast combo!
These copycat Starbucks egg bites are slow cooked in the oven, yet reminiscent of tender sous vide breakfast bites with spinach, bell peppers and a flavorful egg base.
They're pretty darn close to the real thing, but you can make them at home with your favorite mix-ins, and for a lot less money.
Frittatas are an easy and inexpensive way to use up leftovers in your fridge, and they're great for breakfast, lunch, or dinner!
Try these other egg dishes:
Breakfast Potatoes and Salad
Sweet potatoes and white potatoes are sources of fiber and potassium - both crucial for heart health! And yes, I said salad for breakfast!
Check out this beautiful bowl with greens, eggs and sweet potatoes - yum!
Sweet potatoes are a colorful, fiber-packed swap for regular potatoes in this healthy hash brown recipe.
Take these crispy sweet potato hash browns up a notch by adding jalapeños or herbs. Or, serve them with fried eggs for a complete and satisfying meal.
Crispy breakfast potatoes are perfectly crispy on the outside, tender in the middle, and baked, not fried!
Perfect as a side with eggs and veggies or with any meal.
This healthy breakfast salad channels all the deliciousness of a taco salad with a healthy brunch-worthy twist!
Change up the greens and veggies based on what you have handy and get ready to kickstart your day with a tasty, veggie-packed breakfast!
I hope you found something yummy! Your heart will love you for it.