This sheet pan meal with loads of sausage, potatoes and veggies has become my go-to when I am busy and don't have the time or energy to spend making dinner.
It is insanely delicious, but at the same time, the prep is quick and minimal and the oven does most of the work - in just 30 minutes!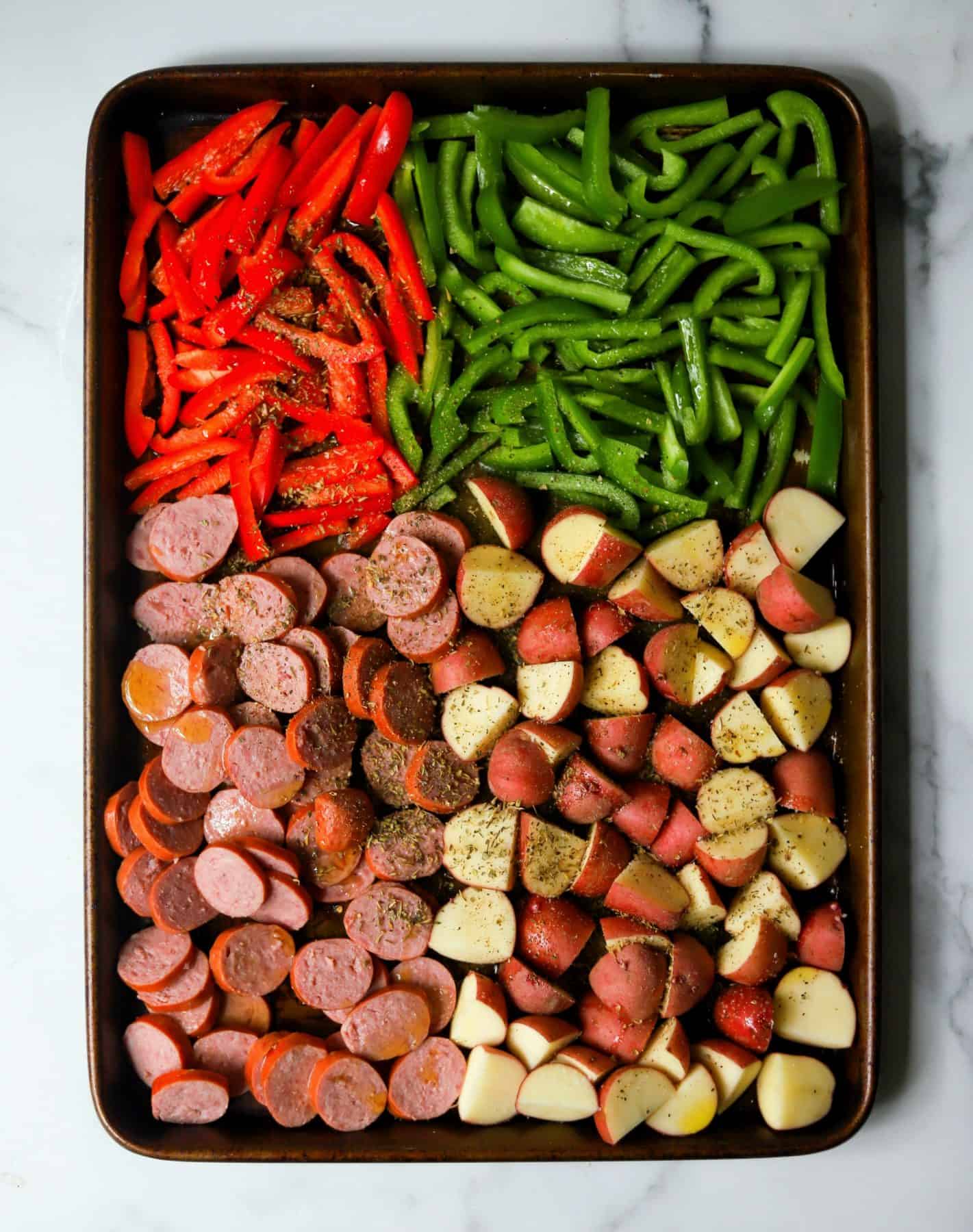 Why are sheet pan meals all the rage?
If you're not familiar with the term sheet pan meals, basically it just means you roast a protein, starch and veggies on a baking sheet with oil and seasonings, making for a one "pot" dinner that is ready in no-time.
People reeeeally love sheet pan meals because of the minimal prep, relatively quick cooking time and minimal clean up!
If done properly, are super tasty and satisfying.
Basically it's a healthy balanced meal that doesn't require a ton of thought or time slaving in the kitchen.
This version of a sheet pan meal is made with smoked sausage (I use turkey or chicken), baby red potatoes and 2 bell peppers.
Everything is tossed in olive oil, Italian seasoning and red pepper flakes (for that heat!) and is roasted for about 30 minutes or until the edges of the sausage and potatoes are crispy and the veggies are fork tender. YUM!
But, there are endless options for proteins, starches and veggies to use when making a sheet pan meal, which is why they never, ever get old.
And, it's a good way to use up stuff you have in the pantry and fridge which helps minimize food waste.
Here are some ideas (and I'm guessing you have some of these in your fridge crisper and maybe hiding in the freezer!):
How to Customize a Sheet Pan Meal
Proteins: Smoked sausage, chicken breast or thighs, turkey breast, cubed ham, steak, salmon, shrimp, scallops, tofu, tempeh, seitan, chopped up veggie burgers, and the list goes on!

You will need to alter the cooking time based on the protein you're cooking. For instance, shrimp cooks a lot faster than chicken breast.
If you are pairing a quick-cooking protein with a starch that takes longer to cook (such as potatoes), I'd suggest cooking the starch some first, then adding the shrimp to the pan to finish it off. Easy peasy!

Starches: Potatoes (red, Yukon, russet - you name it!), sweet potatoes, winter squash (acorn, butternut, delicata, etc), parsnips and more!

These veggies take a bit longer to cook than many non-starchy vegetables, so I recommend cutting them in small enough pieces that they are fully cooked in ~30 minutes.

Vegetables: Yes, potatoes, winter squash and parsnips are vegetables, but they're starchy so I toss them in a different category.

For non-starchy vegetables, the list is seriously endless. You can go with bell peppers, broccoli, cauliflower, zucchini, summer squash, mushrooms, Brussels sprouts, eggplant, beets, turnips and whatever else you might be in the mood for.

Seasonings: I have a cabinet full of dried herbs and spices, so I like to play around with the flavors of my sheet pan meals.

If I'm in the mood for something Mediterranean or Italian, I'll go for oregano, basil, rosemary or thyme.
If I'm in the mood for something Indian-inspired, I'll use curry, coriander, cardamom, cumin and turmeric.
If I want something Latin or Mexican-inspired, I'll grab the chili powder, cumin, smoked paprika and something with heat (cayenne, crushed red pepper flakes) and go with that.
It all depends on the flavors I'm in the mood for and what main ingredients I'm using.

Oil: Don't forget to use a few tablespoons of oil! This helps your proteins, starches and veggies stay moist, get crispy on the edges, provides flavor and helps the herbs and spices adhere.

And, it helps you absorb the vitamins in those fabulous proteins, starches and veggies! I like to use olive oil with most of my ingredients, but if you're not looking for that classic olive flavor, go for something like avocado oil instead.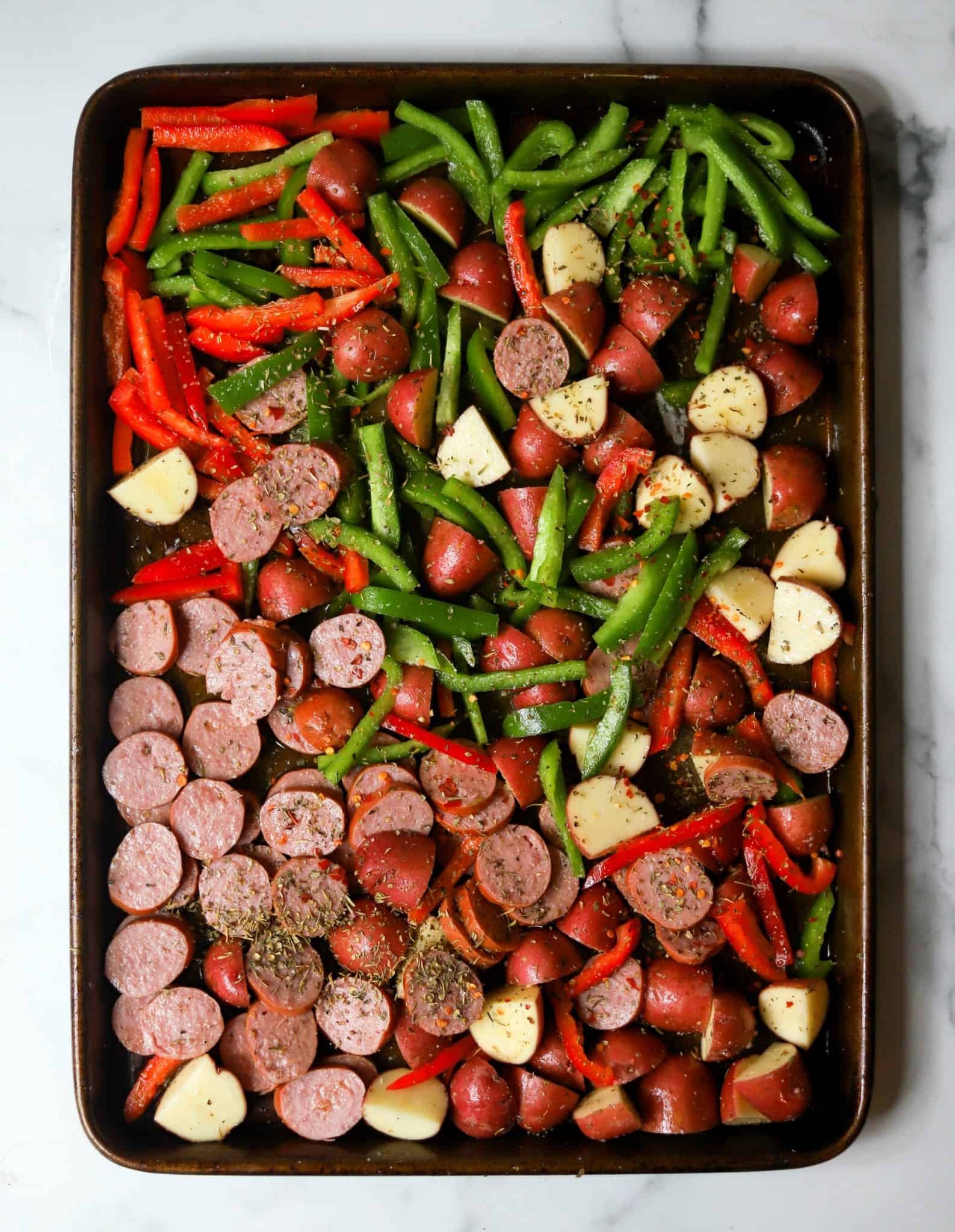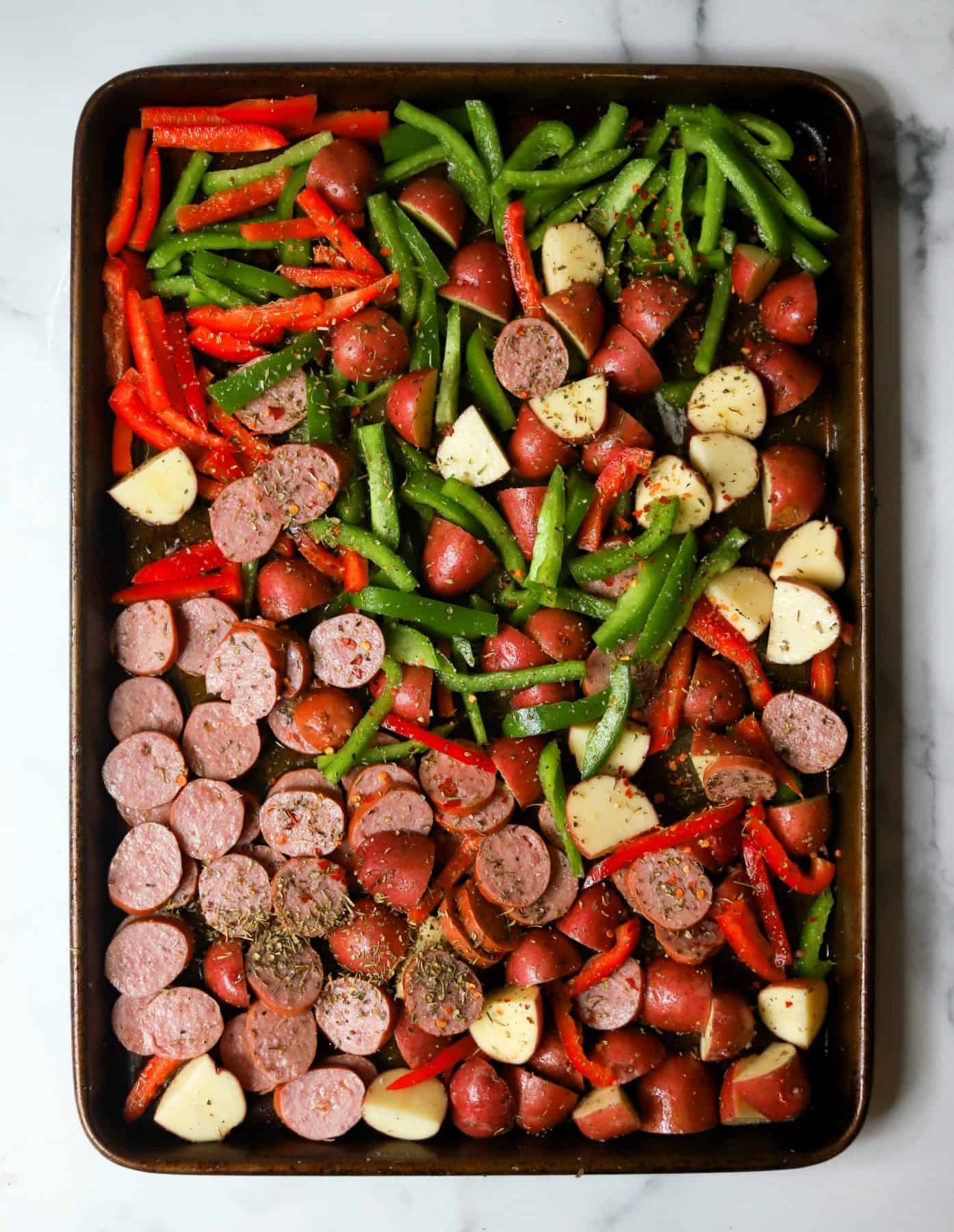 How to Cook Sausage & Potatoes on a Sheet Pan
Once you've chosen your ingredients, get chopping! For your protein, it depends on the choice and cut on how you should prep them.
Shrimp and scallops are ready to go as long as they're cleaned
Chicken breasts and thighs can go right in the pan, but if the chicken breast are extra thick, you may want to cut them into strips or cubes (you can also marinate them first, if you wish)
Steak can be cut into strips (and also marinated, if you wish)
Salmon can be cut into filets and tossed onto the sheet pan
Tofu should be cubed and dried with a towel for 10 minutes first so it gets crispy and not soggy (ick!)
You get my drift here! Each protein takes a little bit of thought and consideration, especially depending on what you're cooking it with (remember - potatoes take about 30 minutes to cook!).
Starches like potatoes and squash take awhile to cook, so be sure to chop them in smaller pieces so they cook evenly with the other ingredients.
I'd say a 1 or 2-inch cube is about right! As for non-starchy veggies, you'll want them to be in bite-sized pieces.
Some ingredients like zucchini cook really quickly, so you can toss them on for the last 15 minutes or cooking, if you wish.
Once you've practiced cooking a few sheet pan meals, you'll be a pro!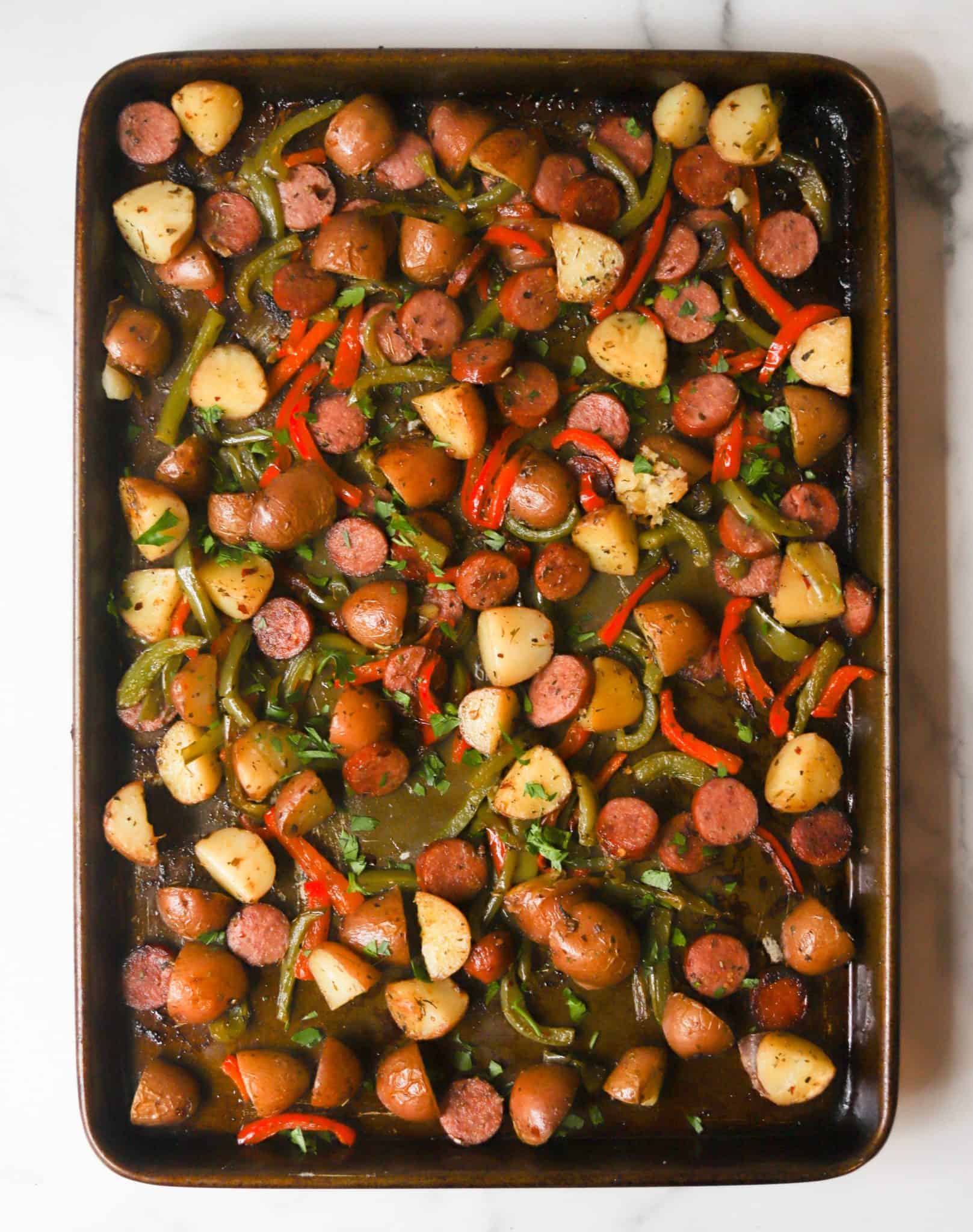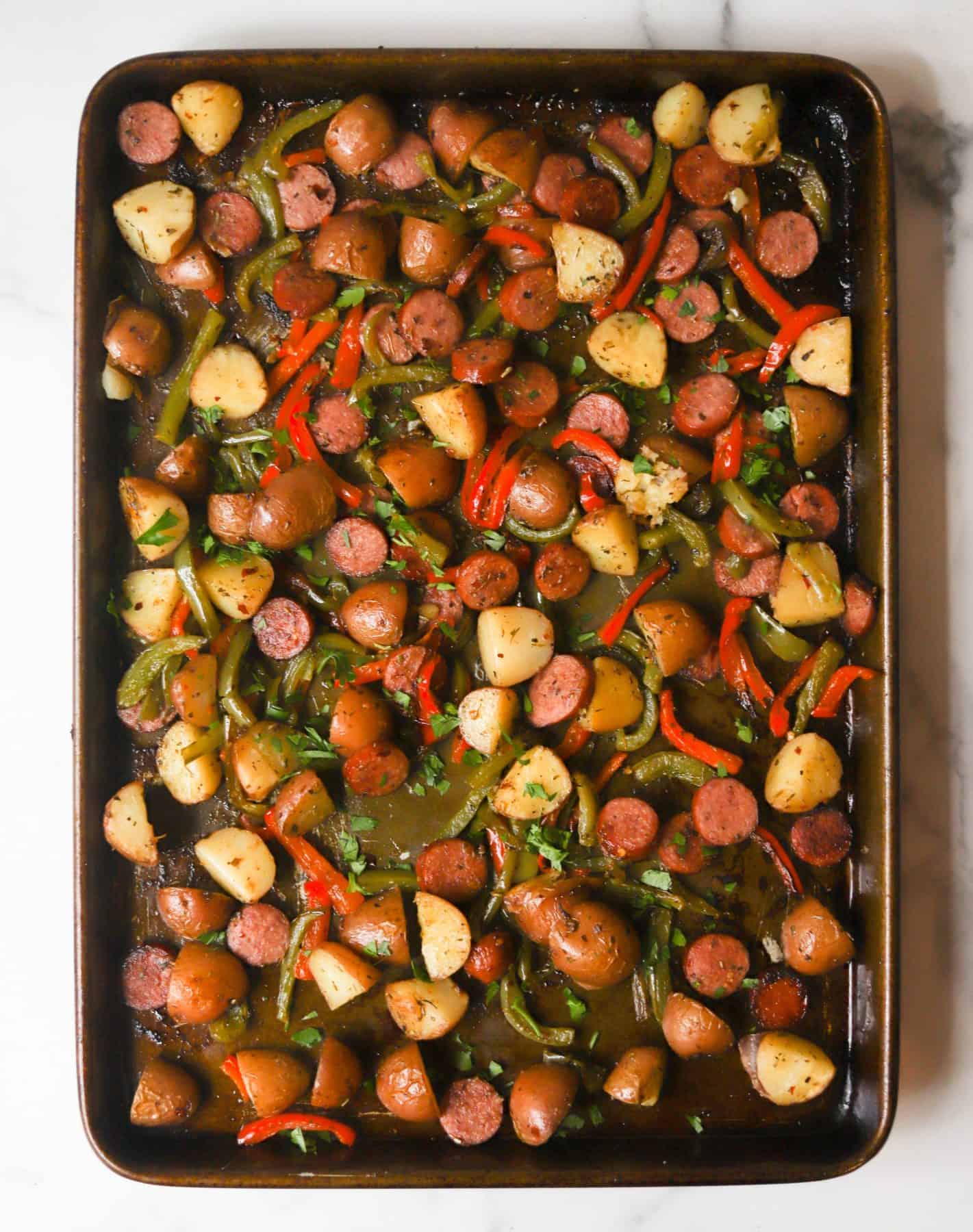 Easy one pot meals:
Print
Sheet Pan Sausage and Potatoes
An easy Italian-inspired one pan meal with smoked sausage, potatoes and bell peppers.
Author:
Prep Time:

5-10 mins

Cook Time:

25-35 mins

Total Time:

30-45 mins

Yield:

Serves 4

Category:

Dinner

Method:

Roasting

Cuisine:

American, Italian
12 ounces

smoked sausage, sliced into rounds

1 ½

pounds baby red or Yukon potatoes, cubed

2

bell peppers, cored, seeded and sliced

2 tablespoons

olive oil

1 ½ tablespoons

Italian seasoning

1 teaspoon

coarse salt

½ teaspoon

ground black pepper

¼ teaspoon

crushed red pepper flakes
Instructions
Preheat the oven to 400 degrees.
Coat a large baking sheet with cooking spray. Arrange the sausage, potatoes and bell peppers on the baking sheet and drizzle with olive oil. Sprinkle with Italian seasoning, salt, black pepper and red pepper flakes. Toss to coat.
Roast 25-35 minutes, stirring halfway, or until potatoes are fork tender and sausage, potatoes and bell peppers and lightly browned. Serve.
Notes
Substitution Tip: Use turkey or chicken smoked sausage for a lighter meal.
Nutrition
Serving Size:

¼ of recipe

Calories:

381

Sugar:

4g

Sodium:

508mg

Fat:

17g

Saturated Fat:

3g

Unsaturated Fat:

14g

Trans Fat:

0g

Carbohydrates:

41g

Fiber:

6g

Protein:

17g

Cholesterol:

60mg
Keywords: sheet pan, one pot, one pan, dinner, entree, meal, easy, weeknight, fast