This cauliflower alfredo sauce is made with fresh or frozen cauliflower, lemon zest and juice, grated Parmesan cheese, extra virgin olive oil and yes, butter, all tossed with fresh pasta.
Talk about healthy comfort food - you're going to love it!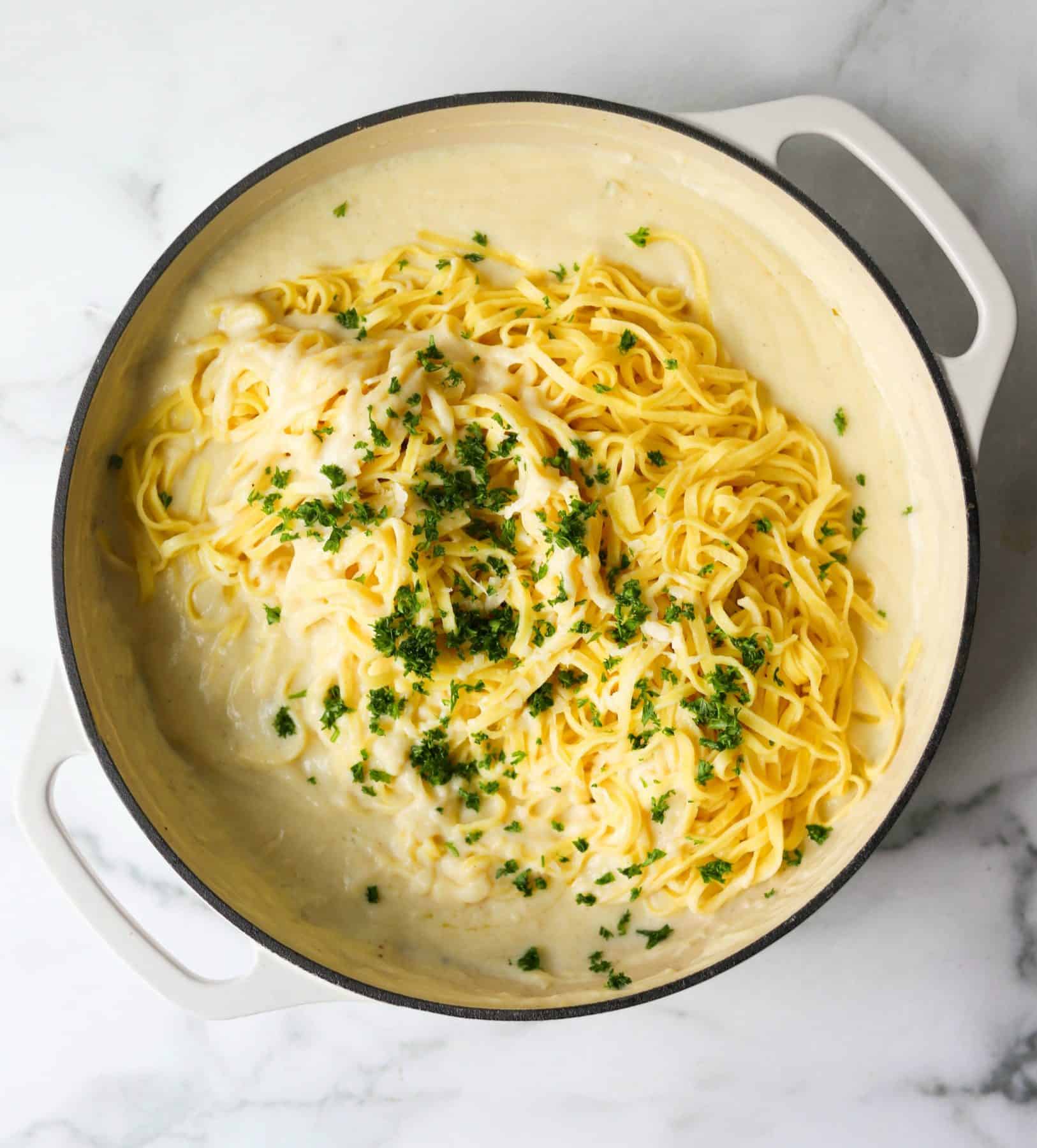 Step-by-Step Instructions
Ingredients
Fresh pasta. I love using fresh pasta for this recipe.

Something like Buitoni or Giovanni Rana works really well if you don't want to make your own.
You can find these options in the refrigerated section near the dairy products.
You can also, of course, use dried pasta of any shape or size.

Cauliflower. You can cut up a head of fresh cauliflower, grab a bag of the fresh florets or use frozen cauliflower.

Just be sure it's steamed and fork-tender when you add it to the blender.

Evaporated milk. It's one of my secret weapons in the kitchen because it's lower in fat, but super creamy and thicker than regular milk.

It's the perfect base for this sauce.

Stock. It adds some wonderful background flavor to the sauce.

Use vegetable or chicken.
If yours has salt in it, you'll want to alter the amount of salt you add to the sauce.

Lemon. Use the fresh stuff! The zest and the juice.
Nutmeg and cayenne. These may sound like odd additions, but trust me on this one.

They add so much flavor and depth - you won't regret it.

Olive oil. This is to saute the garlic, but it also adds that classic olive oil flavor and some additional richness.
Garlic. You must have garlic in alfredo sauce!
Parmesan. You can grab a wedge and grate it yourself or grab a tub of the freshly grated stuff near the produce section.

I do not recommend using the shelf-stable kind in the green container.

Parsley. To add freshness and that beautiful green color.
Equipment
A large pot to boil pasta.
A colander or spider.
A can opener.
A cutting board and chef's knife.
Tongs and a whisk.
Measuring cups and spoons.
A wooden spoon.
A blender or food processor.
A cheese grater or microplane if you buy a wedge of fresh Parm.
Bowls and forks for serving.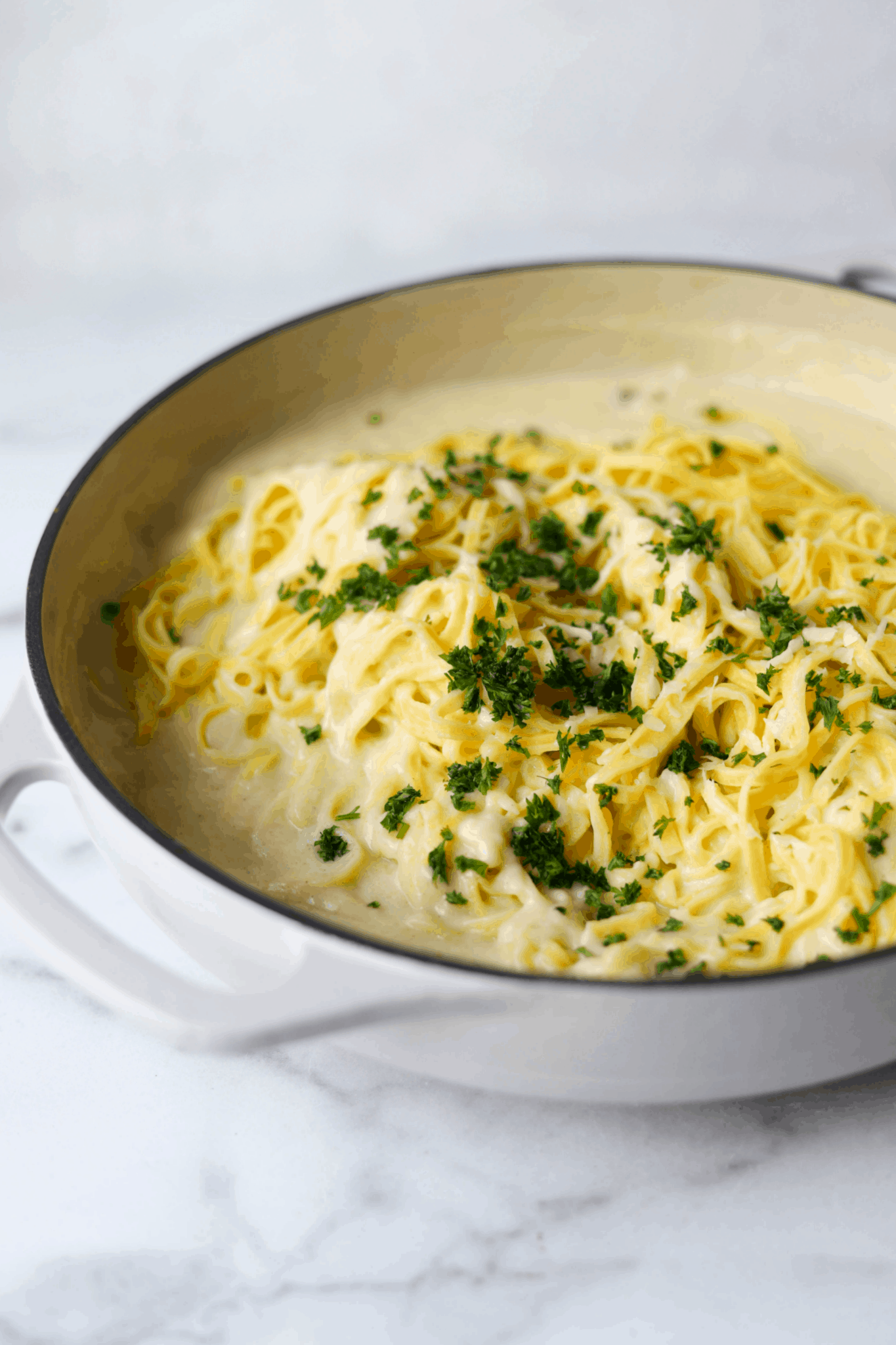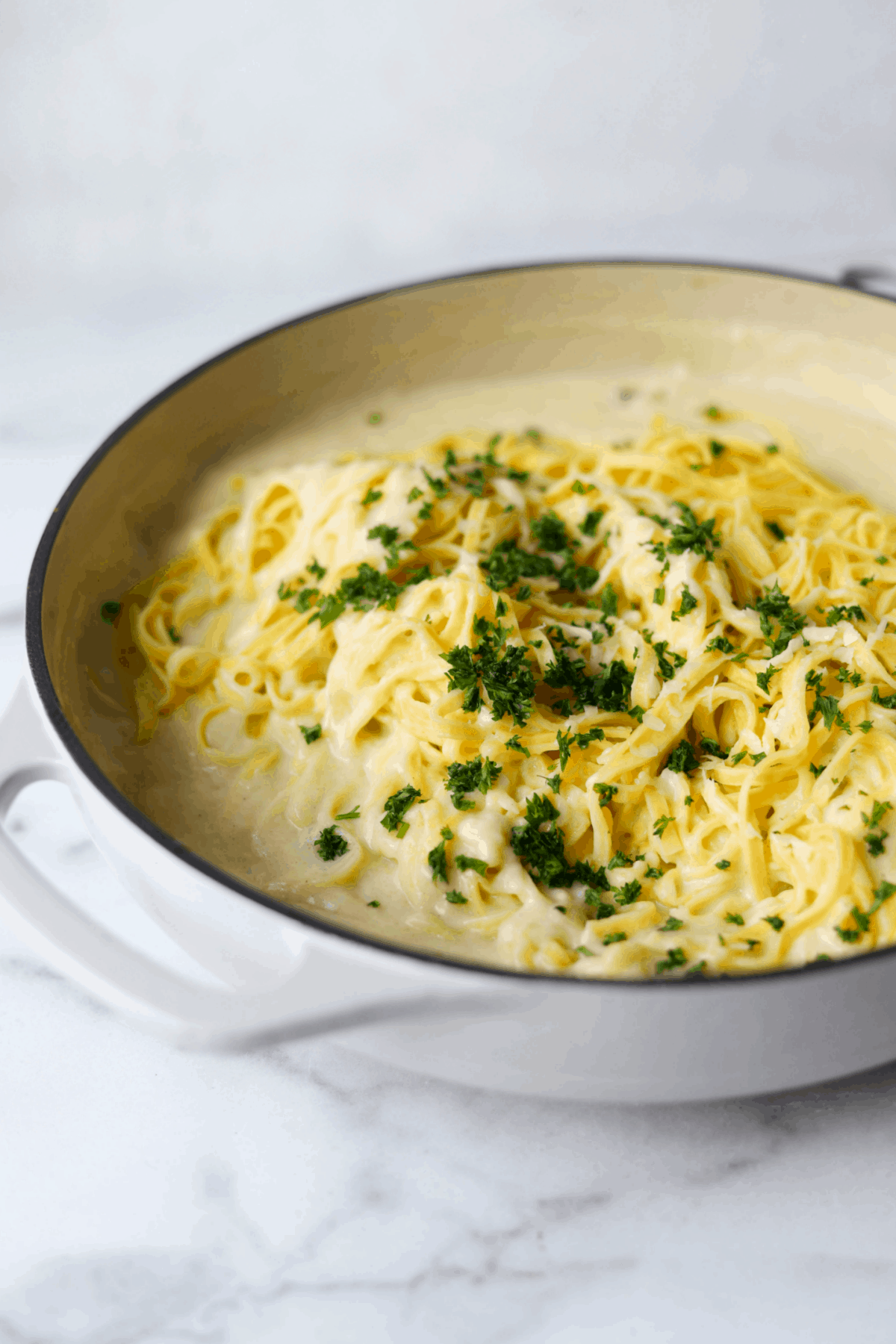 How to make cauliflower alfredo sauce
It all starts with whirling cauliflower, milk, stock, lemon and spices together in a blender (no roux required!).
First, you'll need a few cups of cooked cauliflower.

You can use fresh cauliflower that's been steamed, boiled or roasted; or, you can pop a bag of frozen cauliflower into the microwave, then transfer it to the blender. Simple as that.

Then, you'll need evaporated milk, which I like to use as a replacement for cream in some recipes.

It's thicker than regular milk and adds to the rich creaminess we're trying to achieve with an Alfredo sauce.
Honestly, evaporated milk should be used in more than just pumpkin pie.

Next, you'll use a bit of vegetable stock, which will add a stock-like richness to the sauce without overpowering it.

Then, some fresh lemon, salt, pepper, nutmeg and cayenne.

I realize some of these ingredients are NOT traditional when it comes to Alfredo, but just go with it because without them, the flavor just isn't there.
And as for the lemon juice, you can add less or more depending on how lemony you want it.

I personally love the extra hint of lemon in the sauce, but my husband doesn't.

So, add a little at a time until it tastes just right.

Not only does lemon provide that trademark flave, but it provides acid to the sauce, which is desperately needs since it's so rich and creamy.

Once you have the cauliflower mixture pureed into a smooth-as-silk sauce, set it aside while we bring in the big guns.
Add a little butter to a large skillet with a few tablespoons of olive oil.

Grate several fresh garlic cloves into the pan and give them a saute for 30-60 seconds.
This is when your kitchen will start to smell like HEAVEN.

Once it's super fragrant (but before the garlic burns), add the cauliflower puree.

Whisk it all together with several handfuls of freshly grated Parmesan cheese until it's nice and melty.
Give it a taste and adjust the seasoning, if you wish.

And voila - you have magical creamy cauliflower alfredo.
What pasta should I pair the sauce with?
Next, you'll want to pair cauliflower alfredo sauce with pasta.

I'm a huge fan of fresh pasta when I can get my hands on it.
Last time I made a grocery order, they happened to have fresh linguine, so I went for it, and was certainly not disappointed.

With that said, I will never snub my nose at a box of dried pasta, either.

Whether you go for fresh or dried, just be sure to cook it according to the package directions - al dente.

That means when you grab a noodle out of the boiling water and toss it into your mouth, it should feel like it has a little bite to it, but isn't hard or chewy.

It also shouldn't be done to the point of being mushy. Al dente = perfect.

As far as pasta shape, when it comes to alfredo, there really isn't a wrong shape.

But, I like to go for a long flat pasta like fettuccine or linguine.
If you're into the small tubular kind that traps some of the sauce within the noodle, like cavatappi, I will not shun you.

It's also important to 1) boil a large pot of water (rather than trying to fit a box or bag of pasta in a tiny saucepan - it just doesn't work) and 2) salt your pasta water, otherwise the pasta isn't given a real chance to gain flavor.

(Yes, the dietitian just told you to salt your pasta water.)

The salt also helps the pasta from sticking together.

Also make sure the water is at a full boil before adding the pasta.
I avoid tossing the pasta in oil after cooking because the sauce then has a hard time adhering to the pasta and just slides right off.

But, with that said, if your pasta is going to sit in the colander for a bit before being tossed with the sauce, it would benefit from a little oil so it doesn't become a giant clump.

It really is all about timing here.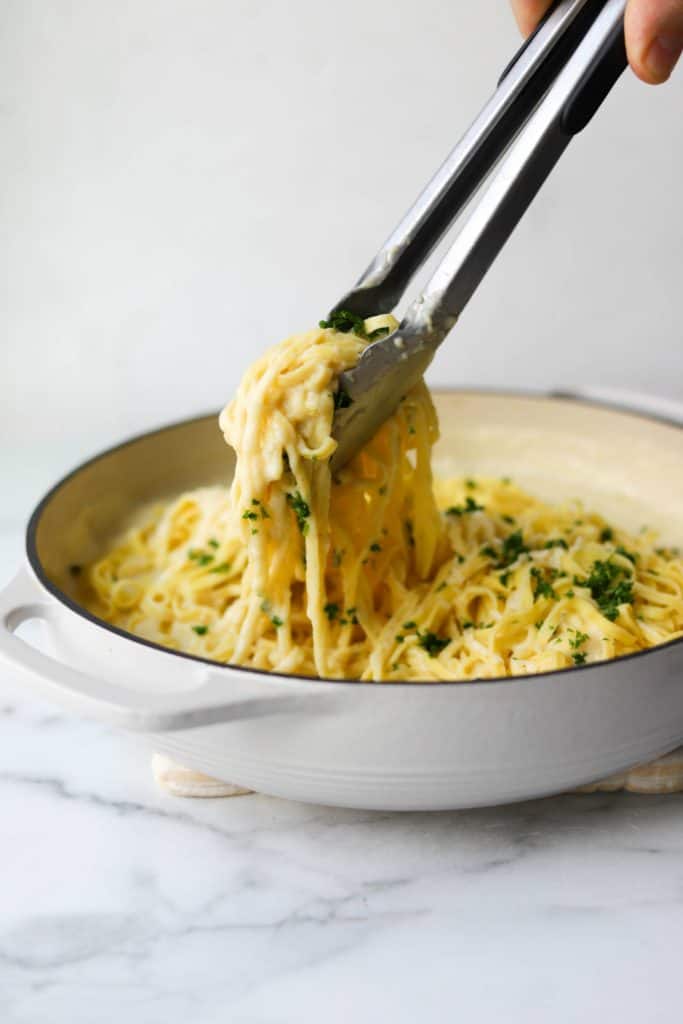 What proteins can I serve with this meal?
If you're looking for a higher protein meal or just really enjoy meat and seafood, I highly suggest adding some chicken breast, a salmon filet or some shrimp or scallops to your pasta.
All of these protein options LOVE pasta and alfredo, and can be prepared by roasting, broiling or sauteing.
They only need to be dressed and cooked in olive oil, salt and pepper. Simple is a good thing, my friends.
Leftovers and Other Uses
If you're into it, go ahead and use the cauliflower Alfredo as pizza sauce.

I did a rendition of this in my MIND diet cookbook on a Greek yogurt pizza crust with lots of veggies, and holy smokes is it dynamite.

So, maybe make an extra batch and make homemade pizza this weekend? Just saying.
And last but not least, I have a few tips for reheating.

One, it can last in the fridge about 5 days.
Two, it can be reheated in the microwave or on the stove, and if the sauce thickens up too much, add a little stock or milk and maybe a splash of lemon juice to refreshen things up.
And third, if you do pair it with protein, reheat them separately so they can both be reheated properly. You don't want to zap the pasta beyond repair while trying to make sure your chicken is fully reheated, if you know what I mean.

Now, go ahead and enjoy a big bowl of the good stuff!
Other Pasta Recipes You'll Love:
Print
Cauliflower Alfredo Sauce
Creamy cauliflower alfredo sauce made with fresh lemon, garlic, olive oil and Parmesan.
Author:
Prep Time:

10-15 mins

Cook Time:

10-15 mins

Total Time:

20-30 mins

Yield:

Serves 6

Category:

Dinner

Method:

Stove-Top

Cuisine:

American
9

-ounces fresh fettuccine or linguine*

3 cups

cooked cauliflower florets

½ cup

evaporated milk

¼ cup

unsalted vegetable stock
Zest and juice of ½ medium lemon

1 ¾ teaspoons

kosher or sea salt

½ teaspoon

freshly ground black pepper
Pinch freshly ground nutmeg
Pinch cayenne pepper

3 tablespoons

butter

2 tablespoons

extra-virgin olive oil

4

cloves garlic, peeled and minced

½ cup

freshly grated Parmesan cheese

¼ cup

flat-leaf Italian parsley, chopped
Instructions
Bring a large pot of salted water to a boil. Cook the pasta according to package directions. Drain and set aside.
Place cauliflower, milk, stock, lemon, salt, black pepper, nutmeg and cayenne pepper in a blender and puree until smooth.
Heat the butter and olive oil in a large skillet to medium-low heat. Add the garlic and sauté 30-60 seconds or until fragrant. Pour the cauliflower puree into the skillet and bring to a simmer. Stir in the Parmesan cheese until melted. Taste and adjust seasoning, if necessary. Add the cooked pasta and toss to coat.
Serve in bowls and garnish with chopped parsley.
Notes
Substitution Tip: Use dried pasta instead of fresh. Use 2% milk instead of evaporated milk.
Cooking Tip: If the sauce thickens up when the pasta is reheated, add a bit of milk or vegetable stock to loosen it up.
Nutrition
Serving Size:

⅙ of recipe

Calories:

229

Sugar:

2g

Sodium:

412mg

Fat:

14g

Saturated Fat:

5g

Unsaturated Fat:

9g

Trans Fat:

0g

Carbohydrates:

18g

Fiber:

2g

Protein:

7g

Cholesterol:

26mg
Keywords: alfredo, cauliflower, cauliflower alfredo, pasta, linguine, fettuccine, easy, healthy, lighter, simple