Are you ready for a delicious recipe line-up of ways to use up a can of pumpkin?
Whether you have a full can of puree in the pantry or part of a can leftover, I've rounded up 8 easy and delicious ways to get your pumpkin on!
Healthy Pumpkin Recipes
These pumpkin snickerdoodle cookies are soft, light, fluffy and packed with pumpkin flavor.
They boast all of your favorite pumpkin pie spices, including cinnamon, ginger, nutmeg and allspice and are perfectly sweetened with brown sugar.
You'll want to make several batches this fall, I promise!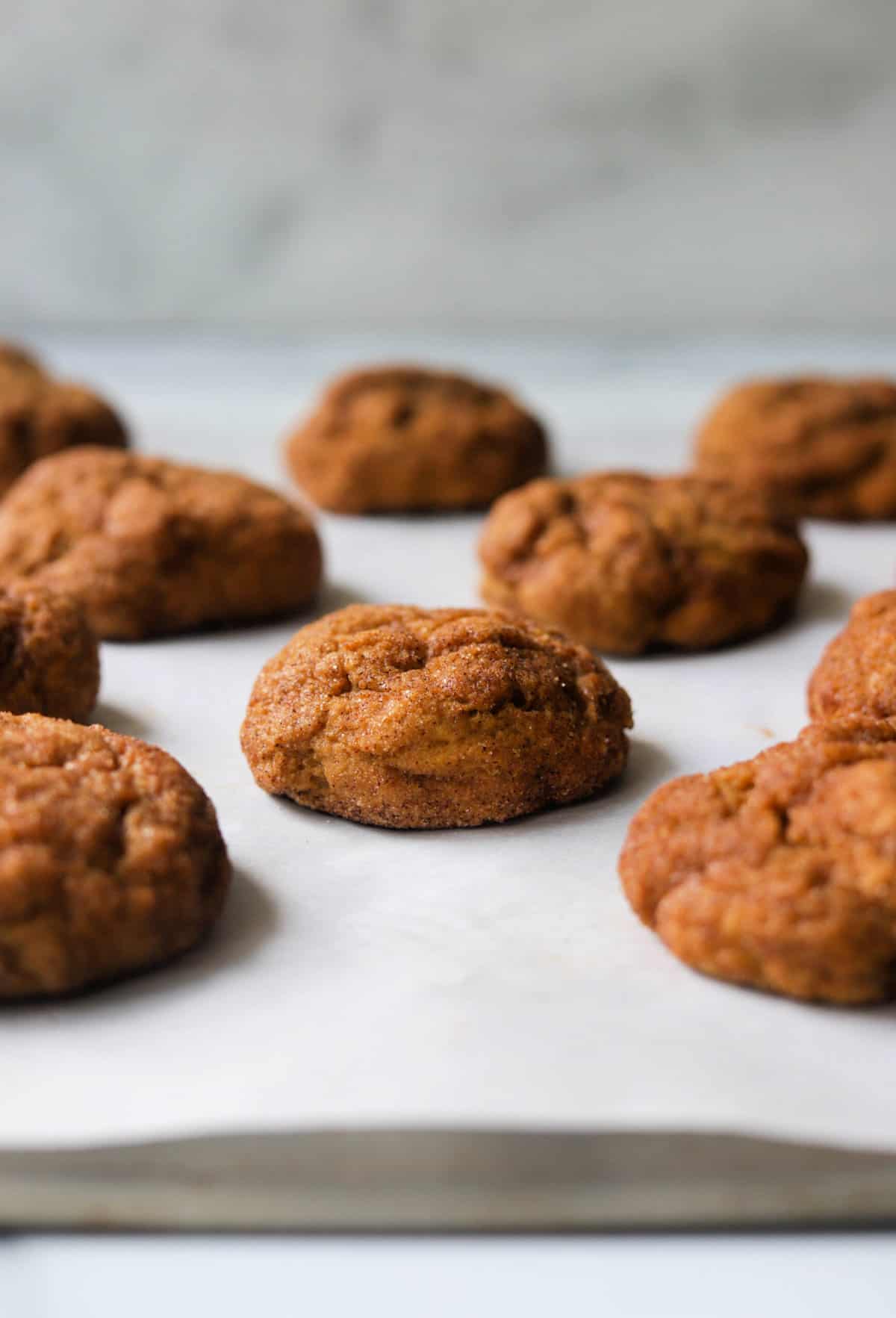 These snack bites have plenty of appeal. Not only do they take just 10 minutes to make, they also require no baking at all. Better yet, they're filled with fiber, protein, and heart-healthy fats for a satisfying midday pick-me-up.
Pair them with your favorite cup of coffee at home or take them with you when you're on the go.
Concerned about having too many made at once? Easily store away the rest in the refrigerator or freezer for later!
Another simple, 10-minute winner here that only requires 5 ingredients to make.
It also happens to be another no-cook recipe. If you're not ready to commit to one single recipe, this option is absolutely for you.
It's super versatile since you can spread it on just about anything from toast, bagels, muffins, cinnamon rolls, waffles and pancakes and more! Let your creative juices run wild.
These easy scones are a great option if you're looking to have a little more fun with baking. Unlike some scones, they aren't dry thanks to the help of the canned puree.
They're also made with whole wheat pastry flour for a healthier take on the classic.
For the flavor factor, dark chocolate chips are spread throughout and topped with a drizzle of maple powdered sugar glaze. And lastly, the mini size just makes them that much better for alllll the reasons!
These cookies are tender, chewy and oh-so delicious!
They're made with oatmeal, pumpkin puree, warm spices and plump raisins.
They're healthyish and totally delicious at the same time!
Tender pumpkin spiced muffins are topped with an oat and pistachio crumble that is lightly brown sugary sweet.
Serve these for breakfast, brunch or a snack and get in a hearty dose of vitamin C and fiber!
Baked donuts can be just as yummy as fried!
These fluffy pumpkin donuts are baked in a donut pan then coated in cinnamon sugar to make them lightly sweet.
You'll become obsessed with making your own baked donuts at home!
If you are on the fence about using pumpkin in savory recipes, let this pasta dish be the game changer!
The sauce is made of pumpkin puree, sage and crispy bacon and is totally scrumptious.
Make my homemade spiced pumpkin bread, then turn it into French toast!
Use milk or eggnog as the base of the French toast, then top it with berries and real maple syrup.
You'll feel like you're eating at a fancy restaurant in the comfort of your own home!
Written by Anna Pashkova, MS, RDN, LD, ACSM-EP / Reviewed by Chef Julie Andrews, MS, RDN, CD, FAND