I've rounded up 50 of the best spinach recipes for babies, toddlers and kids (really, the whole family)!
We have everything from smoothies to sides, main dishes to accompaniments and frozen treats to breakfast recipes. There is truly something for everyone!
Spinach is loaded with vitamins, minerals, fiber and antioxidants, making it the perfect ingredient for nourishing growing bodies.
Plus, it's easy to pack spinach into just about any recipe, both frozen and fresh. So, grab a couple of bags of each and let's get cooking!
Note: Please discuss any and all foods you plan to serve your babies, toddlers and kids with their pediatrician and/or pediatric dietitian. Every child has different needs (please also pay close attention to food allergies and intolerances).
If you follow baby-led weaning, please use a reliable resource such as Solid Starts to learn about appropriate foods and food preparation for your child.
Spinach Smoothie Recipes
Smoothies are an easy way to pack in handfuls of spinach without really noticing it (except it'll give your smoothie that beautiful green hue)!
You can use fresh or frozen and add pretty much any fruit you like.
The best green smoothie recipe is made with a simple combination of fresh fruits and veggies including sweet mango, peach, and nutrient-packed spinach.
Adding veggies to your morning smoothie can be a great way to make sure you have at least 5 servings of fruits and vegetables that day.
This pineapple cucumber smoothie is a delicious option for a healthy breakfast or snack.
This refreshing plant-based blueberry spinach smoothie is the perfect balance of fresh vegetables and sweet, frozen fruit.
Serve it in bowl form as an extra special treat for the little ones!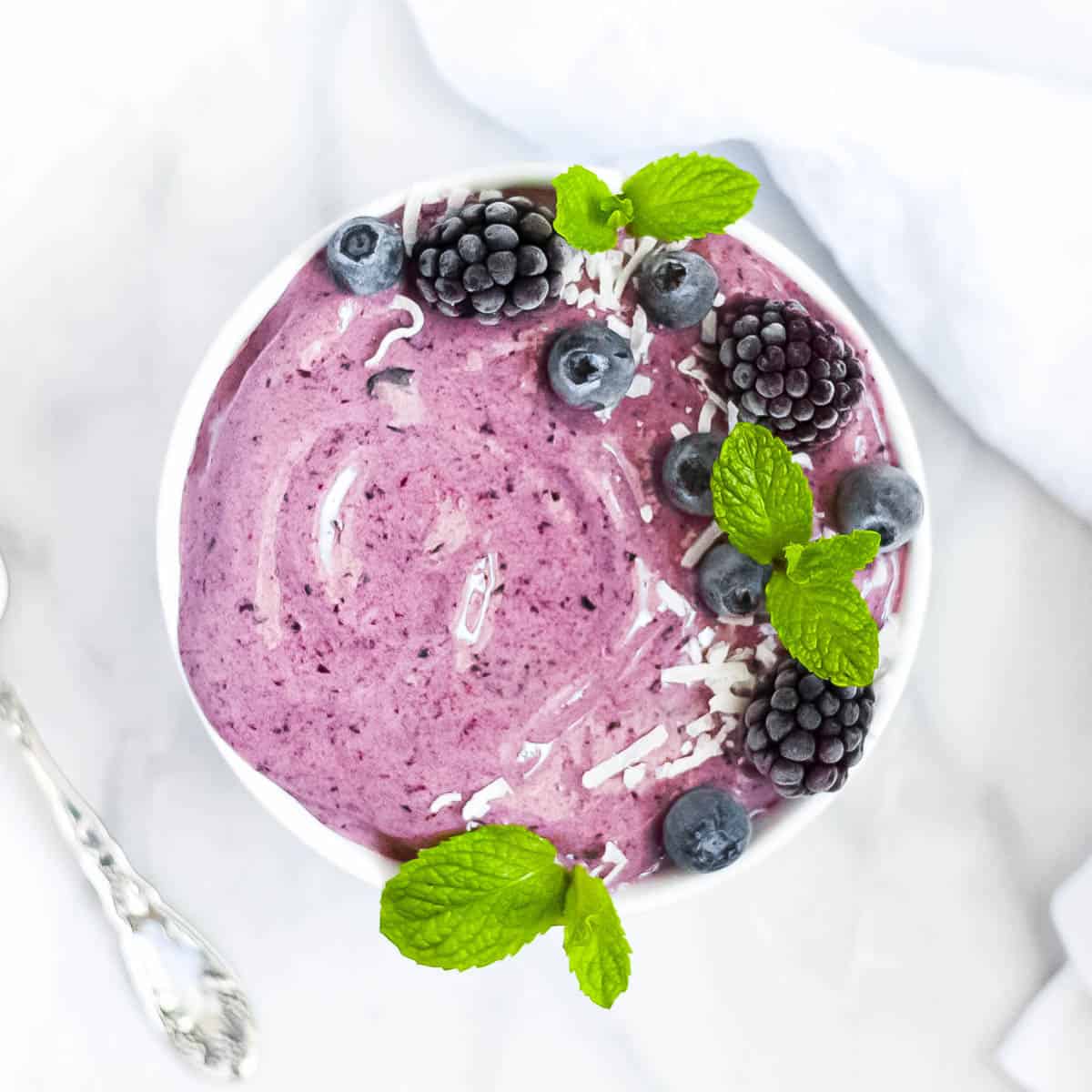 This beauty is packed with fresh spinach, mango, banana and a scoop of chia seeds.
A pure green mango smoothie, full of flavor and vitamins.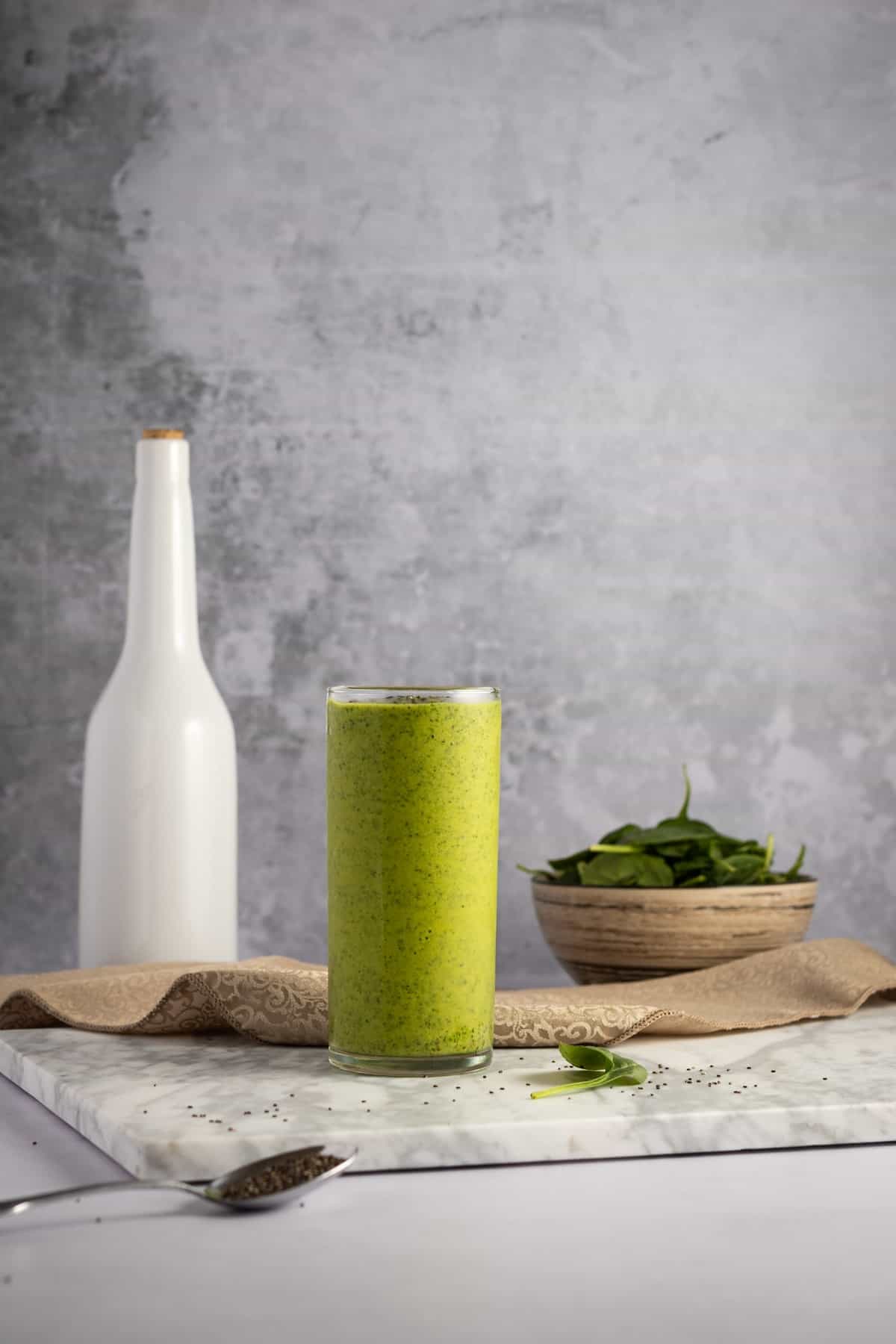 This simple frozen spinach kiwi smoothie contains 6 basic ingredients, including pineapple, kiwi and banana,and is packed with nutrients.
Don't worry, you won't taste the spinach at all!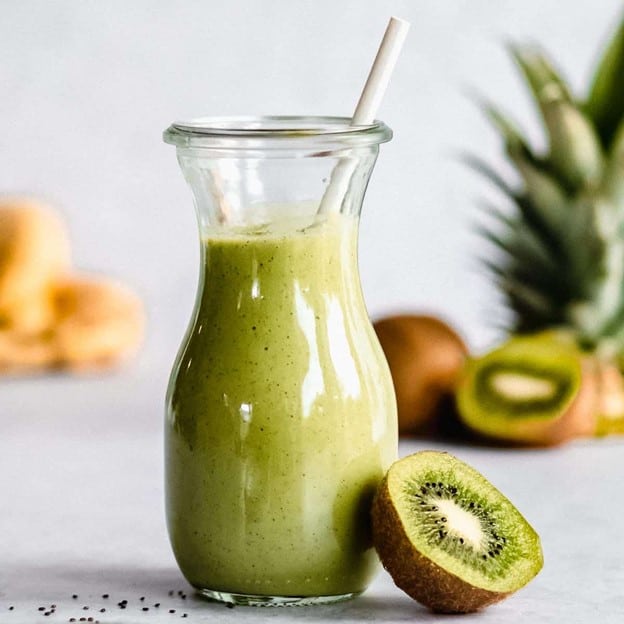 This is the ultimate sweet, creamy and tasty drink — the kids will totally love it!
Requiring only five simple ingredients, this healthy banana, spinach and peanut butter smoothie recipe makes such a quick and easy breakfast or snack!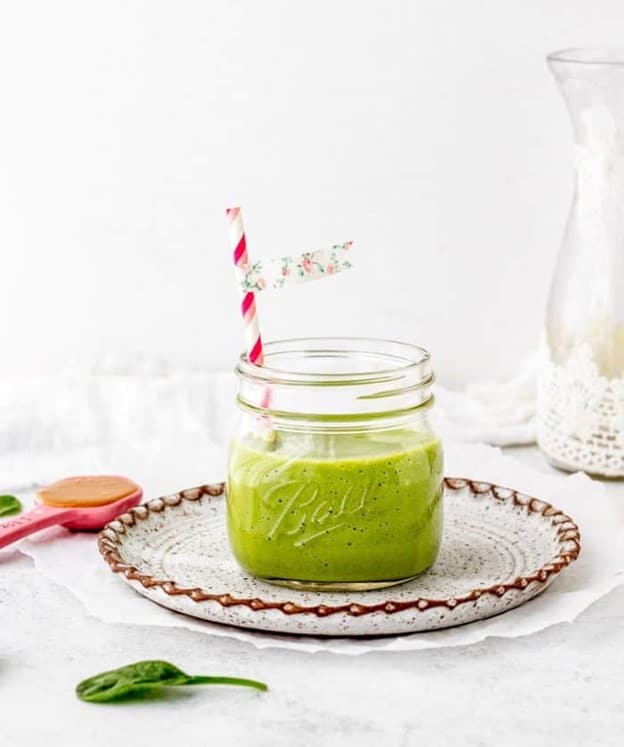 Also try:
Spinach Baked Goods
Using your blender to make baked goods like pancakes, muffins and cupcakes allows you to toss in nutrient-packed ingredients like spinach.
Not only does tossing in some spinach add loads of nutrition, it gives your baked goods a beautiful green hue!
Sneak some goodness into your sweet treats with these delicious spinach banana muffins.
These low sugar muffins are simple to make and packed full of healthy ingredients. Kids and adults of all ages love these green monster muffins!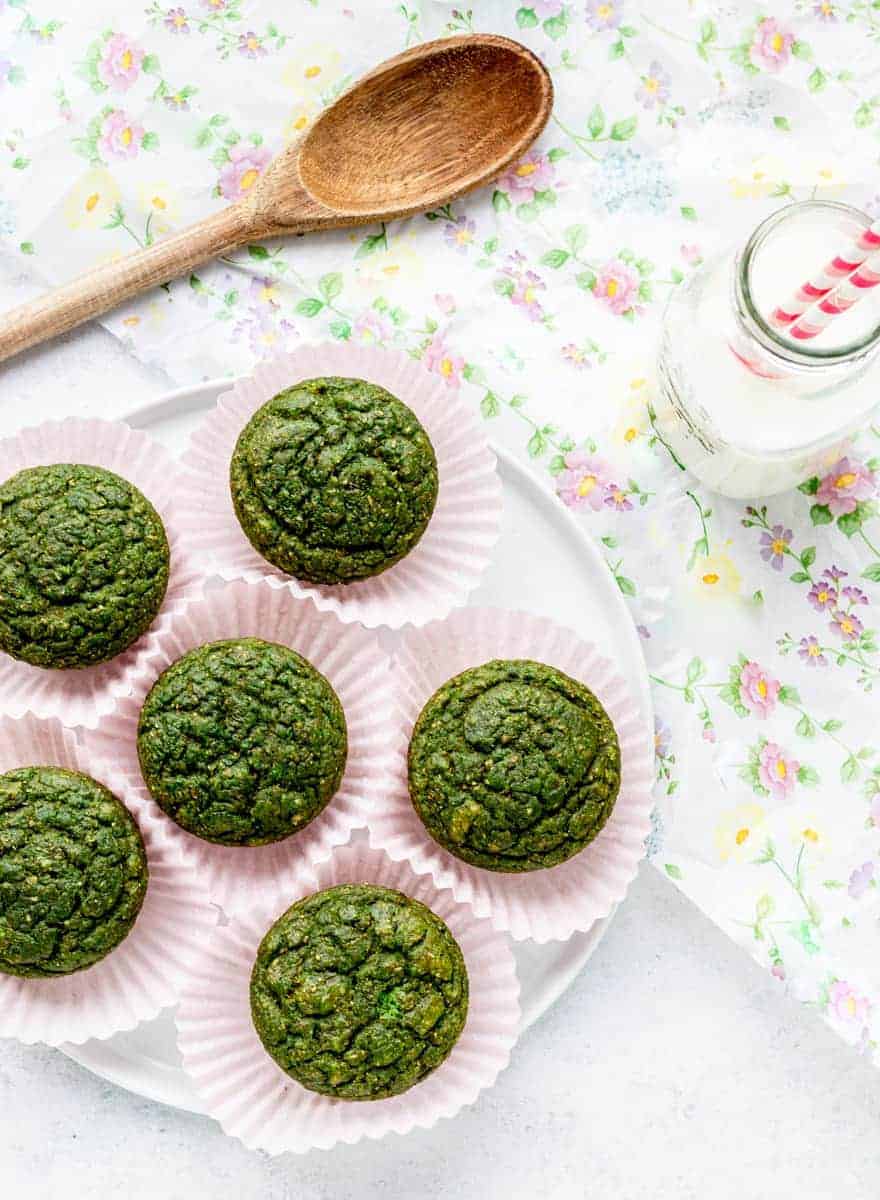 Easy healthy cupcakes recipe made with just a few simple ingredients – applesauce, fresh spinach, yellow cake mix and topped white frosting and sprinkles.
Yes, you read that right! Spinach cupcakes make for a sneaky way to include vegetables in your kids' diet. These are perfect for a birthday party!
Spinach and Egg Recipes
One of the easiest way to incorporate fresh or frozen spinach into your meals with eggs!
Whether in a quiche, casserole, omelet, egg bites, breakfast pizza or scramble, we have lots of ideas for delicious egg recipes that are yummy for breakfast, lunch or dinner!
This crustless spinach mushroom quiche is made with mushrooms, spinach, onion, and mozzarella, and is perfect for brunch, breakfast, or serve it for dinner!
These copycat Starbucks egg bites are slow cooked in the oven, yet reminiscent of tender sous vide breakfast bites with ham, bell peppers and a flavorful egg base.
They're pretty darn close to the real thing, but you can make them at home with your favorite mix-ins, and for a lot less money.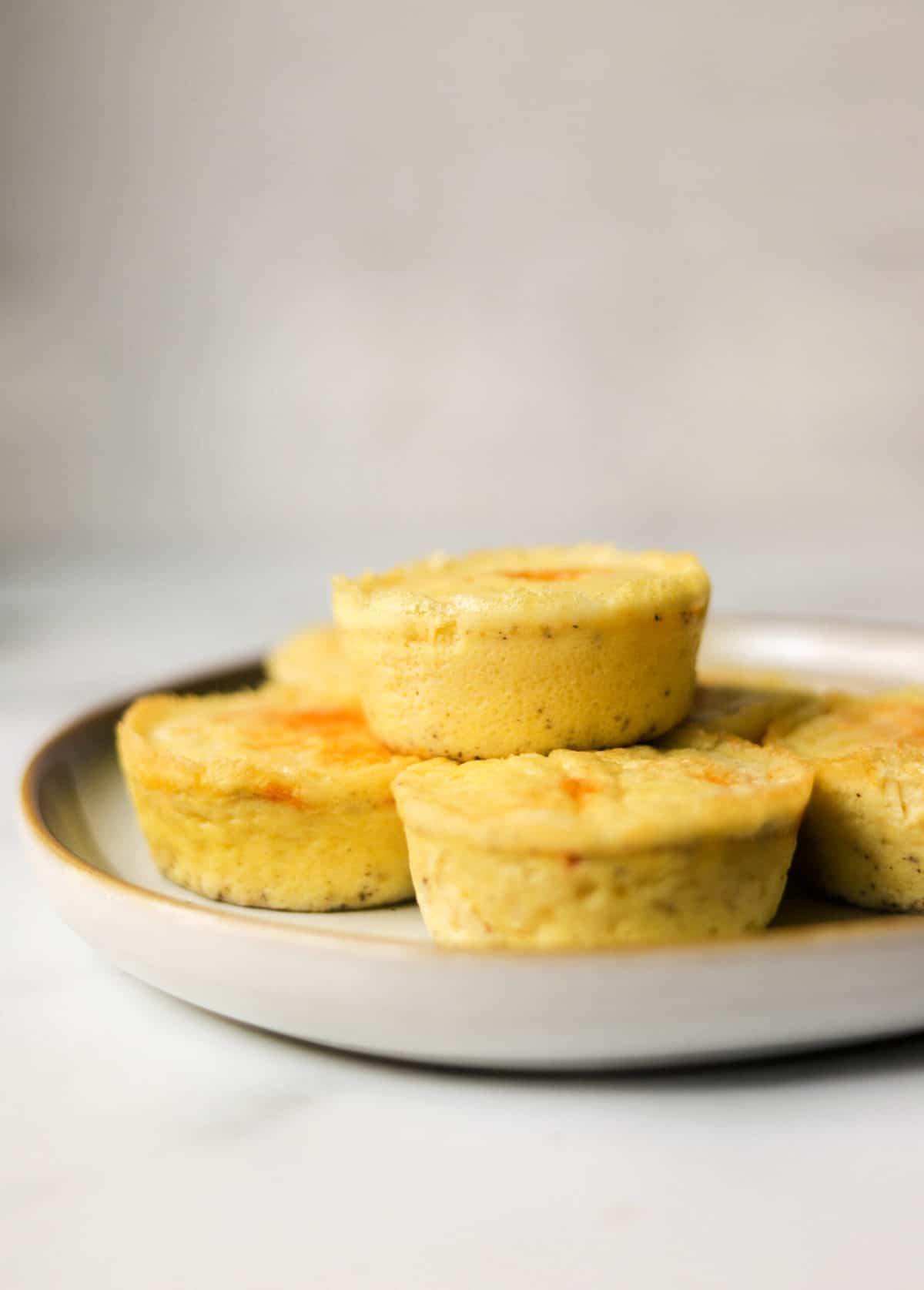 Melty Swiss cheese and buttery mushrooms sautéed with fresh thyme make this savory, earthy spinach mushroom strata recipe your new weekend brunch-at-home favorite.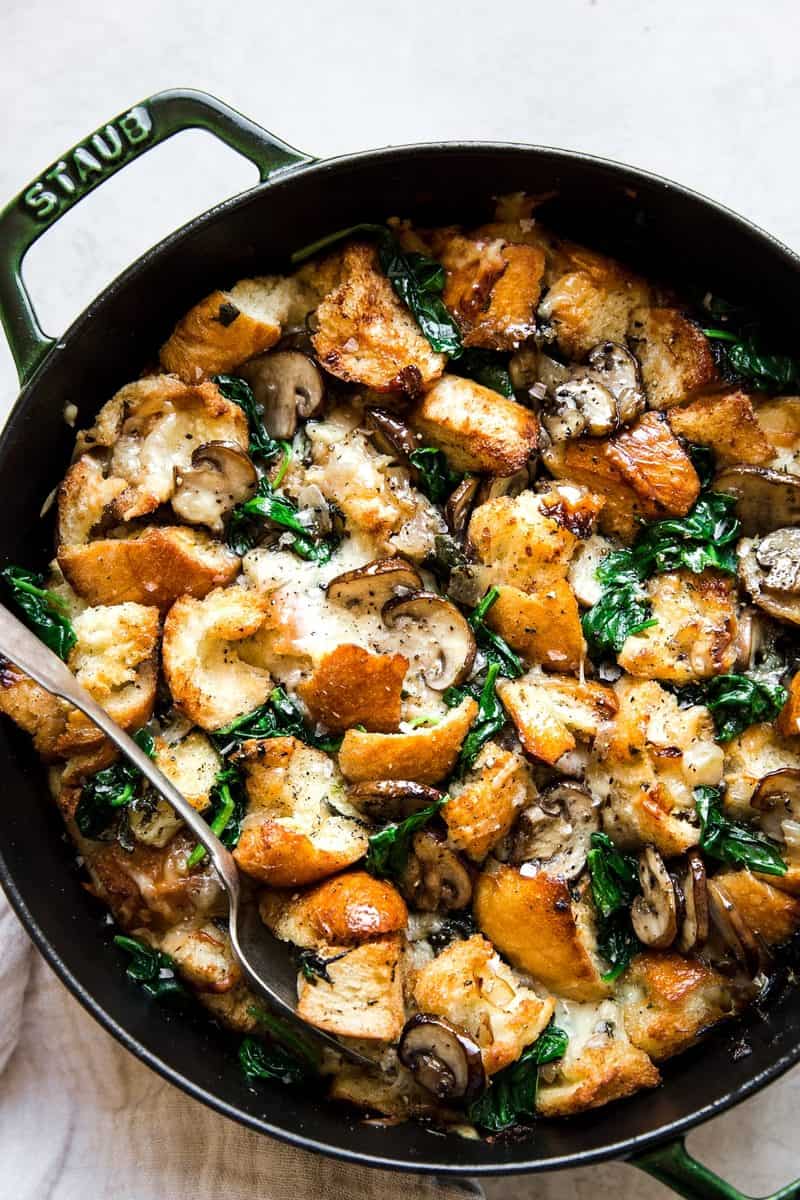 Also try:
Spinach Appetizers and Snacks
Behold my favorite spinach snacks. Everyone will love these recipes for spinach dip, flaky pastries with spinach in them and my latest obsession - spinach chips!
We have all of the above, right here.
Spinach and ricotta pinwheels are an easy vegetarian savory appetizer recipe. Creamy spinach, melty ricotta, salty parmesan, and earthy spinach wrapped up in flaky, buttery puff pastry.
Perfect for a party or just an easy snack, it's just such a delicious recipe and kids will love it too!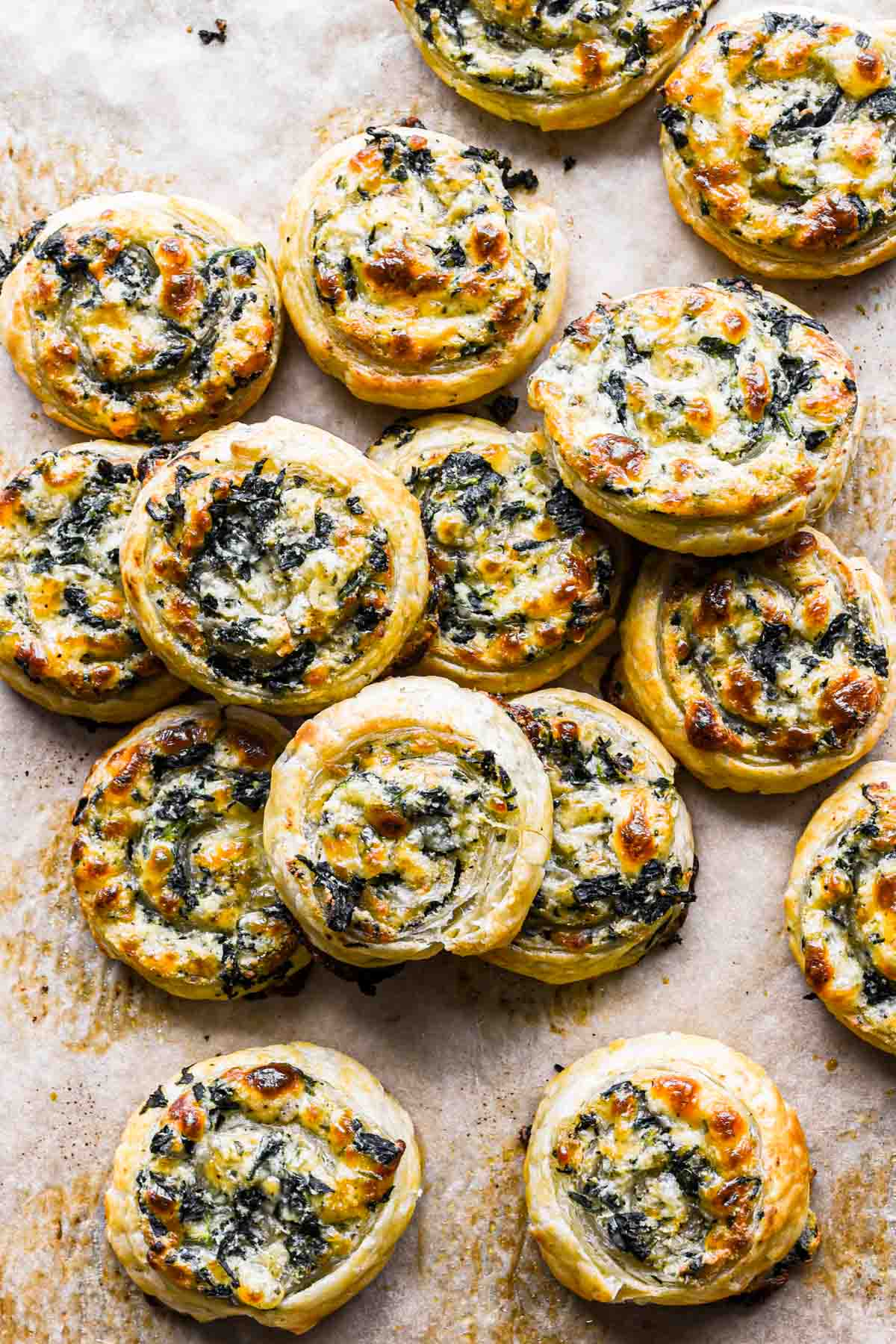 These little spinach puffs are filled with a mixture of sautéed onion, garlic, spinach and cream cheese and baked inside little puff pastry cups in a muffin tin.
We've never met anyone who's been able to eat just one.
Also try:
Main Dish Recipes with Spinach
What better way to feature gorgeous, bright green spinach than in your main dish?
From stuffed chicken, casseroles and pasta bakes to meatballs, lasagna and pizza, you'll fall in love with these spinach-heavy meals.
This spinach stuffed chicken breast is delicious, impressive, and comes together with ease.
With savory flavors of sun-dried tomatoes, spinach and cheese, it's a 30-minute meal you won't soon forget.
This one pot curry pasta is filled with spring peas, spinach, garlic and a creamy curry sauce. It's easy to make and is perfect for meal prep!
Add chicken, shrimp or salmon for a complete, protein-rich dish.
This tomato spinach ravioli bake is rich and nourishing and makes an excellent main dish for a family dinner.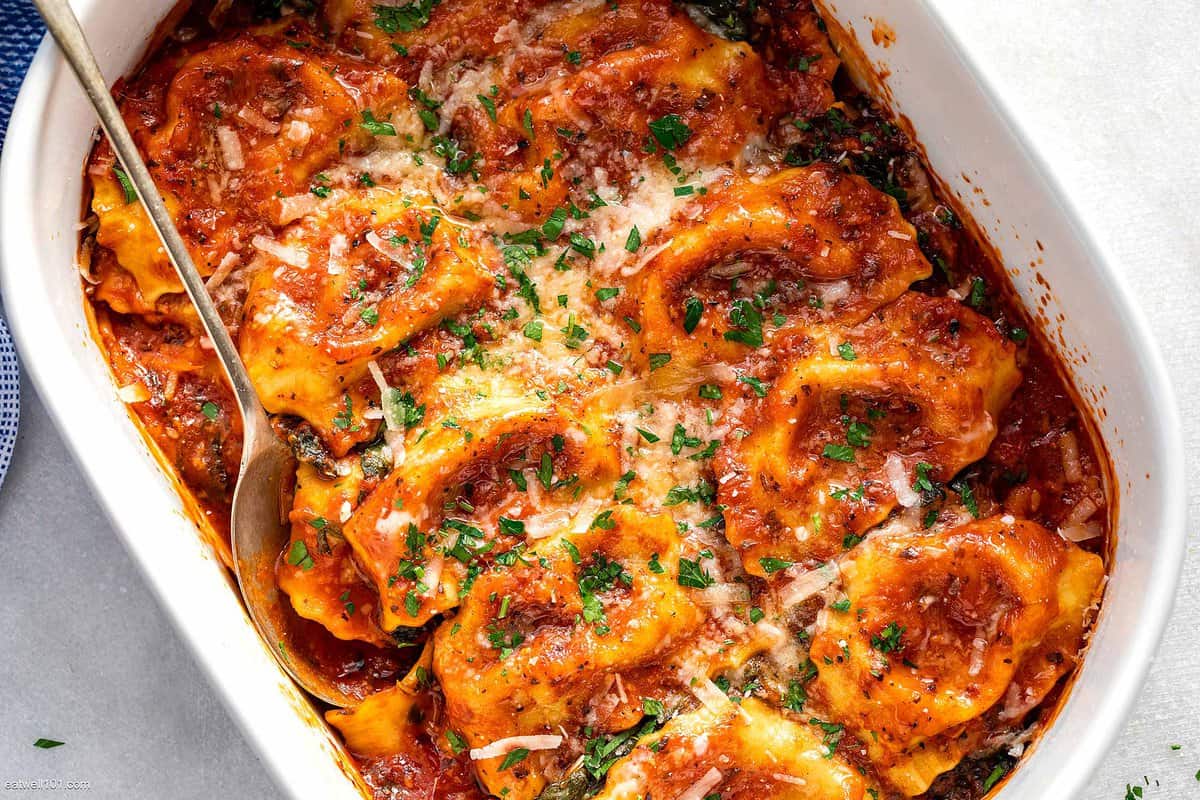 What's better than a one pot meal? Especially when it's chicken parmesan pasta bake.
Al dente tubular noodles are stuffed and surrounded by a creamy garlic Italian cheese sauce, juicy chicken and loads of spinach. It's delicious and the entire family will love it!
You're going to love this creamy spinach stuffed salmon!
Crispy, pan seared stuffed salmon is filled with a creamy spinach dip in garlic butter - a new delicious way to enjoy salmon!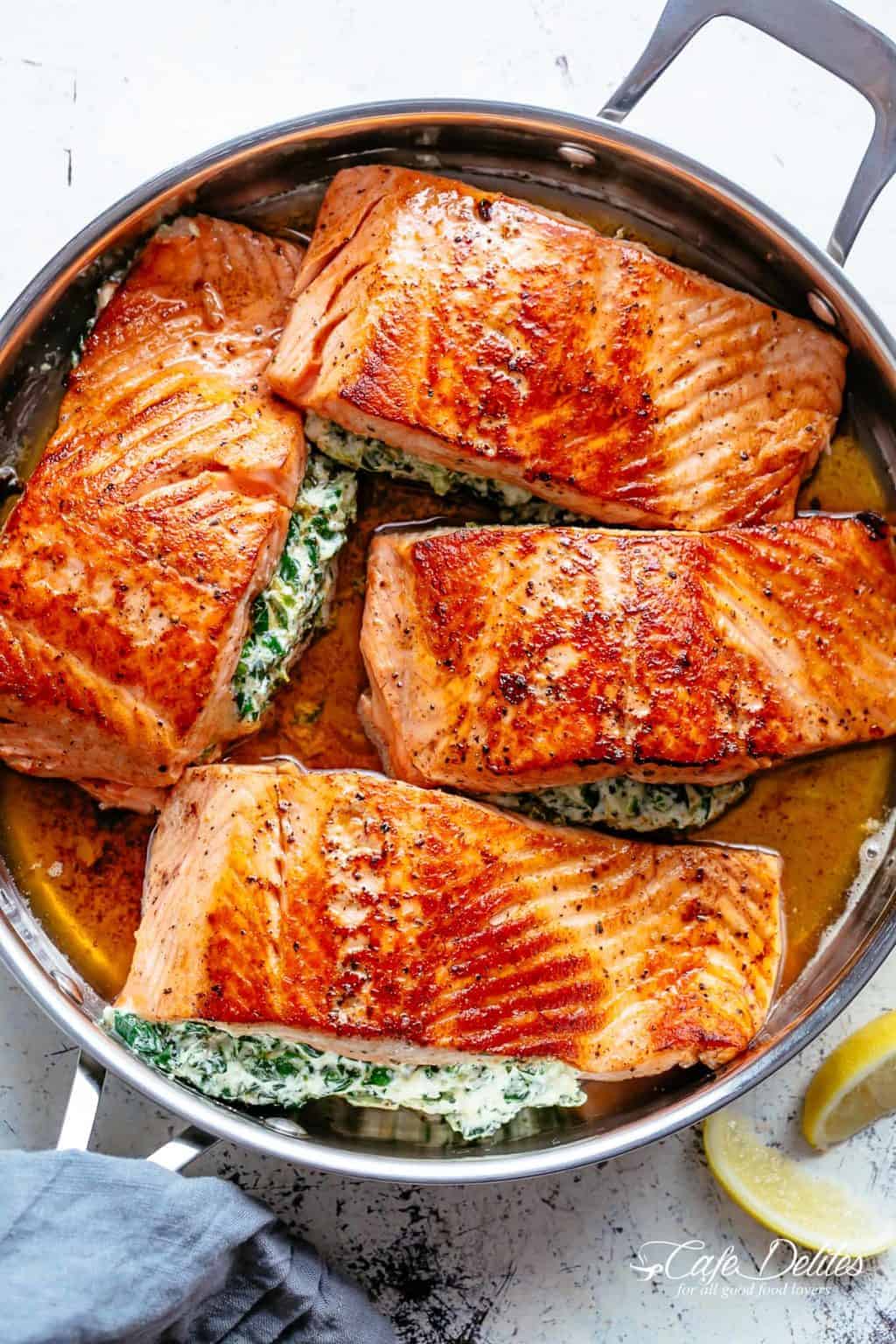 This fabulous white pizza with spinach and bacon is made with a whole grain Greek yogurt crust, a luscious Parmesan garlic white sauce, sauteed garlicky spinach, crispy uncured bacon and ooey gooey mozzarella.
It's a unique and fun pizza that you'll totally fall in love with!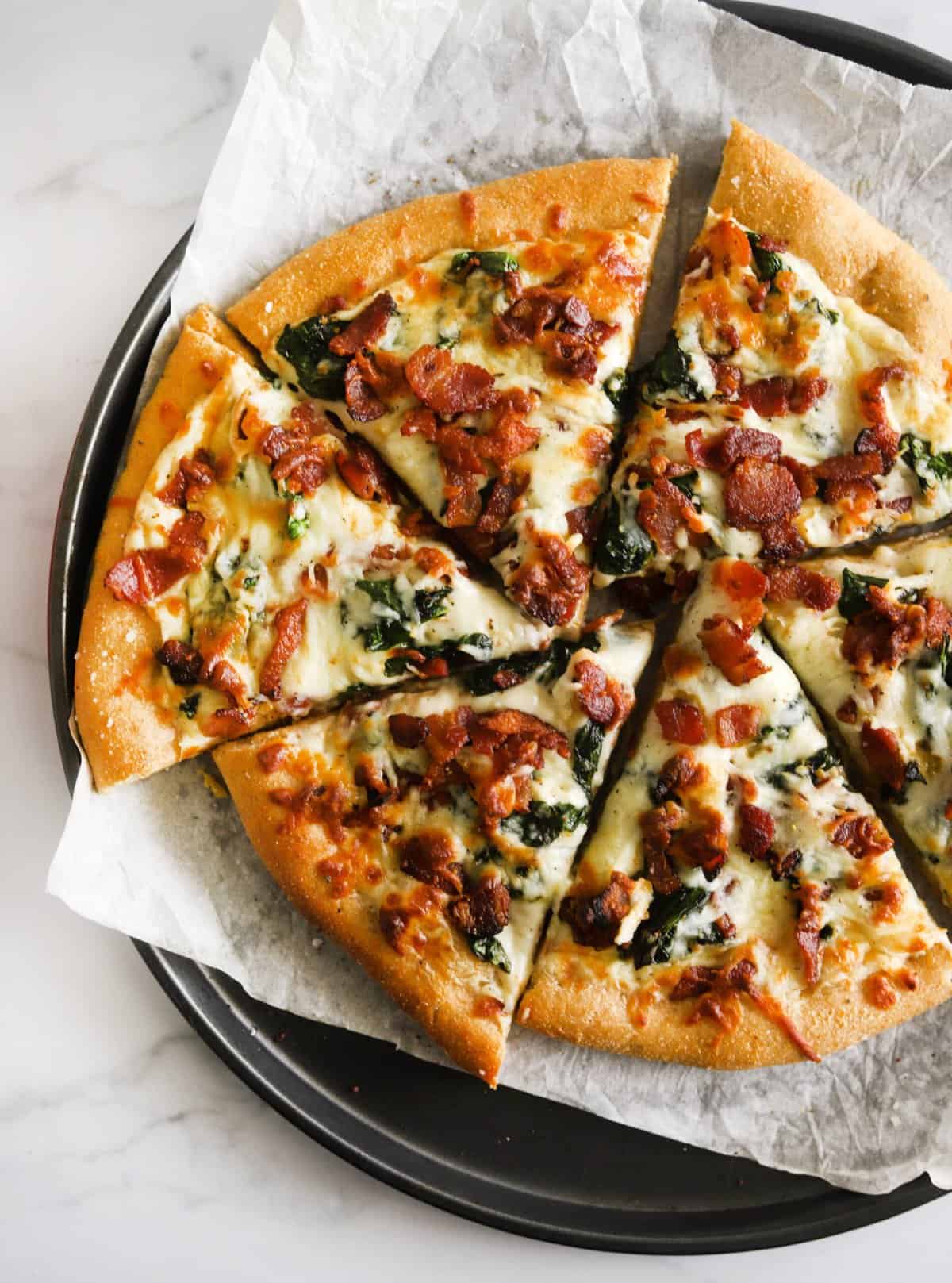 Also try:
Spinach Side Dishes and Accompaniments
Why not toss some spinach into your side dishes, salads, soups, pastas and casseroles?
It's an easy ingredient to add to just about anything. Take a look:
This 5-minute sauteed spinach with garlic and lemon is a simple and delicious side dish everyone will love at your table.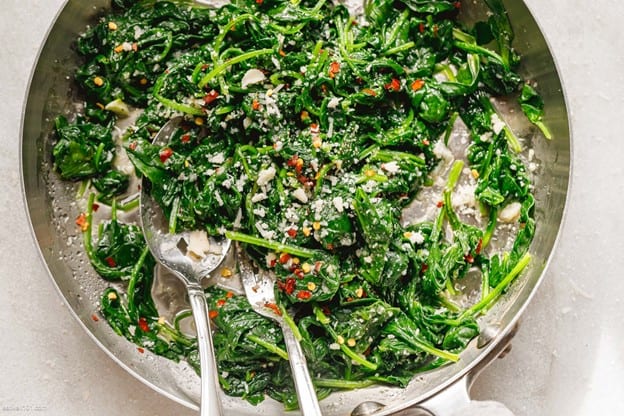 This green sauce pasta requires less than 10 simple ingredients. It's super creamy, packed with fresh greens and ready within a couple of minutes!
You'll only need a blender so it's the perfect sauce when you don't feel like cooking.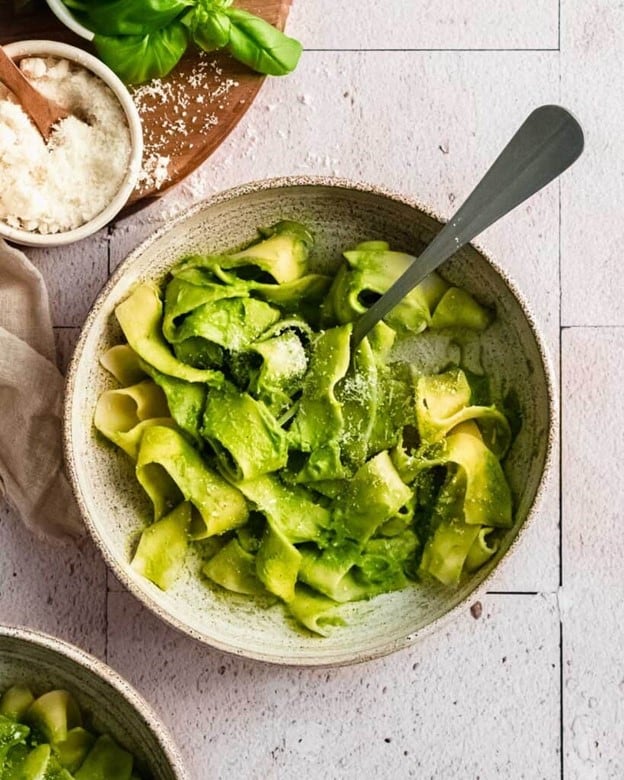 These spinach zucchini frittata fingers are the perfect healthy protein and iron-packed meal or snack for both little ones and adults.
Portable, freezer-friendly, easy to prepare and great for baby-led weaning or kid-friendly breakfasts or lunches!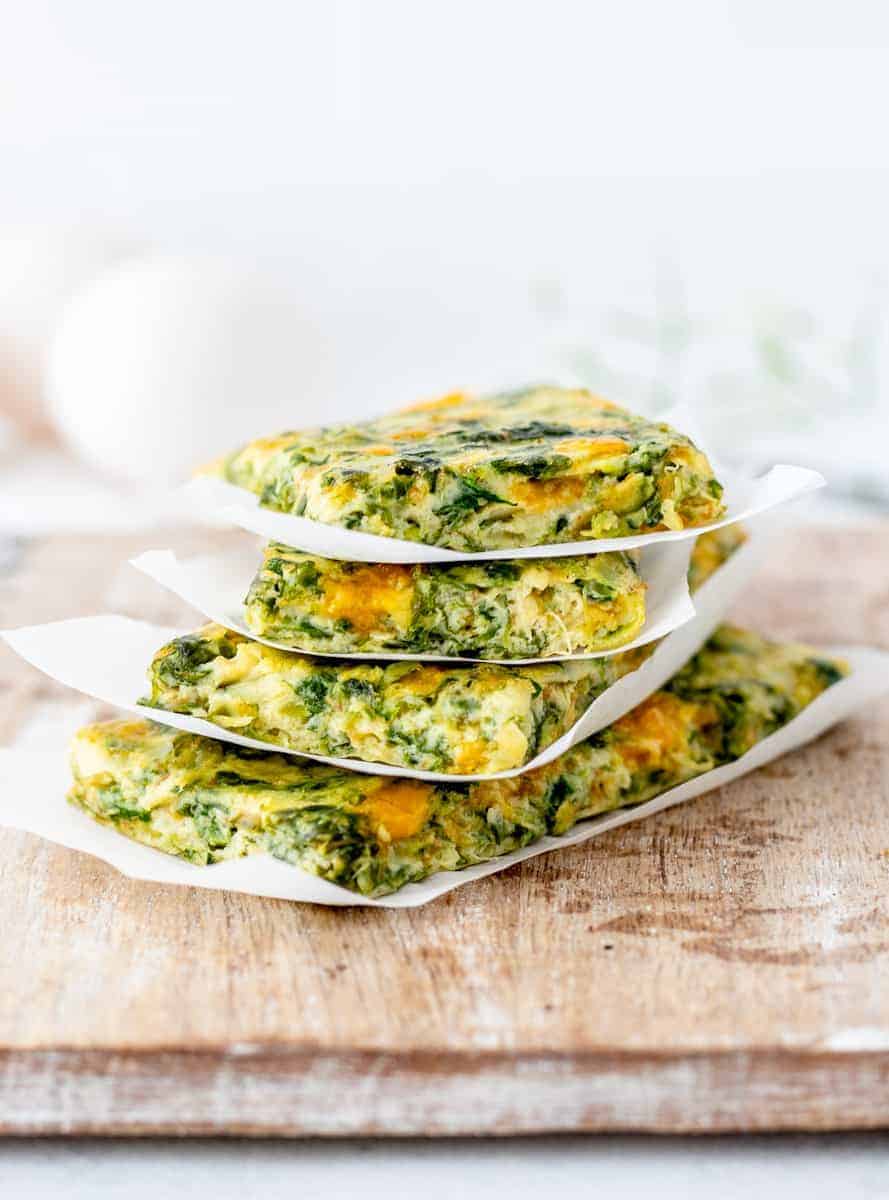 Sweet, tangy, colorful, and fresh strawberry avocado pasta salad with poppy seeds is ready in under 20 minutes and a great side dish or mains for everyday eats or holiday gatherings.
Spinach almond pesto is a fresh and versatile condiment with a spotlight on summer seasonal basil!
Using almonds instead of pine nuts and bulking it up with spinach makes it more cost-effective without sacrificing the classic flavors.
The best Greek spinach pie recipe ever - deliciously cheesy with a flaky crust that's unbelievably yummy.
It's a healthy, easy spinach pie you'll make over and over!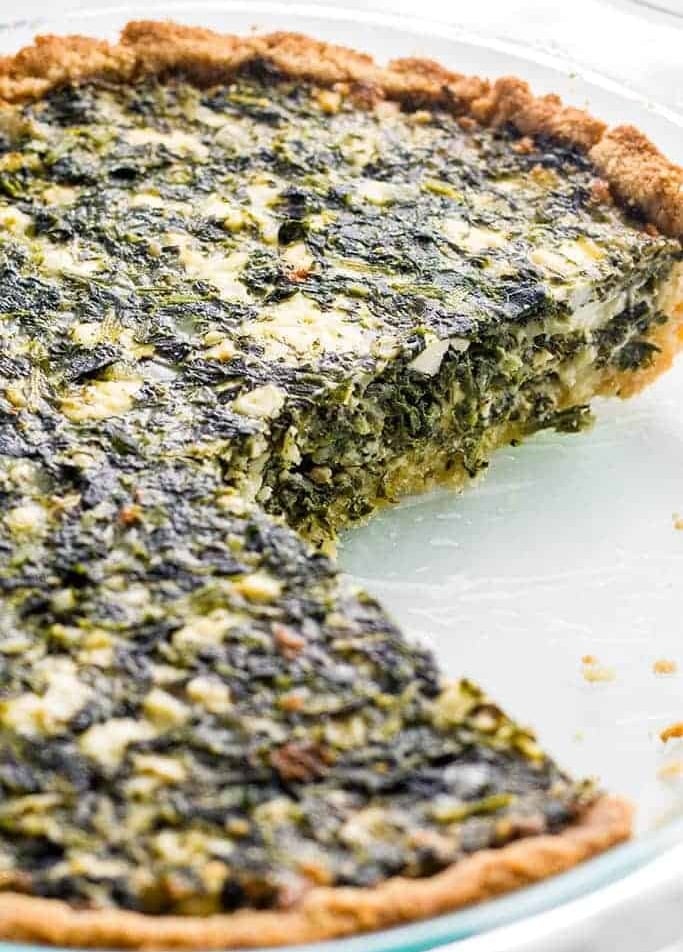 Also try:
Frozen Treats with Spinach
Kids absolutely love frozen treats, all year-round!
This collection of frozen spinach yummies will keep them cool in the summer and serve as a fun activity during the colder months!
If you like green smoothies you're going to love these green smoothie popsicles.
They're packed with a whole serving of vegetables (though you'd never be able to tell from their creamy, sweet taste!)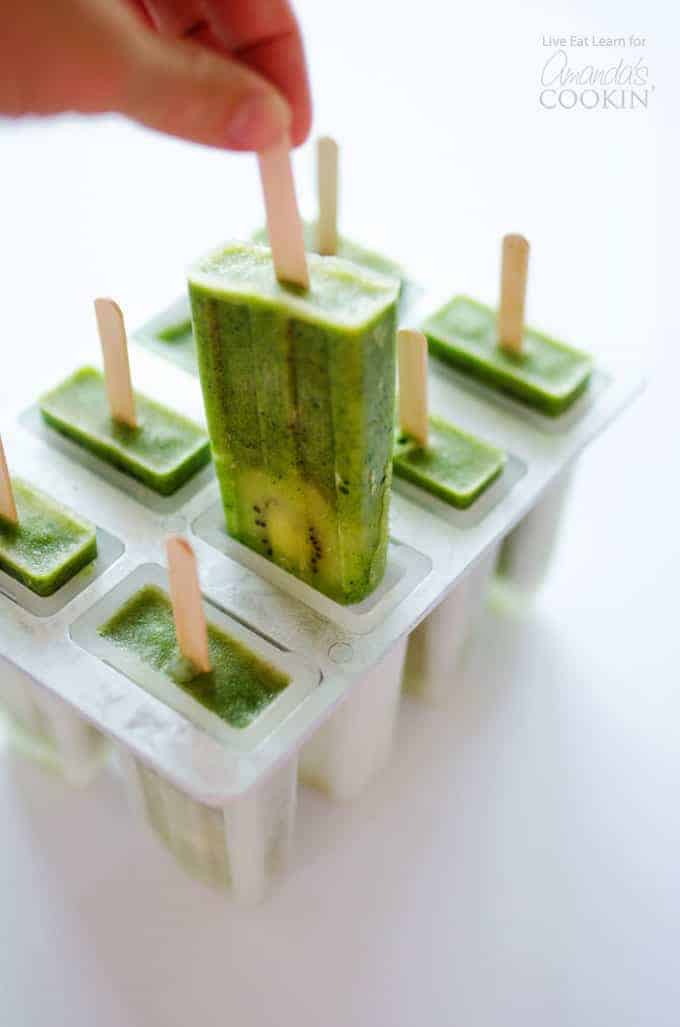 Also try: