Roasting vegetables has never been easier! In just a few simple steps, I walk you through the ins and outs of creating this basic, healthy side dish for your family.
If you're wondering "what oil do I use?" and "what temperature should I set my oven to?"
Well, I've got you covered! This is the ultimate guide on how to roast vegetables and I have all your burning questions answered below!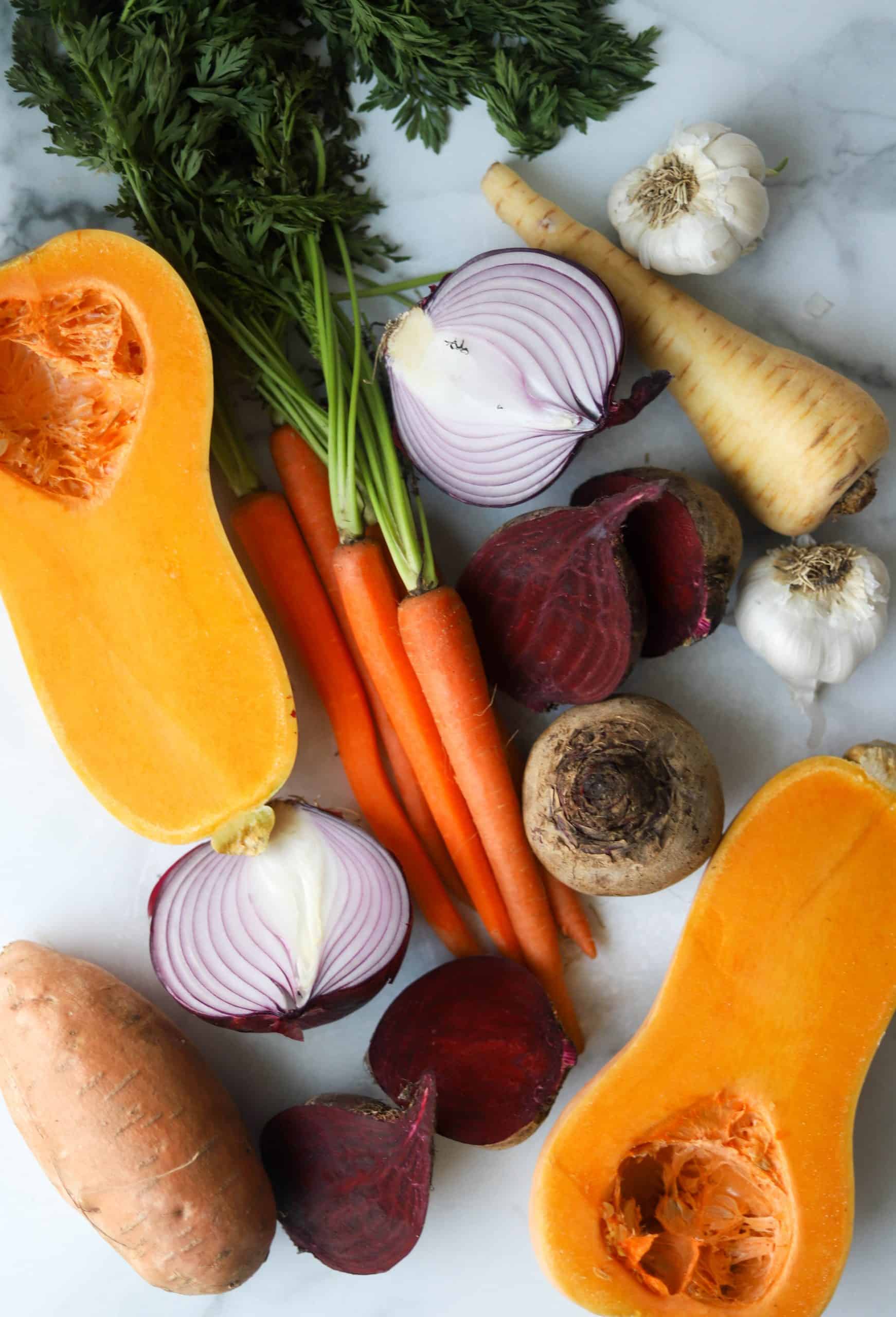 A guide to roasting vegetables
This guide on how to roast vegetables is complete with all the tips and tricks to achieve perfectly crisp, never soggy veggies. It's quick, easy, and oh so healthy!
In just a few simple steps, you'll transform raw vegetables into the perfect dinner side dish.
Better yet, roasted vegetables are so versatile, you can use them SO many different ways.
You can whip up some roasted root vegetable soup in just over an hour (most of which is oven roasting time!) or throw together an easy roasted sheet pan dinner, like this sheet pan sausage and potatoes. 
But no matter what vegetables you decide to roast and no matter what you decide to create with them, you'll be so happy to have learned this crucial kitchen skill!
From here, you'll be able to turn vegetables from drab to fab, serving your family a healthy dish in no-time.
And if you're looking for more veggie inspiration, check out my tips and trick for easy ways to eat more vegetables!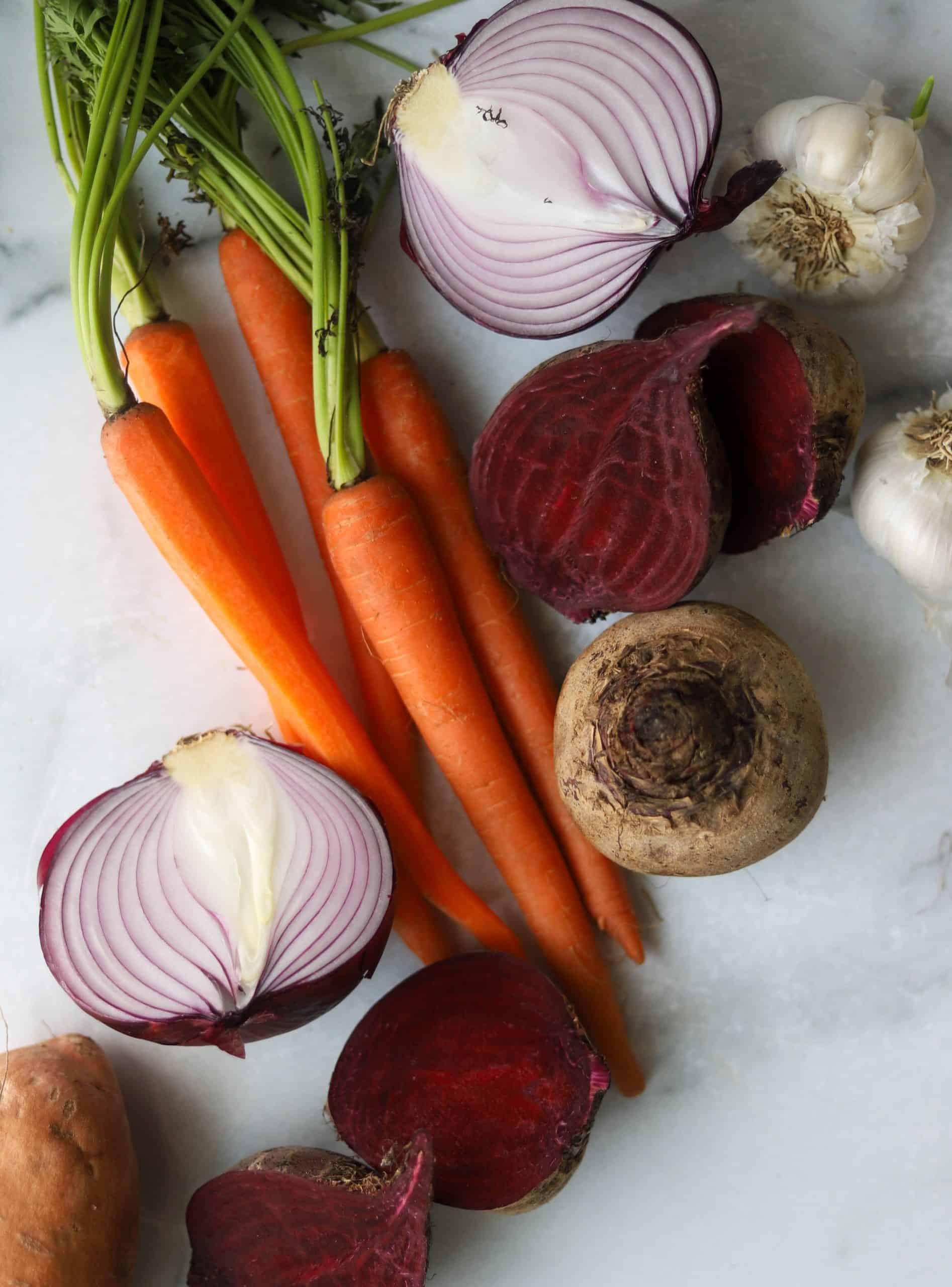 What You'll Need
Equipment
A Cutting board, chef's knife, and vegetable peeler
Oven or air fryer
A sheet pan (or any metal pan that the vegetables can cook in one even layer on)
A spatula for stirring and serving
Ingredients
What oil do I use?
Neutral oil. If you're looking for the spices and herbs you use to flavor your vegetables to shine, use a neutral oil, like avocado or canola.

These oils also have a high smoke point, so they will not burn when roasted, grilled or stir fried.

Extra-virgin olive oil. If you feel the olive oil flavor will lend itself well to the other flavors you are using with your roasted vegetables or if you want the simple flavors of olive oil + salt + black pepper, go with extra-virgin olive oil.

We used to think extra-virgin olive oil couldn't withstand high heat because it has a high smoke point, but research now shows that because of the antioxidant content in extra-virgin olive oil, it can be used for high heat cooking.
It's basically a jack of all trades. Yay!
What vegetables can be roasted?
Any! Basically any vegetable can be roasted.

Depending on the vegetable and the size they are chopped, the cooking time may vary.

Some of my favorite veggies to roast are root vegetables, like carrots, parsnips, sweet potatoes, red onions, beets, white potatoes, etc.

As well as cruciferous vegetables, like broccoli, cauliflower, and Brussels sprouts.
However, bell peppers, asparagus, and green beans are great too!

When deciding which vegetables to pair together when roasting, consider their typical cooking time.

Root vegetables tend to require similar cook times and take a bit longer than most other vegetables, while cruciferous vegetables tend to have similar cooking times to each other and require a little less time than root veggies.
Other vegetables like bell peppers, asparagus, green beans and mushrooms tend to cook quickly, so I'd cook those together.
If you want to mix and match, go for it!
Either alter the size you chop the veggies (for example, chop sweet potatoes in smaller cubes if you're roasting them with green beans) or cook the sweet potatoes for 10-15 minutes, then add the other vegetables for the remaining cook time.
Step-by-Step Cooking Instructions
Time needed: 1 hour
Step by step instructions on how to roast vegetables.
What temperature is best for roasting vegetables?

Set the oven temperature to 400 degrees F.

Cut the vegetables.

Cut the vegetables into the same size pieces so they cook evenly.
You can leave the outer peel on most vegetables, just be sure to wash them!
Bonus: Vegetable peels have more fiber and leaving them on means less prep!

Prepare the sheet pan.

Coat the sheet pan with cooking spray.
Heads up! Starchy vegetables tend to stick, even when coated in oil.

Place vegetables on the pan.

Add the vegetables to the sheet pan and lightly drizzle with oil. Toss to coat.
Tip: Use just enough oil to coat the veggies. Do NOT oversaturate.

Season the vegetables.

Add salt, black pepper, spices, and herbs. Toss to coat. Separate the vegetables so they are spread out in an even layer.
Tip: Spreading the veggies into an even layer with a little space in between allows them to cook evenly.

What oven rack do I use?

There are a lot of opinions on this, but I cook them in the middle rack so the air can circulate around the sheet pan. Also, if you have a convection oven, make sure the setting is turned on. This allows the heat to circulate more evenly.
Tip: If you cook them on the bottom or top rack, be sure to stir the vegetables halfway through the cooking time so they cook evenly on all sides.

How long should I roast vegetables?

The cook time depends on how large or small the vegetables pieces are cut. Most take between 25 and 45 minutes to roast.

Stir the vegetables.

While it's not required, I suggest stirring the vegetables halfway through cooking for a more even roast.
The side of the vegetable that is touching the pan tends to get more caramelized, so wait until that happens, then flip the veggies.
They should be roasty toasty on the outside and fork tender on the inside.
Cooking Tips, Substitutions, & Alternatives
Do not overcrowd the pan! The veggies need space for heat to circulate so that they can caramelize around the edges.
Don't use too much oil, but don't use too little oil either! The veggies will become soggy with too much and dry with not enough.

Use just enough to fully cover the vegetables in a thin, glistening coat of oil.

Start with a small amount of seasoning and add more when they're done, once you've tasted them.
If using fresh herbs, add them AFTER cooking, as they'll burn while the vegetables are roasting.
Fresh garlic also burns easily. If using garlic to flavor the vegetables, toss it in with the veggies for the last 1 to 2 minutes of cooking.
If making a roasted sheet pan meal that also has meat on it, such as chicken or salmon, you may want to adjust the size you chop the vegetables.

This size should be dependent on how long the protein takes to cook.
For example, fish and shrimp typically cooks in a short amount of time, whereas bone-in chicken takes longer, so cut the vegetables into smaller pieces with a salmon sheet pan meal and larger pieces with a chicken sheet pan meal.
Doing so will help everything cook evenly all at the same time!
Seasonings, sauces and flavor combinations
For a simple (yet delicious) version, toss the vegetables in oil, then use salt and black pepper as the bare minimum seasonings.

You may need to add more salt and black pepper after the vegetables are roasted as well. Taste and adjust!

Add other dried spices and herbs depending on the flavor you're looking for. Here are a few combination ideas:

Italian blend: dried oregano and basil leaves and chopped dried thyme or rosemary
Mexican blend: chili powder, cumin and smoked paprika
Indian blend: garam masala or coriander, cumin, cinnamon and black pepper
Sweet blend: cinnamon, nutmeg, ginger and cloves + a little brown or granulated sugar
Standard blend: Onion powder, garlic powder, black pepper and paprika
Kick up the heat: add cayenne or crushed red pepper flakes or a drizzle of your favorite hot sauce, Sriracha, sambal oelek or gochujang

Serve them with sauces and condiments for even greater flavor!

Whisk together chopped fresh thyme, balsamic vinegar and honey
Use your food processor to make chimichurri, pesto or salsa verde
Whip up a quick tahini or peanut sauce
Make your own sweet and sour sauce with honey or maple syrup and whole grain or Dijon mustard
Try a lemon pepper dressing with olive oil, fresh lemon zest and juice and lots of coarse black pepper
Make a batch of cilantro lime dressing with olive oil, chopped fresh cilantro and lime zest and juice
Make it Asian-inspired by tossing together a bit of sesame oil, soy sauce, honey and Sriracha
Finish with a drizzle of nut oil like walnut or hazelnut and top with crushed, toasted nuts and chopped fresh parsley
What can you serve with roasted vegetables?
Serve roasted veggies as-is! They make a fabulous side dish. You can also:
Serve them as the base of a hash: top them with a fried, scrambled, poached, or soft boiled egg for breakfast or as an easy dinner.
Turn them into a velvety roasted vegetable soup.
Put them in an omelet, egg bake, breakfast casserole, or frittata.
Put them on top of a pizza, grain bowl, or salad.
Turn them into tacos using the same Mexican spice mixture as in these roasted sweet potato wedges!
Add them to my naan pizzas with hummus!
Mix them into a pasta dish or casserole.
Add them to a one pot meal, like my asparagus stuffed chicken.
FAQs
Can you roast vegetables in the air fryer?
Absolutely! Prep them with oil and seasoning as outlined above. Coat the air fryer basket with cooking spray, then line the vegetables in an even layer with a little space in between.
Cook them 10 to 15 minutes (they cook faster in an air fryer than roasting in the oven!). However, you may have to roast in batches since the air fryer basket is smaller than a sheet pan.
Tip: Toss the veggies in the basket a few times during cooking so they cook evenly.
How do you roast frozen vegetables?
You can roast frozen vegetables, but you're going to want to thaw them first. Then, pat them dry before roasting. Frozen veggies tend to have excess moisture. Added moisture = soggy vegetables! So, be sure to dry them well.
Can you freeze roasted vegetables?
You sure can! Simply place them in an airtight container or Ziploc freezer bag and store them for up to 2 months in the refrigerator.
Depending on the vegetable, the texture may not hold up to using them for a hash or to eat as-is, but they can certainly be used to make pureed soups and sauces!
What if some of my vegetables burn and some are undercooked?
As I mentioned above, some vegetables cook faster than others. If some of your veggies tend to burn and others are overcooked, this is my best advice.
For the vegetables that burn, cut them into bigger pieces or add them to the pan halfway through the roasting time.
For the vegetables that are undercooked, cut them into smaller pieces and be sure they cook for a longer period of time.
Depending on your oven (ovens can greatly vary), you may need to adjust your cooking temperature, roasting time and what oven rack you use.
Also, be sure your vegetables are all evenly coated in oil (they should not be dry OR swimming in oil). Play around with these variables and you should have perfectly roasted vegetables in no-time!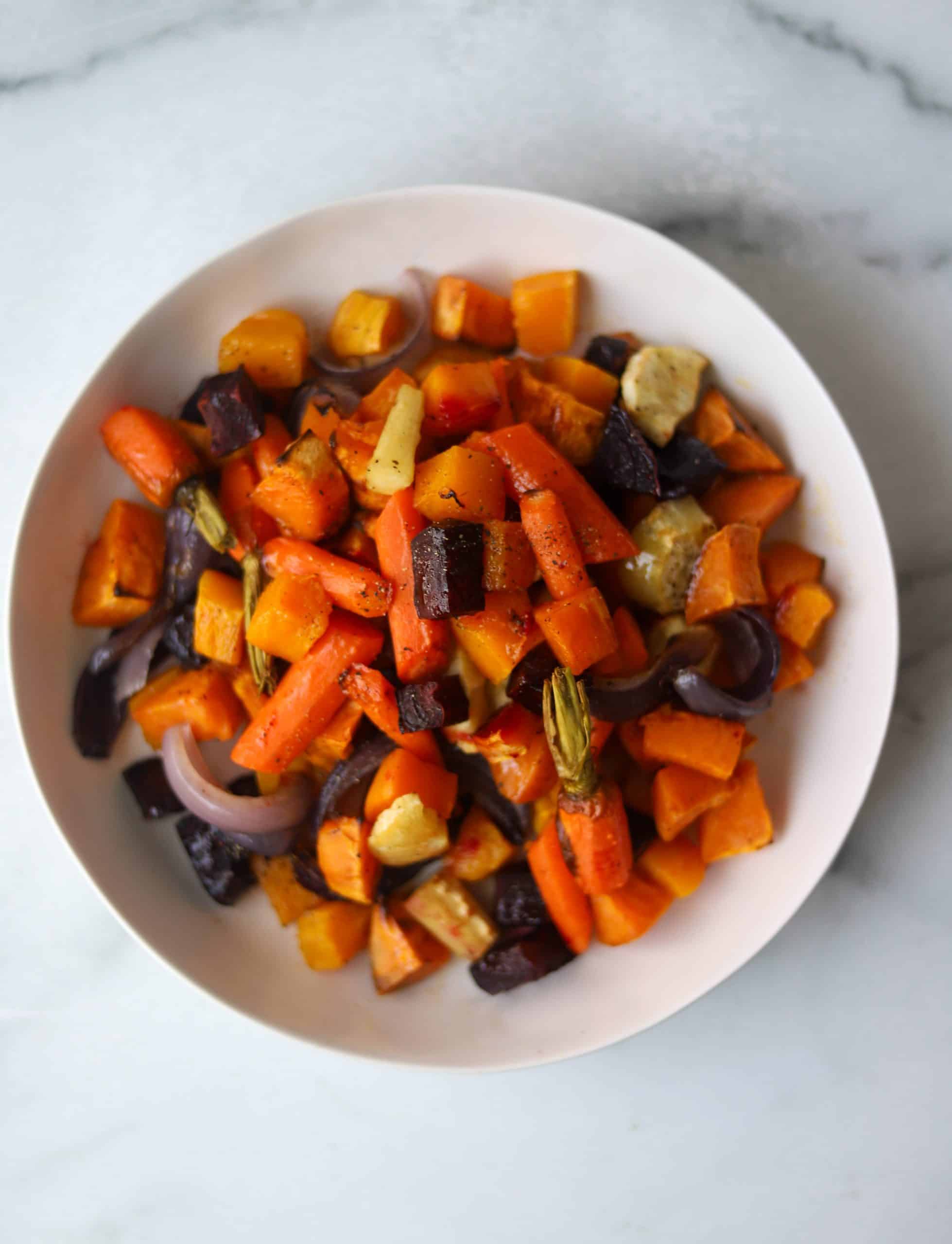 Yummy veggie recipes: