Can I interest you in over 60 healthy chicken thigh recipes?
We've rounded up the best juicy chicken thigh recipes that are made in the oven, on the stove, in the air fryer, on the grill, in the pressure cooker and slow cooked to perfection.
No matter your mood or the season, there is a thigh recipe you're going to fall in love with!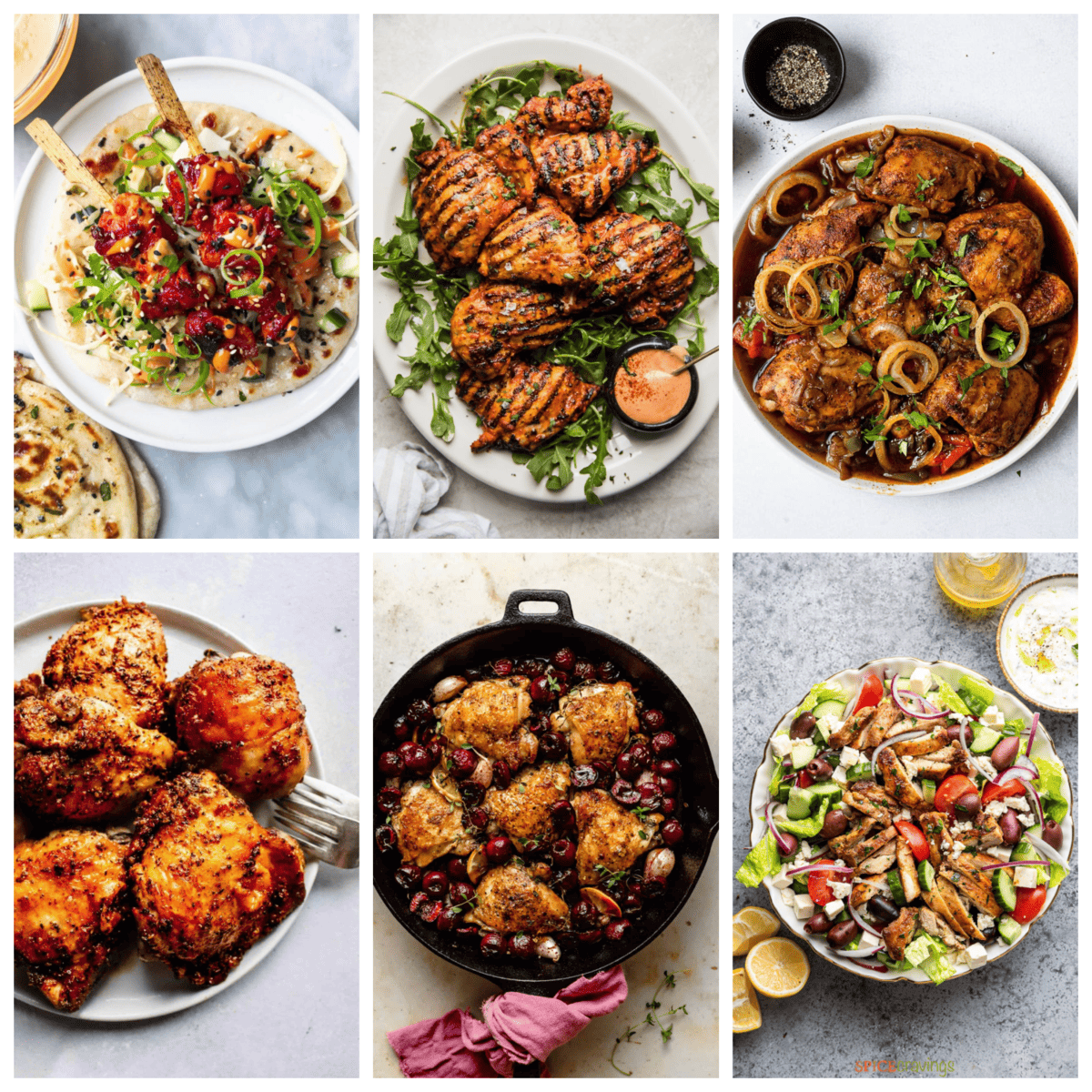 Baked or Roasted Chicken Thighs
Miso Jidori chicken thighs are juicy, tender, and dressed in a rich, umami-packed miso sauce.
These scrumptious thighs require minimal effort and make a flavorful main course or topping for ramen or a rice bowl.
Cast iron chicken thighs with cherries is the perfect one-pan dinner.
It's easy to make and perfectly balanced in flavor - and you'll LOVE the extra crispy chicken skin!
A great dish to use fresh cherries at the height of the season!
Can I interest you in the juiciest cornflake-crusted buttermilk chicken on earth?!
Chicken thighs are marinated in buttermilk, then coated in a spiced cornflake crust and oven-baked until super crispy.
You can drizzle with honey before serving, if you'd like.
Pollo Asado (or Pollo Asada) is a sweet, tangy, and fragrant marinated chicken recipe bursting with warm Mexican spices.
Make it in the oven (or air fryer) for a meal-prep-friendly recipe to serve in many ways.
Try these other baked or roasted chicken thigh recipes:
Stove Top Chicken Thighs
Chicken 65 is a delicious, flavor-packed spiced chicken recipe that and has just the right amount of heat.
Scoop it up with warm, chewy, buttery homemade naan or soft chapatis, or alongside fluffy basmati rice.
Seasoned with some of the defining flavors of Vietnamese cuisine—heady, citrusy, lemongrass, tons of fresh ginger, and fish sauce.
These succulent chicken thighs are a true treat.
Greek Chicken Salad is a bright, light, and flavorful meal loaded with chicken seasoned with Mediterranean spices, crisp vegetables, juicy olives, and feta cheese.
Finished with a homemade tzatziki dressing, it's a satisfying meal ready in a little over 30 minutes.
Try these other stove top chicken thigh recipes:
Air Fryer Chicken Thighs
Crispy, juicy, and tender air-fried chicken with cumin and vinegar.
A simple, quick way to enjoy the best air fried chicken thighs!
This vermicelli bowl is beautifully balanced with sweet and tangy flavors.
Don't let the list of ingredients intimidate you, they all tie together in a symphony for textures and flavors.
These incredibly easy air fryer chicken thighs are juicy and crispy with just the right amount of herbs and seasonings.
This easy recipe works perfectly for bone-in or boneless chicken and skin-on or skinless.
Try these other air fryer chicken thigh recipes:
Grilled Air Fryer Chicken Thighs
Chicken thighs marinate in a homemade harissa sauce, then hit the grill for a super quick, easy chicken dinner that packs a major, major smoky, spicy burst of flavor.
Juicy chicken thighs, marinated in a sticky, sweet and spicy sauce and grilled to perfection.
What's not to love about this DELICIOUS gochujang chicken recipe? Serve with a crunchy slaw and soft flatbreads and you've got a winner of a dish.
A fresh and delicious grilled chicken Caesar salad with lots of flavor from cucumbers, avocado, tomatoes, parmesan, and grilled bread for croutons!
An easy homemade Caesar dressing elevates each bite.
Chicken thighs rather than chicken breasts are used in this recipe for maximum juiciness and flavor.
Try these other grilled chicken thigh recipes:
Slow Cooked and Instant Pot Chicken Thigh Recipes
Today's recipe happens to be my take on butter chicken, which I will probably be eating for the next 4 meals and I'm overjoyed about it.
Some days are just meant for comfort food. And in my world, comfort food is a giant pot of spiced comfort food with perfectly cooked Jasmine rice.
It's packed with spices, which make the entire house smell INCREDIBLE.
These Instant Pot chicken thighs make a succulent, easy, and very flavorful dinner that will make everyone at the table happy.
You can make this recipe using frozen or fresh chicken thighs.
This recipe is all about insanely delicious Instant Pot chicken vindaloo made with chicken thighs and toasted spices.
All the warm, smokey spices combine to create a silky smooth sauce packed full of flavor.
To top it off, spicy vindaloo is served with fluffy jasmine rice and warm naan bread to make it a complete meal.
Try these other slow cooked or Instant Pot chicken thigh recipes:
Smoked Chicken Thighs
These delicious smoked chicken thighs are marinated in a flavorful chicken rub, then slow cooked to tender, juicy perfection in the smoker.
This easy chicken recipe is perfect for Sunday dinner and weekly meal prep.
Try these other smoked chicken thigh recipes: