Looking for some yummy, nutritious recipes featuring ground turkey? You've come to the right place!
We've rounded up 50+ of the best recipes for chili, soup, burgers, sandwiches, meatballs, meatloaf, tacos, casseroles, pasta dishes and one pot meals that are both healthy AND delicious!
There's something tasty for everyone on this list.
The best healthy ground turkey recipes
Chili and Soup
One of the most popular ways to cook with ground turkey is in chili!
There are a ton of yummy recipes out there, as well as some tasty soups.
Grab a pound of ground turkey, a soup pot and get cooking!
Turkey pumpkin chili has all of the autumnal flavors you crave—smoky, meaty, a little spicy, and (duh) pumpkin-y—plus, it's fast!
Only 40 minutes from prep to table.
Italian wedding soup with juicy mini turkey meatballs, tender orzo and spinach in a flavorful Parmesan broth.
It's a cozy, comforting and nutritious soup you'll want to make all year round.
This healthy turkey chili is great for busy weekdays and one of my favorite recipes to meal prep!
This flavor-packed chili has both stove top and slow cooker instructions and is ready to knock your socks off!
Try these other turkey soup and chili recipes:
Meatballs and Meatloaf
Probably my favorite way to use ground turkey is in meatballs and meatloaf!
It's easy, quick and you can customize the flavors within the recipe with different herbs and spices.
Plus, they make for fabulous leftovers (meatloaf sandwich, anyone?).
Herby, garlicky Thai meatballs simmered in a creamy red curry sauce are the "fusion" flavor bomb you didn't know you needed.
These buffalo turkey meatballs are sweet, spicy, tangy, and tasty!
Serve them on their own as an appetizer or with sides for a great meal.
These air fryer turkey meatballs make the best easy protein-packed dinner.
They are made with simple ingredients like egg, almond flour and spices and pair perfectly with your favorite sauce and pasta!
Try these other turkey meatball and meatloaf recipes:
Pasta Dishes and Sauce
I love a good weeknight pasta recipe that's homemade but super easy to make.
These pasta dishes are delicious, simple and healthy!
This simple ground turkey spaghetti sauce is an easy way to add veggies into your pasta dinner.
Veggie packed and simmered with basil, oregano and plenty of garlic. Freezer friendly and tastes even better the second day so leftovers are always a bonus!
This recipe is lighter take on classic bolognese sauce, made by simmering ground turkey with aromatic vegetables, wine and Italian tomatoes, which results in a super hearty and decadent sauce in 60 minutes or less!
Try these other turkey pasta dishes and sauce recipes:
Tacos and Taco Bowls
Who doesn't love tacos?
Whether they're served in shells (hard or soft) or in a bowl with rice, they're totally fabulous.
Ground turkey shows up where you least expect it, in the best turkey taco you've ever had.
This recipe has a few tricks up its sleeve to make sure every bite is juicy and perfectly seasoned. Coming to tortillas near you in about 15 minutes.
Tacos have officially come out of their shells.
These turkey taco rice bowls have all your favorite taco fixin's served atop a bed of romaine lettuce and tangy cilantro rice.
Try these other turkey taco and taco bowl recipes:
Burgers and Sandwiches
Turkey burgers are having a moment, and I hope it never goes away.
I also love that there are so many ways to make a good sandwich out of ground turkey, like sloppy joes.
The same famous, buttery, crispy smash burger, but make it turkey.
Topped with melty gouda cheese, crunchy lettuce, juicy tomato, and tangy burger sauce sandwiched between a soft, brioche bun.
Looking for the best healthy turkey burger recipe? These lean zucchini turkey burgers are juicy, moist, super easy to make and packed full of delicious zesty flavor!
You can whip these veggie-loaded burgers together in less than 30 minutes for a quick lunch or dinner for busy weeknights!
Try these other turkey burgers and sandwiches:
Casseroles and Quick Meals
We love a good casserole or one pot meal here in the Midwest.
Whether we're whipping up cabbage rolls, enchiladas, lettuce wraps or even salads, we love that each of these recipes are meal prep friendly.
The most delicious, turkey cabbage rolls recipe, baked in a carrot, onion and tomato sauce!
These quick and easy lettuce wraps are filled with a satisfying combination of ground turkey and toasted cashews.
This healthy ground turkey enchilada recipe is a quick and easy variation on a classic!
This hearty, flavorful dish has bold authentic flavors but is ready from start to finish in 45 minutes!
Spiced with fresh jalapeños and taco seasoning, and sprinkled with pepper jack cheese, turkey-stuffed peppers are a protein-packed.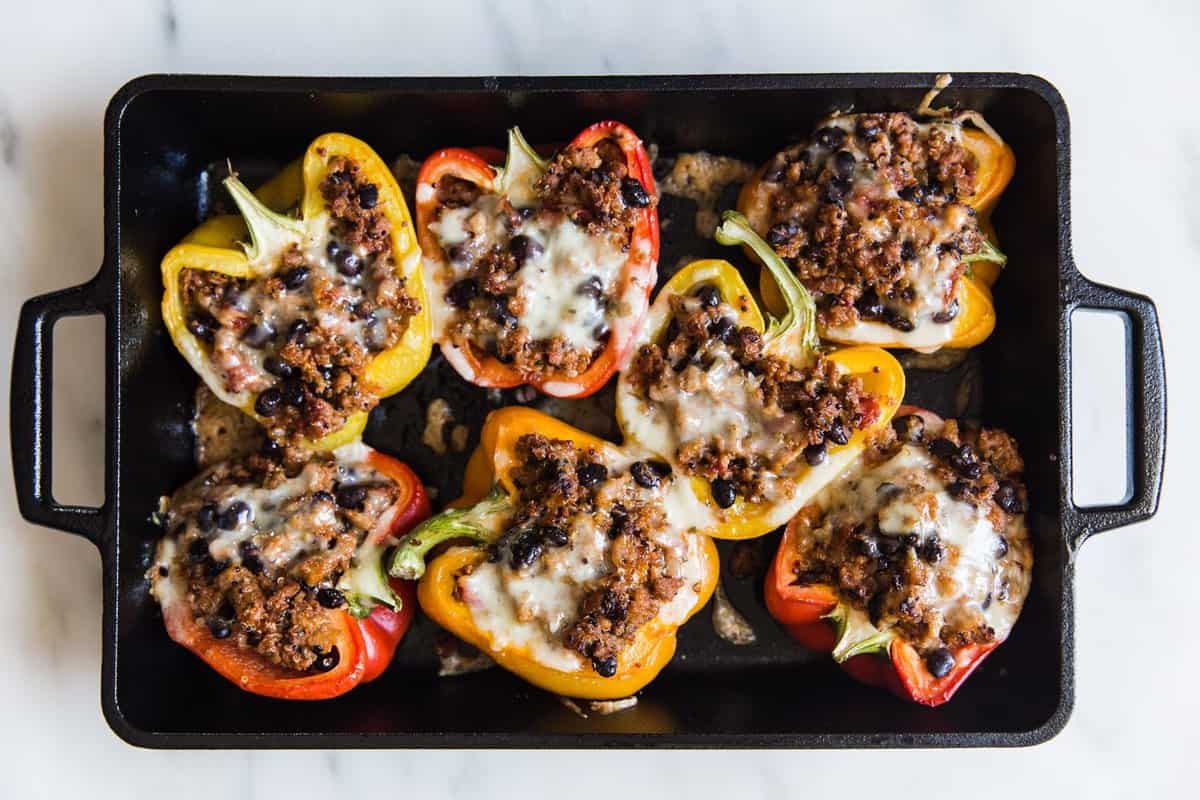 Looking for a ground turkey salad?
This turkey burger salad with creamy sun-dried tomato dressing is for you. It's a deluxe bunless burger in a bowl!
Try these other turkey casserole and quick meal recipes: