Sometimes you just want a cookie. Specifically, oatmeal raisin apple butter cookies. In today's world, there is so much mixed advice when it comes to nutrition and healthy eating.
One day we hear we should eliminate sugars and carbs and the next day we hear we should enjoy all foods whenever we want and don't count calories or macros or anything else because it perpetuates disordered eating habits.
It's an ever-changing world and the entire thing and all of the mixed messaging can certainly perpetuate confusion.
Why it's okay to eat cookies every once in a while...
Sometimes I am asked why I post cupcakes or bacon or anything remotely 'unhealthy' on my blog (but you're a dietitian, gasp!) and my answer will always be: a healthy, balanced diet is all-inclusive and eating the foods you love and enjoy is rule #1 when it comes to life.
No, cupcakes should not probably be something you eat at every meal, but can they be enjoyed as part of a healthy, balanced diet? Hell yes.
And because of all of the noise out there regarding nutrition and healthy eating, I'd like to share a few simple tips for building a balanced lifestyle (and it's okay if it's a work-in-progress):
Cook and eat whole, real foods as much as possible.  If you cook even one more meal for yourself and your family each week, that's a huge win.  I will never stop talking about this as the number one way to improve your health.
Strive to eat more produce.  Stir some zucchini into your muffins, add a few handfuls of veggies to your soup, eat some fruit for a snack.  However you want to do it, produce is king.
Don't deprive yourself.  Enjoy what you eat and be sure to include foods in your diet that you absolutely love (and on the regular).  You should never feel like foods are off limits (unless you have an allergy).
Try not to feel "guilty" when you eat something that is seemingly 'unhealthy'.  I promise one cookie or one cupcake or one bowl of pasta isn't going to sabotage you... as long as you don't let it.  Practice moderation, enjoy every last bite of it, and move on with your day.
No matter what the fad diet of the week is, never sacrifice balance and enjoyment.  It's okay to be intrigued by new research regarding nutrition (I know I am!) and to try new things (I do it!), but before you try anything, ask yourself: Will this be sustainable for me?  Will it help me foster a healthy relationship with food?  Does this make sense for my lifestyle?  Does this seem too good to be true?  Will I still be able to enjoy my life?  Is this safe?  If the answer is no to any of the above, it might not be a good choice.
Nutrition is not one-size-fits-all.  And although there are some general rules (re: eat more produce), each person has very different needs, and what works well for one person may not work well for you.  For example, I know a ton of people who prep all of their foods and meals on Sundays and eat from that all week.  And it works for them.  But that does not work for me, and it might not work for you, and that's fine.  Don't ever feel like you have to follow what someone else is doing in order to live a balanced lifestyle.
Adopting and sustaining a healthy lifestyle isn't necessarily easy.  But if you strive to achieve one small goal at a time, you can totally do it.  I have faith in you.  (P.S. it's never a bad idea to seek out a registered dietitian (RD) for personalized nutrition advice.)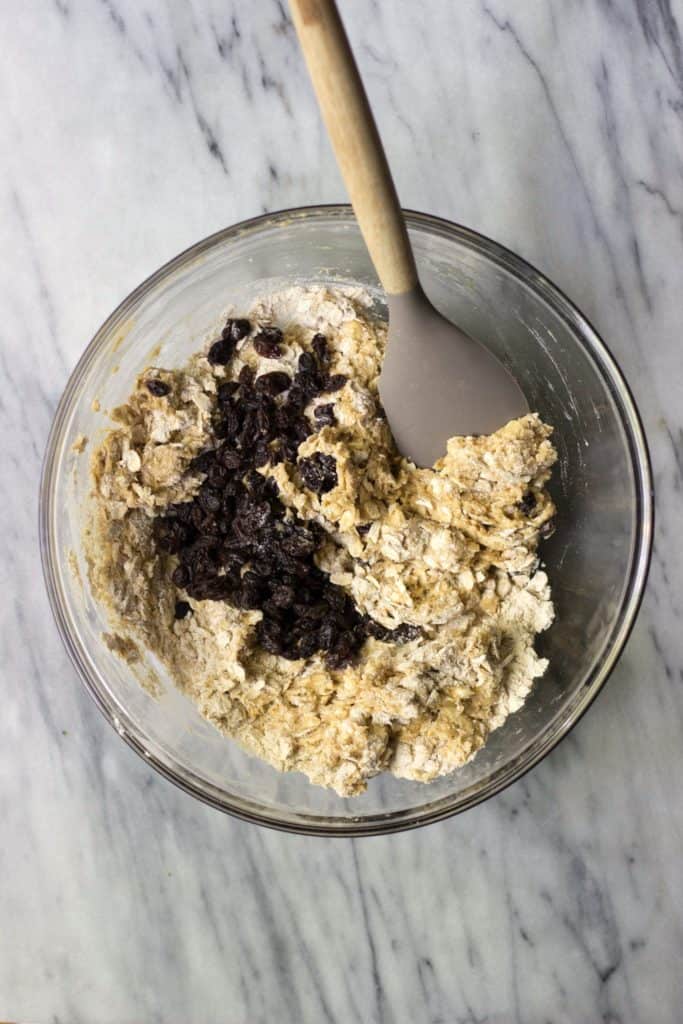 My favorite apple butter oatmeal raisin cookies, right here
I feel soooo much better now that I have that off my chest. 😉
So, I'd like to celebrate by enjoying these freaking amazing Oatmeal Raisin Apple Butter Cookies.
The cookie itself is made of old-fashioned rolled oats, whole wheat pastry flour, baking powder, salt, butter, dark brown sugar, egg, vanilla, raisins, walnuts or pecans and apple butter. Yep, there's sugar. Yep, there's butter. And yep, there's flavor. I don't feel bad about it, and neither should you.
I had one of these babes earlier today with an iced coffee and I was literally in heaven. They're a tad brown sugary, buttery, hearty (those oats, tho) and the dollop of apple butter in the center was honestly mind-blowing.
I made a batch of these a few weeks ago and mixed the apple butter into the batter which was also insanely delicious, but there's something extra special about having that apple butter dollop in the center of the cookie. It excites me and makes me smile.
Well, that about sums it up for today.
Cook more and enjoy what you eat. You do you.
Print
Oatmeal Raisin Apple Butter Cookies
Chewy oatmeal raisin cookies with a sweet apple butter filling.
Author:
Prep Time:

10 min

Cook Time:

10 min

Total Time:

20 min

Yield:

18

cookies

1

x
Category:

Dessert

Method:

Baking

Cuisine:

Dessert
1 ½ cups

old-fashioned rolled oats

1 ¼ cups

whole wheat pastry flour*

1 ¼ teaspoons

baking powder

½ teaspoon

coarse salt

½ cup

(

1

stick) butter, softened

⅓ cup

dark brown sugar

1

large egg

1 ½ teaspoons

pure vanilla extract

½ cup

raisins

½ cup

chopped walnuts or pecans (optional)

⅔ cup

apple butter
Instructions
Preheat oven to 350 degrees. Line a large baking sheet with parchment paper. Set aside.
In a large mixing bowl, whisk together oats, flour, baking powder and salt until combined.
In a separate medium mixing bowl, use a hand mixer to beat together softened butter and brown sugar until fluffy. Beat in egg and vanilla extract.  Slowly add dry ingredients, beating until just combined.  Fold in raisins and nuts (if using).
Use a cookie scoop to drop cookies onto the prepared baking sheet. Use a spoon to press a well into the center of each cookie.  Use a spoon to drop dollops of apple butter into the well of each cookie.
Bake 8-12 minutes or until cookies are just set and lightly browned on the edges.
Notes
Substitution Tip: You can also use all-purpose, regular whole wheat or oat flour for this recipe.
Nutrition
Serving Size:

1 cookie

Calories:

161

Sugar:

11

Sodium:

59

Fat:

6

Saturated Fat:

3

Unsaturated Fat:

3

Trans Fat:

0

Carbohydrates:

23

Fiber:

2

Protein:

2

Cholesterol:

26
Keywords: baked goods, easy, quick, fall, crowd pleasing, party, healthy