Are you seeking for a tender, chocolatey loaf of zucchini bread? Look no further.
This whole grain quick bread is made with dark cocoa powder, dark chocolate chunks and loads of zucchini.
It's the best chocolate zucchini bread ever!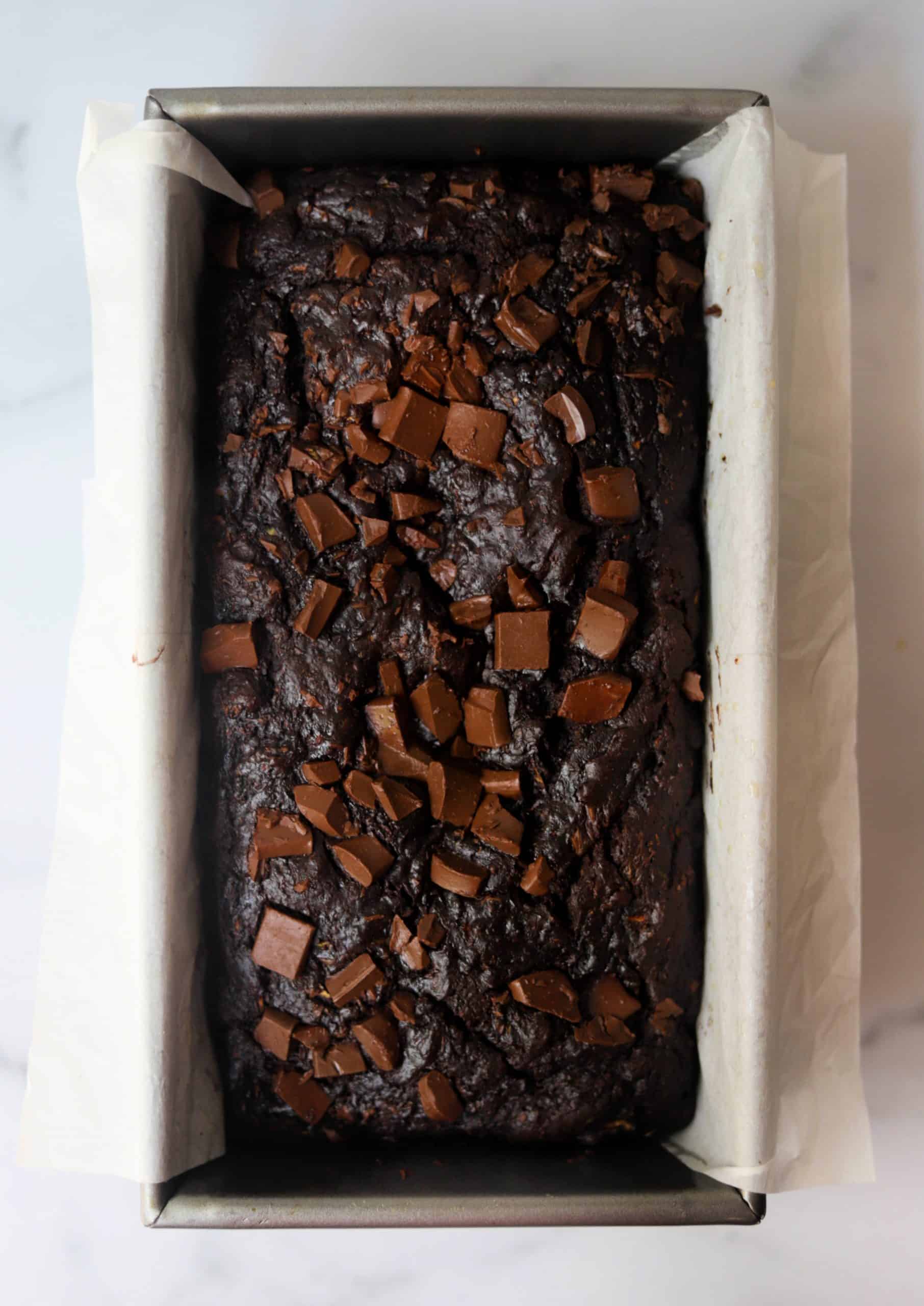 How to make chocolate zucchini bread
Ingredients
Wet ingredients:
Butter and oil. You can use both or all of one or the other - it's up to you!

I like to use both because I like the flavor of the butter but enjoy getting the health benefits from avocado oil (which is generally what I use for baking).

Sugar. I use much less sugar than the typical quick bread recipe, and you can even use less if you'd like.

You can also sub in a stevia mixture or erythritol if you're looking for an even lower sugar zucchini bread.

Vanilla. Get pure vanilla extract - I promise it's worth it!
Eggs. To make it rise and hold everything together.

For a vegan bread, you can try making a flax egg or using an egg replacer!
Dry ingredients:
Flour. I love using whole wheat pastry flour in my baked good recipes, but you can sub in all-purpose, regular whole wheat, oat flour or gluten free all-purpose.
Cocoa powder. I like to grab the dark cacao powder if it's available. It's richer and contains more antioxidants, but regular cocoa powder works, too!
Baking powder. To make it rise!
Milk. You can use cow's milk or any alternative plant milk.
Zucchini. You'll need about 2 small zucchini or one medium-large zucchini.

Shred it up in the food processor or use a cheese grater.

Chocolate chips or chunks. I grab super dark chocolate chips or chunks, or you can chop up a bar of dark chocolate and use that.

And of course, semi-sweet and milk chocolate chips or chunks work, too.
Equipment
An oven.
A loaf/bread pan.
A stand mixer with the paddle attachment.

A hand mixer or a good ol bowl and whisk works, too.

A glass mixing bowl.
Measuring cups and spoons (dry and wet).
A spatula.
Parchment paper to make life less messy.
Metal binder clips for clipping the parchment paper on (totally optional but works so well!).
Toothpicks.
Wire rack for cooling, or just place it on hot pads.
A knife and plates for slicing and serving.
Step-by-Step Instructions
First, preheat the oven to 350 degrees.
Fold or cut some parchment paper so it fits inside of the loaf pan.
It only has to fit the width of the loaf pan. Secure the edges with metal binder clips, or just fold them over the edge.
Spray the pan with cooking spray. Set aside.
Next, set up a stand mixer with the paddle attachment.
Whip together melted butter, oil and sugar until fluffy.
Add the vanilla extract, then one egg at a time and whip until the mixture is light and fluffy and light in color.
In a mixing bowl, whisk together the flour, cocoa powder, baking powder and salt.
Slowly pour the dry ingredients into the stand mixer with the wet ingredients and beat on low, alternating with the milk, until the mixture JUST comes together in a wet and sticky-ish batter.
Do not continue to mix or the bread will be dense and dry.
Remove the bowl from the stand mixer and use a spatula to fold in the shredded zucchini and half of the dark chocolate chips or chunks, JUST until mixed together.
Pour the batter into the prepared loaf pan and spread it into an even layer.
Sprinkle the top with the remaining dark chocolate chips or chunks.
Bake 35-45 minutes or until you poke a toothpick into the center and it comes out almost clean.
Give the pan and shake, too, and see if the batter is set.
Place the loaf pan on a wire rack of hot pads to cool.
Remove the metal clips and use the sides of the parchment paper to pull the bread from the pan.
If the bread isn't cool, it'll fall apart.
Place the bread on a cutting board or other flat surface and use a knife to carefully cut into slices.
Serve on plates with butter, if you'd like!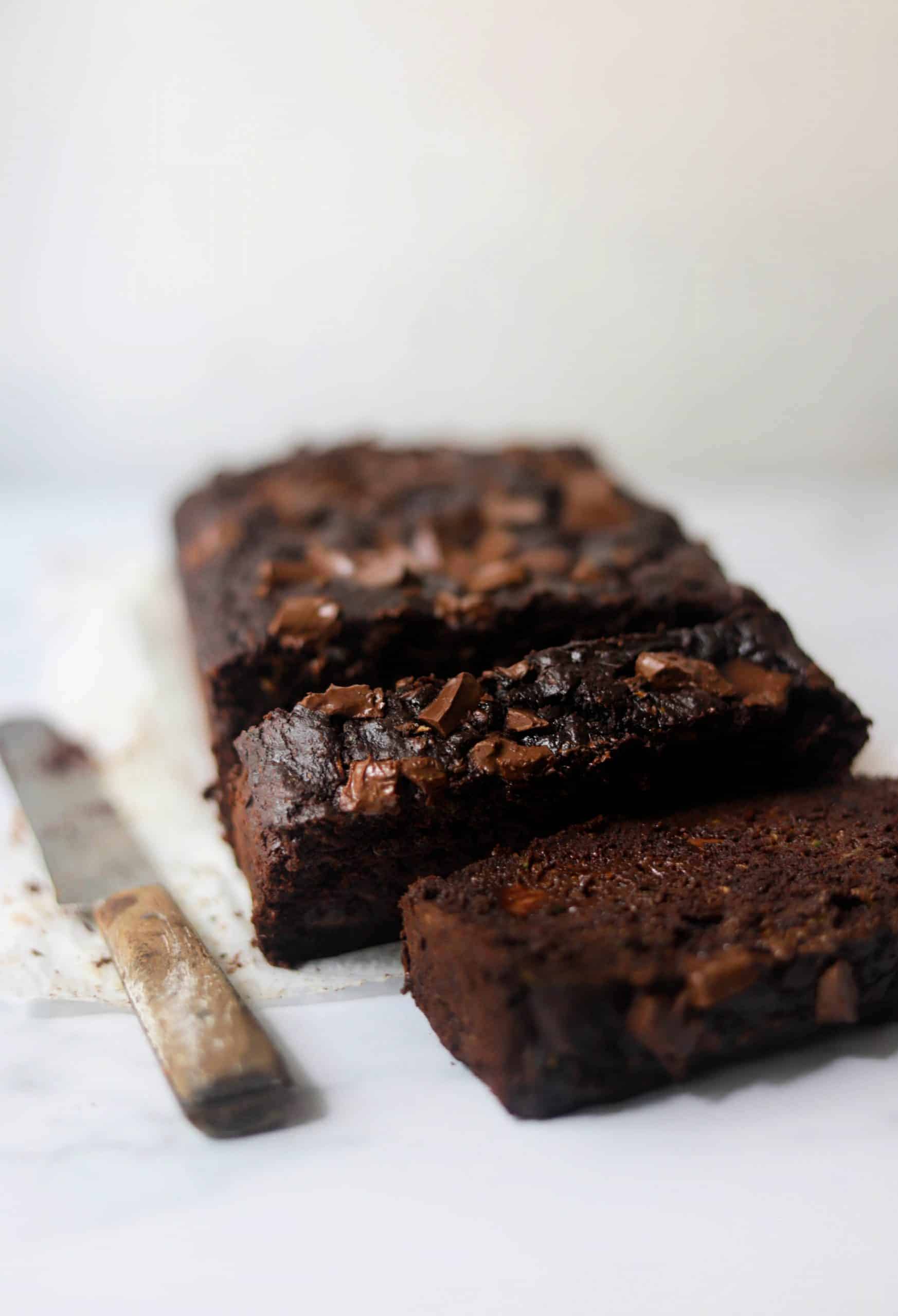 Storage Instructions
To store this bread, place it in an airtight container or a large Ziploc bag (once it's completely cooled) and store at room temperature up to 5 days.

Slice as serve as desired.

To freeze this bread, place it in an airtight container or a large Ziploc bag (once it's completely cooled) and place in the freezer up to 2 months.

Let thaw at room temperature, then slice and serve.
How to make quick bread healthier or fit a specific diet
To make them higher fiber: You can use whole grain flour, like whole wheat or oat flour, rather than all-purpose (my recipe calls for whole wheat pastry flour, which is more finely ground than regular whole wheat flour but is still high in fiber).
To cut back on fat: Use all avocado oil instead of butter + oil.

Or, you can use unsweetened applesauce for all or some of the oil/butter.
Applesauce is a great sub because it contains some fiber and it keeps the bread moist.

To cut back on sugar: I have already cut way back on sugar from traditional quick breads, but you can go even lower by using a stevia baking sub, erythritol or any other baking sweetener blend you prefer.

They each have a unique flavor and ratio to follow, so be sure to read the directions on the package when substituting.
Substitutions and Alterations
You can also alter some of the ingredients to make them fit certain dietary preferences and allergies, such as gluten free, dairy free, vegan and nut free.
To make them gluten free: Try a gluten free all-purpose flour, such as Bob's Red Mill or King Arthur brand. Just be sure each ingredient you buy is gluten free (as some foods have additives that may contain gluten).
To make them dairy free: Choose a milk substitute, like almond or soy instead of cow's milk.
To make them vegan: You'll have to make several substitutions to make these vegan and I haven't tested them with alternate vegan ingredients, but here are a few options you could try:

Use Bob's Red Mill Egg Replacer instead of eggs or try making a flax 'egg' by mixing together 2 tablespoons of water with 1 tablespoon ground flax and letting it sit in the refrigerator for 15 minutes.
This makes one 'egg', so double it for this recipe. Use a plant-based milk instead of cow's.

To make them nut free: This recipe is already nut free! Just be sure each ingredient you buy is nut free (as some foods have additives that may contain nuts).
Amazing zucchini recipes:
Print
Dark Chocolate Zucchini Bread
A tender, decadent, rich dessert bread made with zucchini, dark chocolate chips, and whole wheat flour.
Author:
Prep Time:

10 mins

Cook Time:

50 mins

Total Time:

1 hr

Yield:

1

Loaf (10 Slices)

1

x
Category:

Dessert, Breakfast

Method:

Baking

Cuisine:

American

Diet:

Vegetarian
¼ cup

butter, softened

¼ cup

oil

¾ cup

brown sugar

1 teaspoon

vanilla extract

2

large eggs

1 cup

whole wheat pastry flour*

1 cup

dark chocolate cocoa powder

¼ teaspoon

coarse salt

2 teaspoons

baking powder

2 cups

grated zucchini (about

2

medium zucchini)

½ cup

+

2 tablespoons

dark chocolate chips, divided
Instructions
Preheat the oven to 350 degrees. Grease and flour a loaf tin.
In the bowl of a stand mixer fitted with the paddle attachment, cream together butter, oil, brown sugar and vanilla extract until light and fluffy, then beat in the eggs one at a time until combined.
In a separate medium bowl, whisk together flour, cocoa powder, salt and baking powder.
With the mixer on low, slowly add flour mixture into the wet ingredients until just combined. Fold in zucchini and ½ cup dark chocolate chips.
Transfer the batter to the loaf tin and spread out using a spatula or the back of a spoon. Top with remaining 2 tablespoon chocolate chips. Bake for 45-55 minutes, until the bread has risen and a toothpick inserted into the center comes out almost clean.
Let the bread cool in the pan for 10 minutes before turning out onto a wire rack to finish cooling. Slice to serve.
Notes
Cooking Tip: You can swap regular whole wheat flour, oat flour or white flour with 1:1 ratio.
Nutrition
Serving Size:

1 slice

Calories:

276

Sugar:

16 g

Sodium:

168 mg

Fat:

15 g

Saturated Fat:

5 g

Unsaturated Fat:

5 g

Trans Fat:

0 g

Carbohydrates:

37 g

Fiber:

6 g

Protein:

6 g

Cholesterol:

52 mg
Keywords: double, easy, healthy, whole wheat, made from scratch, homemade