These dark chocolate cupcakes are tender, moist and totally decadent and are topped with a creamy, fluffy dark chocolate cream cheese frosting.
The perfect cupcake recipe for any occasion!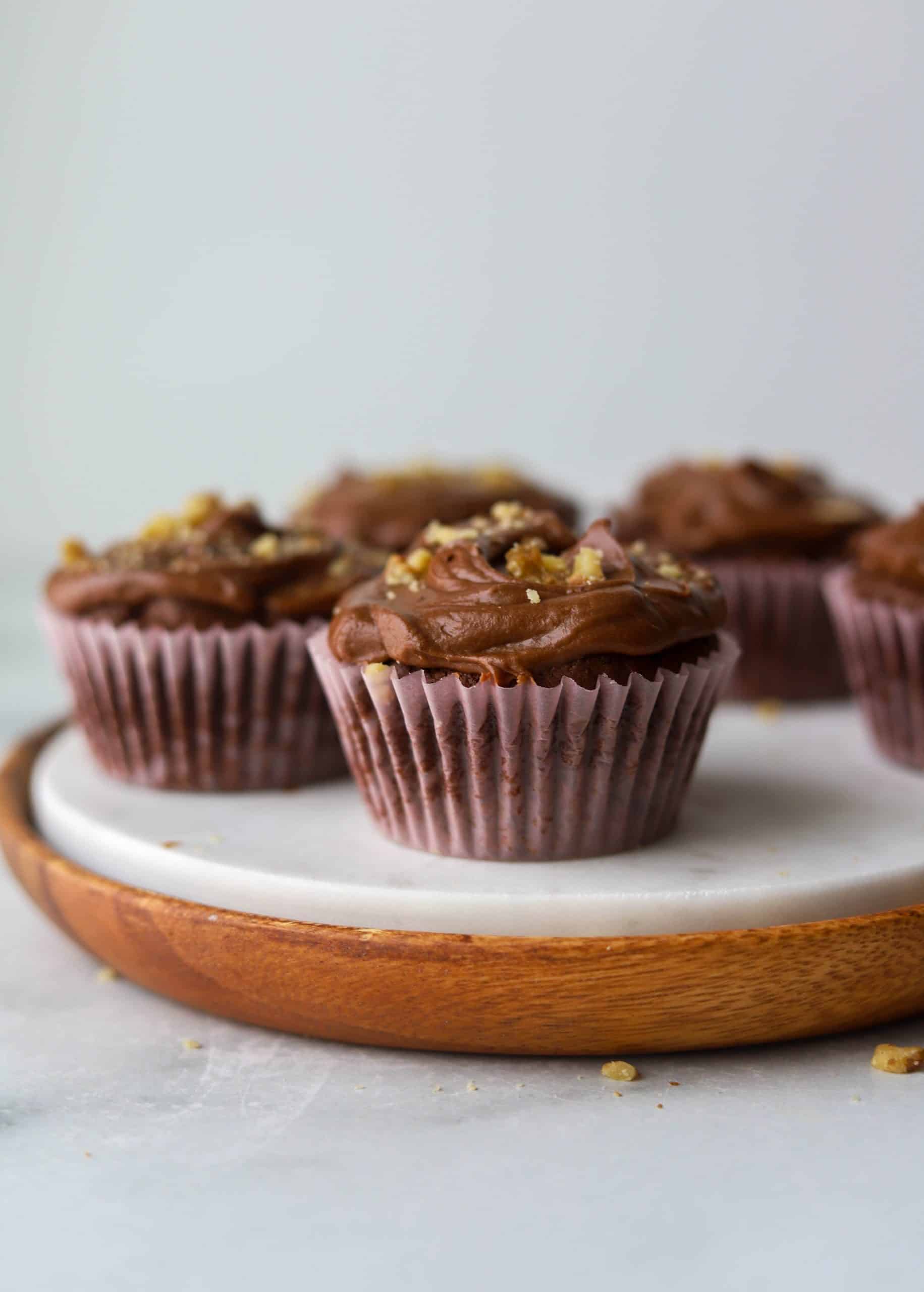 Ingredients
For the cupcakes:
Cake flour or all-purpose flour. You can use either, but if you're using all-purpose, I suggest sifting it to yield a more tender cupcake.

Cake flour can be found at most grocery stores and is finer than all-purpose flour.

Cocoa powder. I like the Hershey's dark cocoa powder because it's so rich and delicious. But the traditional cocoa powder works as well.

If I'm using all-purpose flour, I like to sift the cooca powder with it to again, yield a more tender cupcake.

Espresso powder. This is an optional ingredient, but really brings out the chocolate flavor (no, your cupcakes will not taste like coffee, they'll just be richer).
Baking powder. To make them rise, of course!
Kosher salt. To make it taste delicious, of course!
Oil. I use avocado oil, but a standard neutral oil like canola or veg works, too!

You could even try this recipe with olive oil.

Sugar. Yes, we need sugar to make the cupcakes taste good.

I use less sugar than typical cupcakes.
You could try it with coconut sugar or a sugar sub like a stevia baking blend as well. (affiliate link)

Eggs. Eggs provide structure, leavening and flavor to baked goods.

Aim for room temp eggs because they whip up with greater volume if at room temperature.
Although your cupcakes will likely turn out fine if the eggs are cold.

Vanilla extract. Be sure to get pure vanilla extract for the best flavor!
Milk. You can use any milk for this, such as skim, 1%, 2% or whole cow's milk or almond, soy, coconut or any other nut or rice milk.

If I'm being super honest, I like to use chocolate milk for even more chocolate flavor!
For the frosting:
Butter. A staple ingredient in buttercream frosting! Be sure it's soft so it'll whip without lumps.
Cream cheese. Why not add cream cheese to this frosting? It's the most delicious kind.

Also be sure it's soft so there are no lumps!

Dark chocolate chips. The darker, the better!
Vanilla. I get a big jug of pure vanilla extract from Mexico. It's. The. Best.
Powdered sugar. I use less than most buttercream frosting recipes because I don't like it to be super sweet.
Can you bake with dark chocolate?
Dark chocolate is bitter and slightly sweet, making it the perfect ingredient for a decadent, more sophisticated dessert.
You can sub dark chocolate for milk or semisweet chocolate in any recipe. It's best to check the ingredients list on dark chocolate to see what the percentage cacao is in that particular variety and check the sugar content in the recipe as well.
You can make a decision based on how bitter and sweet you like your dark chocolate and how you want the final product of your baked goods to taste.
Which dark chocolate is best for cake?
The short answer is... any! But here are a few tips:
I like really dark chocolate, so I look for the highest percentage cacao I can find.
To be truly "dark" chocolate, it should be >70% cacao or greater (although there is no legal definition).

The other ingredients could be sugar, vanilla, salt, etc.

Each brand of dark chocolate is a different experience because of the other ingredients in it and how they process the chocolate.

If you're like me, you have a favorite brand that you stick with! And that might differ for baking purposes and just for eating.

Cocoa powder brands also have differing amounts of cacao.

I like Hershey's Special Dark cocoa powder, but you can use any cocoa powder to bake chocolate cake or cupcakes.
Is dark chocolate the same as bittersweet and semisweet?
Semisweet and bittersweet chocolate have more sugar than dark chocolate.
In order of sweetness, it goes semisweet, bittersweet, then dark.

You can use any of these 3 options to make cake and frosting.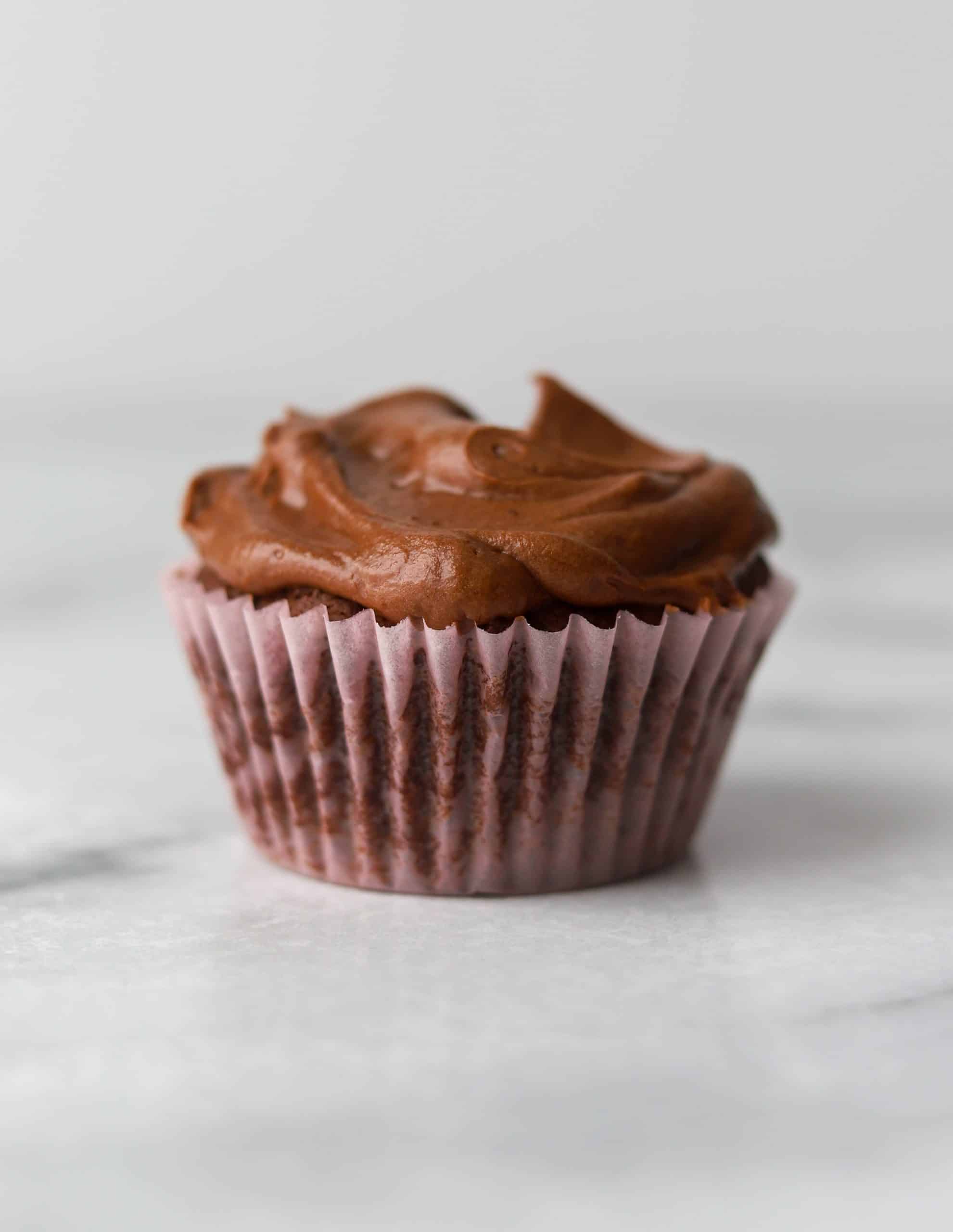 How to make the best chocolate cupcakes
Preheat the oven to 350 degrees. If you have a convection oven, I don't use the convection for baked goods because I think the results are better when not using convection. But to each their own.
Line cupcake liners in a 12-cup muffin tin. If you'd like, you can coat the liners with cooking spray, depending on what kind of liners you're using.

Set the pan aside while you make the batter.

As with most baked good recipes, the first step is to whisk together the dry ingredients.

That includes the flour, cocoa powder, baking powder and salt.
And if you're using it, the espresso powder.
You're just looking for the dry ingredients to be thoroughly mixed, as you don't want clumps of baking powder or salt or flour in your batter.
This helps them bake evenly.

The next step is to beat together the oil and granulated sugar in the bowl of a stand mixer fitted with the paddle attachment or in a medium mixing bowl using a hand mixer.

You're looking for a consistent mixture that is light and fluffy.

Then, beat in the room temp eggs, one at a time, and beat until fluffy.
Add the vanilla extract and beat until incorporated.
Now, you'll add the dry ingredients to the wet, ⅓ of the mixture at a time, while alternating with ⅓ of the milk, just until the batter comes together (don't overmix if you want tender cupcakes!).

The batter should be smooth and not too thick.

Note: I have tested this recipe with the addition of melted dark chocolate and the result was delicious, but it was more like a brownie than a cupcake.

You decide whether that's a good thing or not!

Next, use a cookie scoop or dry measuring cup to spoon the batter into the cupcake liners.

Fill them between ¾ and ⅞ full.

Bake them for 15-20 minutes, being careful not to overcook the cupcakes.

A toothpick inserted into the center of the cupcake should come out clean.
Take note that cupcakes will continue to cook a little after you take them out of the oven.

Let the cupcakes cool in the pan for a few minutes, then transfer them to a wire rack to cool completely.
How to make chocolate cream cheese frosting
Before you start baking the cupcakes, take the butter and cream cheese out of the refrigerator and let them get to room temperature.
Add the room temp butter and cream cheese to the bowl of a stand mixer fitted with the paddle attachment.

Alternatively, place them in a large mixing bowl and use a hand mixer.
Beat the butter and cream cheese until light and fluffy and be sure no lumps appear.

Melt the dark chocolate by placing it in a microwaveable safe container and microwaving on high in 30 second increments.

Stir in between increments and only microwave until melted (it should take 60-90 seconds).

Drizzle the melted chocolate into the butter and cream cheese and beat until fluffy, scraping the sides of the bowl as needed.
Beat in the vanilla extract and ¼ cup of the powdered sugar at a time, again until light and fluffy, scraping the sides of the bowl to get all the bites of ingredients.
As you're mixing, you can add a pinch of salt to elevate the flavor, if you wish!

(This will also depend on if you use salted or unsalted butter as well.)

Once the cupcakes are cooled, use a piping bag to pipe the frosting onto the cupcakes or use an icing spatula to spread frosting on each cupcake (this is my preferred option because I am NOT good at piping frosting on cupcakes!).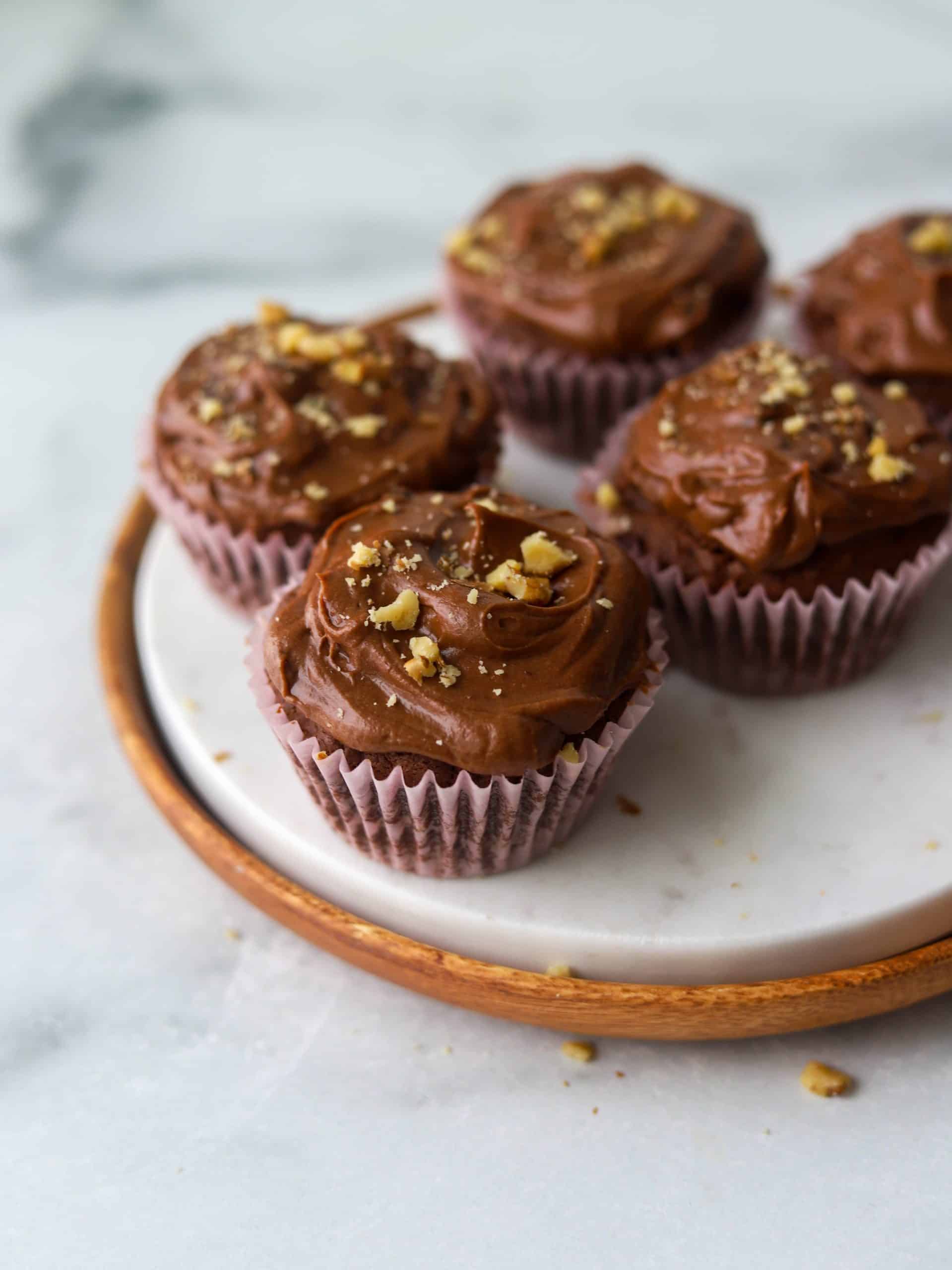 What is the difference between a chocolate muffin and a chocolate cupcake?
While muffins and cupcakes often look similar and are cooked in the same pan, they have a few differences.
The muffin method is defined by mixing together the dry ingredients separately from the wet ingredients first, then combining them.

I use this for most of my baked goods because it results in a more evenly baked and more tender treat.

Muffins tend to have less sugar and fat than cupcakes.
Cupcakes are generally considered a dessert, while muffins are generally considered a breakfast or brunch item or a wholesome snack.
Muffins are often made with nutritious ingredients like oats, nuts and fruit.
Cupcakes are almost always served with frosting on top, while muffins are not.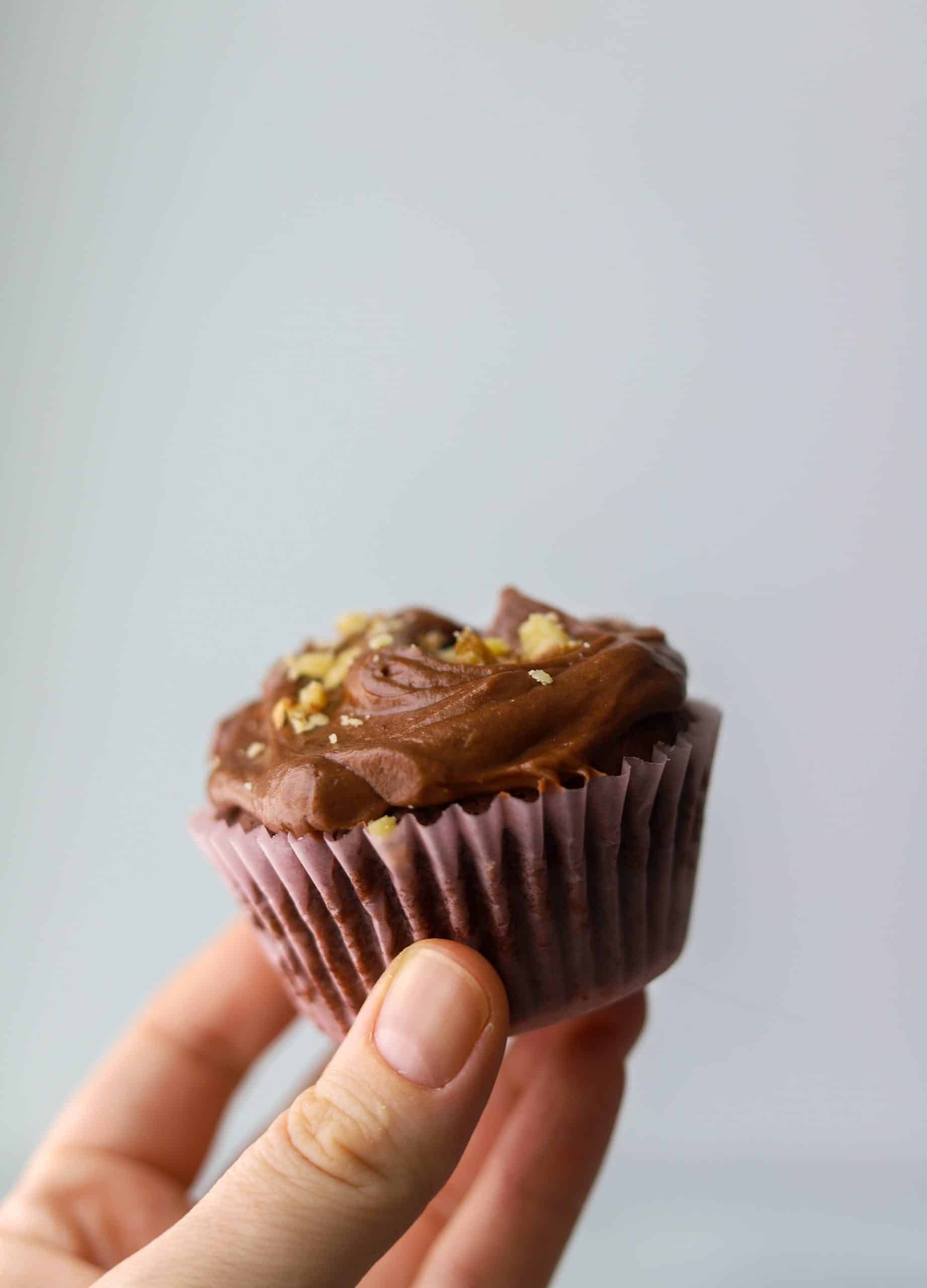 How to make cupcakes healthier or fit a specific diet
You can make cupcakes a bit healthier by making a few ingredient swaps, but I think it's important to make them how you like, and enjoy every bite!
After all, cupcakes are single serving and meant to be a treat.
To make them higher fiber: You can use whole grain flour, like whole wheat or oat flour, rather than all-purpose, but I recommend using half and half whole grain to all-purpose or cake flour so the cupcakes are still tender.

Be sure to sift whole grain flour and if you can find it, use whole wheat pastry flour versus regular whole wheat flour.

To cut back on fat: You can use unsweetened applesauce for all or some of the oil.

Applesauce is a great sub because it contains some fiber and it keeps the cupcakes moist.

To cut back on sugar: I have already cut way back on sugar from traditional cupcakes, but you can go even lower by using a stevia baking sub, erythritol or any other baking sweetener blend you prefer.

They each have a unique flavor and ratio to follow, so be sure to read the directions on the package when substituting.

Use less frosting: You can make a half batch and put half as much frosting on each cupcake to cut back a bit.
Substitutions and Alterations
You can also alter some of the ingredients to make them fit certain dietary preferences and allergies, such as gluten free, dairy free, vegan and nut free.
To make them gluten free: Try a gluten free all-purpose flour, such as Bob's Red Mill or King Arthur brand.

Just be sure each ingredient you buy is gluten free (as some foods have additives that may contain gluten).

To make them dairy free: Choose a milk substitute, like almond or soy instead of cow's milk.

Skip the cream cheese and try a regular chocolate buttercream frosting instead.

To make them vegan: You'll have to make several substitutions to make these vegan and I haven't tested them with alternate vegan ingredients, but here are a few options you could try:

Use Bob's Red Mill Egg Replacer instead of eggs or try making a flax 'egg' by mixing together 2 tablespoons of water with 1 tablespoon ground flax and letting it sit in the refrigerator for 15 minutes.
This makes one 'egg', so double it for this recipe.
Use a plant-based milk instead of cow's and try a frosting made with coconut oil instead of butter and cream cheese.

To make them nut free: This recipe is already nut free! Just be sure each ingredient you buy is nut free (as some foods have additives that may contain nuts).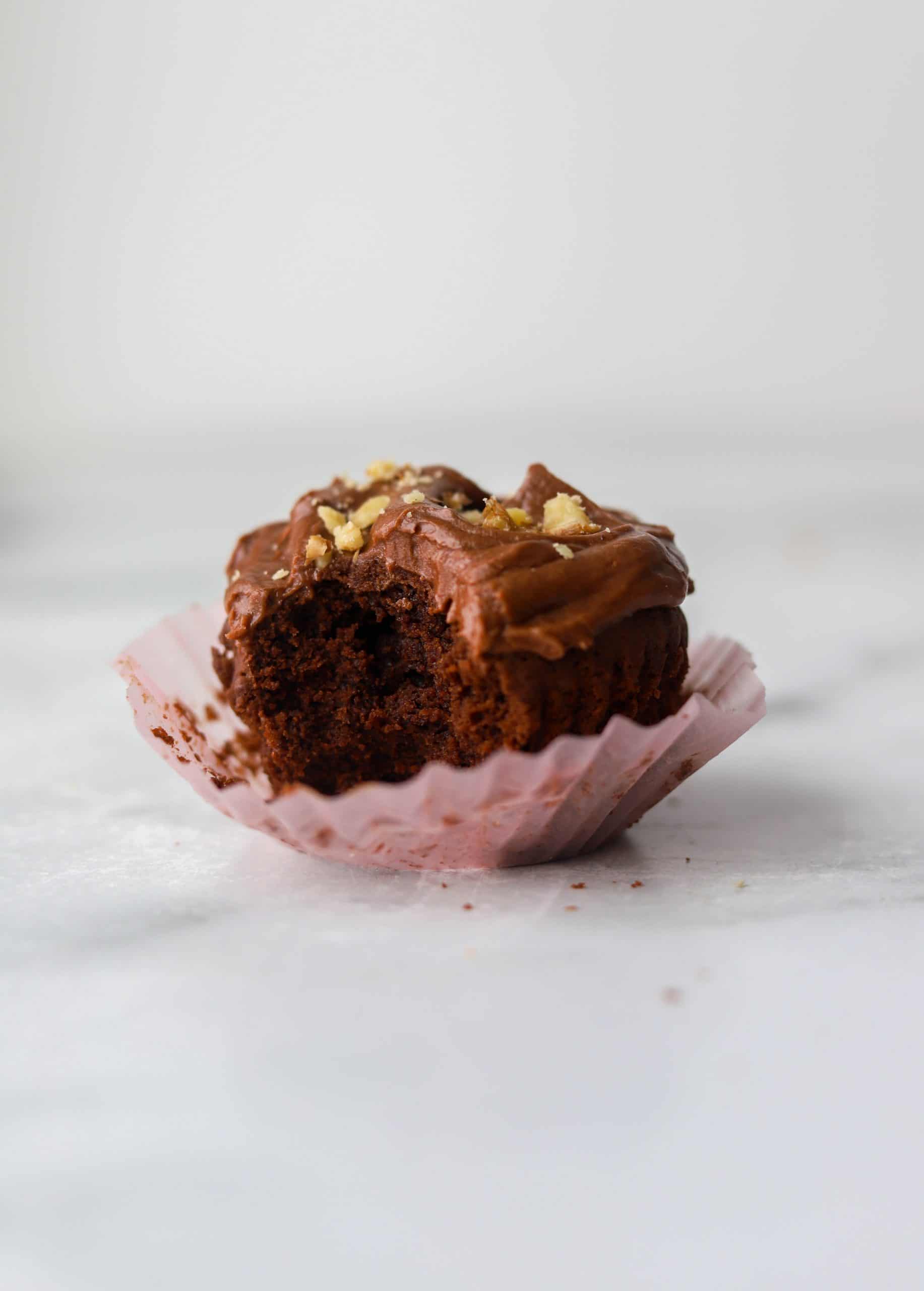 However you decide to make them, just be sure to enjoy them!
There is nothing wrong with enjoying a delicious chocolatey treat.
Print
Dark Chocolate Cupcakes
Decadent dark chocolate cupcakes with dark chocolate cream cheese frosting. A special treat for your special someone!
Author:
Prep Time:

15-20 mins

Cook Time:

15-20 mins

Total Time:

30-40 mins

Yield: Makes

12

cupcakes

1

x
Category:

Dessert

Method:

Baking

Cuisine:

American
Cupcakes:
¾ cup

cake flour or all-purpose flour, sifted

½ cup

dark cocoa powder, sifted

1 tablespoon

espresso powder (optional)

1 teaspoon

baking powder

¼ teaspoon

coarse salt

½ cup

oil

½ cup

granulated sugar

2

large eggs, room temperature

2 teaspoons

pure vanilla extract

½ cup

milk or chocolate milk
Frosting:
¼ cup

dark chocolate chips

¼ cup

(

½

stick) butter, softened

4 ounces

cream cheese, softened

1 ½ cups

powdered sugar

½ teaspoon

pure vanilla extract
Pinch coarse salt (optional)

¼ cup

crushed walnuts, for decorating (optional)
Instructions
To make the cupcakes:
Preheat the oven to 350 degrees. Line a 12-cup muffin tin with liners. Set aside.
In a medium mixing bowl, whisk together the flour, cocoa powder, espresso powder (if using), baking powder and salt. Set aside.
In the bowl of a stand mixer fitted with the paddle attachment (or in a large glass mixing bowl with a hand mixer), beat the oil and sugar together until fluffy. Add one egg at a time and beat until light in color. Beat in the vanilla extract.
While beating on low speed, alternate adding ⅓ of the dry ingredient mixture and ⅓ of the milk into the bowl with the oil/sugar mixture, ending with milk, mixing just until incorporated.
Use a measuring cup or cookie scoop and fill each cupcake liner about ¾ of the way full. Bake 15-20 minutes or until a toothpick inserted into the center comes out clean. Let slightly cool, then remove from each cupcake from the muffin tin and set on a wire rack to completely cool.
To make the frosting:
Place the chocolate chips in a microwave safe bowl and microwave on high in 30 second increments, stirring the chocolate in between each, until it's melted.
In the bowl of a stand mixer fitted with the paddle attachment, whip together the softened butter and cream cheese until fluffy. Slowly pour in the melted chocolate. Add ¼ cup of the powdered sugar at a time and whip until fluffy. Add the vanilla extract and a pinch of salt (if using).
Pipe or slather frosting on top of each cupcake and top each with crushed walnuts (if using).
Notes
Baking Tip: It is not required to sift the flour and cocoa powder, but it does yield a more tender cupcake. Use a fine mesh strainer or flour sifter, if you have one. Or, you can use cake flour instead of all-purpose.
Nutrition Note: Yes, dark chocolate is good for you. No, these cupcakes are not light or low calorie. They are meant to be enjoyed as a treat. 🙂
Nutrition
Serving Size:

1 cupcake

Calories:

353

Sugar:

29g

Sodium:

122mg

Fat:

19g

Saturated Fat:

6g

Unsaturated Fat:

13g

Trans Fat:

0g

Carbohydrates:

41g

Fiber:

0g

Protein:

5g

Cholesterol:

51mg
Keywords: treat, dessert, valentine's day, valentine, chocolate