This post is a collaboration with Beef. It's What's for Dinner. managed by NCBA, a contractor to the Beef Checkoff. I received compensation, but all opinions are my own.
Welcome to my recipe for caramelized onion burgers with arugula!
This perfectly grilled beef burger is juicy, flavorful and everything you're looking for.
It is topped with melty muenster cheese, heaps of caramelized onions and fresh, peppery arugula. Give it a try – I promise it'll become your new favorite!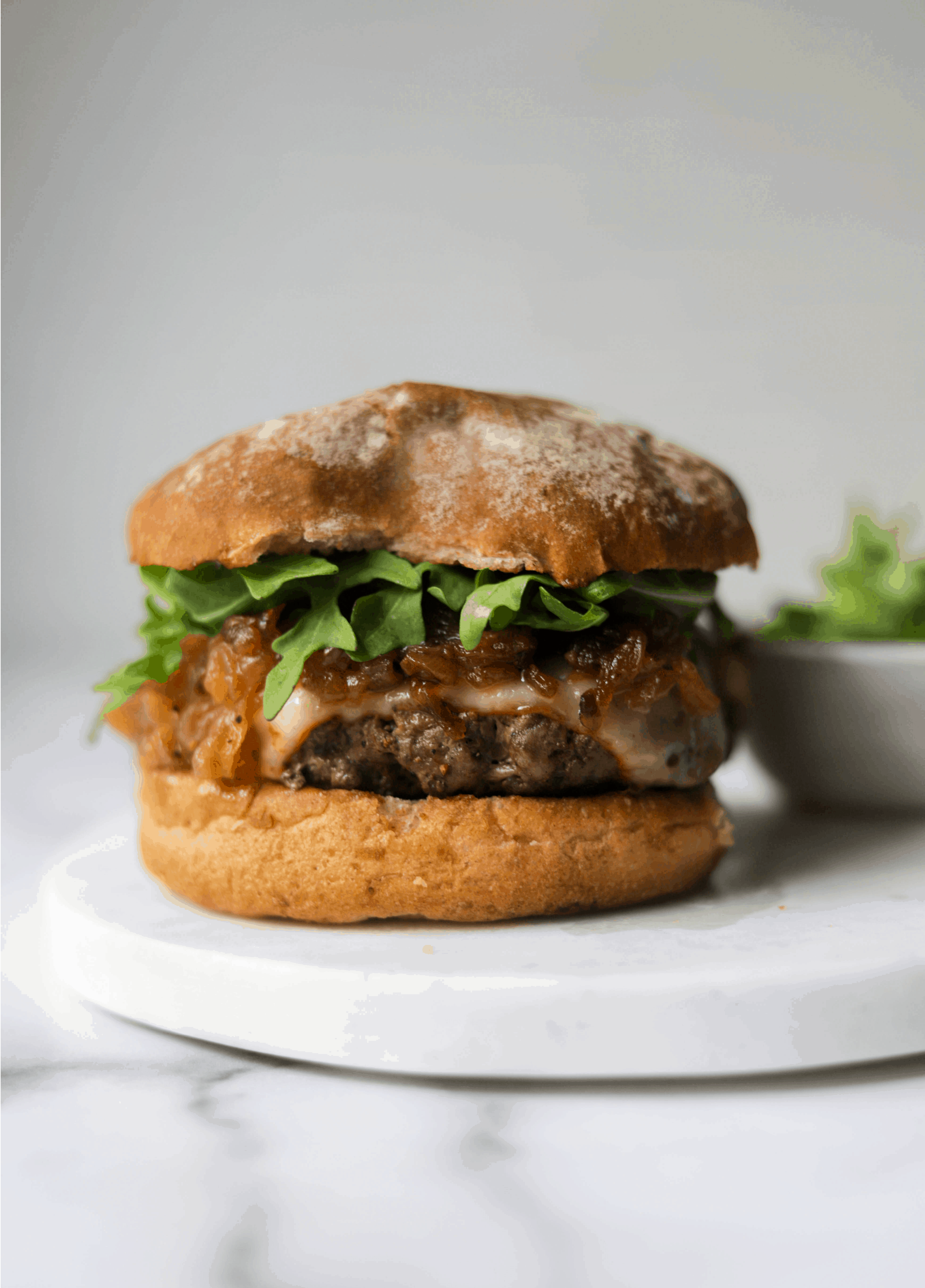 Why I love this burger
Oftentimes we think of beef burgers as indulgent, but they can easily be part of a healthy and delicious lifestyle (you know I stand for both)!
Beef burgers can be an ideal, nutrient-dense, flavor-filled, high-quality protein base for vibrant vegetables, flavorful fruit, satisfying whole grains and low-fat dairy
That makes it easy to pack more nutrition in every scrumptious bite!
The great thing about beef is its versatility. From high- or low-percent lean, Chuck to Round Ground Beef is a customizable base for building a better burger for everyone!
Plus, its classic flavor can't be beat.
To build my burger, I've paired my beef patty with ooey gooey muenster cheese (I do live in the cheese state, you know!), deliciously sweet/savory caramelized onions and bright, peppery arugula.
The combination is not only nutritious, but each ingredient complements the next.
I loaded it all up on a whole grain bun and served it with a side of my favorite Strawberry Cucumber Salad to make for one satisfying and balanced summer meal.
Customize Your Own Burger with These Fresh Tips
Start with 3-4 ounces of juicy, nutrient-dense cooked ground beef (85% or leaner)
Add layers of crunchy, vibrant vegetables, such as spinach, carrot slaw and red peppers
Top with flavorful fruit such as pineapple, mango and tomatoes
Add low-fat cheese, avocado or hummus for extra creaminess
Build your base with a whole grain bun
Pair with nutrient-packed sides like roasted potatoes, juicy watermelon or sweet corn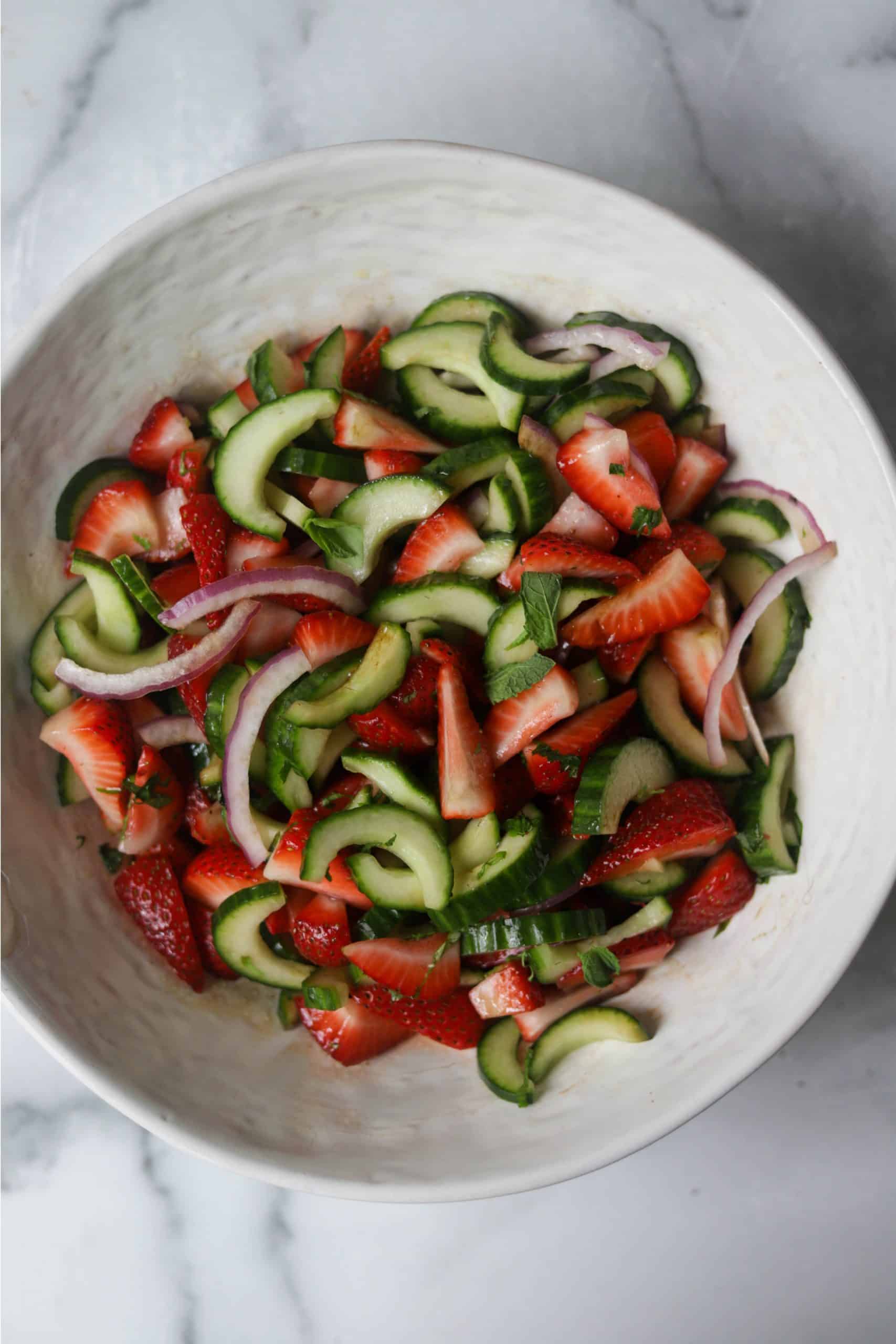 How to make the best burger with caramelized onions
Ingredients
Ground Beef. You can use any type of Ground Beef for this recipe.

I like 85% lean/15% fat when making burgers, as I think it provides the perfect balance to make one juicy burger!

Onions. You're going to make the best caramelized onions, ever.

I prefer to use sweet onions, like Vidalia, but really any onion will do.
Let them cook in just a little bit of oil at a medium-low temp for at least a half an hour – until they're golden brown – and then add a touch of apple cider vinegar to really take them from good to GREAT.

Cheese. Any mild white cheese will work here. I am in love with muenster, Havarti, gouda or provolone.

Look for low fat varieties or the thin slices for that cheesy flavor with less fat.

Arugula. It has a little bit of a bite to it, which is why I love it!

But if you're not into the peppery punch of arugula, go for fresh baby spinach or watercress.
Both are mild options and go well on any burger.

Whole grain buns. There are so many whole grain options out there these days, and I like to look for one that offers at least 3 grams of dietary fiber per bun.

It'll help fill you up and keep you satisfied longer.

Mayo. This is optional – if you're a mayo fan, go for it!

But if you aren't, you can totally skip it or substitute with mashed avocado, low-fat Greek yogurt or hummus.
To up your mayo game, add some fresh lemon juice and minced garlic for a lemony garlic aioli.
Equipment
A skillet for making caramelized onions.
A wooden spoon to push the onions around.
Measuring cups and spoons (or you can wing it).
A grill or grill pan.
A spatula to flip the burgers.
A meat thermometer to check that your beef burgers are cooked perfectly.
A few plates for making patties and clean ones for serving.
Forks to dig into the Strawberry Cucumber Salad.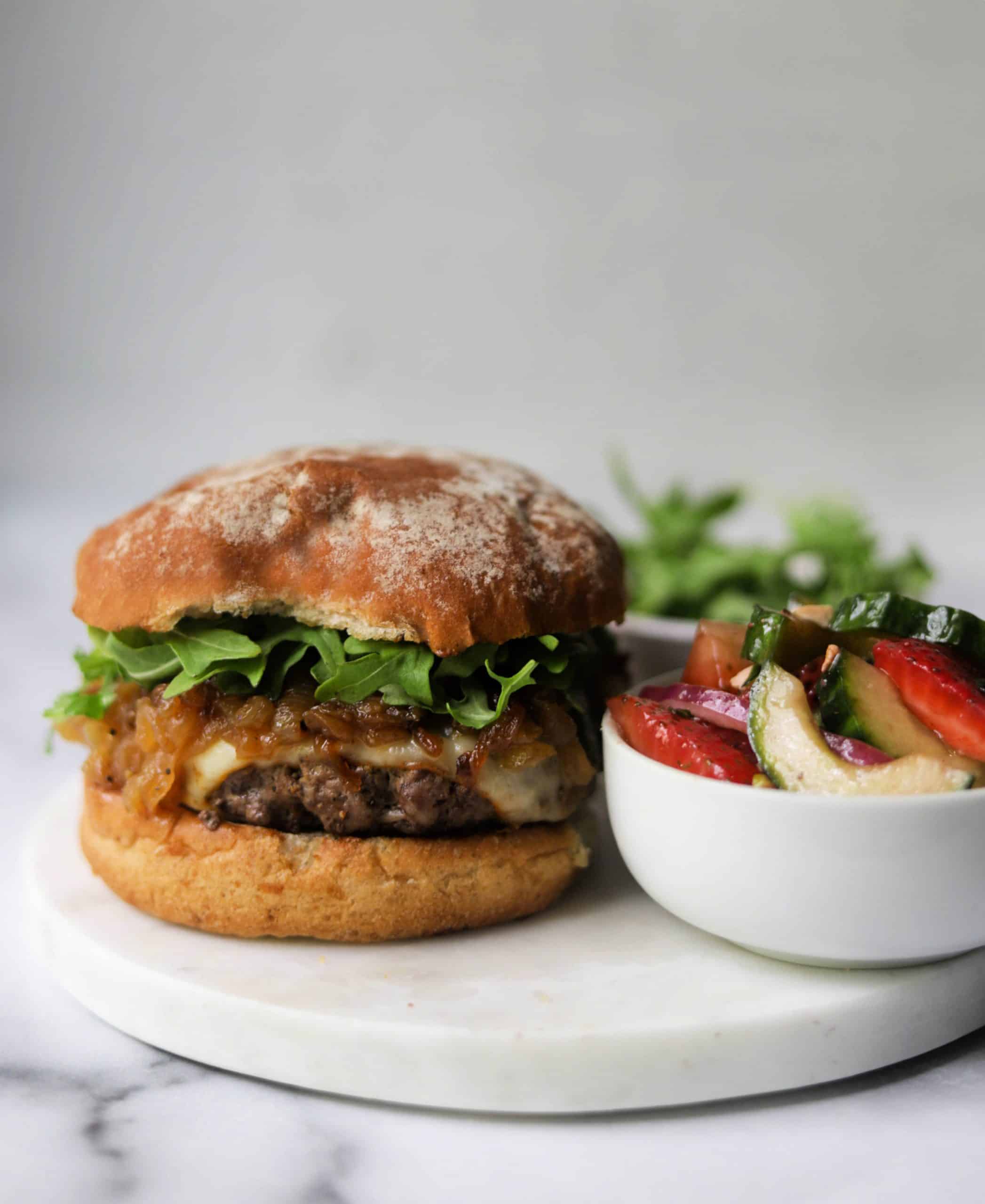 Step-by-Step Instructions
Start by making the caramelized onions. Heat about half a tablespoon of oil in a large skillet on medium-low heat.
Peel and thinly slice the onions.
Add them to the skillet and put your patience pants on because it takes at least 30 minutes for these babies to caramelize.
Use a wooden spoon to push them around every so often, but don't babysit them too much. Season them with salt and black pepper.
Once they're golden brown and super soft, add a tablespoon of apple cider vinegar and let them come to a simmer.

This will enhance the flavor to something extra special. Set the onions aside until you're ready to build your burgers.

While the onions cook, prep your other ingredients.

This is a good time to toast your buns on the grill or grill pan until their edges are nice and toasty.
Not only does this give the bun some crunch, but the bun will hold up nicely to any condiments you slather on it.
Also, form your burger patties and season them with salt and black pepper.
You can also prep your salad at this time, too.

Now it's time to grill the burgers. Heat a grill or grill pan to medium or medium-high heat.

If you're in the mood to be outside, use a regular grill! If you're staying inside today, use a grill pan.
We're just looking for grill marks and a perfectly cooked burger, which can be achieved either way.
Once the pan is hot, place the burgers on and let it cook 4-5 minutes or until it browned and crisp and you can see the burger is starting to cook up the sides.
Give them a flip and cook another few minutes, then add the cheese slices on each burger.
Cook a few more minutes or until an instant-read thermometer inserted into the center of the burgers reads 160 degrees F.

Build your burgers by placing the cooked patties on the bottom buns, then top each with caramelized onions, arugula and the top bun.

This is your chance to add mayo (or lemony garlic aioli), if you wish.

Serve the burgers with my Strawberry Cucumber Salad, which is a delightful mix of fresh strawberries, English cucumber, red onion, feta and roasted pistachios with a light balsamic dressing. Yum!

Or, serve it with any other fun summer salad or your favorite lettuce salad.
Chef's Tip
How to ensure perfectly cooked Caramelized Onion Burgers with Arugula
Using an instant-read thermometer is the best way to test for doneness.
Let it cook just until it reaches 160 degrees F, then remove it from the pan.
If you leave it on the pan, it'll likely end up overcooked.
Now tell me – what toppings do you like on your burger?
For more burger inspiration, visit Beef. It's What's for Dinner.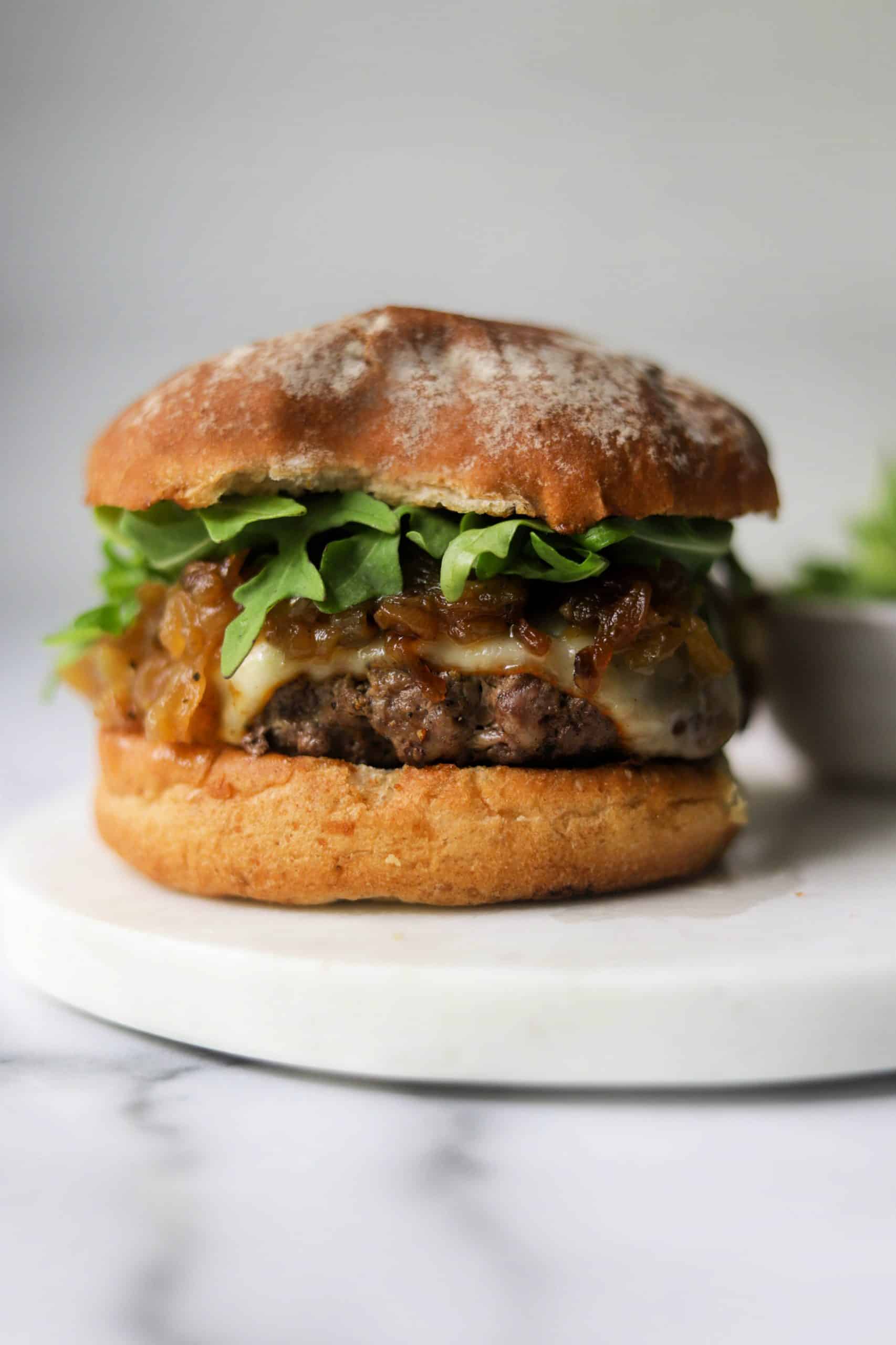 Print
Caramelized Onion Burgers with Arugula
This perfectly grilled beef burger is juicy, flavorful and everything you're looking for! It is topped with melty muenster cheese, heaps of caramelized onions and peppery arugula.
Author:
Prep Time:

10-15 mins

Cook Time:

30-40 mins

Total Time:

40-55 mins

Yield: Makes

4

burgers

1

x
Category:

Entree, Dinner

Method:

Grilling

Cuisine:

American
Caramelized Onions:
½ tablespoon

oil

2

medium sweet onions, peeled and thinly sliced

1 tablespoon

apple cider vinegar

¼ teaspoon

coarse salt

¼ teaspoon

black pepper
Burgers:
1

-

pound

85% lean Ground Beef

¼ teaspoon

coarse salt

½ teaspoon

black pepper

4

slices provolone, muenster or Havarti

4

whole grain hamburger buns, toasted

2 tablespoons

mayonnaise (optional)

1

cup

arugula
Instructions
Heat the oil in a medium skillet to medium heat. Add the onions and cook 30-40 minutes, stirring occasionally, until they're browned and caramelized. Season with salt and black pepper. Turn the heat up to medium-high and add the vinegar. Stir until the mixture is thickened. Remove from the heat.
Heat a grill or grill pan to medium heat. Form the ground beef into 4 equal-sized patties. Season both sides with salt and black pepper. Place the patties on the grill and cook 4-5 minutes per side. Place a slice of cheese on top of each burger and cook 1-2 more minutes or until melted. The burgers are done when a thermometer inserted into the center reaches 160 degrees F.
Place the burger patties on the bottom bun. Spread mayonnaise on each top bun (if using). Top the burger patties with caramelized onions and arugula and place the top bun onto each burger. Serve immediately.
Notes
Cooking Tip: Use an instant-read thermometer to ensure optimal cooking temperature.
Nutrition
Serving Size:

1 burger

Calories:

465

Sugar:

13g

Sodium:

579mg

Fat:

19g

Saturated Fat:

5g

Unsaturated Fat:

14g

Trans Fat:

0g

Carbohydrates:

44g

Fiber:

6g

Protein:

33g

Cholesterol:

165mg
Keywords: burger, beef, onions, dinner, grilling, grill, grilled, summer