Let's take a look at some of my best healthy summer recipes!
Summer is the perfect time to take advantage of all of the delicious in-season produce available to eat.
From corn, zucchini, tomatoes, peaches, berries and more, there's no shortage of healthy summer recipes to choose from.
Whether you're looking for no-cook recipes for those hot summer days, a fresh salad idea or a simple dinner with seasonal ingredients, there's something for everyone here.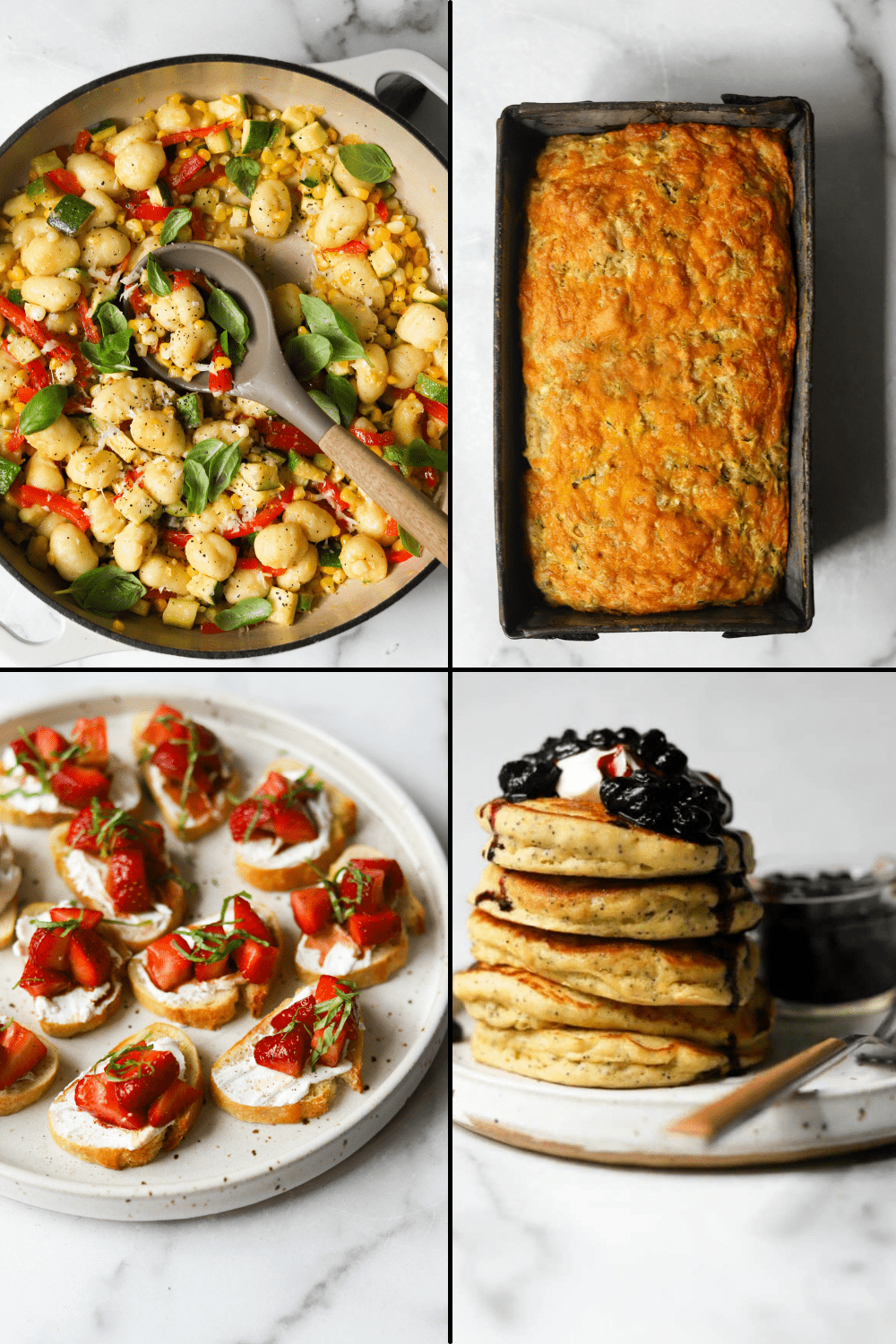 The best healthy summer recipes
This recipe is a fan-favorite and makes for a super satisfying, yet light summer meal.
Zucchini takes the place of traditional pasta noodles used in lasagna roll-ups, which takes away the need to boil pasta ahead of time.
There's no shortage of flavor that comes from fresh basil, garlic, spices & herbs, three types of cheese and marinara.
The best summer caprese salad right here.
This cold salad recipe screams warmer weather and features spinach basil pesto, cherry tomatoes and of course, fresh mozzarella.
A vegetarian dish that's packed with both nutrients and flavor.
If you're looking for something to make for a get-together or just for your family at home, this dish is guaranteed to be a crowd-pleaser.
If you're looking for a fresh summer salad that takes advantage of seasonal greens and mixed berries, this is it.
Seared chicken breast and quinoa add protein to this salad to make it a filling and balanced meal.
A light honey balsamic dressing tops it off with simple pantry ingredients you likely already have on hand.
These strawberry basil bruschetta are made with mini toasts, goat cheese, juicy strawberries in balsamic and fresh basil.
The perfect, easy summer appetizer!
Lemon Ricotta Pancakes: Fluffy whole grain lemon ricotta pancakes with berry compote. Easy to make, healthy and absolutely delicious!
And I'm excited that today is the day I'll be sharing my special recipe!
(I mean, not literally sharing them, but sharing the recipe - this stack is all mine).
Are you ready for the easiest, most fun and most delicious no-cook meal... ever?
They're called spicy tuna cucumber sushi rolls, and you're about to fall in love.
When you think of guacamole, you think of creamy avocado, spicy jalapenos, tangy onion and garlic, herbaceous cilantro, and bright lime juice.
We deliver all of those things, but to a whole new level when we add some sun-kissed sweet peaches to the mix!
This bright and spicy mango cucumber salsa is the perfect thing to serve on a hot summer night!
Scoop it up with chips, or serve it on grilled chicken, steak, or fish.
Sounds fancy, but nicoise salad is traditionally a French salad served with greens, tuna (and in this case, salmon), potatoes, green beans and hard-boiled eggs with other veggies like tomatoes, cucumbers and olives.
I of course wouldn't even consider leaving the olives off because they provide such fabulous flavor, but you can absolutely switch things up to make this salad the way you like it!
Who is in the mood for healthy broccoli salad with sweet lemon dressing? I sure am!
It's like your favorite potluck broccoli salad, but has more flavor and the dressing is quite a bit healthier than the traditional.
But trust me, you won't even know it.
This green bean potato salad is made with tender potatoes, crisp green beans, hard-boiled eggs, fresh herbs and an olive oil-based dressing that's delightful.
It's literally going to give us life this summer.
The best Italian pasta salad made with cheese filled tortellini, uncured salami, tomatoes, cucumber, fresh mozzarella and pepperoncini, all tossed in the best Italian dressing!
This salad is the perfect side dish for all of your summer potlucks!
This perfectly grilled beef burger is juicy, flavorful and everything you're looking for!
It is topped with melty muenster cheese, heaps of caramelized onions and fresh, peppery arugula.
Give it a try – I promise it'll become your new favorite!
P.S. peep my blog post on how to grill the perfect burger!
This vegetarian soup is filled with carrots, spinach, tomatoes, cannellini beans, pasta and zucchini with Italian herbs and seasonings in a Parmesan broth.
It's cozy, flavorful and you'll want to curl up with a bowl, ASAP.
You know how much I love soup and even when it's the middle of summer and super mega hot, I still love a good bowl of soup.  
It seems like a lot of people like soup because it warms them up in the cold winter months, but I find soup equally satisfying all-year-round, especially when it's reminiscent of one of my favorite summer salads - sweet corn soup.
Are you here for the crispy zucchini fritters?
When you're craving something utterly and insanely delicious, pull out your boxed grater and a few zucchini for the crispiest and most savory fritters you've ever tasted!
This Sweet Corn & Zucchini Gnocchi Skillet is the perfect summer skillet with fresh zucchini and sweet corn in a light creamy lime sauce with fresh basil.
There's gnocchi. There's sweet corn. There's basil. There's a creamy lime sauce.
Seriously, it's SO good, and I know you'll love it.
In the food space, I have heard many people refer to 'rustic' food as lazy food.
But I beg to differ that this rustic heirloom tomato pizza is anything but a treasure.
It's a deliciously robust vegetarian pizza with crispy crust, creamy boursin cheese, sliced heirloom tomatoes and fresh herbs.
Everyone loves blueberry date muffins, right?
Well I'll tell you what - these babes are super duper good, made with hearty whole grain pastry flour, some dark brown sugar, pure vanilla extract, chopped up dates and loads of blueberries.
Strawberries and rhubarb go together like peanut butter and jelly.
These strawberry rhubarb cupcakes with coconut frosting are light, fluffy, not too sweet, and incredibly tender.
They're everything you want in a summer dessert!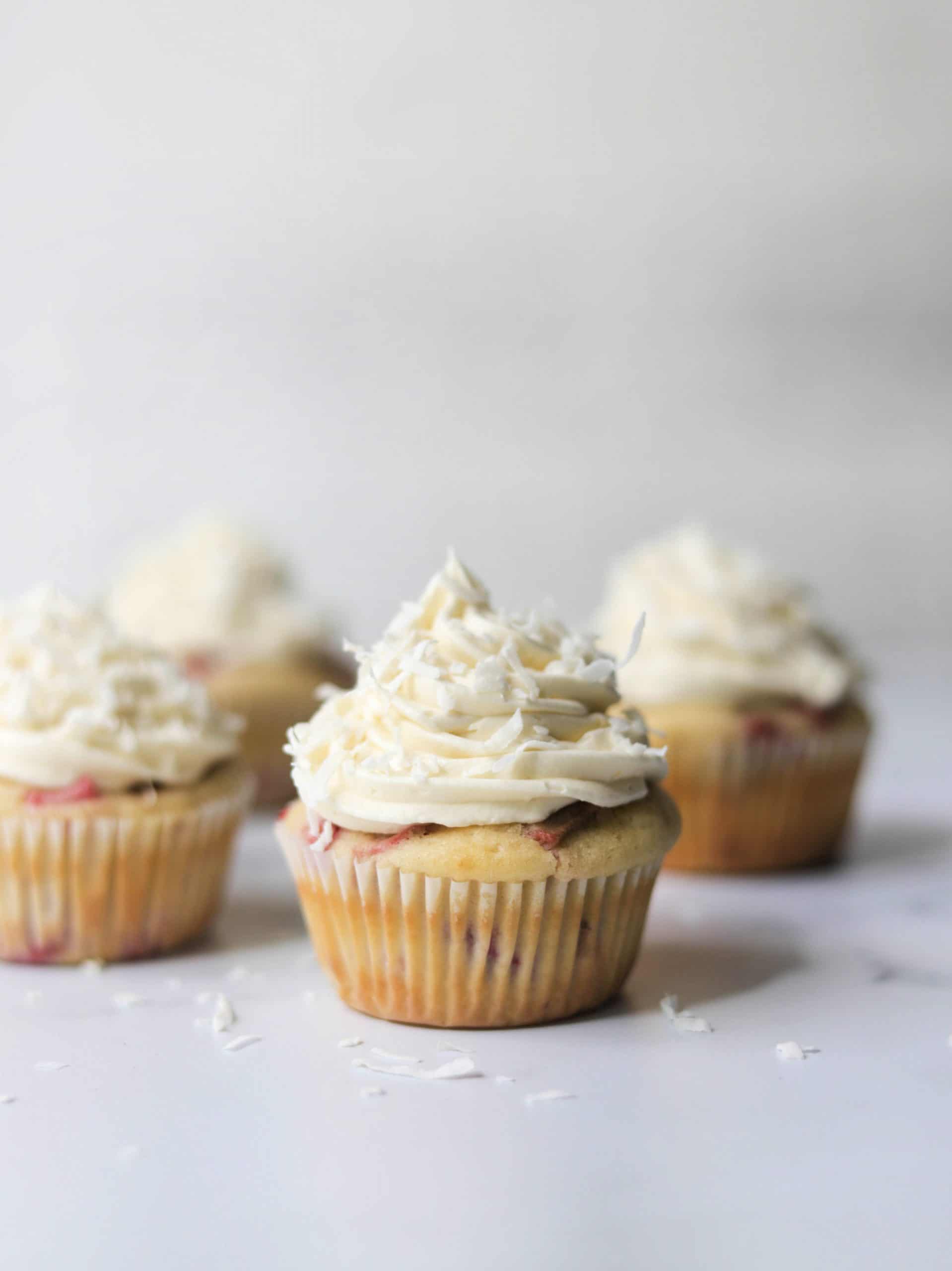 We're in for quite the treat, friends! Summer is closing in on us and I am enjoying all the berry things as if I never ever want summer to be over.
And my current fave is this mixed berry oatmeal cookie crisp.
These mini crisps are packed with lightly sweetened berries and an oatmeal toppings reminiscent of a cookie.
These mini bundt cakes are made with an oatmeal cake batter sweetened with brown sugar.
Slices of peaches are baked into the bottom of the pan with walnuts to make for the cutest and most delicious little mini cakes, ever.
Written by Anna Pashkova, MS, RDN, LD, ACSM-EP / Reviewed by Chef Julie Andrews, MS, RDN, CD, FAND